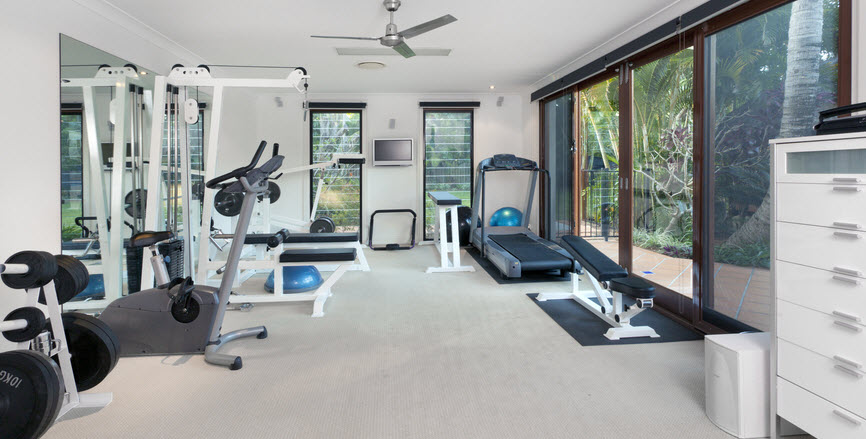 If you'd like to skip going out to the gym, you could build one at home easily. It doesn't have to break the bank either. A home gym can save on commute time, gym membership fees and crowded gym spaces where you have to wait to get on a certain machine. We're more likely to exercise when all the equipment is in the home. It's certainly more convenient.
Define the Space
The first thing you'll need to do is define the space you'll use. If you can devote a specific area to working out, you'll be more comfortable and more likely to use the workout space every day. The basement, garage, or an extra room in the home can be used as a home gym. The room should be airy and comfortable. If the garage smells like oil, you won't want to work out in it. Pick another space.
If you don't have a dedicated room for working out, you'll have to combine your workout room with another room in the house. A corner of the living room, great room or media room is a consideration for workout space. It depends on the layout of the room, and how crowded it is. Try not to use the bedroom for working out. You want your bedroom space to be a tranquil oasis, not a reminder that you didn't do cardio that day.
Define the Objective
You'll need to decide on your objective. Are you working out to lose weight? Are you hoping to stay in shape or build muscle? Is this a space to relax and meditate as well as exercise? All these questions will help you decide how to outfit your space with gym equipment.
Losing Weight
For weight loss, you'll need to perform cardio exercises, which get the heart pumping. Cardio requires movement. Along with cardio, you'll have to perform muscle-building exercises. Those exercises require weights or resistance bands.
Bulking Up
If you're hoping to build muscle, you'll need weights and sports equipment. The equipment you choose will depend on the areas of your body that you'd like to define and shape. There are machines that will help target certain muscle zones during a workout.
Relaxation
Many people exercise to relax. They want a tranquil space that they can use for meditation or yoga practices after a workout. The equipment you choose should reflect those needs.
Cardio Equipment
This type of equipment can be used for weight loss, bulking up and relaxation. The heart is a muscle that needs exercise, and cardio gets the heart pumping. Treadmills are great for home workouts. They don't require much space either. If you have limited space, buying a treadmill is a sound investment in your future workout plans.
Resistance and Weights
Resistance equipment and weights are perfect for building muscle. In the dedicated workout space, a resistance machine has weights built-in for a proper workout. A stability ball is a great investment since it helps build up the core muscles that provide proper balance. If you don't buy a stability ball, consider an adjustable bench for your workouts. You'll only need hand-held weights to complete the space.
Budgeting the Space
Treadmills and elliptical machines make for a great addition to any workout space. They don't have to be expensive either. Often, people make resolutions to exercise but don't follow through. Eventually, they will sell the equipment to make room in their home. You can benefit by buying used gym equipment for a fraction of the normal price. If the person barely used the equipment, you're getting a bargain for like-new machines. Stationary bikes, stair climbers and multi-station weight machines can be found used as well.
Buying Essentials
Once you've decided on the type of gym you'd like to have, it's time to think about the essentials like mats and storage. Yoga lovers will need mats on the floor of their gym space for their practice. If it's to be a tranquil space, consider the lighting and bringing in comfort elements like a stereo for soothing music. You'll need hidden storage to hold exercise videos, music CDs and resistance bands. A stand to hold weight might be helpful too. You might consider bringing in plants to make the room more inviting, and they also help bring oxygen into the space. A workout space should be free of clutter and distractions.
Building the Room
Depending on your budget and desired workout routine, you might decide to purchase one or two pieces of equipment, a few weights and accessories for the space to start. You don't have to buy everything at once, or spend your entire budgeted amount before beginning workouts in your home gym. You could start with a treadmill then buy more pieces as your workouts progress. It's essential to start with a cardio plan as well as a strength training plan if you're trying to lose weight. A person who wants to bulk up should start with a bench and weights as well as a mirror to make sure the routine is done properly.
Time to Begin
Once you have a plan of action, purchased your equipment and decorated your space to be inviting and motivating, it's time to get started with your workouts. Don't forget to buy some workout clothes and comfortable shoes for your workout routines. Devote personal time away from the family to keep distractions to a minimum. This is the time to focus on yourself.
A home gym is perfect for many people since they don't want to join a gym or can't get outside to exercise. It's private and gives more flexibility to your workouts. You don't have to pay a monthly fee, find parking in a crowded lot or wait for a machine to become available. There are no distractions when you have a home gym. You can focus on yourself and your body to get it in the best possible shape.