Property
Moving home – a checklist of things you need for the big move day!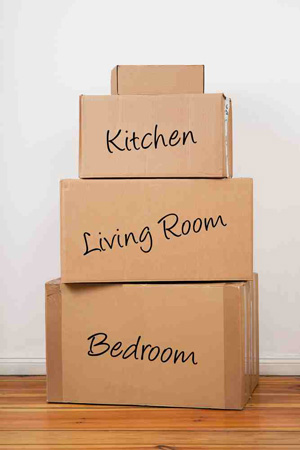 Moving into a new home is a fantastic and exciting process. Once you make it to your new home, you and your family will get to start making memories that you'll share for the rest of a lifetime. In some cases, moving to a new home may also mean that you are expanding your family, and that's a great time for everyone. However, moving a new home isn't always a smooth process. Instead, it can be difficult if you don't go about things in a diligent and thought-out way. Here is a checklist of ten things that you should consider to make for an easier move into your new home.
Start As Soon As You Can
Once you've made the decision to move to a new house, then it's never too early to start getting ready. It's understandable that your life may be very busy. It's likely that you have to still go to work, keep up with friends and family, and do whatever else it is that is in your life. However the earlier that you start packing, the better off you'll be. By starting packing early, you will be able to find things and add them to your list that'll make it easier to make sure that you do once moving day rolls around.
Take Time To Purge Old Items
Moving can be a difficult time as it is. Therefore, it doesn't make sense if you move things that you don't plan on using every again. To avoid this, consider taking the time to purge all of your old items and either donate them or give them to someone that you know. This will make your move much more easy, and it'll also save you some room once you get to your new house.
Make A List For Prioritization
There are plenty of resources at your hands that will make your move easier. In fact, one of the easiest resources may be a pencil and paper. If you are planning a move, then you should consider making a list that will help you during the process. By making a list, you can add certain things to it. This includes things that you'll want to move, services that you may need to change, and anything else that you may come across during the move. You are likely going to be so busy when moving between houses, so making a list will ensure that you are able to organize everything as best as you can.
Label Everything
As you begin to pack up your home, it will help you if you label everything as you put it into boxes. By labeling things, you'll easily find out where things go and this will save you a lot of time when you finally get to your new apartment or home. In addition, if you've decided to hire movers for helping you, then they will also know where things go once they move things to your new place.
Consider Storage
If you have too many items, or if you have a bit of time in-between moving homes, then you may want to consider getting a storage unit to store all of your belongings. In doing so, you'll be able to make sure that all of your items are protected, even if you aren't using them. For example, you can store your home appliances in storage, especially if you plan on using them at a later date after you've moved in.
Look For Green Alternatives
Your move doesn't have to be something that damages the environment. Instead, you can use a variety of green materials that will make your move much easier on the environment. For example, look to use recycled boxes or newspaper, as this will help you limit the amount of extra waste that you have. In addition, you can then give these items to someone else to use for a move after you've settled into your new property.
Find Help If You Need It
In some cases, moving on your own may be impossible. You may either have too many things to move, or you may not have a vehicle that is large enough for you to move all of your belongings. In either event, consider hiring a moving company to assist you when making your move easier. For example, a moving company can move big things like a refrigerator or washing machine, that way you don't have to risk hurting yourself when doing so. Another hint is to make sure that you call the moving company a few days before your move to confirm your reservation. If you don't, then you could be waiting around and have some serious problems when the time comes that you actually move.
Make Sure Everything Is Going Right
If you made a list earlier in the process, now is the time to look it over to make sure that you have everything that you need. This is when the list comes in very helpful, as it'll cut down on the amount of time that it takes for you to move. In the process, you'll also have a lot less headaches as you wonder whether or not you grabbed everything that you needed.
Meet The Neighbors
Once you've finished up the process, the only thing left to do is meet your new neighbors. Meeting your neighbors will show that you are friendly and nice, and they could come in handy if you have any questions about the neighborhood.
If you've followed this list, you'll have a much easier process when moving to a new house or apartment. That means that you'll get to your new place more easily, which will allow for your o start making memories with your family and those that you love.
সম্পূর্ণ প্রস্তুত ফ্ল্যাট বিক্রয় করা হবে @ 1300 বর্গফুট গাড়ি পার্কিং সহ
FLAT SALE @ 2160 SFT AVENUE 2 BEST PRICE CHONDREMA H/S.
কনডোমোনিয়াম ফ্ল্যাটের শেয়ারে বিক্রি + কার পার্কিং,2150 বর্গফুট
South & North Facing 1800 SFT Flat Share Sale.
৭ শতাংশ এর একটি প্লট বিক্রি হবে