Position: Territory Sales Officer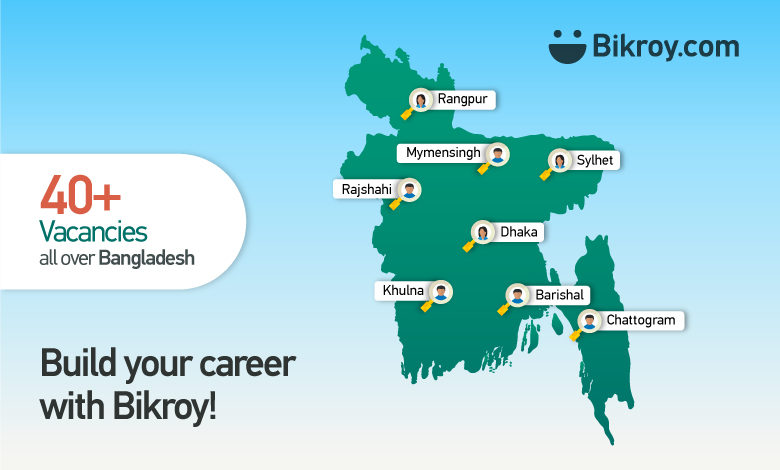 Let's Grow with Bikroy!
Bikroy.com is expanding across the country. Are you ready to take the challenge?
We are hiring for Territory Sales Officer! Interested candidates are requested to send their updated CV by mentioning preferred work location. Please upload your CV in the below mentioned Tab.
Work Location:
Dhaka, Chattagram, Sylhet, Khulna, Barisal, Rajshahi, Rangpur, Mymensingh
Employment Nature: Under Third party payroll.
Salary Package:
– Fixed Salary BDT 14000
– KPI BDT 6000 (variable) based on monthly target achievement
Other Benefits:
– Travel allowance BDT 2000
– Mobile Allowance BDT 1000
**Depending on successful completion of the probation period, salary will be increased and will be promoted as Officer.
Job Responsibilities:
* New Member Acquisition for any 4 major category (Marketplace, Vehicles, Property, Jobs)
* Visit all the potential places and actively market Bikroy.com services
* Establish strong and long term relationships with business owners dealing any mentioned category
* Daily and Weekly stand ups to be attended regularly
* Introduce & train Paid and Free Members with Bikroy.com's services
o Introduce the benefits of Bikroy.com membership services
o Assist and train business owners to upload quality advertisements on Bikroy.com
o Introduction of promoted ads/banner services
o Solve client queries
o Share tips on how to get more leads (i.e regular post ads, purchase additional vouchers)
* Work within Area demarcation and ensure to nurture all the leads within the area.
* Perform according to monthly defined Key Performance Indicators (KPIs)
Education & Required Experience:
– Diploma/ Graduation from any Reputed Educational Institution
– 6 Months to 1 year of work experience is preferred.
Will be added advantage if the candidate has:
– Motorcycle/ Cycle
– Laptop/Desktop at home
– Uses Smartphone
– Sales experience