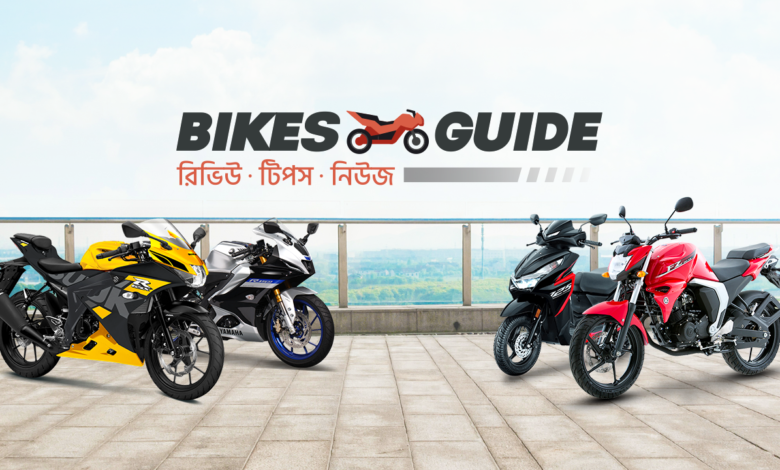 There is no alternative to motorcycles these days. In big metropolitan cities like Dhaka, many people have made bikes their friends to avoid traffic jams. But there is no end to thinking about which bike to choose while buying. What is the mileage, what is the price, how long will the service be – many questions run through the mind.
To ensure maximum convenience, Bikroy.com – the Largest marketplace in Bangladesh has brought a one-stop solution for all bikers in the country – Bikes Guide. Now all sorts of motorcycle-related reviews (videos), news, tips, and all other information can be found on this website. Let's discover the features Bikes Guide offers and the current scenario of the motorcycle market in Bangladesh.
1. Motorcycle Review
Bikes Guide is a motorcycle review platform, where bikers can see almost all kinds of motorcycle and scooter reviews in Bangla. Apart from reading reviews in blog form, bikers will also get video reviews of their favorite bikes here.
Also in various motorcycle reviews, there are experts' opinions. Where experts have shared their opinions with users about short bike reviews, riding reviews, and test reviews.
Bike reviews of almost all brands and models will be very helpful for those who are thinking of buying or changing new/used bikes. From the price to the specifications of the preferred bike, it will be easy to make the right decision.
2. News
One of the important features of the Bikes Guide is the news section. In this section, you can learn about the prices of different bike brands in the current market as well as there is an opportunity to learn all the news related to motorcycles in the world market.
New launches in the market, whether the price of any model has decreased or increased, the current movement in the motorcycle market of Bangladesh, etc. will keep our users updated about all the current information.
3. Advice
In this section of the website, users will find various tips and advice related to motorcycles. These advice will help the riders with various details. The tips section contains riders' long-term experiences of riding a particular bike and many tips for other users to learn from it.
Also, articles on how to prevent accidents, how to renew a bike license, rules for buying a bike on EMI, rules for changing engine oil in the right way, etc. will help bikers in many ways.
4. Find your next bike
This option is mainly for those who are thinking of buying or changing their motorcycle. You can find your favorite bike from over 10,000 ads on Bikroy.com – the country's largest online bike trading portal.
You have to use the filter options to select your desired motorcycle easily. By using a specific bike brand, model, CC, location, condition, and other necessary filters you can find the motorcycle of your choice at the best price.
5. Sell my bike
If you are planning to sell your used bike, it's going to be possible through this feature. Advertisements that comply with the correct rules will be approved faster and can result in a fast sale.
By properly registering by giving your product image and filling in all the details correctly, you can sell your used motorcycle at the desired price within a few days!
In Summation
In addition to all the above features, users can find various information related to motorcycles according to their preferred brand, model, CC, and price range from Bikes Guide.
You can also visit the Bikes Guide website to get updated information about any motorcycle brand or model available in the country.
In the end, there is no alternative to riding a motorcycle and following the traffic laws to avoid accidents. Let's obey the traffic laws and return home safely at the end of the day.
Safe Driving!