Bikroy Updates
Bikroy.com celebrates its 10th anniversary with Jamal Bhuyan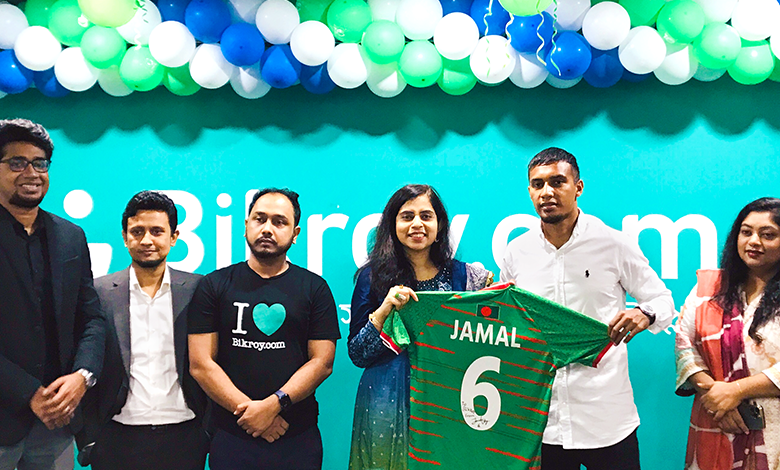 Bikroy.com, the Largest Marketplace in Bangladesh started its glorious 11th year after 10 years of success. Bikroy.com began its journey in Bangladesh in the year 2012 as a classified listings website introducing Bangladesh to a convenient service that almost did not exist in the region. As one of the first popular marketplaces in Bangladesh, you can buy and sell everything from cars to property, electronics, and jobs, and even you can find your life partner through Bikroy!
In these 10 years, Bikroy.com has become one of the most popular marketplaces in Bangladesh. Recently, on the occasion of the anniversary, honorable members of Bikroy, and many others sent their best wishes. On the occasion of the 10th anniversary, a celebration took place in the Head Office of Bikroy.com. Eshita Sharmin, CEO of Bikroy.com, and all management team members were present among others. Jamal Bhuyan, Captain of the Bangladesh National Football Team was invited as a special guest.
Let's find out now from some amazing facts about Bikroy.com. More than 3 lac new ads are published on Bikroy every month. An average of 30 interested buyers is found against an ad. There are also 4 promotional options to sell the product quickly, which ensures up to 60% sales growth. So far, 20,000 members have opened online shops in Bikroy. There is a verified badge facility for the members to gain the trust of the customers. Bikroy has taken some special measures for the members to expand their businesses during the lockdown period. Bikroy's lockdown offers for the members to expand their businesses included more vouchers and promotional tools, dedicated customer support, EMI facilities, etc. Moreover, special tips were provided for the members to reach more interested buyers and sell faster.
Nils Hammar, Global CEO of Bikroy.com said, "I am amazed about the opportunities we have here with the strong brand that Bikroy is, I think about it as, we're building not only one business, but many businesses in Properties, Vehicles, Jobs, Marketplace – all of these verticals have their future and business plan that we want to implement. We will try to do it for the next 10 years. The Bikroy we will get 10 years later will have more modern features and an updated business model than the current Bikroy."
Eshita Sharmin, CEO of Bikroy.com said, "Congratulations to all our customers, partners, employees, and members on a decade of Bikroy. In the past 10 years, Bikroy has played a major role in creating a digital Bangladesh. We currently have over 3.5 million monthly visitors and over 10,000 members working with us across the country. When we started in 2012 we were just 10 people, today in 2022 it has grown to a family of 200 members. This year we want to play a big role in the economic development of the country by giving importance to internet safety. Hopefully, we will get our well-wishers by our side in the coming future as always."
Sharing his feelings, Special Guest of the program Jamal Bhuyan said, "First of all, I would like to congratulate Bikroy.com for completing a decade. All appreciation goes to the Bikroy employees. Also thanks to the Bikroy team for inviting me to be a part of their anniversary celebration. I am overwhelmed by the level of enthusiasm employees showed in today's activities. Wishing them all success in the future."