Bikroy Updates
Bikroy-CycleLife Exclusive announced the winners of 'I Love Bangladesh' Competition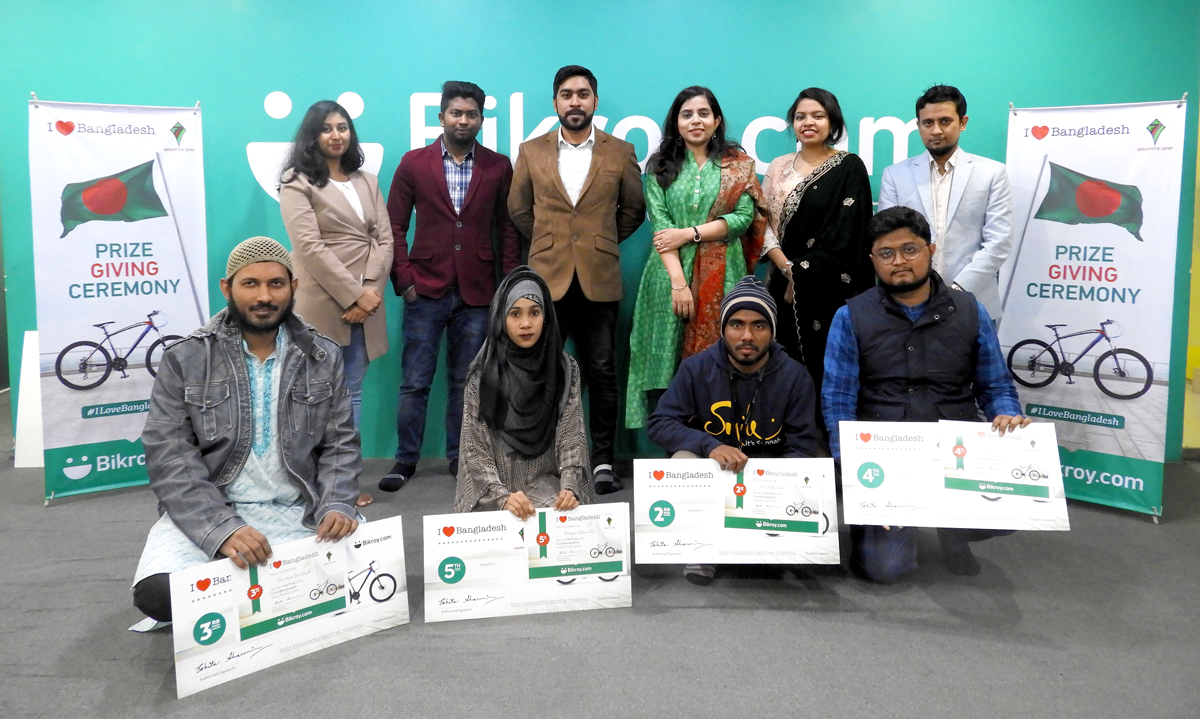 Bikroy.com, the Largest Marketplace in Bangladesh, has handed over the prizes to the winners of the 'I Love Bangladesh' story writing competition. The prize-giving ceremony was held at the head office of Bikroy.com, on Monday, 23rd December 2019. CycleLife Exclusive was the "Powered by" partner of this competition.
At the prize-giving ceremony, Eshita Sharmin, Co-Managing Director of Bikroy, and Syed Helal Hossain, Assistant Marketing Manager of CycleLife Exclusive were present along with the winners.
Recently, Bikroy launched the competition for the second time to highlight the stories of freedom fighters and individuals who, out of their deep-rooted patriotism, played or is continuing to play an important role in the progress and well-being of the nation and its people. Participants visited https://blog.bikroy.com/en/submit-article/, and submitted their stories.
Five stories were selected as winners from more than 250 stories that were collected during the competition. The winners of the competition are Minati Adhikary, Md. Shakil Ahmed, Md. Ahad Bin Ismail, Md. Altamis Nabil, and Sumaya Sultana Sifa. The winners were awarded the 'Sector Series' and 'Guerilla Series' Seventy One bicycle by CycleLife Exclusive. Besides, the top winners of this competition have been provided with the opportunity to build a career as a part-time writer at Bikroy.com. Winners also received certificates from Bikroy.com and five of the selected stories will soon be published on Bikroy's blog.
Eshita Sharmin, Co-Managing Director of Bikroy.com said, "At Bikroy, we strive to bring something unique for our customers. In continuation of the previous year, we wanted to celebrate the month of Victory with the freedom fighters and real patriots who can be an inspiration for the young generation of Bangladesh. We are pleasantly surprised by the active participation from all over the country in such short notice. We got many good writings from which the final winners have been selected. On behalf of Bikroy.com, I want to thank everyone who spent their valuable time participating in this competition."
Hasibuzzaman Hasib, General Manager of CycleLife Exclusive said, "It is our immense pleasure to be a partner of the 'I Love Bangladesh' story competition on the occasion of Victory Day. It is a great platform to spread the daunting stories of people who are fighting hard for the country and the people. It was an effort to pay such individuals and their stories a tribute. We'll be delighted to be a part of such arrangements by Bikroy in the future."