Bikroy Updates
Bikroy-US-Bangla Airlines Handover Prizes to the Valentine 2020 Campaign Winners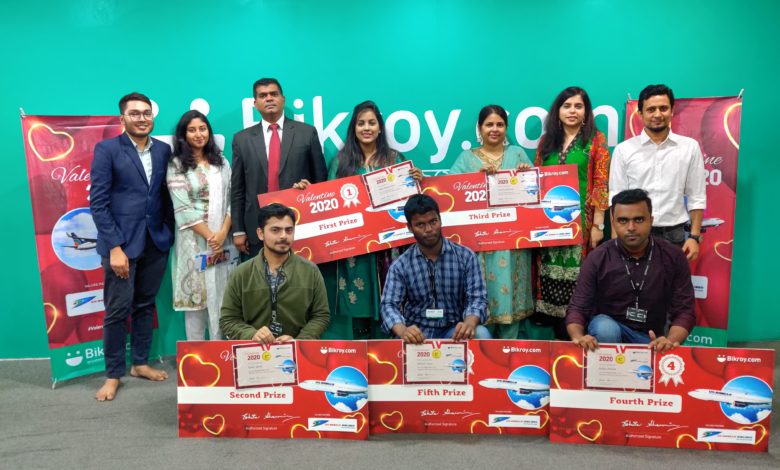 Bikroy.com, the Largest Marketplace in Bangladesh, has announced the winners of the 'Valentine 2020' campaign. The prize-giving ceremony was held at the head office of Bikroy.com, on Monday, 24th February 2020. US-Bangla Airlines was the 'Valued Partner' of this story writing competition.
At the prize-giving ceremony, Eshita Sharmin, Co-Managing Director of Bikroy.com and Md. Kamrul Islam, General Manager, PR of US-Bangla Airlines Ltd., were present along with the winners.
Recently, Bikroy launched the competition to celebrate the season of love. Participants took part in this competition by writing their love stories and posting an ad on Bikroy.
From more than 100 stories collected during the competition, five were selected as winners. The winners are Abida Sultana Oyshi, Taukir Jamal, Sumana Rahman, Bulbul Ahmed, and Mehedi Hasan. The winners were awarded Dhaka-Chittagong-Dhaka couple tickets by US-Bangla Airlines.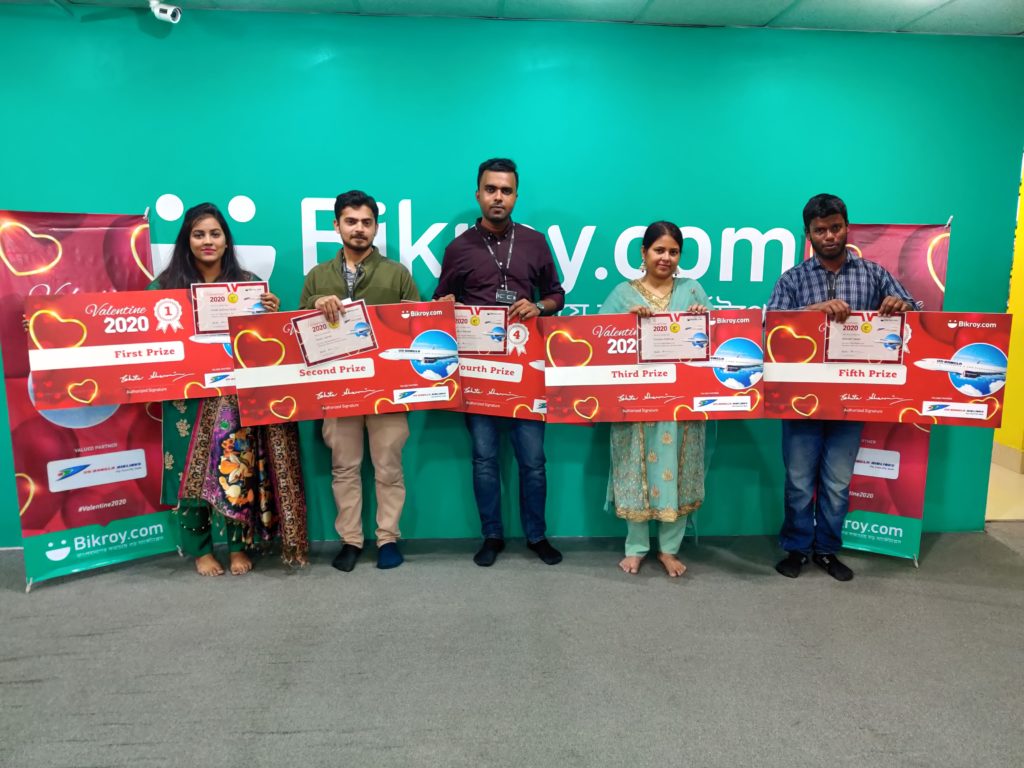 The first prize winner Abida Sultana Oyshi said, "I am very delighted to win such an amazing prize. It is such a nice gesture by Bikroy to hand over this kind of amazing gift to celebrate Valentine's Day.''
Congratulating the winners, Eshita Sharmin, Co-Managing Director of Bikroy.com said, "We wanted to do something special for our users to celebrate the season of love and so this competition was arranged. I'm delighted with the overwhelming response that we received from the users. I am certain that the winners will have a fantastic Valentine gift for their partners. We will surely bring more attractive offers to our users in the coming days.''
Md. Kamrul Islam, General Manager of PR of US-Bangla Airlines Ltd. said, "I want to congratulate the winners on behalf of US-Bangla Airlines Ltd. People want to celebrate Valentine's Day in a special manner. Although for a limited number of people, we are glad to be able to take part in their happy moments. This will inspire us to hold more arrangements in the coming days. We want to be beside our customers during their special occasions."