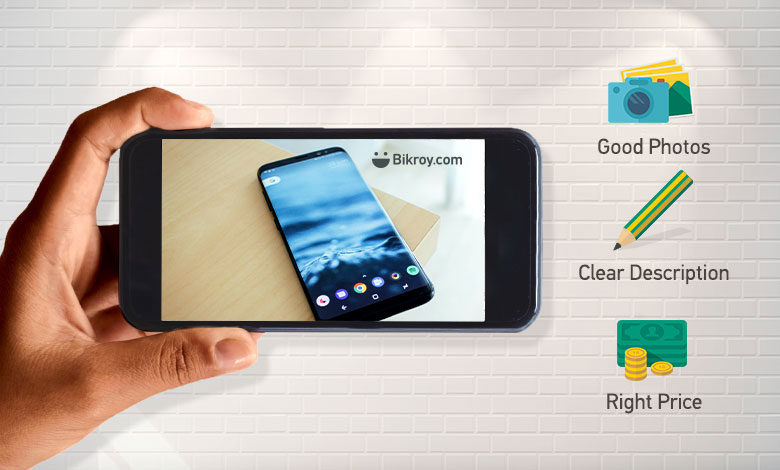 Are you looking to make some extra pocket money or a little income on the side? You can do so by selling on online classifieds. Get rid of some of your unused items or even sell regularly for making some extra earnings for yourself!
The concept of buying and selling online has become quite popular with the emergence of reputed online marketplaces such as Bikroy.com. Even though the idea of selling online may seem complicated to some people, it can be incredibly simple and easy!
Today, we will discuss how to sell fast through the leading online marketplace of Bangladesh and share tips to make this process smoother for those looking for some easy money.
How online classifieds work in Bangladesh
The concept of online classifieds is to involve the local community in the buying and selling of new and/or used items. People are able to use the massive power of online media to sell in the local community. The logic is quite simple – a seller posts an ad for a product to be sold at a certain price. Interested buyers from all over the country see the ad and whoever reaches an agreement with the seller buys the product for its agreed-upon price.
Simple, isn't it?
While buying and selling have become common in Bangladesh using online classifieds, many users have a few questions such as:
How can I sell fast online?

Where can I post ads for finding reliable buyers?

Is it safe to sell online?

Where will I get the best price for my products?

Are my transactions secure?
As a result, it is important that sellers choose a reliable and trustworthy platform to sell their products. Similarly, buyers want to ensure that they are buying from genuine sellers and are not getting scammed.
The answer to the above-mentioned questions is Bikroy.com! Bikroy has a reputation for being a trustworthy, reliable and secure online marketplace.
What types of products sell on Bikroy.com?
There is no single answer to this. That's because a huge variety of things are sold on Bikroy, starting from a computer mouse to assets like cars and property. But of course, as an online marketplace, mainstream products such as mobile phones, computers, laptops, TVs, etc. are some of the best sellers.
From big furniture to light fashion items, everything that has an interested buyer sells on Bikroy. The reason is quite simple – it is quick and easy! Sellers can simply take some snaps of the items they want to sell and post on Bikroy. The ad is viewed by a huge number of visitors. The thrill of selling something instantly online is what motivates sellers as well.
You can sell items by location using Bikroy
Ads posted on Bikroy.com are accessible through computers or laptops or even using the Bikroy app on Android and iOS mobile devices. You can easily post an ad with pictures and descriptions and tag your location. Interested buyers in the area will be able to find you when they search for the product in your area. This helps you save time as you will get a local buyer who can agree to buy your item and meet you relatively sooner to pay and pick it up. You don't have to worry about sending the product to the buyer.
Need to sell something urgently? Post on 'Urgent' ad on Bikroy!
For those interested in selling something urgently on Bikroy.com, they no longer need to wait for someone to spot their ad on Bikroy and contact them. With Bikroy's new promoted ad feature, sellers can now post under the URGENT tag.
Products labeled as URGENT will be viewed with a red tag in the upper-right corner and thus will be highlighted with urgency to interested buyers. As a result, ads will stand out among regular ones.
For example, the following graphic shows how the URGENT items for sale will appear among other items posted for sale on Bikroy: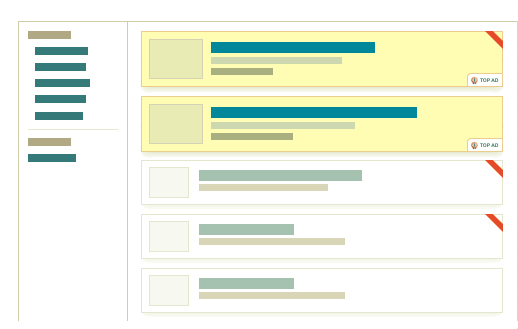 URGENT item red tag on the top right corner of the ad listing
Differences between Top Ad, Bump Up and Urgent Promotions
Bikroy.com offers 3 types of premium services for the sellers to promote their items for sale. Let us now look at the differences between these 3 types:
Top Ads
These are ads aimed to increase views for the particular ad. So, sellers who use this feature are likely to get up to 10 times more views since they will be featured at the top for interested buyers.
Bump Up
These are ads aimed to increase the number of interested buyers for calls. Sellers using this feature will find their ads on top of other ads to get a fresh start daily and will get more interested people for their items.
Urgent
Among the featured ads, Urgent ads catch the attention of more interested buyers. Sellers who use this feature will see their ads attracting the buyers' attention must faster and potentially seal the deal much more quickly.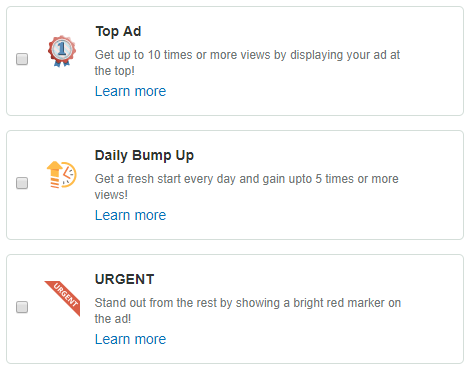 The 3 Types of Ad Promotions on Bikroy.com Marketplace
As a seller, you will benefit immensely from using these additional promotional features. For further improving the effectiveness of an ad, these can be combined or used collectively for best results.
Spotlight
Spotlight ensures a premium spot for showcasing the high-end items and thus attract immediate attention from buyers on Bikroy. The key is to use good quality pictures to make sure you hit the right user.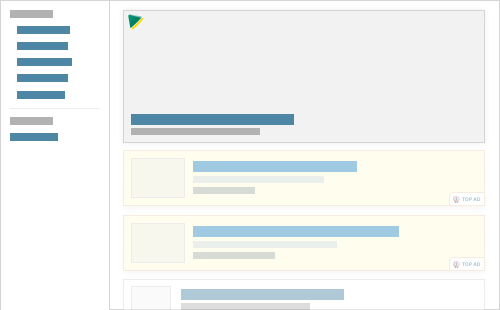 Premium spot for an ad with 'Spotlight' promotion
The cost of promoting an ad as Urgent
Any seller on Bikroy.com can use the URGENT promotion for their ad. If you want to sell your item fast on Bikroy.com, then post your item for sale using an Urgent banner now!
Safety & security for buying and selling on Bikroy.com
The online marketplace industry in Bangladesh has gone through massive and rapid growth and the opportunities that have come to surface in the last decade are beyond imagination. However, similarly the levels of theft and innovative forms of fraudulent activities has also experienced a sharp rise.
The government and its law enforcement authorities have tightened their grip on security measures to eliminate online fraud. Bikroy.com has also worked hard to ensure the safety of its buyers and sellers by taking steps to secure its online marketplace.
Bikroy uses an account verification process for sellers to ensure that all numbers of sellers listed on its marketplace are verified mobile phone numbers. This eliminates the posting of fake ads by frauds using other mobile phone numbers.
In addition to this, Bikroy Marketplace has taken the strict stance of banning the sale of all types of illegal, replica and clone items. As a result, fake products such as replica phones are illegal to be sold on its platform, adhering to international intellectual property laws.
The do's and don'ts of posting items for sale on Bikroy.com
If you want to benefit from selling items on Bikroy.com, you must follow some crucial rules to help you attract buyers for your posted items.
Try not to use text in your featured image. In most cases, Bikroy.com doesn't accept images with text as the item's featured image. Having the first picture without any text makes it more professional and gives more focus to the item.

Try to keep the ad title short and simple for your interested buyers. Try to not use too many symbols, special characters or emojis on your ad title. Keep it focused on the name of the item and its price only.
You can use text on the other images such as the second, third or fourth image. Try to keep the ratio of text down to 20% of the image area. So, whether it is the product code, specification, company name, features, etc. try to keep it proportional to the image and not being too dominant. The idea is that a smaller proportion of text preserves the appeal of an image, and therefore cluttering an image with too much text is more likely to make the viewer ignore it completely, thus defeating the purpose.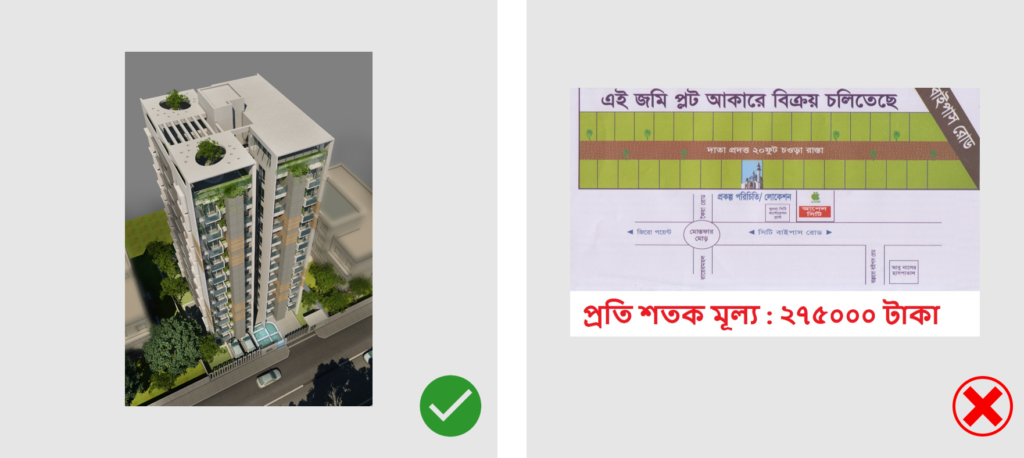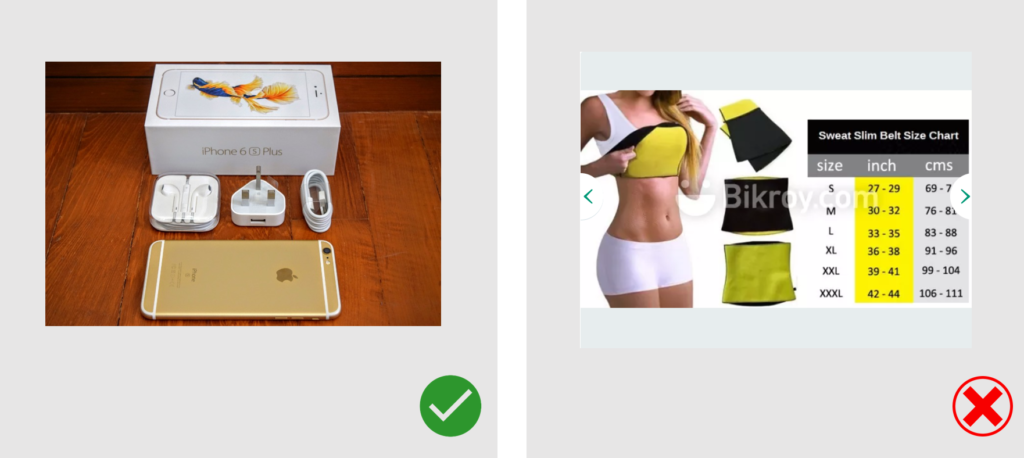 When posting an image with text, be sure to use a font that can be easily read. Avoid using bright, obstructive, colors or too little or too large text.
If you want to sell something fast, then post an ad on the largest marketplace in Bangladesh by becoming a verified seller right now!
Some tips for buyers on Bikroy.com
As you will agree, an online marketplace is a great way to get quality items for a bargain from any part of the country. So, before we go to the end of our article, we want to leave you with some tips if you are planning on buying items on Bikroy.com.
We focused so much on selling on Bikroy.com, it is only fair that you find out a little bit about buying on this online marketplace as well. Here are some of the best practices when buying and we want you to benefit from the following tips as a buyer:
If you are looking to get a product fast, then find a seller who lives nearby or in the same city. Use the location filter and find items for sale listed in that particular area.

Take full benefit of all the filters to sort ads by location, price, rating etc. before you finally decide on making a purchase.

If you see an item that you like but it is sold out, contact the seller to get information on when it will be available next.

Ask for a bargain if the price is negotiable, just because an item is listed for a specific price, don't forget to make your own offer. As long as you do it politely and professionally, there is no harm in asking for a better deal.

Check back frequently since ads update every minute. If you want something, be sure to look for it frequently.

Always double-check the price listed for an item you're thinking of buying. Ask your acquaintances or simply verify the market price online.

Cash transactions are the safest, however, be careful while paying for items and keep proof of your payment.

If you are ever in doubt about a product or seller, simply walk away from the deal. Do not risk yourself for an item that you can easily find another day.

If you are ever harassed or troubled by a seller, be sure to report the seller to the Bikroy.com authorities so that appropriate action can be taken to avoid harassment to others or yourself in the future.
Conclusion
Hopefully, this article has served you well as a complete guide to selling online. Bikroy.com, is the largest and most reputed online marketplace in Bangladesh, and if there is one place where you can sell your products the most quickly and efficiently, it is here.
Covering all the major cities and smaller areas all over Bangladesh, you can use Bikroy.com as your trusted source for not just selling your products but also for buying from verified sellers!
That's all for today. Remember, selling is not the only option, you can also list unwanted items to be collected for free for those who are less fortunate and are in need of those items.