Electronics
Production Facility Fire Safety in Bangladesh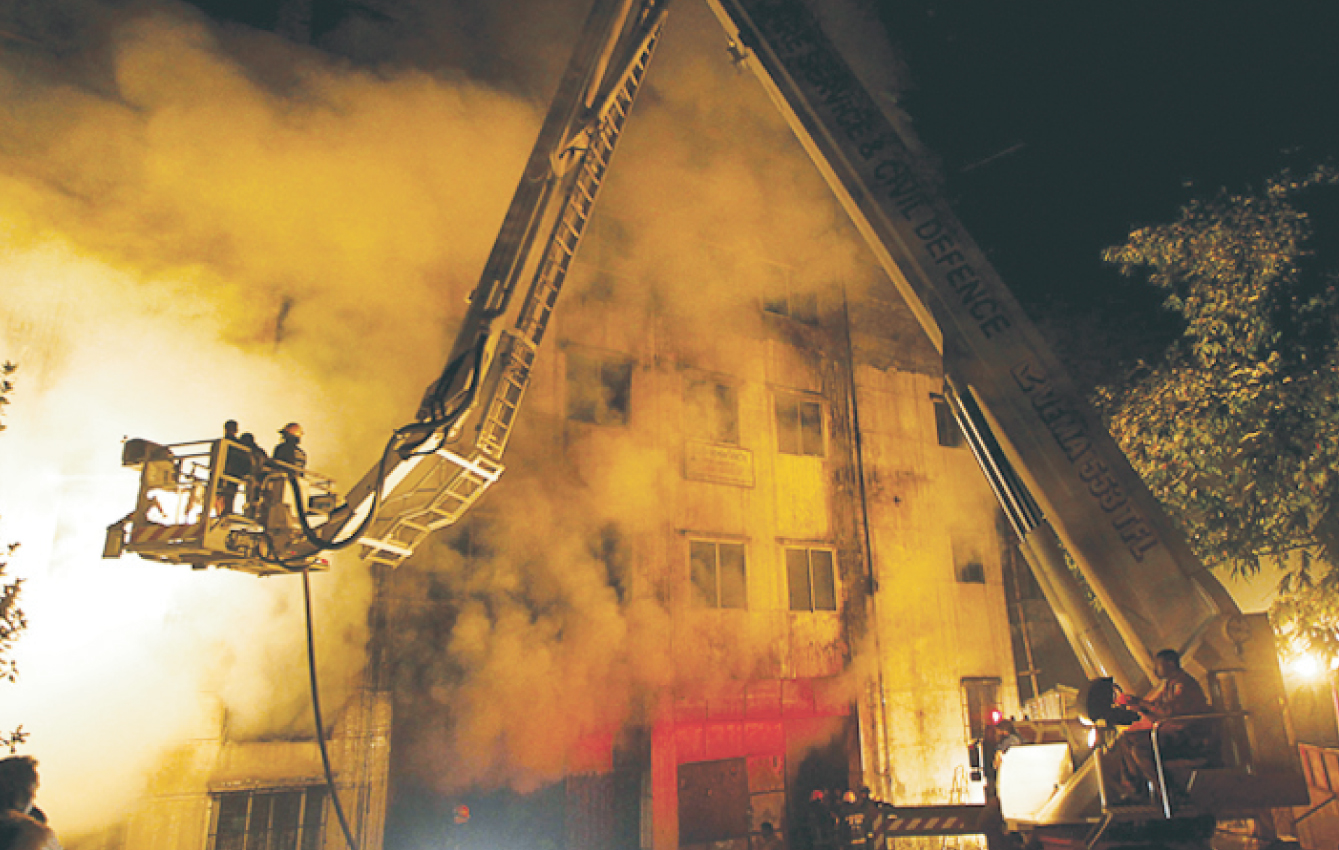 Given the nature of their operations, factories can be disasters waiting when it comes to fire safety. They often involve large numbers of workers, flammable or combustible materials, warm or dry temperatures and confined spaces. Ask any fire department worldwide, and that combination can be a recipe for serious problems and loss of life. In response to this industrial risk, the Accord on Fire and Building Safety in Bangladesh has delineated fire safety equipment sources that garment factories and related business can use to improve the safety levels of their operations from fire risk.
Intended to be a platform of pre-approved suppliers that companies can use to obtain qualified safety equipment from, the Accord provides a master list for the ready-made garment industry, reducing their need to have to perform outside research and test by trial which vendor's safety products will work or not work.
It is historically clear that the garment industry has to address worker and workplace safety. The very nature of production pushes the levels of inherent risk in operations, which need to be addressed by business owners. The list provides a government-supported solution, especially when sourcing safety equipment from outside the country. Even more important, this pre-approved list has already gone through significant scrutiny to confirm specific factors, such as:
Certification by underwriting laboratories
Overt and obvious testing
Safety certification
The challenge already exists for the safety upgrade need. Much of the garment industry is still in the stage of planning and implementation, facing a significant combined cost to install sprinkler systems, fire suppression tools, fire-rated entrance and exit doors, signage and more. Further, many companies already know what their needs are, having obtained the information through a series of inspections performed nationally.
The safety effort is timely. Few have forgotten the horror of the Rana Plaza collapse which killed more than 1,100 workers in and around the building. Both building safety and electrical have fallen under intense scrutiny since Rana to avoid a similar catastrophe again. And it's not just garment factories that need to pay attention. Any kind of commercial property that involves a large confluence of people can be a potential disaster risk if the structure fails. And those on the inspection side have to get up to speed as well with such knowledge as well as preventative measures available.
Why a Safety Inspection Drives Safety Equipment Needs
Building safety for fire risks impact a number of other facilities that regularly see a large flux of people and residents daily. Such facilities can and will include shop premises, schools, major office buildings, commercial property with multiple tenants, other types of manufacturing with machinery, restaurants and catering premises, and even transitory elements renting a space for a short-time period or on an ongoing basis. High occupancy buildings are particularly risky with multiple parties functioning differently in the same building and not necessarily following the same rules or processes of activity.
The scale of safety improvement can also range by facility, which is why a building safety inspection on a periodic basis is so important. First, the building type needs to be ascertained by an expert. While a concrete and steel building may seem to be a low fire risk to the average person, it may include a number of components that can boost the fuel capacity of a potential fire. When temperature gets hot enough, concrete can start to crack and spall, falling apart quickly. That in turn can cause a collapse. With brick buildings and wood infrastructure, masonry can peel off in chunks and the wood underneath can collapse quickly when installed as a load bearing component. Heavy timber buildings are often designed with masonry walls and wood structure. The heavy timber can take a long time to burn but the masonry can crack and crumble. So building type knowledge is critical.
Next, an inspection would look at population capacity, spacing, and traffic patterns as well as where egress paths are for entrance and exit. In a panic, a poorly planned path of exit can be deadly, so signage and clear exit paths are important for risk prevention. Additionally, many buildings have false space above internal ceilings. These areas can be traps for carbon monoxide, a deadly gas that is odorless and invisible but given off by burning material. A CO buildup can not only be poisonous to those who breathe it inside a building, it can also be flammable, creating a flashover situation when the fire hits the right temperature. When flashover occurs, there is very little chance for those inside to survive as temperatures and hot gasses can then reach as much as 1,000 degrees Fahrenheit.
With the above information, the right safety equipment can then be matched to a given building's needs. This can range from sprinkler systems to fire extinguishers and everything in between. The installation of standpipes for different floors of a higher building can reduce delay time, allowing firefighting personnel to just bring a hose inside and turn on the water flow from the standpipe on a given floor. Internal hoses can be pulled from wall connections, allowing trained factory personnel to put out a fire before it gets to be big and dangerous. Smoke detectors and CO detectors can warn people of invisible risks before they become deadly. All of these aspects can be had from the Accord's master list of safety equipment vendors consistent with inspection recommendations on a given facility.
In Summary
Much of fire risk in commercial and industrial settings can be prevented and many fires are often started by personal human involvement rather than just freak accidents. By instituting a comprehensive risk prevention plan for a facility a business can protect its people, its equipment, and its investments from the damaging effects of a fire catastrophe. These are aspects of risk that can be controlled and planned for.