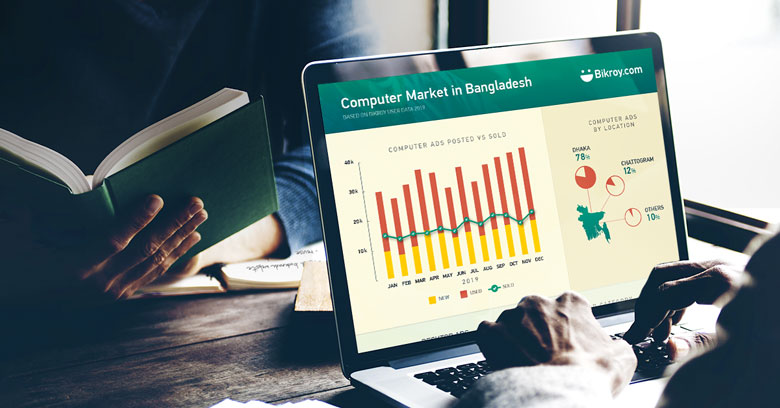 Everyone knows how fast the computer market in Bangladesh is growing. Over the past decade, there has been an undeniable surge in our IT industry. A lot has happened to fuel our economic growth in this time. In the wake of the new decade, 2020 sure looks like it will bring a lot more to an already 'digital' Bangladesh.
Today we will look at exactly how much of an impact the computer market in Bangladesh has had on its overall economic growth. Statistics suggest that just the laptop computer market in Bangladesh has been valued at $165 million USD in 2017 and then $175 million USD in 2018. Although a similar statistic regarding 2019 is not yet available, it is surely more than the two previous years.
Bikroy is the top marketplace in Bangladesh, and the computer advertisements on the site are a very real representation of the country's overall computer market.
Computer Ads Posted vs Sold
Let's look at the snapshot below of the month by month breakdown of ads for both new and used computers, and of course, the number of units sold in those particular months.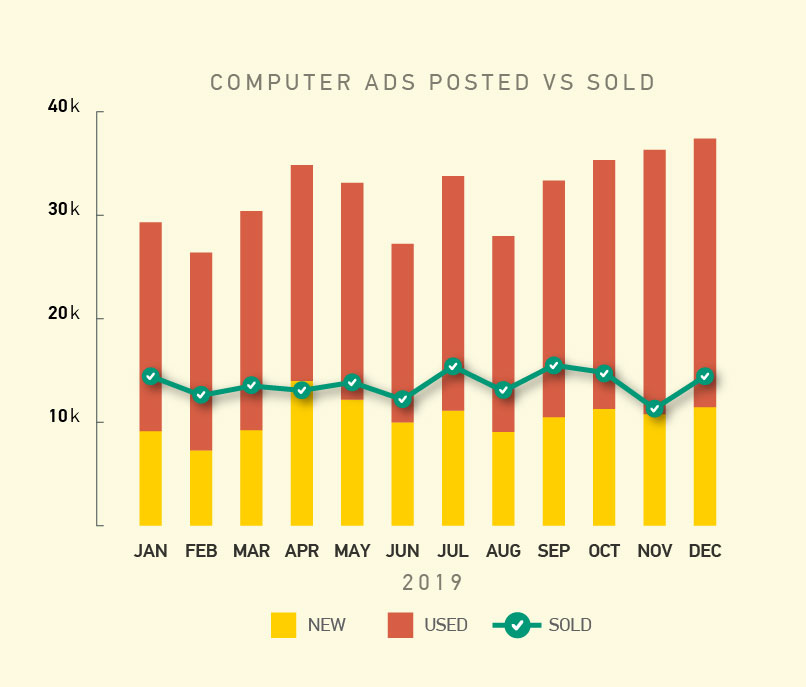 As can be seen from the above bar chart, there were on average 30,000 computer ads (combining both new and used computer ads) per month on Bikroy in 2019.
Additionally, an average of 15,000 computers were sold per month respectively. Regardless of the value of each computer, that is a significant number of computer sales for just one major online marketplace of a developing country like Bangladesh. It's a tremendous stat that proves the potential value of the overall computer market in Bangladesh.
Computer Ads Posted by Location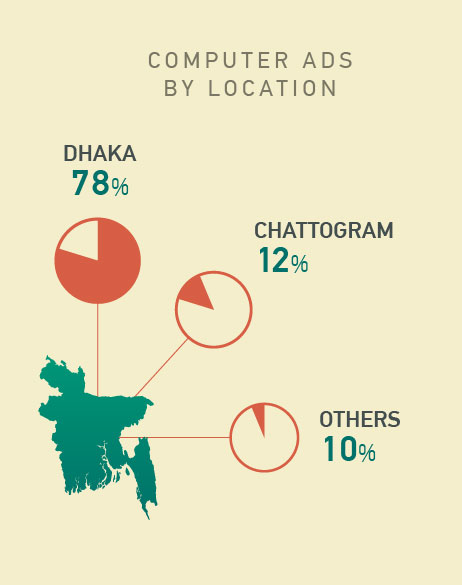 Now let's look at the origin of the computer ads posted by Bikroy users.
As expected, the biggest share is taken by the capital city of Dhaka with 78% of all the computer for sale ads on Bikroy's Marketplace.
Any other notable location is Chattogram with 12% of the computer ads. The remaining 10% of the computer for sale ads are shared between other cities or locations within Bangladesh.
Given the vast amount of people in the capital city, the scope for the biggest groups of consumers (both buyers and sellers) is much larger in Dhaka compared to any other location in Bangladesh. Likewise, as reflected by the distribution of the computer ads, the sales too were dominated by this region.
With so much potential in just Dhaka city, the idea of a massively developed and distributed computer market in Bangladesh in the near future looks promising.
'Computer for Sale' Ads Posted By Price & Category
'Computers for sale' ads can be broadly categorized as desktop and laptop computers.
As you will notice, there was a quite fair distribution of 54% desktop computer ads for sale versus 46% laptop ads. One of the most interesting figures between the sales of these two types of computers is the contracting nature of demand for new and used computers.
74% of all the desktop computers ads for sale were for new desktop computers. In contrast, 97% of all the laptop computer ads for sales were for used laptops. So, it can be clearly recognized that a majority of desktop buyers go for new computers, but an even greater majority of buyers go for used computers when it comes to laptops.
Not just in Bangladesh, but across the world, the market for laptop computers is growing at a much faster rate within the computer market due to its portability and range of performance now being introduced through state-of-the-art technology – all within its compact size.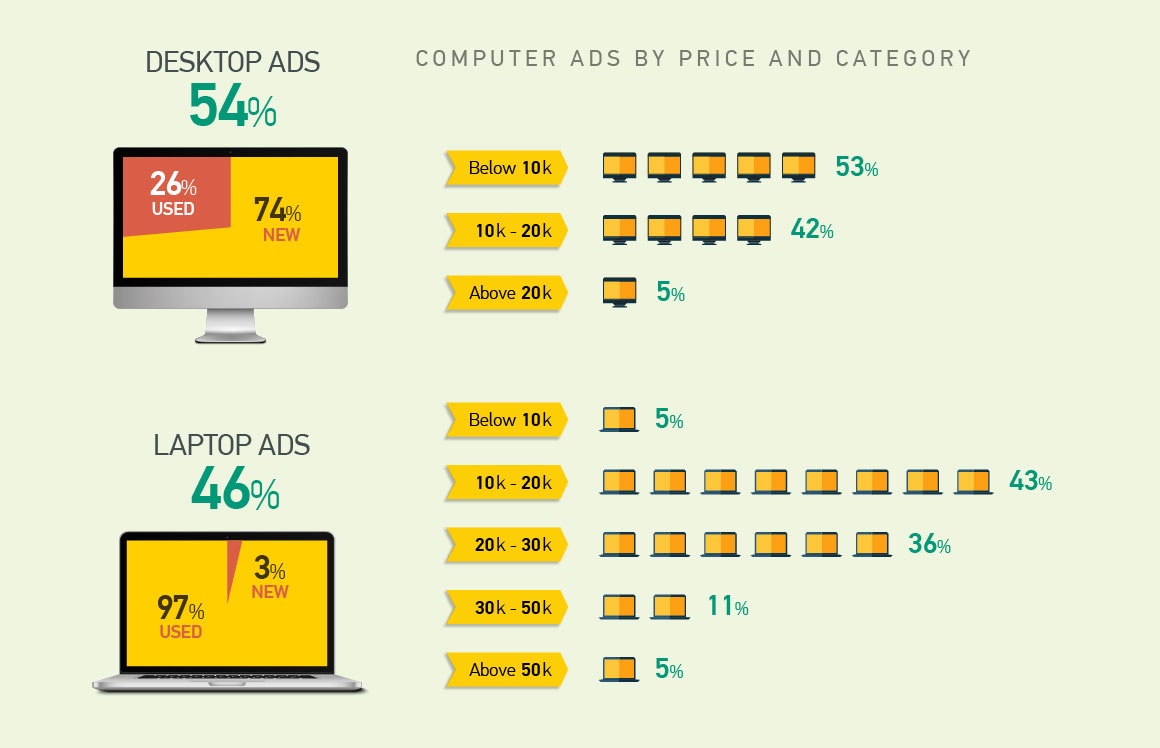 Now, let's look at the price of laptop and desktop computers for sale ads in 2019. The desktop computer market is targeted at a much lower price category compared to laptop computers. Only 5% of all desktop computer ads were for computers costing above 20,000 BDT. The majority of the desktop computer ads are for computers below 10,000 BDT, while 42% are for those between 10,000 to 20,000 BDT.
However, in terms of laptop computer ads, the market is much more valuable. In huge contrast to desktop computers having a 53% share of ads under 10,000 BDT, only 5% of laptop ads were posted for sale within the 10,000 BDT price.
There are many reasons why most consumers are attracted to laptops compared to desktops. Portability is obviously a major advantage but there are others such as electricity. Battery-powered laptops allow on average 2 to 3 hours of usage which for a country like Bangladesh where electricity is unreliable is a big plus.
Among other advantages, there is the fact that laptops are compact, attractive and the performance is almost matching the abilities of desktops with every new model. The average cost of a laptop is 40,000 BDT which is nearly 4 times the price of the average desktop computer in Bangladesh.
The biggest majority of the laptop computers for sale ads (79%) were priced between 10,000 to 30,000 BDT. 11% were between 10,000 to 30,000 BDT and 5% were high-end laptops priced above 50,000 BDT.
Popular Brands
When it comes to the most searched brands across all computers in Bangladesh for 2019, Hewlett Packard or HP comes out as the big winner (I, too, am a proud owner of an HP laptop!). Following HP is one of the biggest brands in the world right now – Apple. Closely following after are Asus, Lenovo, and Acer.
In terms of laptops, you are more than likely to agree with at least 5 of the top 6 most searched brands. And this will hold true for not just the laptop computer market in Bangladesh, but also worldwide.
When it comes to the highest number of laptop ads by brand, we find that Apple slides down to 6th position, while HP holds on to its dominant first position. This only reflects the exclusivity of Apple and generally fewer Mac users in Bangladesh, having nothing to do with quality or otherwise.
Bangladesh is an extremely important market for not just computers but overall, technology-based products. An independent survey revealed that the estimated size of the technology products market in Bangladesh is worth more than $1.5 billion USD.
So, it makes sense that giant brands and companies such as Samsung, Lenovo, HP, Intel, Microsoft, Google have noticed and are looking to penetrate the computer market in Bangladesh with innovative products.
When it comes to Desktops, we see two new names – Intel and Samsung, while the majority demand is for fully customized desktops. This is natural as desktops are built for power and performance such as gaming and support the development of a system by integrating parts from various brands of manufacturers.
Conclusion
Without a shadow of a doubt, it can be said while the advancements in IT have posed many challenges, they have also made many nations thrive forward. In recent years, Bangladesh has become more tech-savvy in the race with other developed nations due to its skilled IT sector and its efficient use of innovative tech-gadgets.
Bangladesh is most definitely moving along in the right direction at the right pace for making its mark in the overall global computer market. Slowly, but surely, we will get our fair share of the pie!
With the government's support and talented individuals looking to make a statement to the world, the computer market in Bangladesh is sure to enjoy a remarkable boom in the upcoming years.
Bikroy.com is a fine example of how an online platform is capable of achieving more and more with each coming year. Browse through all the biggest brands of computers for sale in Bangladesh for both new and used desktops, laptops and other innovative gadgets including smartphones, appliances, etc. in the largest marketplace in Bangladesh – Bikroy.com.
Let us know your thoughts on the computer market in Bangladesh and your predictions for 2020 and beyond!
Full Infographic: