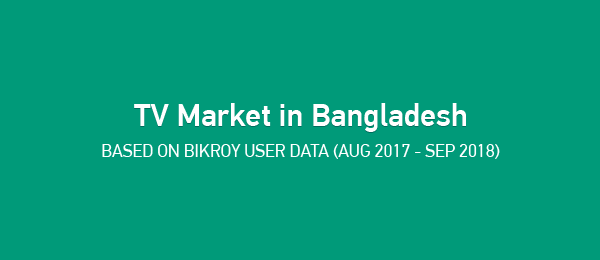 Everyone loves a good TV. In fact, the infatuation with the small screen and big screen TVs has resulted in as many branded TVs in Bangladesh as there are households today, whether they are manufactured in here or abroad. To maintain regular sales, manufacturers often feel the urge to come up with new ways to convince us that we need a new and improved TV, sometimes even two! So it is no wonder that TVs now come with a long lists of features, full of cutting edge technical enhancement and crucial sound and display acronyms. Sometimes it can be very hard to figure out exactly what's important and what's not. We have already discussed about Things You Must Know Before Buying a TV in Bangladesh on our previous blog. Today, we are going to talk about one of the best online marketplaces to buy your next TV from.
Bikroy.com – The Best Online Portal for New and Old TVs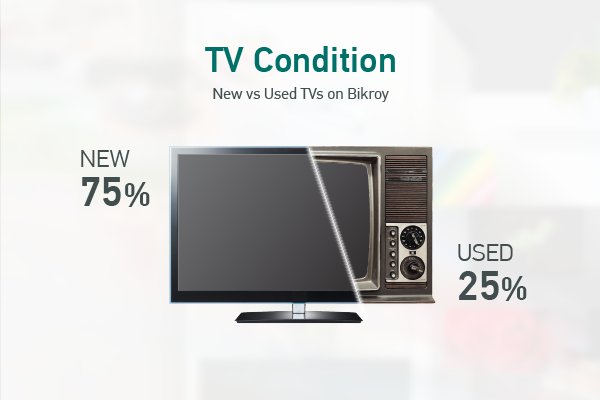 You all know the name of bikroy.com when it comes to online shopping. It is the largest and the second most popular site after facebook in Bangladesh. Bikroy has its own unique way of sorting and categorizing products for the maximum user experience and comfort. In our Electronics category, there is a wide collection of appliances available in different sub-categories. This is where you will find the sub-category of TVs. Here, you can filter your search even further by their location, prices, brands and even on their condition, whether new or used.
Most Selling Brands Both Old and New
There are plenty of TV brands available in the marketplace for us to choose from. But only some brands win the trust and favour of the customers and manage to make huge sale of their products. In Bikroy we have that kind of favourites as well.
The most selling TV brand in Bikroy is none other than Sony. Amongst all the selling TV brands, Sony has a collection of around 18.% of the overall TV market. The numbers might not tell a great deal about their popularity but Sony is the most popular TV brand in every corner of this country, no need to tell about the rest of the world, everyone knows about it's amazing features and the most vivid picture quality. Next comes another big name in the electronics industry, Samsung. With a collection of overall 10.% of the entire television market, Samsung has always been a top ranking brand in almost every type of electronics marketplaces and in Bikroy, it has ranked 2nd in position.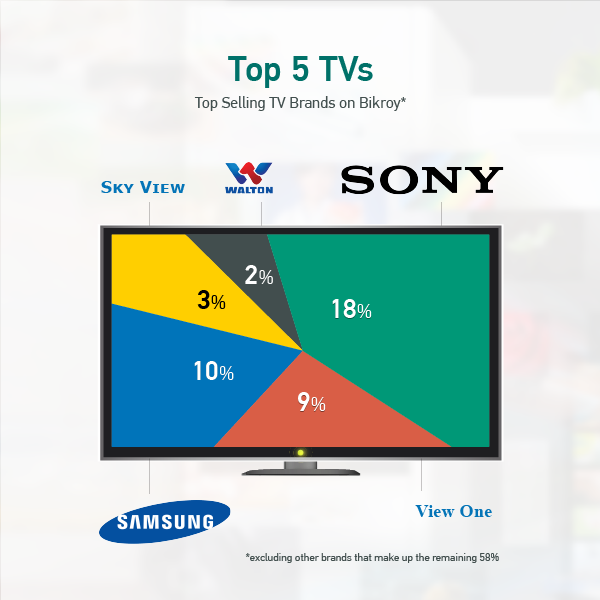 The third and fourth positions in our marketplace belong to View One and Sky View televisions. These two brands are popular for offering amazing features within a budget. People all over Bangladesh buy their TVs with pleasure and many devoted sellers are offering these low cost TV sets in Bikroy for the best price in Bangladesh. They hold around 9.% and 6% of our Television market accordingly. Their affordable price range has caused them rank higher than other popular TV brands without much effort. In a developing country like Bangladesh, where most people have a low to mid range income, budget televisions make their way into peoples home and hearts.
In fifth and sixth position the two other popular brands made their way, LG and Walton. LG is a globally popular electronics brand which has a great selection of mid to high end television sets. But due to their price range they have come down to fifth in position in our TV marketplace and holds around 3.72% of the collections. Then the pride of our nation Walton have got the sixth position in our market with 2.62% of hold in the total TV marketplace. This is the one of the first electronics brands to produce quality products in Bangladesh. With their affordable price range and uprising quality products, they are gaining popularity in a rapid rate in both Bangladesh and abroad also.
There are also many products from many other brands available in Bikroy. So no matter the budget, once you decide to buy a new TV for your home, make sure to check our large TV portal by visiting Bikroy.com/Tvs.
Buy New TVs
Many may still think Bikroy has listings of used products only. But to be honest there are more new products available in Bikroy than the used ones. Our trusted members offer their different types of television sets in Bikroy and they hold an astounding 75% of all the TV listings. All these TVs come in different price ranges and they are from all kinds of brands available in the overall TV market.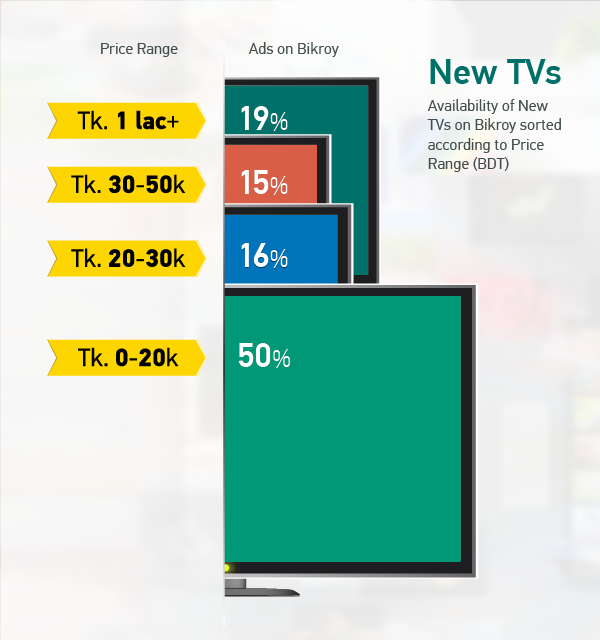 0k to 20k BDT : The most number of new TV listings of Bikroy comes in this price range, around 50% of new televisions. TLC, View One, Sky View etc companies sell their new smart TVs, android TVs in Bikroy and they offer the best price range for TVs in Bangladesh.
20k to 30k BDT:

In this price range you can get your hands on a variety of television models including TLC, View One, Toshiba and even many Sony Bravia and Samsung smart LCD, LED and UHD TVs. You can get TVs of upto 43 inch display size, which is actually pretty amazing. Around 16% of new televisions come at this low to mid-level price range.
30k to 50k BDT:

Almost all the best TV sets with great picture quality and huge display sizes can be bought within this mid-level price range. In this price you can buy slim and ultra slim smart TVs from Sony, Samsung, LG, TLC etc. Around 15% new TVs are listed within this price range.
50k to 70k BDT:

This is the limit where high-end TVs start from. In this price range, you can get the best smart FHD, UHD and 4K TVs from Sony Bravia, Samsung, LG and many more popular companies. Around 9% of total listings of new TVs are within this price range.
70k to 1 Lakh:

Most 4k and UHD TVs with Curved and fantastic displays from Sony, Samsung and LG come at this price range. In this price range, you can experience the magic of greatest display quality, smart features and a great sound system. Around 6% of new high class TVs are within this price range in Bikroy.

Above 1 Lakh:

As you go above 1 lakh BDT, you start to get only the best TV sets available in the market. With magnificent image quality, curved display, touch and gesture features, amazing 3D and 4K viewing experience, all of these you can enjoy from your personal comfort zone, in your home. These TVs are a symbol of status and style. Around 6% of new TV listings belong to this price range and these beauties can cost you up to 4 Lakh 20k BDT.
Buy Old/Used TVs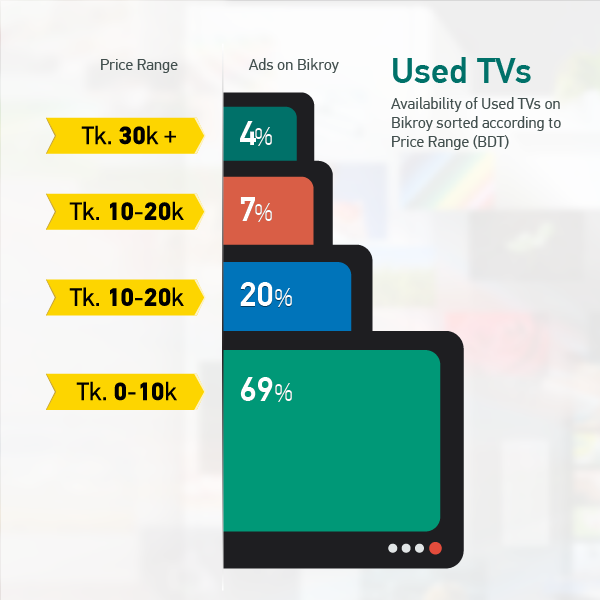 Bikroy is famous for its huge collection of used products and their authenticity. Each and every ad here are posted by real people and they are thoroughly verified before the ad becomes online. These ads are also checked for plagiarism and fraudster, so that each ad is unique and the products are real and available for you. So, if you are willing to buy a used TV from Bikroy, you don't have to sweat it, just pick the right one for you within your budget and the best set of configurations you want to get your hands on.
Under 10k BDT:

You would be happy to know that the most number of used TV listings in Bikroy are within the best price range in Bangladesh, under 10k BDT, affordable by people of almost every economical band. Most of these TVs are old school, but if you search well enough using the smart 'filter search' method of Bikroy, you may get your hands on some good condition LCD, LED TVs from renowned brands such as Sony Bravia, Samsung, LG etc. Around 68.9% of the used TV listings are within this price range.

10k to 20k BDT:

In this price range, you can buy some reasonable used TV models within a short budget. Around 19.8% of used TV listings come within this budget price range. If you search properly and use the right filters, you can get your hands on some pretty good LCD, LED and even smart TVs in this price range from popular brands such as Sony, Samsung, LG, Walton, Vision etc.
20k to 30k BDT:

This is considered the mid-level price range considering used but smart and advanced TV sets. Around 6.46% of the used TV listings are available within this price range. Some of the best budget TVs can be found within this budget if you search properly, such as LED, FHD and smart TV sets from brands like Sony Bravia, Samsung, Minister, Panasonic, LG etc. from the screen size of at least 32 to 40 inches. Many of these TVs are reconditioned and come with service warranties from our trusted sellers.
30k to 70k BDT:

This might seem like a pretty large price band, but the number of listings within this range is not that large, around 3.95% of used TV listings only. But within this variety of price labels, you can find some of the finest lesser used television sets. Most of the high-end used TVs are from Sony Bravia and Samsung, being well in condition and above 40 inch screen size. Also in this range you can afford some great LED, UHD and even 4K smart televisions with internet support.

Above 70k BDT:

To be honest, this is a ridiculous price range for used TVs, while you can easily get a brand new TV set with service warranty and great display. But some of us still opt for bigger and better high-end TV sets and can't often manage to save a large amount to afford the best of the bests. The number of offers within this price range are as few as only 0.86% of the total used TV listings. Without a doubt, all the used TVs within this price range are from the best brands and are best in qualities and configurations.
Most searched TV brands on Bikroy
Find Top 5 most searched TV brands on Bikroy per month on average.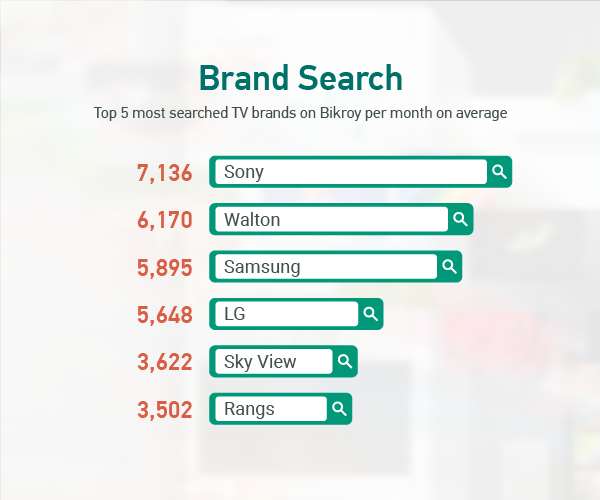 However, if you are still looking for a bit more bargain, then try our special offers at Bikroy Deals. Visit bikroy.com/deals to get unbelievable discounts and offers on interesting new products from our trusted members, including flagship TV sets and much more. Visit now and crack the best deal of your life today! Happy shopping!