Bikroy Updates
Winners of 'Boishakhi Deals 1426' Awarded with Prizes by Bikroy-Minister
Bikroy.com, the largest marketplace in Bangladesh, has announced the winners of 'Boishakhi Deals 1426 powered by Minister" campaign. The prizes were given to the winners yesterday, on April 17, Wednesday at Bikory's head office in the capital. Minister Hi-Tech Park Limited was a partner of the campaign with Bikroy.
On this occasion, Eshita Sharmin, Head of Marketing and Ad Sales of Bikroy.com; Naz Hussain, Head of Marketplace of Bikroy.com and K.M.G. Kibria, Head of Brand and Communications of Minster High-Tech Park Limited were present at the award ceremony alongside other senior officials.
Nabela Rita

;

the

1st prize winner

won

a 300-liter Refrigerator sponsored by Minister;

Shimul Deb Nath

; the

2nd prize winner

won a 32 "LED smart television sponsored by Minister; and

Mehedi Hasan Anis

; the

3rd prize winner

won a gas burner sponsored by Minister.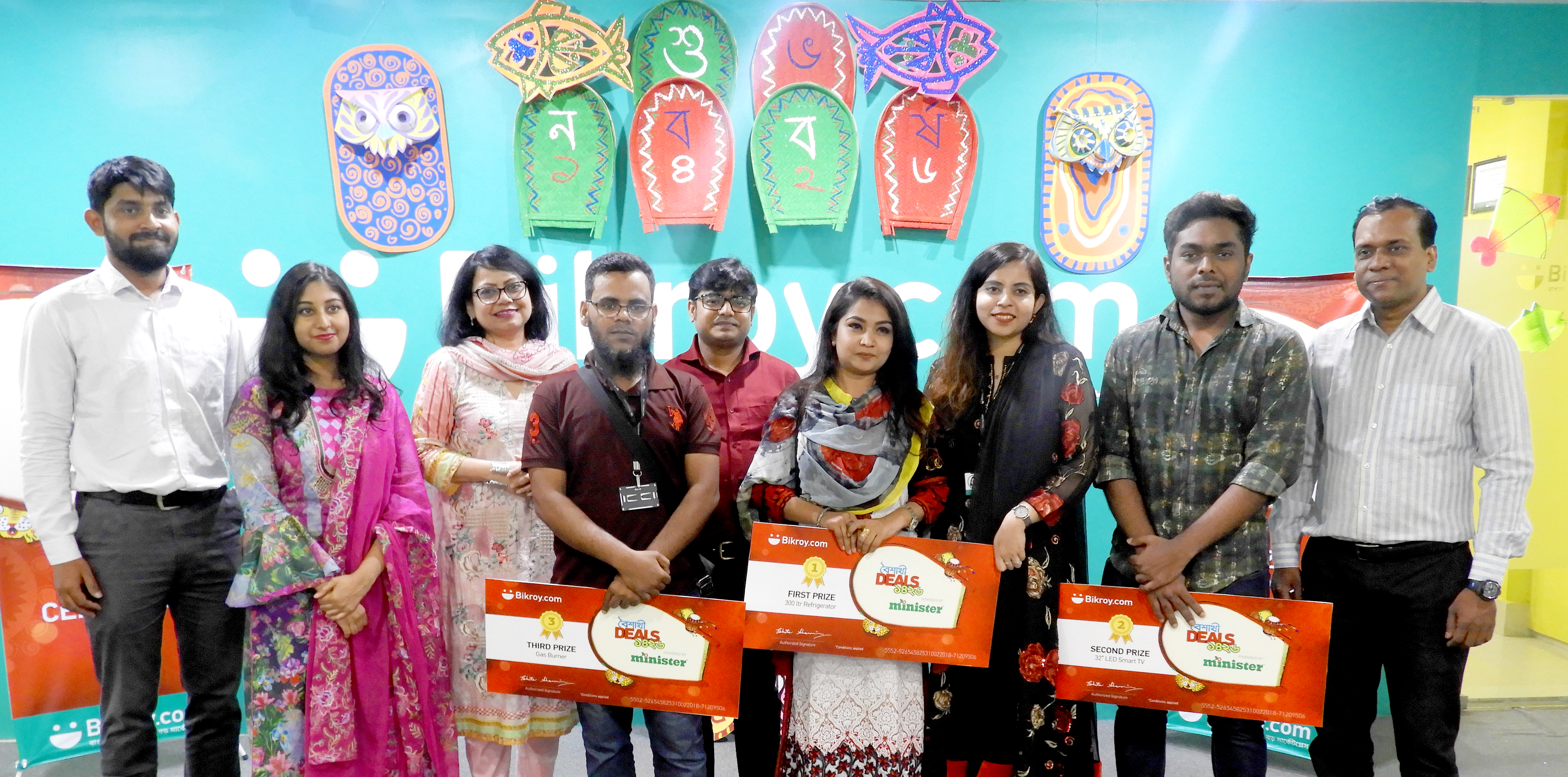 Customers participated in the campaign by purchasing their favorite products through the "Buy Now" feature in Bikroy Deals, which is a new addition to the Bikroy.com service. It is basically an e-commerce section that provides access to electronics, kitchen and home appliances, personalized gaming items, travel accessories and thousands of products with 100 percent security for customers through the "Buy Now" feature.
The 1st prize winner Nabila Rita said, "I have been shopping online using Deals and this time it was not different, but winning the first prize was absolutely unexpected. I thank Bikroy.com for organizing such a beautiful campaign."
Eshita Sharmin, Head of Marketing & Ad Sales of Bikory.com said, "I would like to congratulate the winners and thank all the users of Deals. I believe, the winners are very happy to receive such amazing prizes, we are glad to bring smiles on our customer's face. Earlier in February, we came up with Valentine Deals Contest and received a lot of response from customers, which has inspired us to bring such interesting campaigns on the occasion of Bengali New Year. This campaign has also received enormous responses in a short span of just 19 days and last month and we received ten thousand orders in March."
K.M.G. Kibria, Head of Brand and Communications of Minister High-Tech Park Limited, the partner of this campaign, said, "I want to congratulate the winners on behalf of Minister Hi-Tech Park Limited. Although for a limited number of people, we are glad that we are being able to be a customers' happy moments. This will inspire us to hold more arrangements in the coming days. Thanks to Bikroy for organizing such a contest."