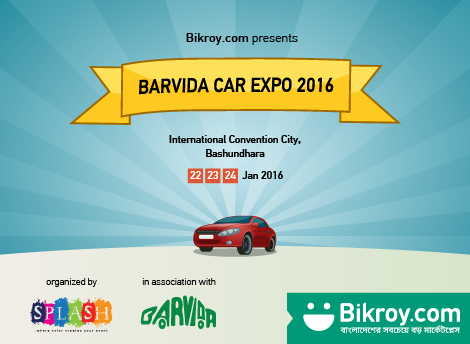 The 3-day BARVIDA car expo 2016 will begin in the city's International Convention City Bashundhara (ICCB) on January 22.
Japanese reconditioned cars will be put on display and sales in the expo, to be organized by the Bangladesh Reconditioned Vehicles Importers and Dealers Association (BARVIDA).
Organisers disclosed these at a press conference, held at the BARVIDA office in the city on Monday.
Speaking at the press conference, BARVIDA president M A Hamid Sharif said Japanese reconditioned cars have been playing a significant role in the country's transport sector for the last four decades.
This sector is contributing a total of Tk 36 billion annually as tax and VAT to the public exchequer. Besides, around 0.1 million people have been employed in the reconditioned car business, he also said.
The BARVIDA president said the main objective of holding the expo is to help customers make their choice of Japanese reconditioned cars.
The organizers said more than 100 stalls, including 65 of car sellers, will be in the expo. The programme will be a one-stop solution for buying reconditioned cars, as all related service providers will take part in it.
Relevant companies, like – insurance, car-loan providers, engine oil, tire and battery manufacturers, and car accessories providers, will participate in the expo.
National Board of Revenue (NBR) is expected to provide instant TIN to the customers during the expo.
It will be open for visitors from 10.00 am to 10.00 pm every day, and the entry fee will be Tk 20 for a person.
Among others, BARVIDA senior vice president A B M Anisuzzaman Pinu and executive committee member Md. Ashraful Haque (Tito), and Bikroy.com manager (category management) Isa Abrar were present at the press conference.
Get car tips for this summer: https://goo.gl/EwvtBn