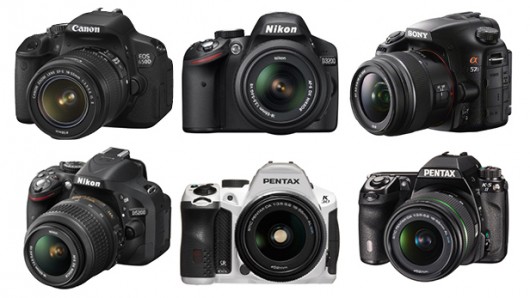 5 Budget DSLRs for 2015
The biggest barrier to DSLR ownership for many people is the cost. However, prices have really gone down in recent years, and you can now find many amazing entry-level DSLRs that will not break the bank. If you want to enter the exciting world of DSLR photography, here is a guide to the five best budget DSLR cameras to buy in 2015.
1. Nikon D5200
While there are many amazing budget DSLRs out there, none are better than the Nikon D5200. This is the best of the entry-levels DLSRs that Nikon makes. It has 24 MP to take fantastic high-resolution photographs. One of the best features of the D5200 is the three-inch LCD screen that allows for viewing at variable angles. It also has one of the smallest bodies of any DSLR, which makes it easy to shoot with on-the-go. The D5200 will capture 1080 full HD video, and it is one of the easiest DLSRs to operate for beginners.
2. Sony Alpha SLT-A65
Sony is the leading electronics manufacturer in the world, which makes it no surprise that they make some fantastic DLSR cameras. They have a wide range of models available, and the Alpha SLT-A65 is among the best budget cameras on the market today. If you are looking for cameras with loads of megapixels, you cannot do better than the Alpha SLT-A65. It has a staggering 24 MP to ensure that you can take incredible high-resolution photographs. The viewfinder on this camera has 2.4 million dots, and the three-inch LCD screen has 921,600 dots. It also shoots HD video and can shoot photos continuously at a rate of up to 10 frames per second.
3. Canon EOS 60D
Canon was one of the first companies to come out with DSLR cameras that were able to take professional-quality photographs, and they have a reputation for making affordable DSLRs to fit every budget. The Canon EOS 60D is one of the best budget cameras available today. It has a beautiful three-inch LCD screen with 1,040,000 dots that allows you to review your photographs as you shoot. The camera has 18 MP, and it is known for taking incredible photos at very high shutter speeds. If you want to shoot video, the EOS 60D can shoot full 1080p HD video. It also has a high-quality external microphone that captures excellent audio.
4. Olympus Pen E-PL5
For those new using DSLR cameras, this is a camera that is perfect for making the transition from point-and-shoot photography into the world of DSLRs. The Olympus Pen E-PL5 features 23 different scene-select modes that will allow you to capture beautiful photographs in every location. It can capture HD video as well. It is also much lighter than most DSLRs, which makes the Pen E-PL5 the perfect DSLR for people who like to travel. This is also a very durable camera, which means that you can find a good used Olympus Pen E-PL5 if you are looking for a 2nd hand DSLR.
5. Nikon D90
Nikon has long been known as one of the best camera manufacturers in the world, and they have been one of the best companies to make the transition from film to digital. They have a number of great DSLRs, and the Nikon D90 one of their entry-level models. The Nikon D90 features a self-cleaning sensor that automatically vibrates the camera to shake dust off the lens when it senses it. It can take video as well as photographs. It shoots up to 4.3 frames per second. The D90 comes with 12.3 MP and a three-inch LCD screen that features 920,000 dot-color. This Nikon is a great choice for those who want discount cameras that don't sacrifice quality for affordability.
Once you start to get hooked on photography, you quickly realize that a point-and-shoot camera will not do everything you need it to. While you can take basic photographs with a point-and-shoot camera, you have to get lucky to get great photographs. If you want to step up your photography game, you need to invest in a DSLR camera. When you learn to shoot with a DSLR, the quality of your photographs will improve exponentially.