Bangladesh is growing rapidly along with the world economy. The standard of living has changed remarkably over time, and so has the pattern of buying and selling. Introducing Bangladesh to a convenient service that almost did not exist in the region, Bikroy.com began in 2012 as a classified listings website. Using the power of the internet, you can now buy and sell almost anything on Bikroy, from Electronics and Cars to Property, and even hire people or get a job! At the moment, Bikroy has an average of 3.5 million monthly users and over 1 million app users every month. In addition, nearly two lac ads are published per month by more than one lac sellers, from which more than 6 lac interested buyers are finding their favorite deals.
Let's look at some of the milestones and facts of Bikroy:
Milestones: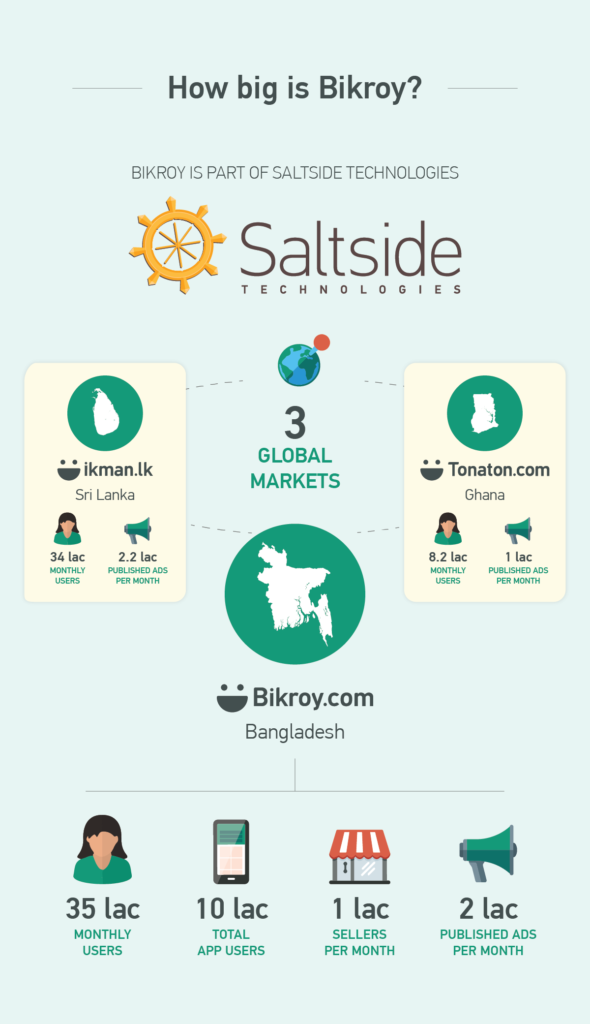 Global Market Stats
Bikroy is a part of Saltside Technologies from Sweden, which has also been operating successfully in Sri Lanka as ikman.lk and in Ghana as Tonaton.com.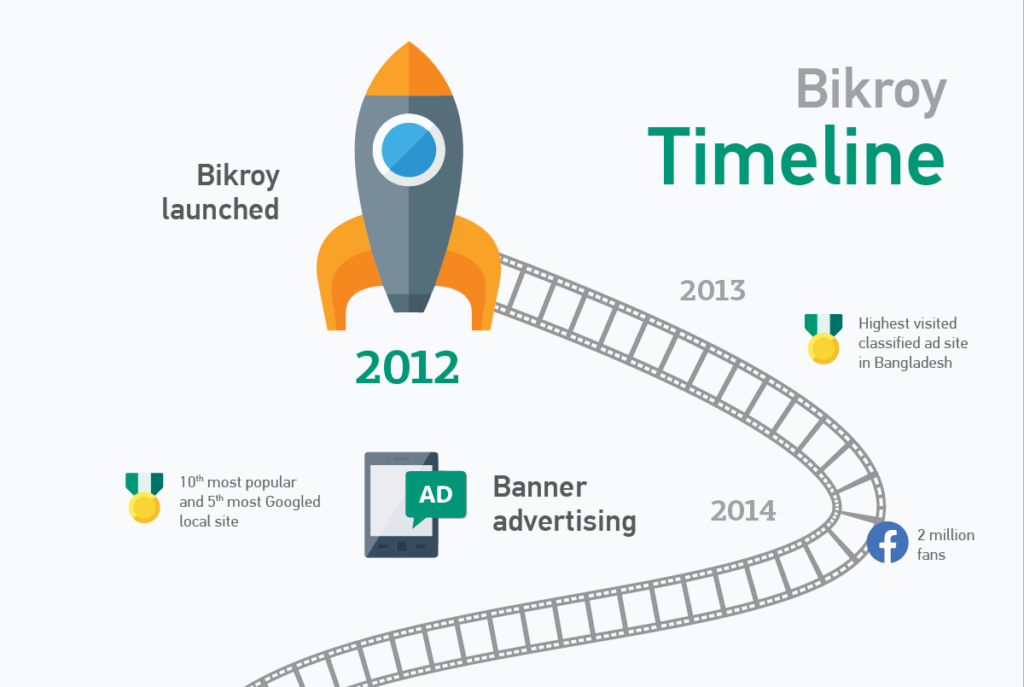 Website Ranking
Within a year of launching as the first bi-lingual online classified service in Bangladesh, Bikroy became the highest visited classified ad site, and was ranked among the 5 most popular websites in the country, as well as the most Googled local site.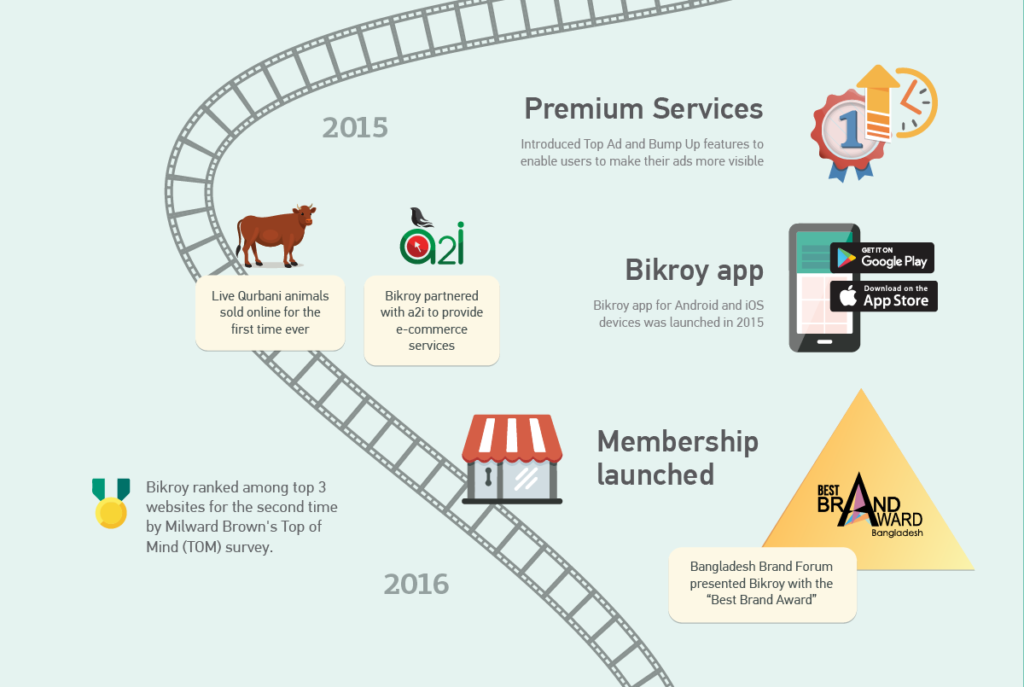 Top Ad & Bump Up Service
In 2014, Bikroy launched banner advertising and reached two million likes on its Facebook page. That same year Bikroy introduced premium listings in the form of Top Ad and Bump Up features, to enable users to make their ads more visible.
Selling Qurbani Animals & Bikroy App
In 2015, Bikroy started selling sacrificial animals online for the first time. In the same year, Bikroy partnered with A2i to provide e-commerce services and also launched the Bikroy App for Android and iOS devices.
Membership Service & Top of Mind
In 2016, Bikroy launched membership service and reached the milestone of three million fans on the Facebook fan page. In recognition of its excellent effort, Bikroy achieved the "Best Brand Award" by Bangladesh Brand Forum. This year, according to the Top of Mind survey by Millward Brown, Bikroy ranked among the top 3 websites for the second time.
#BiratHaat Campaign & Buy Now
In 2017, Bikroy arranged the '#BiratHaat' Contest for the first time during the Qurbani season, which has now become its flagship campaign. That same year, Bikroy launched its e-commerce section 'Buy Now'. Another significant achievement for Bikroy was increasing the proportion of female employees in the workplace by 7%, as a part of the United Nations' #HeforShe campaign.
Rich Media Banner Ads & Brand Health Research
In 2018, rich media banner ads were introduced on the Bikroy website with high-quality animation and rich media content. The same year, Bikroy launched #ILoveBangladesh campaign and also reached 4 million fans on the Facebook fan page. Additionally, in the survey 'Online Brand Health: Market Research Report', conducted by Somara-MBL Ltd., Bikroy became the top-rated online marketplace for three years in a row. On top of that, Bikroy achieved "Brand Leadership Awards" and "Best Employer Awards" by the Bangladesh Master Awards 2018.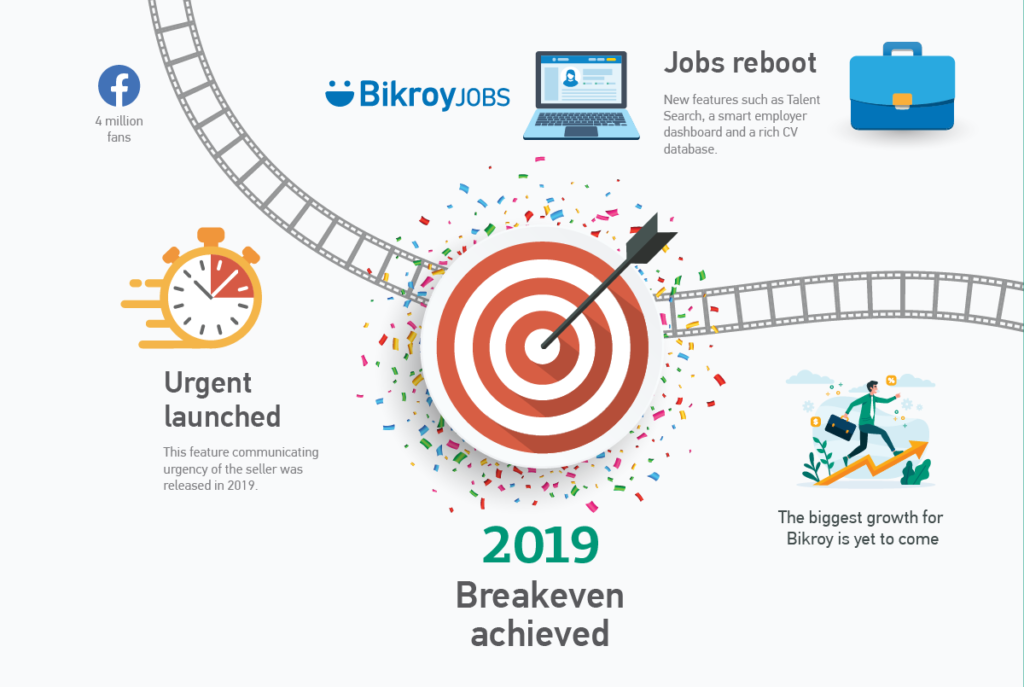 BikroyJOBS & Urgent Service
In 2019, Bikroy.com re-launched BikroyJOBS in a new platform with a new user interface and revamped features, ensuring an affordable and efficient recruitment service for employers and specializing in part-time, entry-level and freshers' employment. At the same time, Bikroy introduced 'Urgent' premium service for sellers.
Reaching Break-even
2019 is marked a significant internal achievement of Bikroy as the company reached break-even. The main reason for Bikroy's success is bridging the distance between the buyers and sellers. By connecting buyers and sellers online, wherever they are in the country, Bikroy has enabled everyone to find their version of perfect and in the process, help them participate in the national economy and in turn grow as a company. Every time any new service or feature is launched – it got a very good response from the users which boosted the confidence and inspired to bring many more exciting offerings for the users. For the past 7 years, Bikroy has been the largest marketplace in Bangladesh, with millions of buyers and thousands of small, medium and corporate businesspersons and entrepreneurs all over the country. From here, Bikroy.com is committed to advancing the classifieds, jobs and e-commerce industries in Bangladesh.
Bikroy Facts: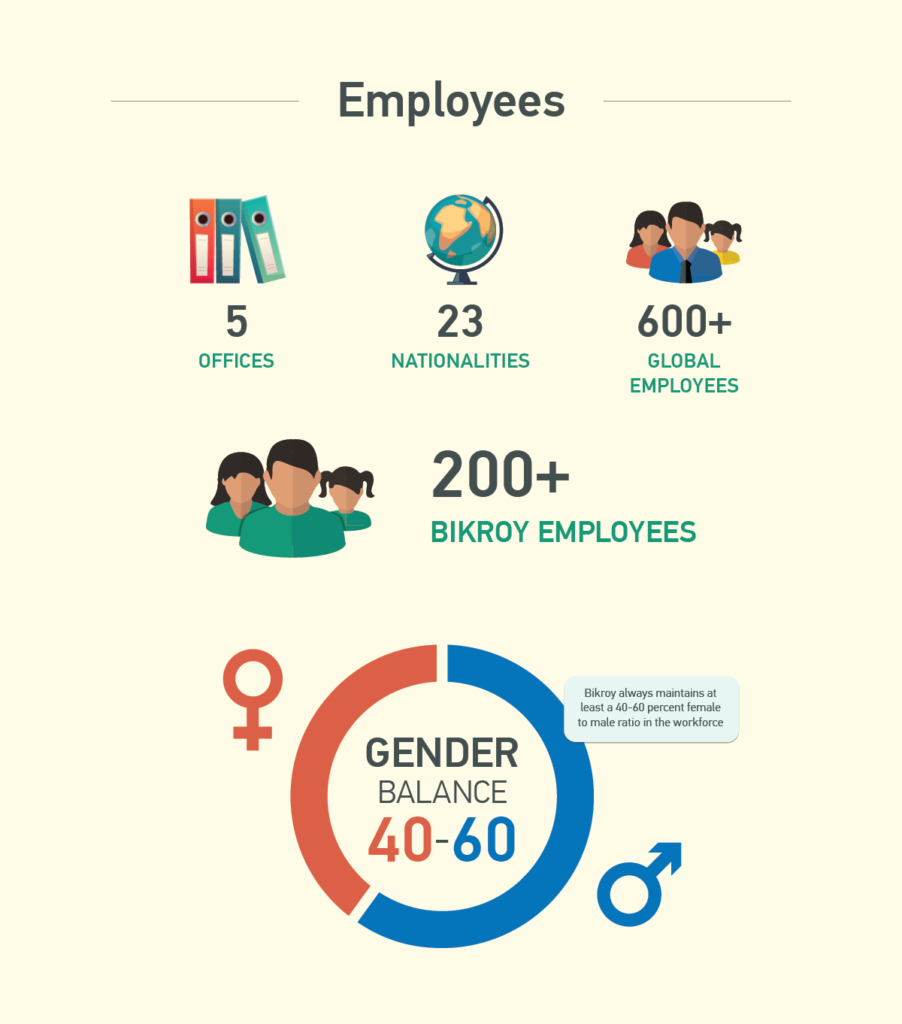 Employee Data
More than two hundred employees are currently working with Bikroy. Bikroy always maintains at least a 40-60 percent female to male ratio in the workforce. In terms of the global market, over six hundred employees of 23 nationalities are working in 5 offices worldwide.
Number of Ads on Bikroy
Daily ten thousand ads and annually thirty-six thousand ads are posted on Bikroy, with an average of 23 interested buyers per ad.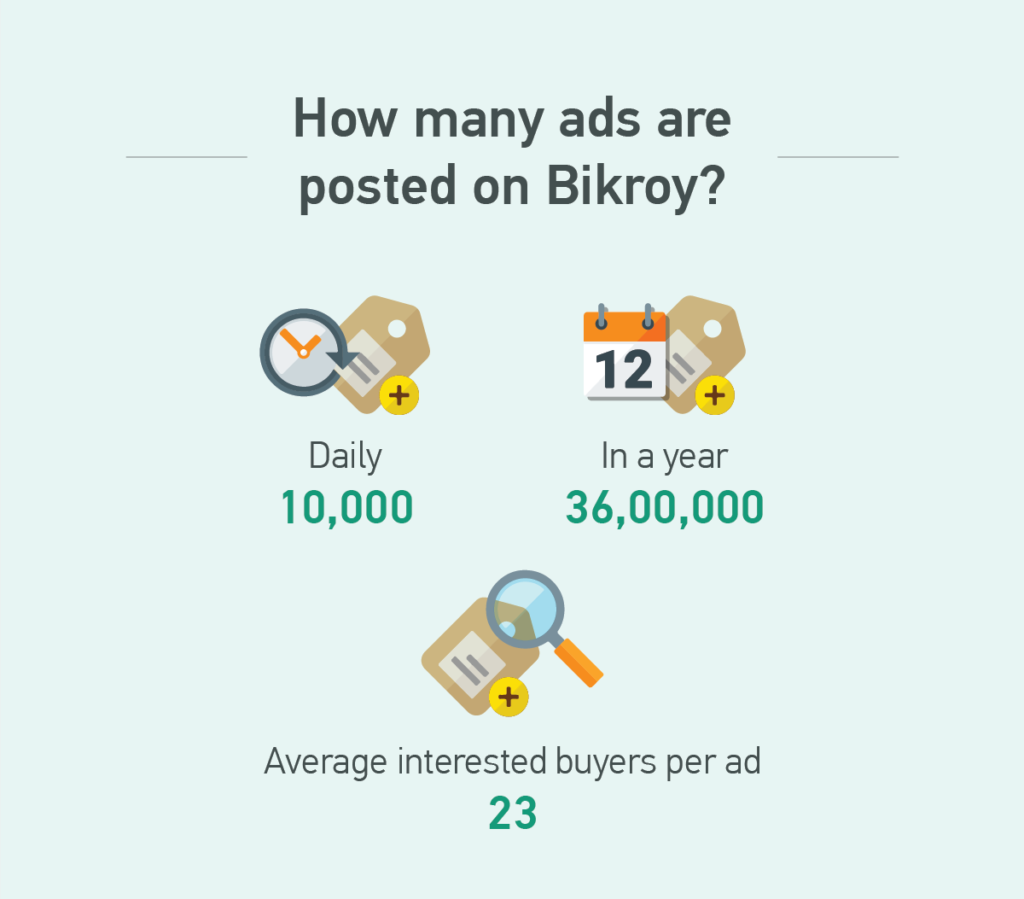 Top Categories
The top categories of Bikroy include Mobiles, Vehicles, Property, and Electronics.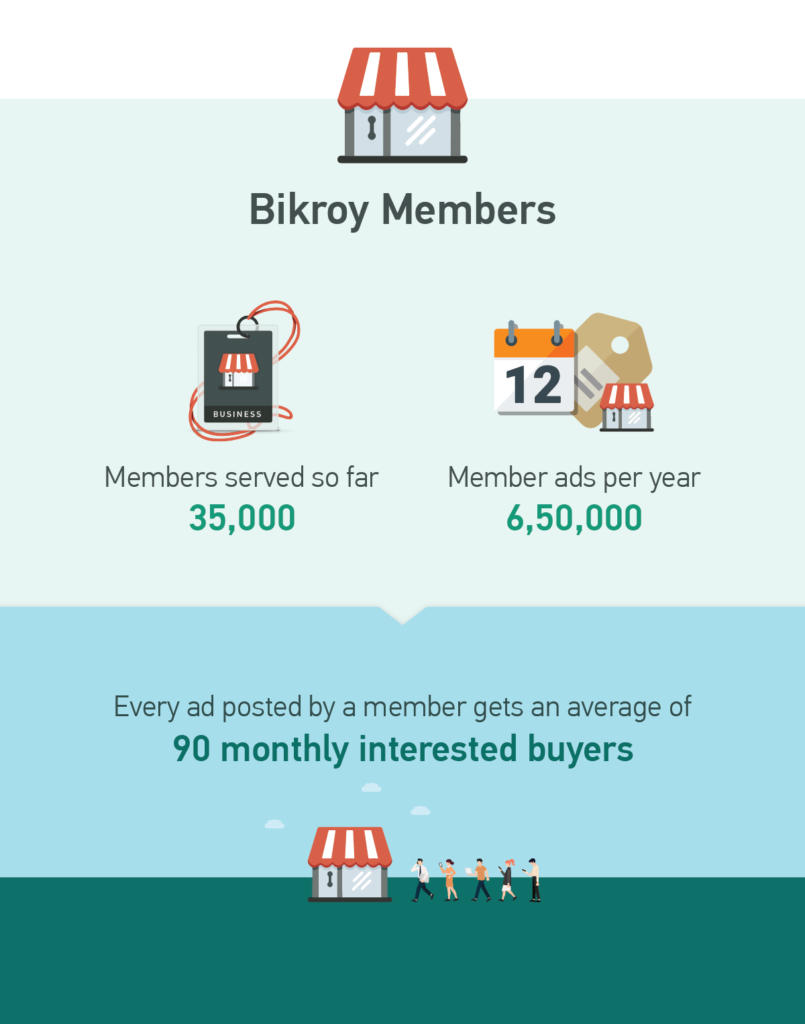 Bikroy Members
So far a total of 35,000 members have been associated with Bikroy, with sixty-five lac ads being posted per year by members. Each member also gets an average of 90 monthly interested buyers for every ad.
Fun Fact
Since Bikroy has approximately 2,500 member shops, it would theoretically be larger than Dhaka New Market, Bashundhara City or Jamuna Future Park if it were a physical shopping mall.
Undoubtedly, Bikroy.com has also played a significant role in improving the financial and social status of people, is a unique means of selling new and used products or services.
Pinterest: https://www.pinterest.com/pin/501447739762519431/