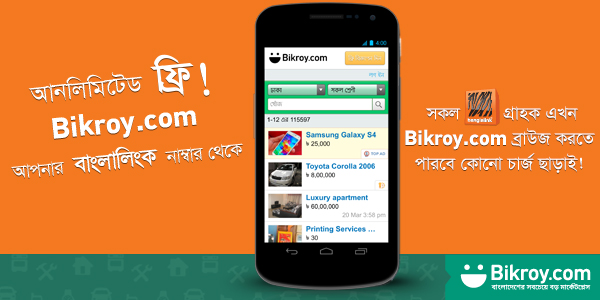 Banglalink, the second largest mobile telecom operator in Bangladesh and Bikroy.com, the largest marketplace in Bangladesh, recently signed a partnership agreement. The signing ceremony was held at the Banglalink HQ in Gulshan-1.
Under this agreement Banglalink subscribers will be able to browse Bikroy.com for free. This is the first time Banglalink subscribers will enjoy browsing a classified site absolutely without any data charge. This will help them buy sell their daily life products more conveniently.
Solaiman Alam, Marketing Director of Banglalink said, "Banglalink has always been keen to improve peoples' daily lives through starting something new. This partnership initiative is also a valuable part of this to enrich the opportunity of internet penetration in the country.' By thanking Bikroy.com for making such easy platform to buy and sell locally he also mentioned "Banglalink and Bikroy.com will work together to come up with different attractive offers for customers in near future."
Eshita Sharmin, Bikroy.com Marketing Manager, said, "In less than two years of operation, Bikroy.com was able to become the largest marketplace in Bangladesh. We hope that this partnership with Banglalink will empower mobile subscribers to increase their standard of living by buying and/or selling phones, motorbikes, laptops, and cars from their mobile phones."
About Banglalink:
Banglalink is the 2nd largest mobile telecom operator in Bangladesh with over 30 million subscribers, and a subsidiary of Netherlands based Vimpelcom Ltd. For more info about Banglalink please visit: www.banglalink.com.bd
About Bikroy.com:
Bikroy.com is a website where you can buy and sell almost everything. The best deals are often done with people who live in your own city or on your own street, so on Bikroy.com it's easy to buy and sell locally. All you have to do is select your region. Visit http://bikroy.com/ for more details.
Disclaimer: You may be charged additionally for 3rd party ads, Google Analytics and the Bikroy.com blog.