Bikroy Updates
Bikroy Teams Up With Toyota to Offer Special Discounts to Bikroy Users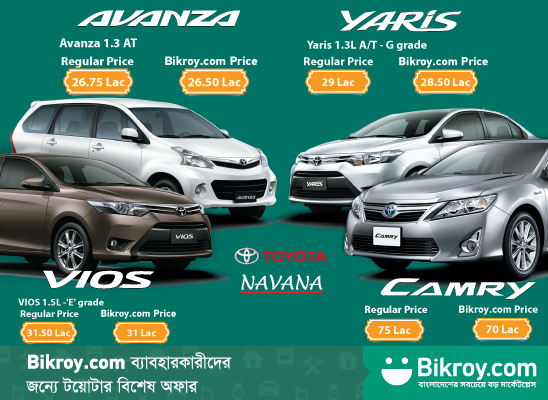 Bikroy.com, the largest marketplace in Bangladesh, has teamed up with Toyota to offer exclusive discounts to Bikroy.com users. Toyota Yaris, Vios, Avanza, and Camry will be offered at a special discount to Bikroy.com users until February 15, 2015.
"As a part of our 2015 Dhaka International Trade Fair (DITF) campaign, our company is offering a great discounted price offer for our vehicles, but because of political instability not enough visitors are coming to the fair. Thanks to Bikroy.com, I have been able to expose this special offer to our customers. It is not so easy to sell cars online in our country, but with Bikroy.com's strong customer base we will surely create many leads for our sales team," said Antiqur Rahman Sazib, Assistant Manager, Marketing, Navana Limited (Toyota).
Navana Limited began its partnership with the Toyota Motor Corporation in April 1964. With the introduction of the Toyota Corona in that same year, Navana launched an era of Japanese cars in the market. Now, Japanese cars reign supreme with Toyota at the top. Navana Limited caters to premium clients, prioritizing quality and customers' peace of mind.
Eshita Sharmin, Marketing manager of Bikroy.com said: " Nowadays, Internet is widely used as a cheap and easy way of finding lower prices and best bargains, especially for buying a car. The shifts from the traditional, physical, marketplaces to online marketplaces has opened up new purchasing and selling culture.The leading automobile brand Toyota's offer for the users of Bikroy.com, The Largest Marketplace in Bangladesh is a great initiative. This offer will add more value to both of our customers. "
To avail of this discount, interested parties must mention that they are an active Bikroy.com user when negotiating for the special price. Toyota and Bikroy.com launched this promotional offer at the Dhaka International Trade Fair on January 22nd.