Bikroy Updates
Bikroy and Minister are proud to present Birat Haat Campaign on the occasion of Eid al-Adha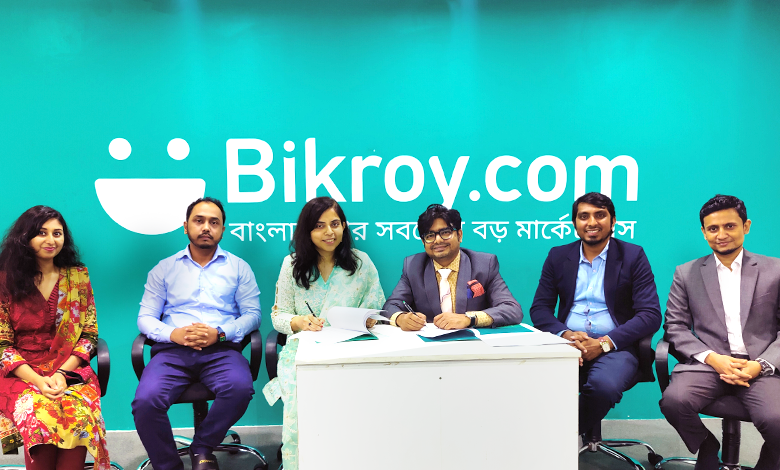 Bikroy.com – the Largest Marketplace in Bangladesh and popular platform for buying and selling livestock – and popular electronics and home appliance manufacturer – Minister Hi-Tech Park Ltd. have collaborated for the sixth year in a row to launch 'Bikroy BiratHaat Powered by Minister' – a Qurbani campaign celebrating the occasion of Eid al-Adha. An MoU was signed between the two parties on Wednesday, June 26, 2022, at the Bikroy Head Office, thereby officially announcing the start of the campaign. This campaign will be live till the night before Eid.
The signing ceremony was attended by Eshita Sharmin, CEO of Bikroy.com; Arifin Hussain, Head of Marketing of Bikroy.com; Sanjoy Biswas, Head of Corporate Sales of Bikroy.com; and K.M.G. Kibria, Head of Brand & Communication of Minister Hi-Tech Park Ltd.
Like every Eid al-Adha, Bikroy is offering an exclusive collection of farm animals for their customers to choose from. Over 2,500 livestock ads have already been posted on the Bikroy site this year. This year Bikroy and Minister have organized an exceptional Birat Haat (#BiratHaat2022) contest for both customers and members. Participants have the chance to win incredible Electronics & Home Appliances as prizes worth a total of BDT 6 Lakh, courtesy of Minister Hi-Tech Park Ltd.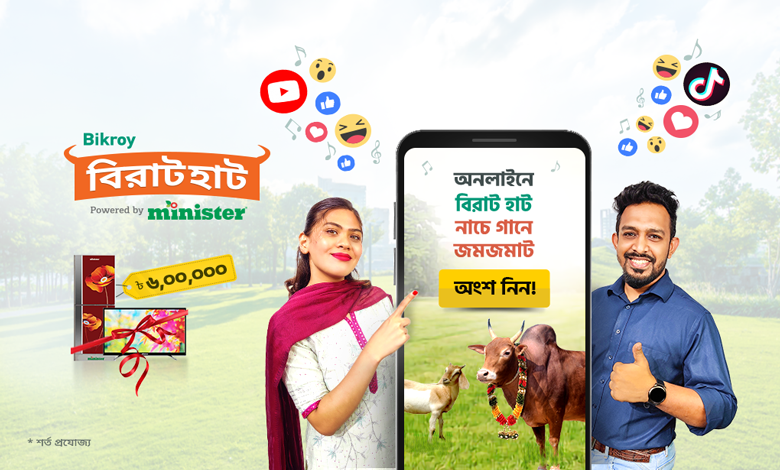 Participants will need to create a video with the Bikroy Qurbani Special song using #BiratHaat2022 in the caption. They need to share the video on their Facebook, TikTok, or Youtube profile – either on all the platforms or any one of them. The video link will then need to be shared on the Bikroy Blog site as well. Among the most exceptional and fun-filled videos, 17 lucky winners will be selected. For the Member contest, 3 winners will be selected from sellers with the highest number of views and responses on livestock ads. All winners will receive various attractive prizes from Minister Hi-Tech Park Ltd., including Refrigerator, Smart LED TV, Microwave Oven, etc.
Arifin Hussain, Head of Marketing of Bikroy.com said, "Bikroy is a pioneer in selling Qurbani animals online in Bangladesh. Bikroy has been successfully organizing online Qurbani Haat on the occasion of Eid al-Adha for the past 8 years. Over the years, we have received incredible responses from customers during Eid al-Adha, even during the pandemic. With that in mind, this year we have come up with an even larger collection of Qurbani livestock. Alongside customers, Bikroy has been a beneficial platform for thousands of sellers across the country. The #BiratHaat2022 contest is sure to play a role in enhancing the festive experience of Eid. We hope to receive massive participation from our customers and members for this contest like every year."
K.M.G. Kibria, Head of Brand & Communication of Minister Hi-Tech Park Ltd. said, "For the last 20 years, the Minister – MyOne Group has been conducting business under the slogan 'Amar Ponyo, Amar Desh, Gorbo Bangladesh'. We aim to provide home appliances to every corner of the country as well as outside the country. With the launch of our new e-commerce platform 'E-Raj', customers will be able to order and receive delivery of various brands' electronics and home appliances in the shortest time. Minister and Bikroy have built a strong business relationship over the years, and we hope to continue working together in the future. In past years, we have received an overwhelming response by organizing Birat Haat (#BiratHaat2022) and it is our great pleasure to be part of this year's event as well. We hope that the lucky winners will get to enjoy all the great and essential products from Minister on the joyous occasion of Eid."
Terms & Conditions:
Bikroy holds the right to decide on the winners.
Gift items are not applicable for any return, exchange, or transfer.
To maintain confidentiality and ensure fairness, Bikroy employees cannot participate in this competition.