Bikroy Updates
Bikroy Arranged 'Bikroy Carnival 2023'
A Grand Meet for Bikroy Members and Corporate Partners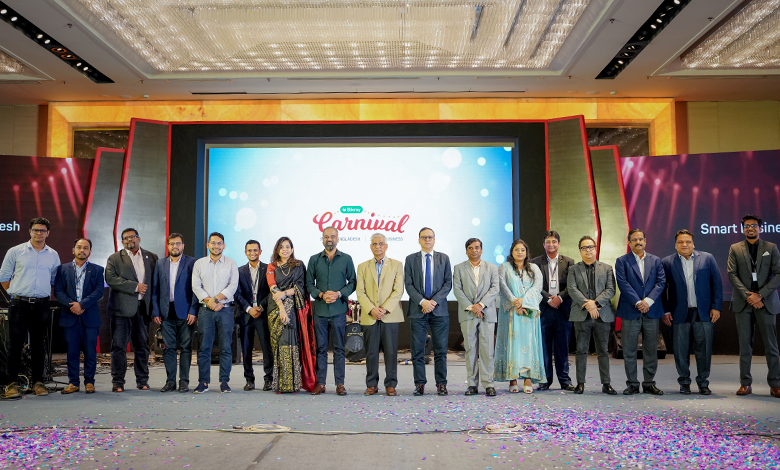 Bikroy, one of the most popular classifieds sites in Bangladesh organized a grand meet titled 'Bikroy Carnival 2023 – Smart Bangladesh, Smart Business' for its esteemed members, and business partners. The event was held on October 3 at the Sheraton Dhaka hotel in the presence of Bikroy members, partners, and industry experts.
Dr. Shamsul Alam, Honorable State Minister of Planning graced Bikroy Carnival 2023 as the Chief Guest. Many Special Guests were present at the event and Md Shamsul Arefin, Honorable Secretary of the ICT Division was one of them. Rezwanul Haque Jami, Head of eCommerce of a2i, a program by the Prime Minister's Office; Ahmed Armaan Siddiqui, Executive Vice President of Robi Axiata Limited; Dr. Asif Naimur Rashid, Chief Business Officer of Grameenphone Limited; Russell T. Ahmed, President of BASIS; and Munir Hasan, Head of Youth Programme of Prothom Alo were present as the Panelists. Eshita Sharmin, CEO of Bikroy was present on the occasion along with the Bikroy management team and other employees.
During the event, Bikroy's progress and future plans were discussed, the second edition of the Bikroy Property Fair 2023 was announced, various new products and services of Bikroy were launched, and a panel discussion on the tagline of the Bikroy Carnival 2023 – 'Smart Bangladesh, Smart Business' was conducted. Lastly, as one of the main highlights of the event, 30 valued members and partners were awarded crests and certificates for their contribution.
On this occasion, Eshita Sharmin, CEO of Bikroy said, "Over 11 years, 2.5 crore sellers have promoted and expanded their business through Bikroy services. The purpose of this grand meet was to spread our Bikroy services to more people's lives in the future. I am especially grateful to the Chief Guest, all the Special Guests, Panelists, Members, and Corporate Partners who spent their valuable time with us today and made our event a success. Our customers' support is our strength, and I am confident that Bikroy will go a long way in building a smart Bangladesh and will exceed everyone's expectations."