Bikroy Updates
Property
'Bikroy Property Fair 2023' Ready to Kick Start in a Few Days
Bikroy Property Fair 2023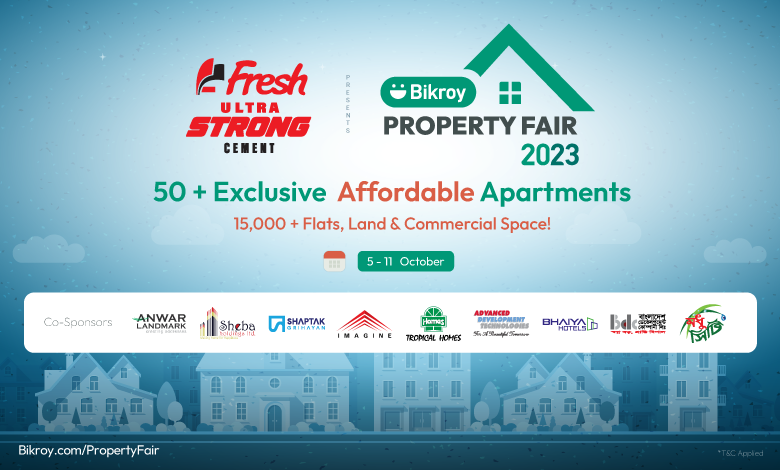 Bikroy is all set to organize an online property fair for the second time. During the fair, interested buyers can book their desired properties from all over the country. On October 3, the 'Bikroy Property Fair 2023′ (#BikroyPropertyFair2023) will be announced at the Sheraton Dhaka hotel, and the fair will officially run from October 5 to October 11. Bikroy employees and senior officials from the sponsors will attend this event.
10 reputed real estate developers in Bangladesh have confirmed their participation in the fair. During Bikroy Property Fair 2023 (#BikroyPropertyFair2023), interested buyers can view details of over 15,000 flats, lands, and commercial properties besides 50+ exclusive projects across the country. They can then contact the developer companies from the online page and book their desired property.
Fresh Ultra Strong Cement is the Title Sponsor of this fair. Anwar Landmark Limited, Shaptak Grihayan Limited, Tropical Homes Limited, Imagine Properties Limited, Advanced Development Technologies Limited, Bhaiya Hotels & Resorts Limited, Bangladesh Development Company Limited, Sheba Holdings Limited, and Modhu City are the Co-Sponsors of 'Bikroy Property Fair 2023' (#BikroyPropertyFair2023).
Eshita Sharmin, CEO of Bikroy said, "We all have a dream of owning a property someday. Last year, Bikroy organized an online property fair for the first time. Due to an unprecedented turnout of participants and buyers in last year's fair, we are going to organize 'Bikroy Property Fair 2023' (#BikroyPropertyFair2023) for the second time. We have the 10 best real estate developers in the country as sponsors in organizing this online property fair. I believe property buyers will find the properties that suit their preferences and budgets through the 'Bikroy Property Fair 2023' (#BikroyPropertyFair2023)."
Arifin Hussain, Head of Marketing of Bikroy said, "Online business has grown well in the context of our country. Customers prefer online interactivity for its convenience and efficiency. We are going to organize this online property fair – 'Bikroy Property Fair 2023' (#BikroyPropertyFair2023) so that our customers can find their expected properties from our trusted members. I am hopeful our customers will spontaneously participate in the property fair and make this effort worthwhile."
Mohammad Khurshed Alam, Executive Director of Unique Cement Industries Ltd. said, "Fresh Ultra Strong Cement is one of the highly rated and trusted suppliers in the real estate sector of Bangladesh. We are delighted to be the Title Sponsor of the Bikroy Property Fair 2023 (#BikroyPropertyFair2023). I am hopeful to work with Bikroy in future projects as well to meet the needs of customers."