Bikroy Updates
'Bikroy Birat Haat Powered by Minister' campaign is announced to double the joy of Eid
OPPO Bangladesh is the Associate Partner of the campaign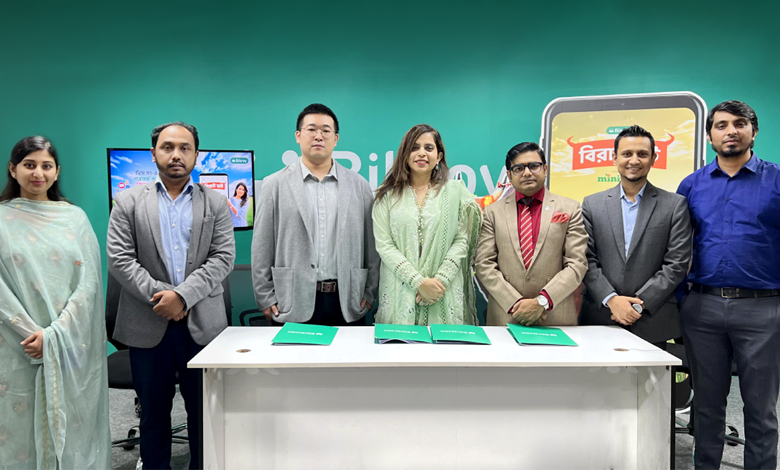 On the occasion of the upcoming Eid-ul-Adha, Bikroy, one of the most popular platforms for buying and selling livestock; Minister Hi-Tech Park Ltd., a popular electronics and home appliance manufacturer; and OPPO Bangladesh, a global mobile manufacturing company have organized a Qurbani campaign – 'Bikroy Birat Haat Powered by Minister'. The parties signed an MoU on Tuesday, June 13, 2023, at the Bikroy Head Office, thereby officially announcing the start of the campaign. It will continue till the night before Eid.
From Bikroy, CEO Eshita Sharmin, Head of Marketing Arifin Hussain, and Head of Corporate Sales Sanjoy Biswas; from Minister Hi-Tech Park Ltd., Head of Brand & Communication K.M.G. Kibria; and from OPPO Bangladesh, Representative Silver Zhao, and Brand Promotion Manager Md Nazmus Sakib were present among others.
Like every Eid-ul-Adha, Bikroy is bringing an exclusive collection of farm animals for its esteemed customers. More than 1,600 livestock ads have already been posted on the Bikroy site. This year's Birat Haat (#BiratHaat2023) contest is quite exceptional. Minister has joined the competition as the Title Sponsor for the seventh time, whereas OPPO has joined as an Associate Partner for the first time.
Participants will need to create a video following the Birat Haat theme song and its hook step. They need to share the video on either one or all of the respective Facebook, TikTok, and YouTube profiles. They need to submit the video link to the Bikroy Blog site as well. Among the most entertaining and exceptional videos, 18 lucky winners will be selected. For the Member contest, 15 winners will be selected from sellers of any category with the most number of ads, the highest number of views, and ad responses. All winners will receive various attractive prizes including Refrigerators, LED TVs, Smartphones, etc. worth a total of BDT 6 Lakhs from Minister Hi-Tech Park Ltd., and OPPO Bangladesh.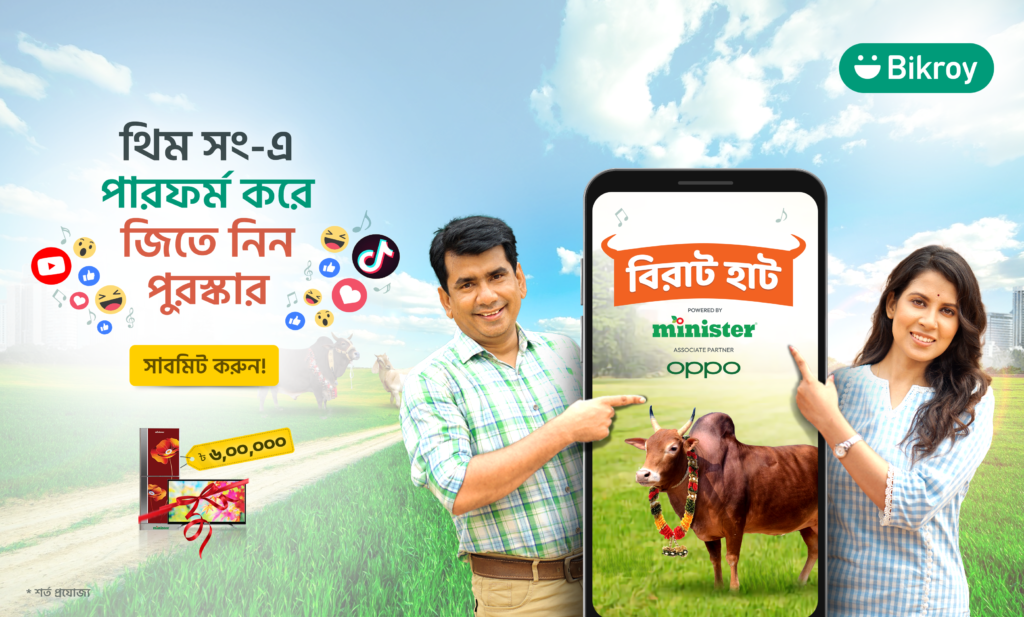 Eshita Sharmin, CEO of Bikroy said, "Bikroy is the first name that appears in everyone's mind when it comes to online buying and selling of sacrificial animals in Bangladesh. For 9 years, Bikroy has been successfully organizing online Qurbani haat on the occasion of Eid-ul-Adha. As always, we have received unparalleled support from customers. Along with customers, thousands of sellers from different parts of the country are benefited from our platform. And to increase the joy of Eid we have Birat Haat (#BiratHaat2023) contest. This year, the contest is open for all Bikroy members, so we expect more participation from customers and members."
K.M.G. Kibria, Head of Brand & Communication of Minister Hi-Tech Park Ltd. said, "For the last 21 years, Minister-MyOne Group has been conducting business under the slogan 'Amar Ponyo, Amar Desh, Gorbo Bangladesh'. Minster has a long-standing strong business relationship with Bikroy and hopefully, this will continue in the future as well. We are and will remain with the Birat Haat (#BiratHaat2023) campaign. I believe the lucky winners will be able to enjoy Eid even better by winning all the great and essential products from Minster."
OPPO Bangladesh Representative Silver Jhao said, "As an Associate Partner of the Bikroy Birat Haat (#BiratHaat2023) campaign, OPPO aims to amplify the spirit of joy during Eid-al-Adha. Guided by OPPO's mission to empower individuals and uplift society through innovation and technology, our goal revolves around increasing the happiness of the people during the Eid festivities. We have immense pleasure to bring joy into their lives through our association with the campaign."
Terms & Conditions:
Bikroy holds the right to decide on the winners.
Gift items are not applicable for any return, exchange, or transfer.