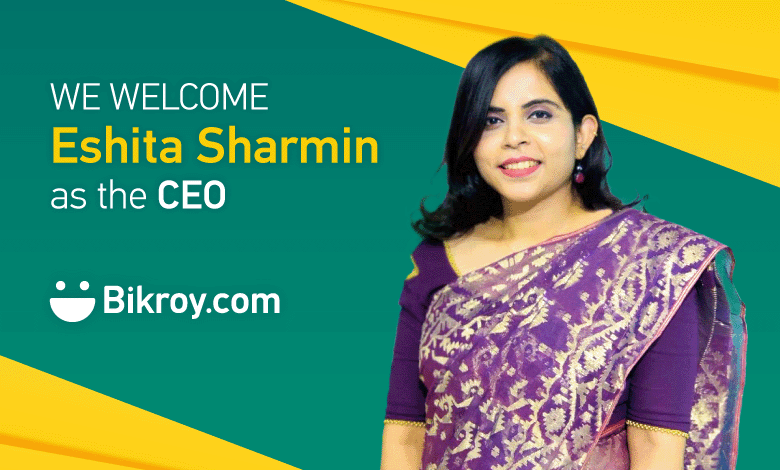 Bikroy.com has appointed Eshita Sharmin as its CEO to further explore new markets beyond the capital city. Prior to that, Eshita Sharmin, served as the Managing Director of Bikroy.com for 1 year and is one of the few female leaders holding top positions in the MNC sector of Bangladesh. She is one of the founding members of Bikroy.com and looked after the Marketing of Bikroy when it started its journey in Bangladesh back in 2012.
Bikroy Achieved Great Milestones under Eshita Sharmin's Supervision
Bikroy has won several awards in the branding sector and reached milestones throughout her journey. Bikroy won Bangladesh Best Employer Brand Awards 2018 in the 'Internet' category at the 13th Employer Branding Awards and Brand Leadership Award at Bangladesh Master Awards 2018. In 2019, Bikroy.com reached break-even for the first time within 7 years of operation. In 2020, Bikroy received e-Commerce Movers Award by e-CAB (e-Commerce Association of Bangladesh) for special contributions through e-Commerce during the pandemic.
Eshita Sharmin's Career at a Glance
Eshita's specialties include Product Development and Implementation, Branding, Media planning & management, PR & Communication. Eshita Sharmin has 14+ years of career experience in Sales, Marketing, and Business Management.
She started her career in Product Development at Citycell, one of the leading telecommunication companies of that time. She successfully worked there for almost 5 years with a concentration in mobile Value-Added Service (VAS) Marketing and Management. After moving to Dubai, Eshita worked for VAS Development and New Business Development in MENA (Middle East and North Africa). Eshita graduated from North South University with a dual major in Marketing and Human Resource Management.