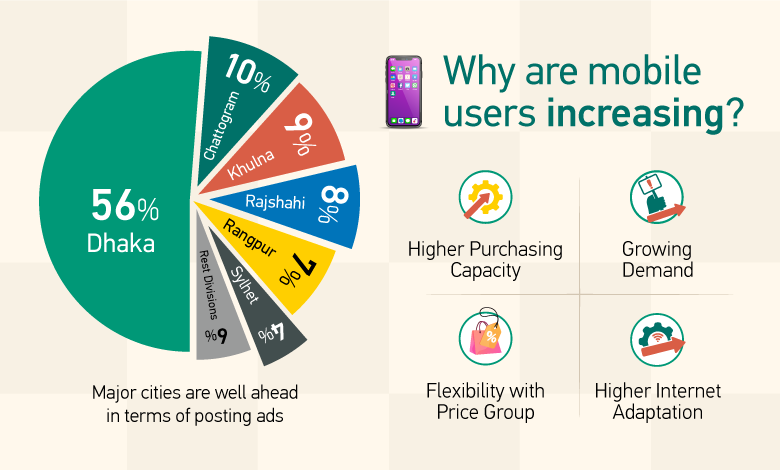 The rise of disposable income, fast internet penetration, and communication are some of the key factors that have led the Bangladeshi mobile market to grow and spread in the last two decades.
However, compared to the global ratio, the mobile phone usage (especially smartphone) rate in our country is relatively low. The demand for mobile phones is likely to grow soon as a sizable amount of people are coming into the range of using smartphones.
Bikroy.com – ​​The Largest Marketplace in Bangladesh takes a deep dive into the mobile market in Bangladesh and here we are presenting a bird's eye view. Let's dig more into the market situation and also discover the present scenario of mobile phone prices in Bangladesh.
Which price range is common for mobile phone users in Bangladesh?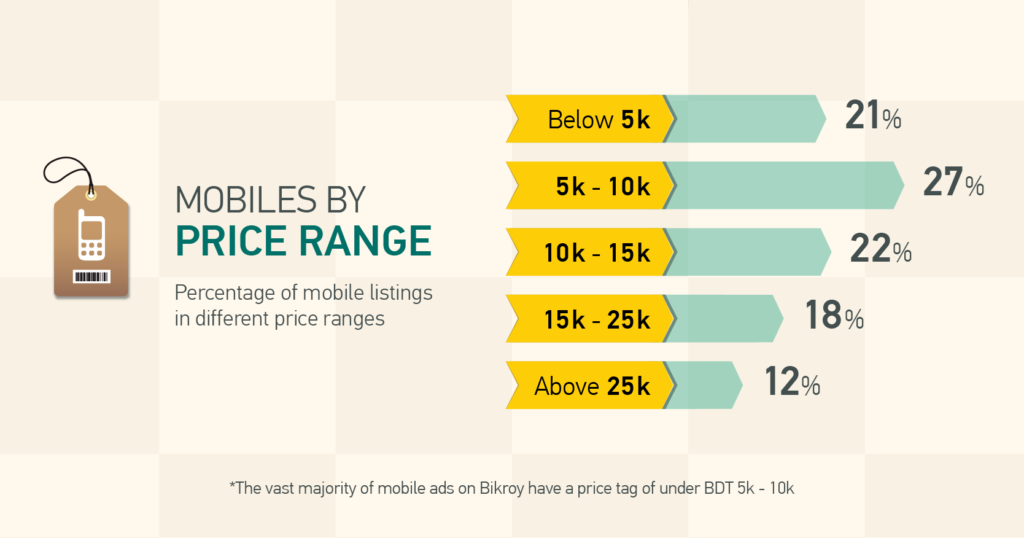 Despite a slowdown in the mobile phone market in 2020 and the impact of the pandemic, sales volume has returned to a regular number in 2021. Here in this statistic, we can see that most phones available on Bikroy.com lie between BDT 5,000 – 10,000 price point, which acquired 27% of the entire ads.
Whereas, phones under BDT 10,000 – 15,000 price group hold a 22% share of entire ads. On the other hand, mobiles under BDT 5,000 hold 21% of ads.
If we turn towards the high-mid range here, mobiles ranging from BDT 15,000 – 25,000 take up 18% and the BDT 25,000+ group takes up 12% of the entire mobile ads on Bikroy.
Top-Selling Mobile Phone Brands at Bikroy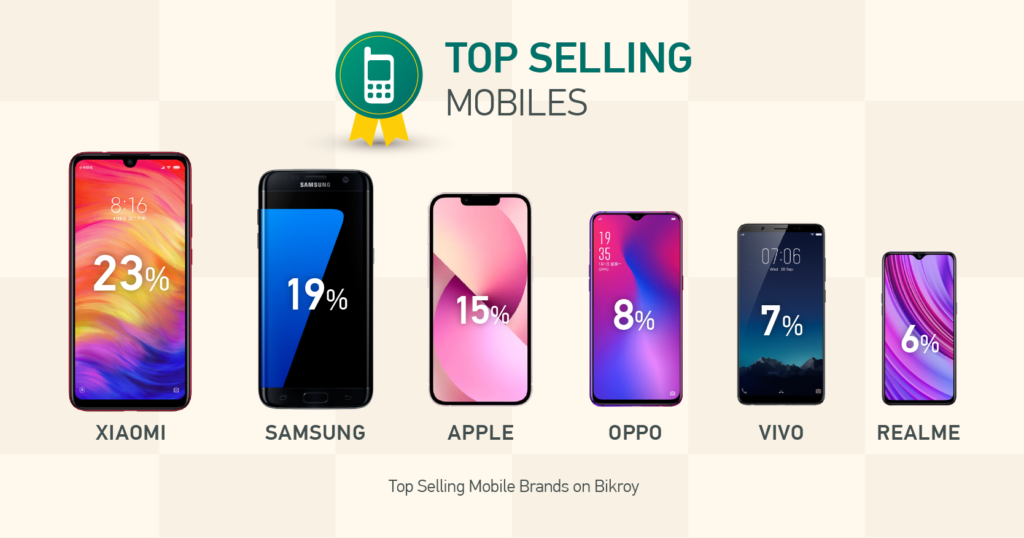 This surge in the sales of smartphones in Bangladesh was partially fueled by the influx of Chinese smartphone brands that are comparatively cheaper.
Based on the infographics, Xiaomi reigns as the most bought and sold mobile phone brand on the Bikroy website with 23% ads, followed by Samsung, Apple, Oppo, Vivo, and Realme with acquiring 19%, 15%, 8%, 7%, and 6% of the entire ads respectively.
New Vs. Used Mobile Phones: Which Are More Popular?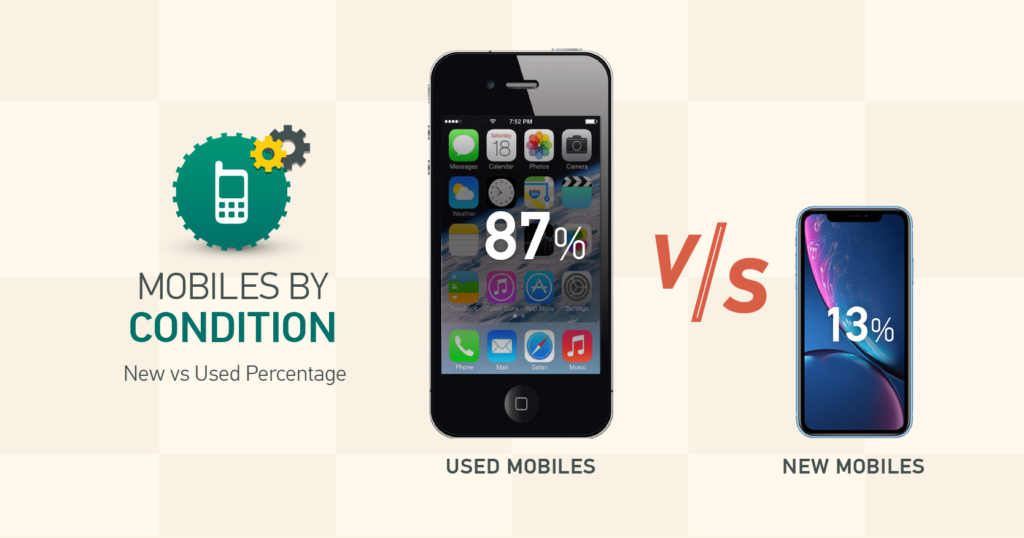 People living in South Asia are mostly price-conscious when it comes to purchasing a mobile phone. Bangladesh is one of the fastest-growing markets for second-hand or used mobile phones. Besides, the pandemic influenced many users to buy second-hand phones.
In this infographics, we can see that around 87% of the entire ads have been posted for used mobile phones on the website, while the remaining 13% of ads are for new mobile phones.
Which cities are ahead on posting ads?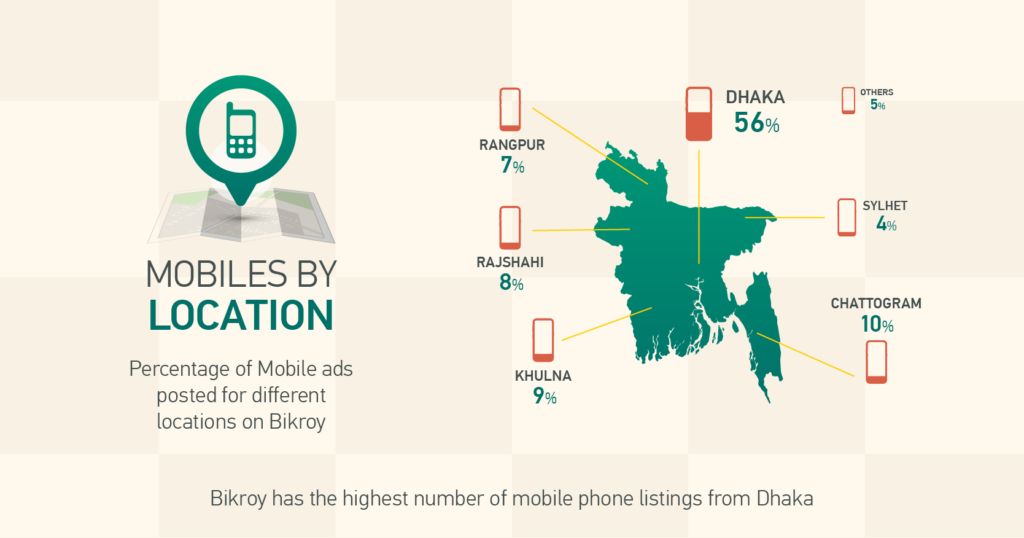 Being the financial hub and capital city, Dhaka makes up 56% of the entire mobile phone ads posted on Bikroy.com. Chattogram generated second place with 10% ads closely followed by other major cities such as Khulna, Rajshahi, Rangpur, and Sylhet with 9%, 8%, 7%, and 4% of the entire ads respectively.
With increasing appeal and fast smartphone penetration, we can see that 5% of entire ads have been posted from other locations consisting of small towns and cities in Bangladesh.
Android vs. iOS vs. Feature phone: Which is the most common operating system?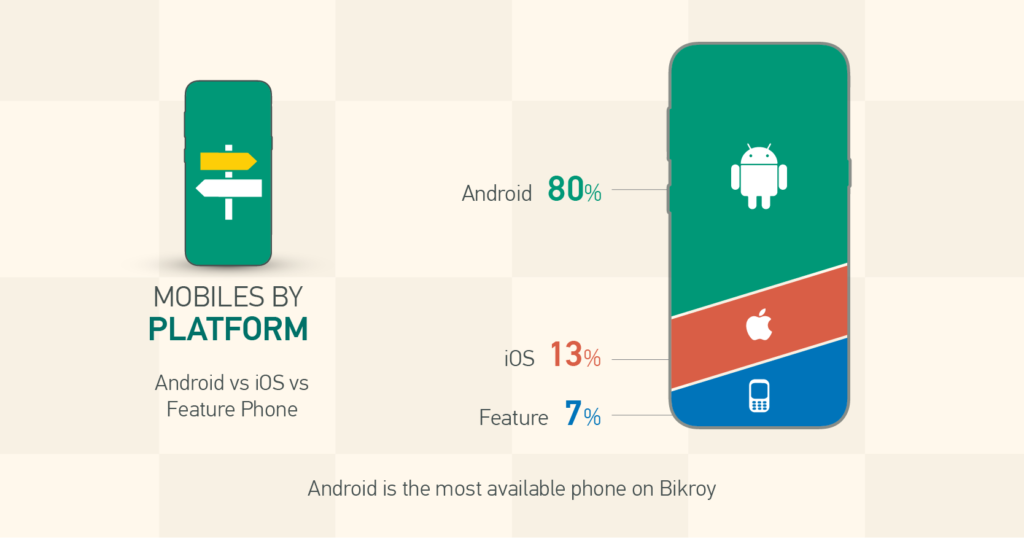 Android gained the dominant position in the Bangladeshi mobile market from the early age of using smartphones. Almost 80% of the users have the Android OS because of its endless customization features and globally most smartphone manufacturers use Android OS on their products.
On the other hand, 13% of smartphone users are using iOS based on posted ad numbers. Whereas the feature phone users still obtain 7% of the entire ads.
Final Words
Rapid technological innovations, 5G connectivity, and the availability of affordable phones in the market will take the Bangladeshi mobile market on the edge in upcoming years. This is the only thing we can expect for now.
To explore more mobile phone trends, news, and prices – get in touch with Bikroy.com. We are happy to help.
We wish you a sound and safe life! 
FAQ:
Which are the top-selling smartphone brands in Bangladesh?
Statistics from Bikroy.com have assembled the top-selling mobile phone brands in Bangladesh based on the posted ads: 
Xiaomi
Samsung
Apple
Oppo
Vivo
Realme
Where can I buy mobile phones online in Bangladesh?
To find out the best deals, exploring the vast world of mobile phones can be time-consuming. Bikroy.com could be the best platform to see all of your desired phones under one roof.
Where can I sell my used mobile phone in Bangladesh?
To sell your mobile phone, you can post an advertisement on Bikroy.com. With an appropriate description and eye-catchy images, you can sell your phone within a few days!