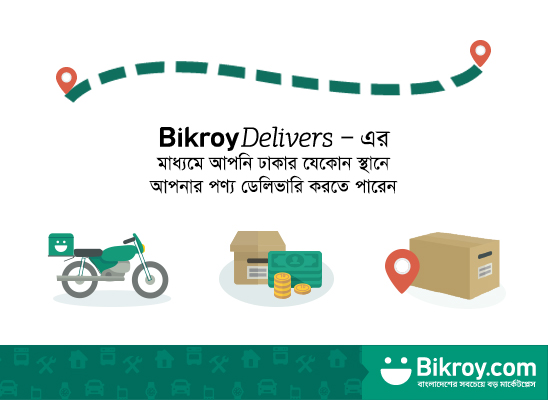 Bikroy.com is proud to announce the launch of Bikroy Delivers, a delivery service for anyone using the Bikroy.com platform to buy and sell goods (Dhaka only). For the flat price of 89 BDT, sellers on Bikroy.com can request a representative from Bikroy.com to pick up the sold item, deliver it to the buyer, and collect cash on delivery.
HOW TO REQUEST DELIVERY BY BIKROY.COM

· To request delivery of an item, call 09613-555-444 and press 1 and then 0 or visit bit.ly/bikroydelivers and submit a Delivery Request Form. Our customer support team will help you select a pick up time and negotiate with the buyer to set a delivery time. We will need to know the following:
· Seller name, phone number, email address, and physical address
· Description of the item being sold, including the weight and dimensions (item must be relatively small and less than 2kg)
· Cost of item
· Buyer name, phone number, physical address
· bKash number if you would like payment via bKash instead of cash
HOW DOES IT WORK?

· Bikroy.com delivery specialists will pick up the item, deliver it to the buyer, and return with cash payment
· You (the seller) pay a delivery fee of 89 BDT when the item is picked up
· Pick up and delivery will be same day unless requested after 4pm
· Pick up may be arranged during the following times:
· 8 am – 12 pm
· 12 pm – 4 pm
· 4 pm – 8 pm
If the buyer rejects the item, we will return the item to the seller
HOW WILL YOU GET PAID?

· Delivery fees are due at pick up of the item from the seller
· We will collect cash on delivery from the buyer when we deliver the product, then bring the payment back to you
· Our delivery specialists can accept up to 20,000 BDT from the buyer but we are unable to insure against theft or other disasters
If you have any feedback or questions about this process.