Bikroy Updates
Bikroy-Minister Announced the Birat Haat Contest Winners on A Webinar Session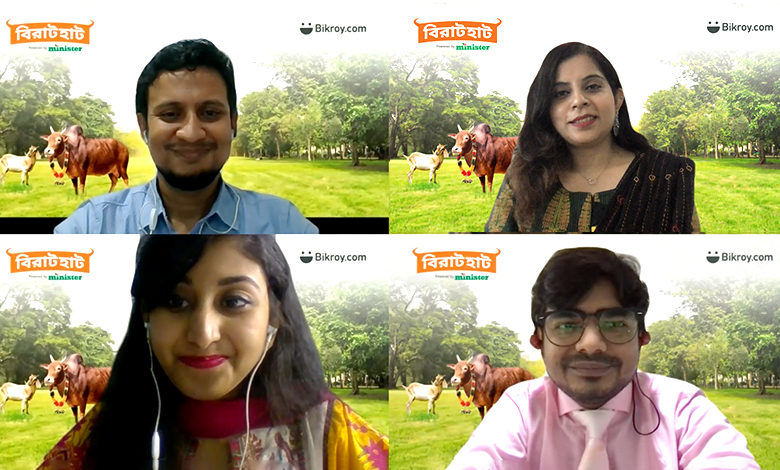 Bikroy.com, the Largest Marketplace in Bangladesh and the most popular online platform for buying and selling farm animals, has announced winners for their flagship Qurbani campaign, 'Bikroy Birat Haat Powered by Minister'. A webinar session was held today, on 11th August 2021 for the winners' announcement ceremony.
In this webinar Eshita Sharmin, Managing Director of Bikroy.com; Sanjoy Biswas, Corporate Sales Lead of Bikroy.com; and K.M.G. Kibria, Head of Brand & Communication of Minister Group were present. Humyra Sharmind Alam, Senior Executive, Marketing of Bikroy was the moderator of this webinar.
Bikroy and the largest local electronics manufacturing company Minister Hi-Tech Park Limited recently launched the Biraat Haat campaign for the fifth time on this Eid-ul-Adha. This year, Bikroy arranged the Birat Haat contest for both their buyers and members. Buyers' contest participants performed along with a Qurbani special song promoted by Bikroy and shared that video on their Facebook/TikTok or YouTube – any or all of these platforms, using #BiratHaat2021 in the caption. 29 lucky winners were selected from all over the country based on the most video views and likes were selected as winners. The first 3 lucky winners of the buyer contest are – Tarek Hossain, Mst. Mitu Khatun, and Ridoy Islam Bijoy respectively. For the member contest, 3 lucky winners were selected with the greatest number of cattle ads on their shop and with the most viewed ads with the most responses. The members' contest winners are – MD. Rubel, owner of Ayat Dairy Farm, Dewan Md. Akhtar Hossain, owner of Karudhara Farms, and Md. Anowar Hossain, owner of Mony Dairy Farm respectively. Winners of both contests were provided with gifts such as Refrigerator, Smart LED TV, and other exciting home appliances worth a total of BDT 6 Lacs, courtesy of Minister.
Eshita Sharmin, Managing Director of Bikroy said, "Like every year, Bikroy Birat Haat has made it easier for many people to buy and sell Qurbani animals. Each year, more and more customers are getting interested to buy their Qurbani animals online. We had more than 8,000 ads of Qurbani animals listed on our site this year. Almost 120 members joined us and listed advertisements for their farm animals. During this Qurbani season, more than 3 thousand animals were sold from our site. I firmly believe that customers have been able to buy their desired animals and members could sell their farm animals well before Eid from Bikroy. Eid vibe has been quite different for the last two years. That is why we tried to bring some joy to people's lives through this contest. We are really happy with the unprecedented response from the buyers and members this time as well. We have arranged wonderful prizes for the winners to prolong their Eid joy and happiness. The massive response from customers continues to motivate us to come up with something new all the time".
K.M.G. Kibria, Head of Brand & Communication of Minister Group said, "We are really happy to be a part of such an interesting contest. I would like to applaud Bikroy for arranging the online buying and selling of Qurbani animals, especially amid the pandemic. Although this year's Eid was a bit different, we have arranged amazing prizes for the contest winners to spread the Eid joy. I believe that the winners could get the desired Qurbani animals from Bikroy and the home appliances of Minister and have doubled their Eid joy. We have a loyal customer base and I believe that our consumers are very satisfied with our products. We wish to be a part of more customer-friendly arrangements of Bikroy in the future".