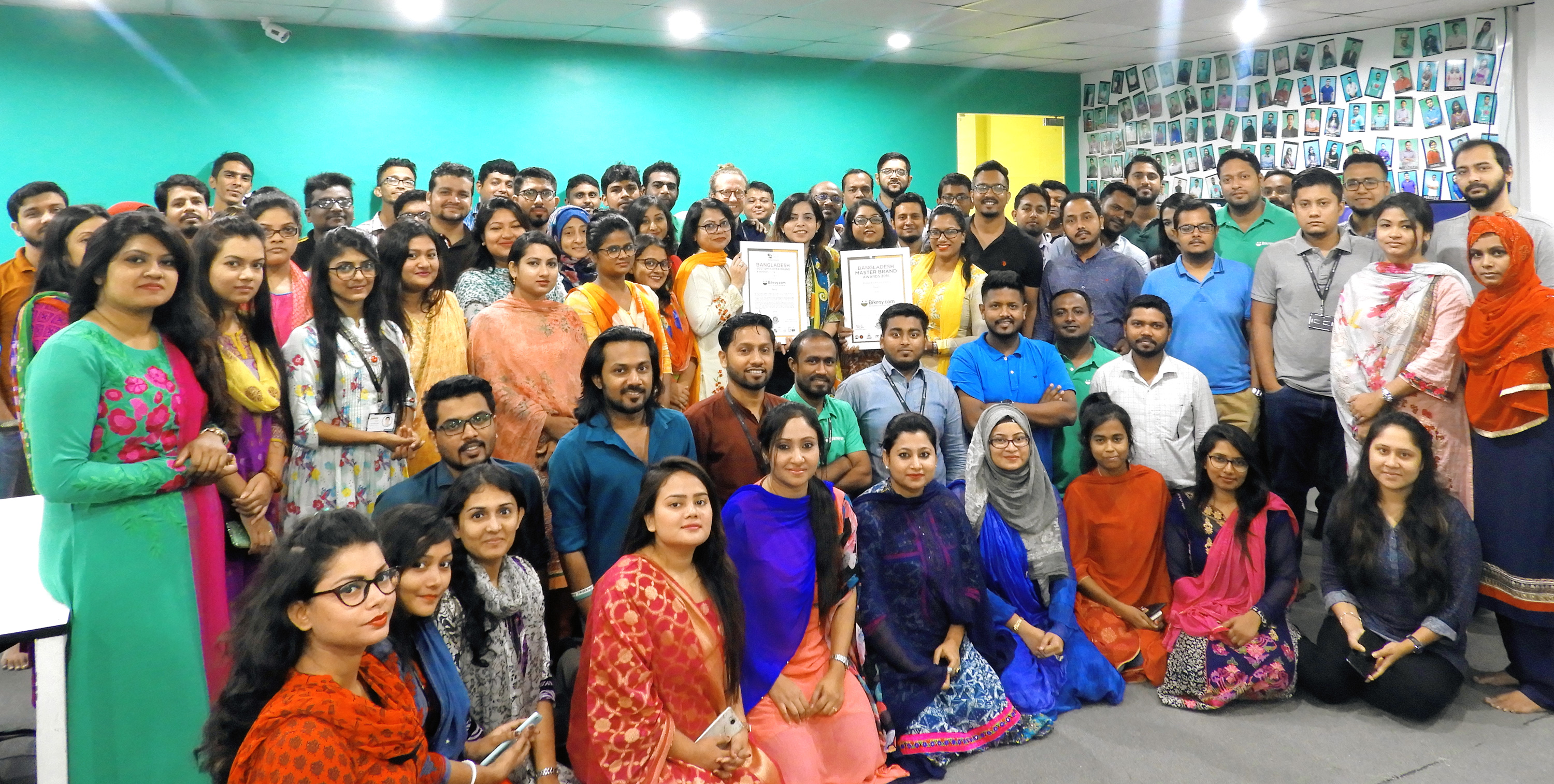 Bikroy.com, the largest marketplace of Bangladesh has won two awards in different categories. At recent ceremonies held at Radisson Blu Water Garden, Dhaka, Bikroy has won the Bangladesh Best Employer Brand Awards 2018 presented by 13th Employer Branding Awards in the Internet category and the Brand Leadership Award at the CMO Asia Presents Bangladesh Master Awards 2018.
This award is given as recognition of outstanding branding, leadership and critical contribution to the internet sector.
Employer Branding Institute-India with World HRD Congress and Stars of the Industry Groups and CMO-Asia, an international marketing, and brand-related research institute have named the award winners.
Bangladesh Best Employer Brand Awards, recognizing organizations across the Industries, is the premier Employer Branding award program in Bangladesh. In partnership with "Chartered Human Recourses Organization-ASIA", "Employer Branding Institute-India" has been organizing this award for the last 17 years to recognize the best-in-class organization as an employer in Asia, Gulf Countries, and Africa.
This year, different companies were awarded under three categories like Bangladesh Master Brand Awards, Bangladesh Best Employer Awards, and Bangladesh Women Leadership Awards. Dr. RL Bhatia, an international marketing expert, moderated the award giving ceremony.
A diverse group of experienced judges nominated a group of finalists from each category and then one winner from each category was awarded.
Rehenuma Islam, Head of HR and Culture and Md. Farhan Ahmed, Head of Finance and Administration were present at the award giving ceremony and received the awards on behalf of Bikroy.com.
Bikroy.com is the largest marketplace in Bangladesh. Since its inception in 2012, Bikroy has been using technology to create a better, more sustainable form of commerce. Bikroy works hard to ensure that the marketplace is inclusive, fair, fosters nationwide trade, and enables small business entrepreneurship. The mission of Bikroy is to serve the underserved markets and to create sustainable value for the community in the process. Bikroy is a subsidiary of Saltside Technologies, which also runs the largest marketplace in Sri Lanka and Ghana.
Currently, a team of 200+ employees is working nationwide for Bikroy. By connecting buyers and sellers online, wherever they are in the country, Bikroy enables everyone to find their version of perfect and in the process, help them participate in the national economy. It has a growing base of over 3 million active buyers mean sellers of any size anywhere in the country has the opportunity to succeed. The most prominent categories of its portfolio are: Mobiles, Electronics, Vehicles, Property, and Jobs. According to the 'Online Brand Health: Market Research Report' conducted in 2018 by Somra MBL Ltd., Bikroy secures the fourth "Top of Mind" position after Facebook, Google, and YouTube. By staying true to its mission, Bikroy has a clear north star to guide our path, while continuing to deliver ongoing, long-term benefits for its community.
Rehenuma Islam, Head of HR and Culture of Bikroy.com said, "Any type of award is always encouraging to a better job. At Bikroy, we aspire to grow as a company along with our talent. For us, our people are our asset and it is our responsibility to ensure a quality work environment to our employees. I believe that it is their hard work and dedication which has to enable us for this big achievement."
Md. Farhan Ahmed, Head of Finance and Administration of Bikroy.com said, "It is a tremendous pleasure of receiving such a prestigious award. From the beginning of the establishment, Bikroy is trying to reduce the distance between buyers and sellers through the internet. I believe this recognition will help us in future to play a greater role in the technological development."