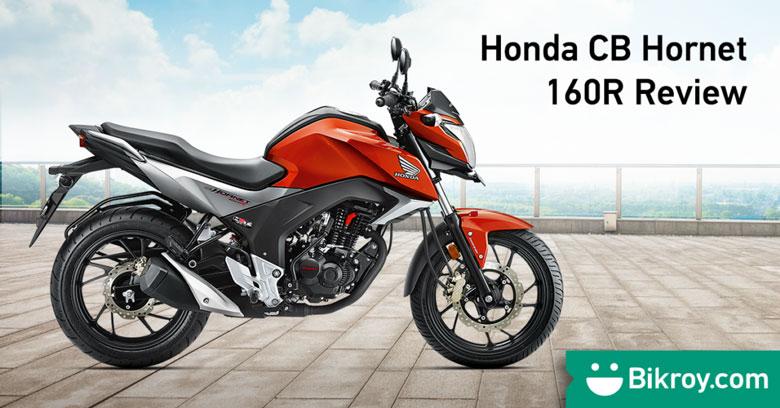 Last February 2018, Bangladesh Honda Pvt. Ltd. has launched its sports motorcycle – Honda CB Hornet 160R in Bangladesh. It has already gained wide popularity for its stylish look and great performance.
Currently this bike is available in 3 different colors: Striking Green, Sports Red, Athletic Blue Metallic. Bangladesh Honda Private Limited is offering this bike with 2 years or 20,000km engine warranty and 4 free servings. At present, the price of this bike is 1,99,800 taka.
Design & Style:
Honda CB Hornet 160R is a premium motorcycle in the popular 160cc range! The design of this motorcycle includes novelty and its attractive graphics have further enhanced its sporty look. The back tire is quite wide, which will be suitable for any street in Bangladesh and also very preferred by the bikers! The exhaust is compact with this bike and there is a petal disc brake in the bikes as well as a muscular fuel tank.
There is a Sharp halogen headlight in front of the bike and AHO (Automatic Headlight On) system is used in the bikes, but it is an AC headlight. Its fuel tank has carbon fiber strip and is trimmed in the middle. Finally, the most striking thing is that it looks great from the back for its X-shaped LED Tail Lights.
The speedometer of this bike is a completely digital and is made of the LCD screen. This speedometer can display the fuel gauge, speed, reverse counter, and other warning lights. But there is no gear change indicator. These bike indicators are of bulb type. This bike does not have a split seat, but there is a grab rail behind of it.
Engine and Performance
This bike has a 163 cc air-cooled single-cylinder engine, which produces 15.1 bhp power and 14.7-newton meter torque. This bike has a 5-speed gearbox.
Along with many other things, this bike has viscous air filters that ensure good airflow in the bike engine. There are two air scoops on the front of the bikes in front of the fuel tank. These air scoops are not only present for the sake of the design of the bike, but also in the case of riding faster, it sends the engine to the engine by sending the air circulation to the bikes.
Fuel Efficiency
When it comes to the performance of 160 cc motorcycle, its mileage becomes very important. Het (Honda Eco Technology) has been used in bike engines. This technology helps the engine to burn less oil and to give maximum performance. It can go up to 45 kilometers across the city of 1 liter of oil and 55 kilometers in the highway. However, the bike mileage can vary depending on the condition of the road and riders.
Breaking and Cornering
The brake system of this bike is very good. Nissin's disc brake has been used in two-piston calipers in the front wheel and drum brake is used in the rear tire, which gives a very good feedback to the 140-size bikes of bikes. The best thing this bike can do is- it does not have a flat but a curvy tire, which helps in making this bike high speed.
Pros and Cons
In addition to the stylish, sporty look and the regular ride in Dhaka city, it is very comfortable to run with a comfortable vehicle and pillow.

Headlamps are able to provide a lot of lighting and the light spreads far and wide so that the bike can be run at night.
The Honda CB Hornet 160R has a disadvantage that has caused problems to many riders- its chain become loose sometimes and makes annoying sounds. The easy solution is to change the chain and always use clean and good quality lubricants, hopefully it will be solved. Visit to buy a new and used Honda Hornet Motorbike in Bangladesh.
Always ride the bike with the helmet and safety gear on, and ride the bikes safely.