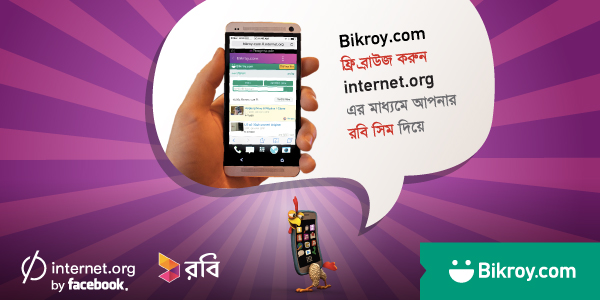 Bikroy.com is now free to browse through Internet.org with your Robi sim.
How to Browse for Free:
1. First, insert a Robi SIM card with some balance.
2. Turn on mobile data in your phone's settings. Internet.org is free, so it won't deduct from your mobile data balance.
3. Click your internet browser icon (it might say "Opera" or "Chrome", or look like a globe).
4. Type in www.internet.org and accept the terms.
5. Click "Bikroy.com" to browse free with Internet.org!
6. If you have an Android, you can also download the Internet.org app from the Google Play store.
What is internet.org?
Internet.org is a Facebook-led initiative with the goal of making affordable internet access available to two thirds of the world who are yet connected and to bring the same opportunities to everyone that the connected third of the world has today.
Internet.org helps operators provide access to a set of free basic services including health, education, finance, jobs, communication, and local information.
Visit Internet.org using your Robi sim or download the Internet.org app from the playstore: http://bit.ly/1ClPLMV