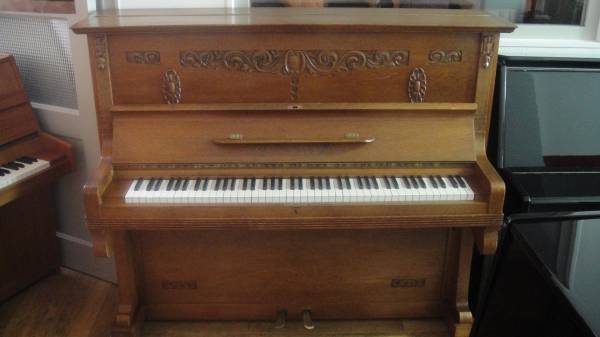 A piano is a beautiful instrument that can be played to make some truly wonderful sounds. For those that have the gift of playing the piano, it can be a fantastic way to spend your free time or to improve upon a hobby that you truly love. However, one of the downsides of buying a piano is that it can be incredibly expensive when you purchase it new. Luckily, this isn't the case if you are looking to buy a second-hand piano. In fact, buying a used piano is a great way to get a fantastic deal on something that will certainly hold its value if you use it enough.
Buying a used piano may not be as easy as it is to buy a new one. Therefore, here is a buyers guide to second-hand pianos and what should be kept in mind during the process. Also check out Popular Musical Instruments in Bangladesh.
Find Prospective Pianos
The first thing that you'll want to do is find prospective pianos that you are interested in. You can do this by either looking online at classifieds websites, or you can also find second-hand retail stores as well. In either event, you'll want to make sure that you have a large selection to choose from. The more pianos that you can take a look at, the less stressed you'll feel to make a decision until you are completely happy with one that you find.
It's important to keep in mind that once you find a piano that you are interested in, don't feel stressed or as if you need to purchase it right away. Instead, take your time in the process and make sure that you have all of the information that you need to make a purchase. If a prospective seller is making you feel uncomfortable with your purchase, then you can easily tell them that you aren't interested and move on.
Ask The Current Owner Plenty Of Questions
There are a lot of different questions that you can ask the current owner. During the process of asking these questions, you should be able to get a good idea as to whether or not this is a great piano that you can use after purchasing it.
The first question that you may want to ask is why they are selling. In some cases, they may just not have a need for the piano anymore or it may be something that takes up too much space in their home. However, you may be surprised to find that some people will tell you that they are selling because it's not working properly, but they failed to mention that in the advertisement. By asking why they are selling, you should be able to get a good idea of whether or not this is a used piano that you want to purchase. To get more help check here: Problems to Look for When Buying a Use Piano From a Private Seller.
In order to find the best pianos for you, you should also ask the current owner how often they had it tuned. If it wasn't tuned very often, then it may not have gotten the routine maintenance that it needed. Even if you are able to tune the piano yourself after buying it, it still may not be as good as it could've been had the current owner kept tuning it regularly. On the other hand, if an owner did have it tuned frequently, then you can likely feel comfortable in knowing that they've taken care of it and did what was needed to keep the piano working in great condition.
Another question that you can consider asking is how often the piano was played and who was playing it. In addition, you can ask them what the purpose of the playing was as well. For example, if you have a family that bought a used piano so their child could try it out, but then only banged around on it a few times and didn't enjoy it, then this might not be a piano that you want to invest in. Then again, if you have someone who was playing it on a regular basis and practiced for concerts, then you likely know that they took care of it and knew what they were doing.
Finally, you may also want to ask if there were any other previous owners when you are buying a piano. This will give you an idea of how many people have had the piano before you, so you can get a better idea as to how much life it has left in it.
Look At The Physical Conditions
After you've asked a lot of questions, it'll be time to put your piano through the eye test and see what you think about it's physical condition. You should take a look at it and see if you notice any visible wear and tear, or if it looks like it has been taken care of properly. Look for areas that may have been damaged or broken during a move or any other type of improper care. You'll have to truly evaluate the physical condition and whether or not the piano is in great shape, as the current owner may not be so diligent with telling you the things that need to be fixed and the issues that occurred while they owned it.
Test It Out
Finally, you truly won't know how used pianos work until you try it out. That's why it's ideal that you sit down and give it a go by testing it. When you test out your piano, listen as to whether or not you think it's in tune. You can also play each key to determine whether they are any inefficiencies with how it's playing. Furthermore, get a feel for each key and whether it plays smoothly or not.
If you play the piano and it sounds great, and it also passes its physical eye-test, then you may be looking at one of the best piano options that you can buy. Assuming there were no concerns while asking questions, it's likely that you have a used piano that you'll be happy with if you add to your home.