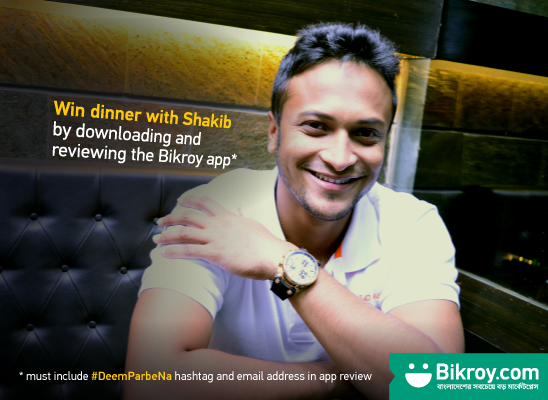 Download Bikroy app:
Android: http://bit.ly/1N3umIW
iOS: http://bit.ly/1M61nHq
Please follow below steps to enter into this competition:
1. Download the app
2. Review the app
3. Type #DeemParbeNa while reviewing & type you email address at the end.
We will contact with you after the competition end.
20 lucky winners will be selected for an exclusive dinner with Shakib Al Hasan at his Banani restaurant, Shakib's Dine. Winners will also get a chance to take a selfie with the cricket icon. The contest will run from the 5th of August till the 5th of September.
Contestants must download the Bikroy app and write a review on the Google Play Store. The review must include the hashtag #DeemParbeNa as well as the participant's email address.
The Bikroy app is available for both Android and iOS and allows users to browse, search and post an ad on the online classifieds site much more quickly and easily.
"Of course we couldn't be prouder to be associated with Bangladesh's best sportsman. We hope that our users will enjoy this opportunity to get up close and personal with Shakib, and look forward to bringing them more fun offers in the future," said Misha Ali, Director, Marketing at Bikroy.com.