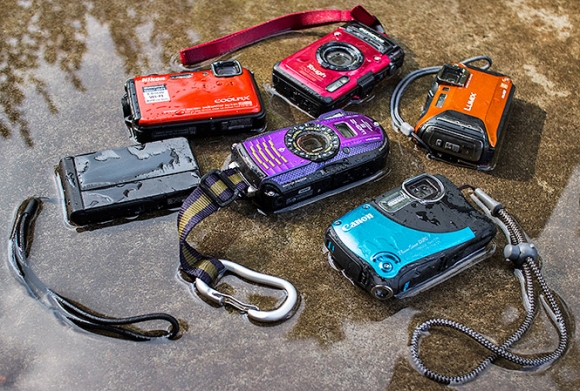 In today's age of technology and instant information sharing, it would be great to have a reliable camera that you can take with you anywhere. Of course, you can't get away from the elements in Ghana, so this camera would have to be durable and be able to stand up to anything that it may encounter. Whether it is rain, dirt, or mud, a camera that will not be affected by these things is essential. Luckily, there are quite a bit of cameras on the market that are specifically designed to withstand harsh conditions. The following is a list of the top waterproof cameras that you may want to consider buying if you want to be able to take pictures everywhere you go and share them with the world.
Ricoh WG-4 GPS
If you want a top-of-the-line waterproof digital camera, you absolutely cannot go wrong with this one. It is rugged, but at the same time it has a beautiful design that is easy on the eyes. It has the most durable casing design of all waterproof cameras, and materials such as aluminum and strong plastics are used in its construction. It takes exceptional photos, with a 16.79 megapixel resolution, and it also has image stabilization. Furthermore, you can take your camera under water safely up to 45 feet. Unless you go deep-sea diving, there is nothing that you need to worry about! Also, did we mention this camera has built in GPS? It automatically records your location and embeds it in your pictures, so you can always know where you were. This is simply an amazing camera.
Panasonic Lumix
Another great waterproof camera that you would love to own is the Panasonic Lumix. It has similar review scores as the Ricoh camera, and it is from a brand that is familiar and reliable. It can withstand depths of up to 39 feet, and it has a 12.1 megapixel resolution. It has a modern, sleek design, and it has a convenient movie button on the camera that allows you to take videos effortlessly. This camera also has GPS built in, but many have found that when it is turned on, it drains the camera very quickly. One thing that is attractive about this camera is that it has up to 10 picture shooting modes, so that you can take the perfect picture no matter what conditions you are in. This is an exceptional camera that anyone would love to own.
Nikon Coolpix AW110
The Coolpix camera is one of the most popular cameras on the market, and the waterproof version is no exception. This camera can withstand extreme conditions, including cold, and it can withstand depths up to 59 feet, which is extraordinary. You can easily go diving with this camera and take stunning pictures of marine environments. The Coolpix boasts a 16 megapixel picture resolution, which is tough to beat in this class. The camera also has built-in Wi-Fi, so you can instantly connect to any of your devices and transfer pictures. One general complaint about this camera is that it does not float in the water. Although it is waterproof, it can be tough to find if it is dropped in deep water or in water that is muddy. Therefore, it must be secured in order to avoid losing it.
Sony Cyber-Shot DSC-TX30
Sony has a reputation for producing high quality electronics, and the waterproof Sony Cyber-Shot is no exception. It can go up to 33 feet underwater, which is not as much as other camera in this category, but it is enough for most. One unique feature about this camera that many users love is the macro mode that is available. In this mode, you can get up to 1 cm away from your subject and take beautiful close-up pictures. This camera also features impressive picture quality, as it has an 18.2 megapixel resolution. The casing is made of hard plastic and durable metal, so it feels very sturdy in your hands. One downside is that it does not have built-in GPS, but not many people seem to mind that. The Cyber-shot is very portable and fun to use.
Olympus TG 830 iHS
Olympus has been in the digital camera market for a long time, and their waterproof camera is one of the best. It has an impressive 16 megapixel camera, and like the Cyber-Shot camera, it goes up to 33 feet underwater. One great design feature about this camera is that it is crush-proof, so it can withstand up to 220 pounds of pressure. The camera also has a built in GPS, which can track your movements through a long treck, and it has a mini headlight so you can explore caves and other dark places. With this camera, you can take 300 pictures on a single charge, and you can expect to be able to take up to 80 minutes of continuous video. One minor complaint about this camera in some camera reviews is that it is made out of slippery material which is difficult to grip. Nevertheless, this camera is one of the best in its class.
Canon PowerShot D20
Canon is one of the most recognizable brands in the camera market, and you can be sure that they make a waterproof one for outdoor enthusiasts. This Canon camera boasts a 12.1 megapixel camera and a 5X zoom lens, as well as a 33 foot water depth durability. It has sturdy, waterproof seals, and many claim that it is very easy to grip. A minor complaint about this camera is that the play-back button is located very near the photo button, so you may accidentally hit it a time or two. Overall, this Canon camera would be great to own if you like to spend time in the outdoors.
As you can see, there is a great deal of research that needs to be done in order to find the right waterproof digital camera for you. We hope that these camera reviews are helpful to you, and you find the perfect camera for your needs.