Property
Insight into the Bangladesh Property Market
According to Bikroy listing data of 2019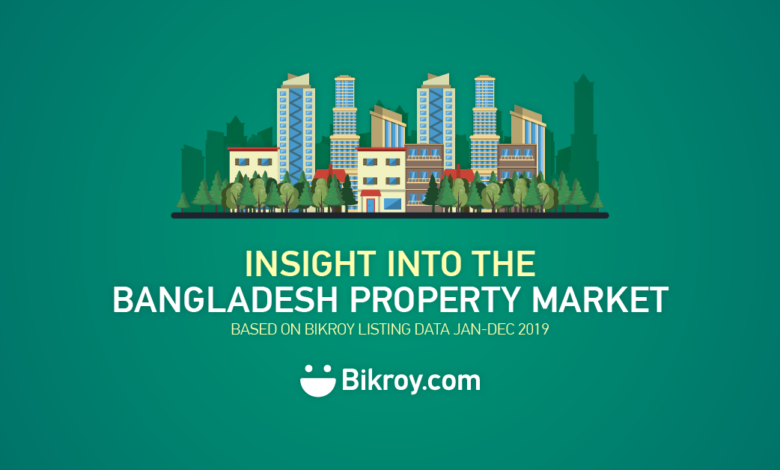 In the rapidly growing city of Dhaka with its 20 million inhabitants, real estate is a booming sector. Being a major commercial hub, the capital has drawn in far more people than any other city, spurring huge demand for land and infrastructure development. Property is a lucrative market to invest in, and many have dived in, playing their part in expanding the city and providing homes for people and office space for organizations. And with the advent of the information age, property buyers and sellers are now more connected than ever before in history. In Bangladesh, Bikroy has been quietly doing its part to strengthen this connection, bringing together thousands of property buyers and sellers. With that notion, being the country's largest portal for property trade, activity data from Bikroy such as ad posting and searching can effectively provide a great insight into the entire property market in Bangladesh, in order to analyze current trends and demands. The following analysis is based on Bikroy site data gathered over the year of 2019 and will make an attempt to project a snapshot of the property market during that year.
Top Locations for Property Sale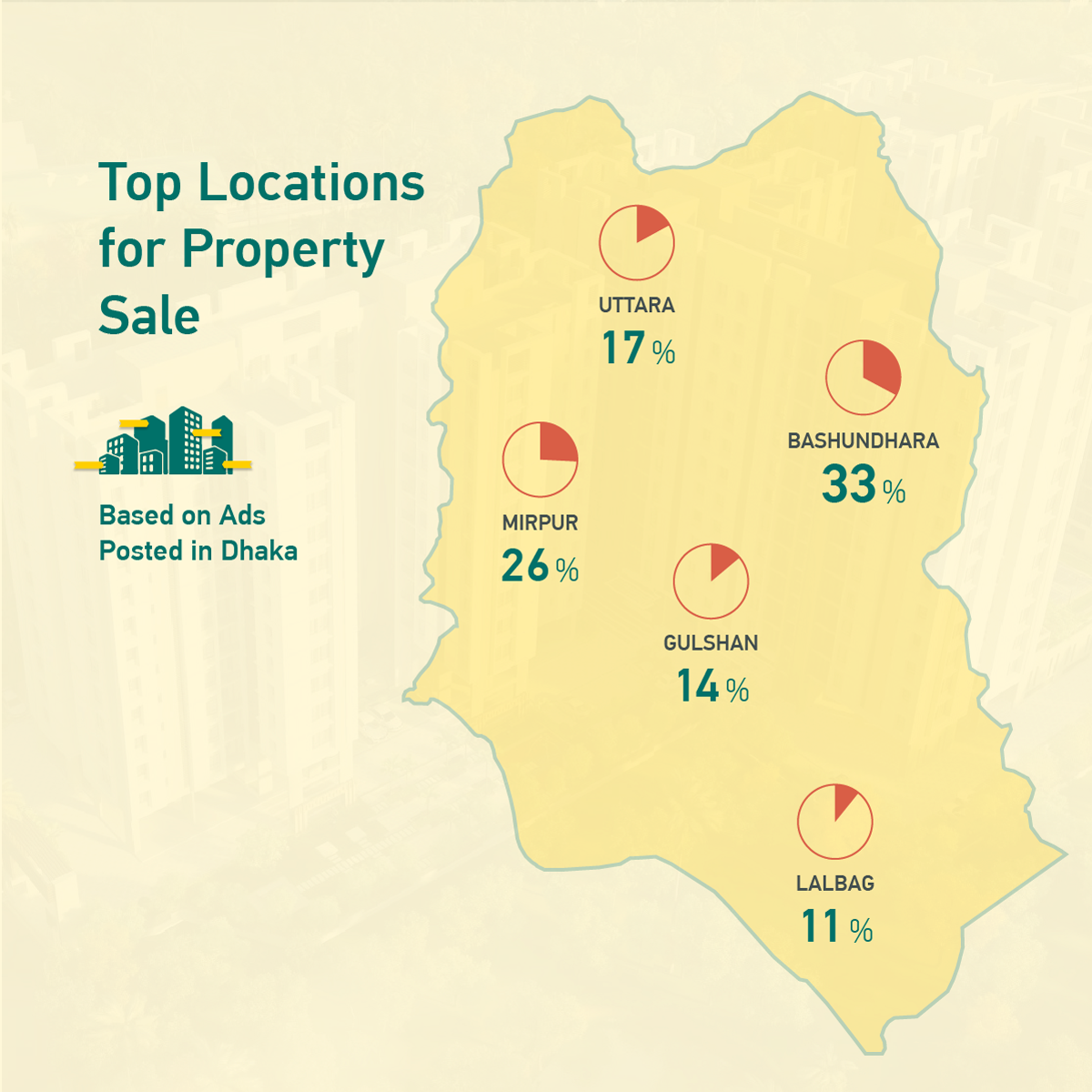 It's not surprising that most properties in Bangladesh bought and sold were in the Bashundhara Residential Area. Over the last four decades, this area has grown to become a hotspot for buying flats, plots, and land. Multiple development projects are still underway as Bashundhara is now a significantly large residential area, despite less than a third of its area being developed and populated as of today. The second most properties sold were in Mirpur, which takes up almost a fifth of the area of Dhaka city. After the top two, Uttara, Gulshan, and Lalbag take the mantles for the 3rd, 4th and 5th most properties sold respectively in 2019.
Top Locations for Property Rent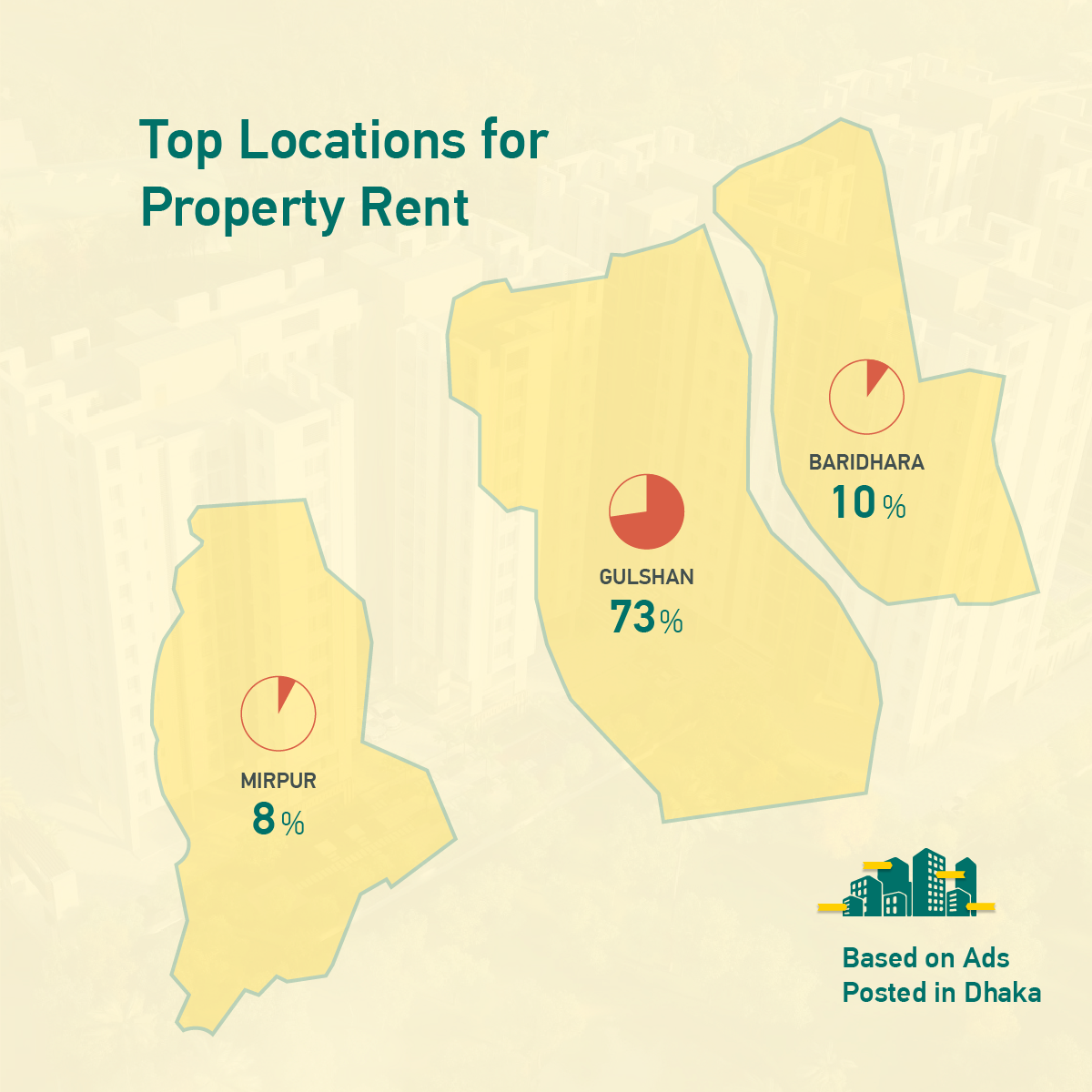 The highest number of ads by far posted on Bikroy for flats or spaces available for rent were located in Gulshan. This could be mostly due to Gulshan being a busy commercial area with a large number of office spaces available for rent. The majority of ex-pats in Dhaka also rent apartments in Gulshan as well, while many of them rent in the neighboring area of Baridhara, which has the second-highest number of rental listings. Baridhara also includes a DOHS area that has over time become a popular renting destination for people whose workplaces are located in Gulshan or Banani. Mirpur was the third most popular location where properties were rented in 2019.
Available Property by Price Range
For Rent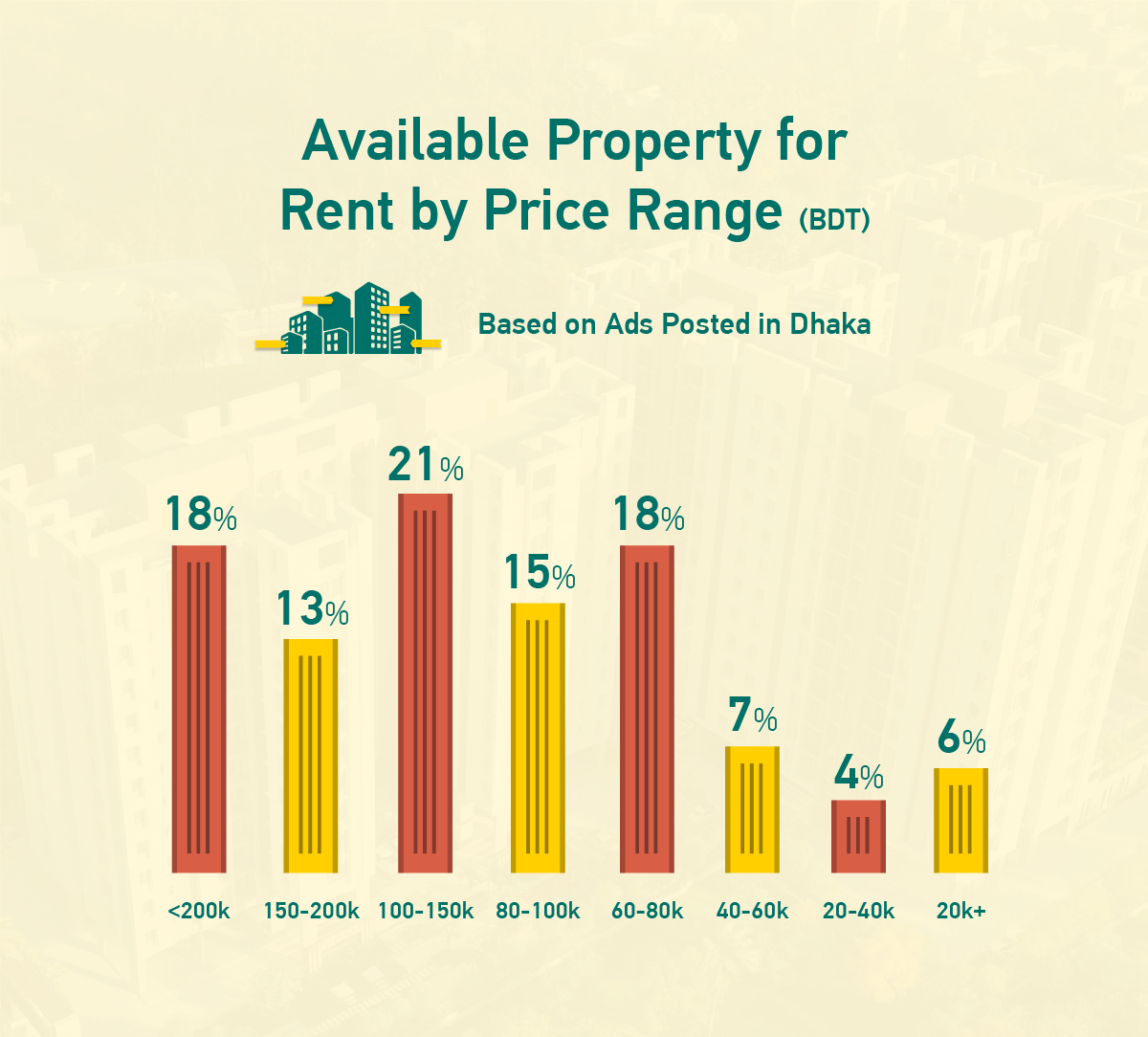 This paints a picture of which price range was most listed (and therefore most popular) in 2019 when it came to renting properties. It can be seen that the highest proportion (21%) of ads posted for rental properties had monthly rent between BDT 1 lac to 1.5 lacs, while the lowest proportion (4%) was for rent between BDT 20 to 40 thousand.
For Sale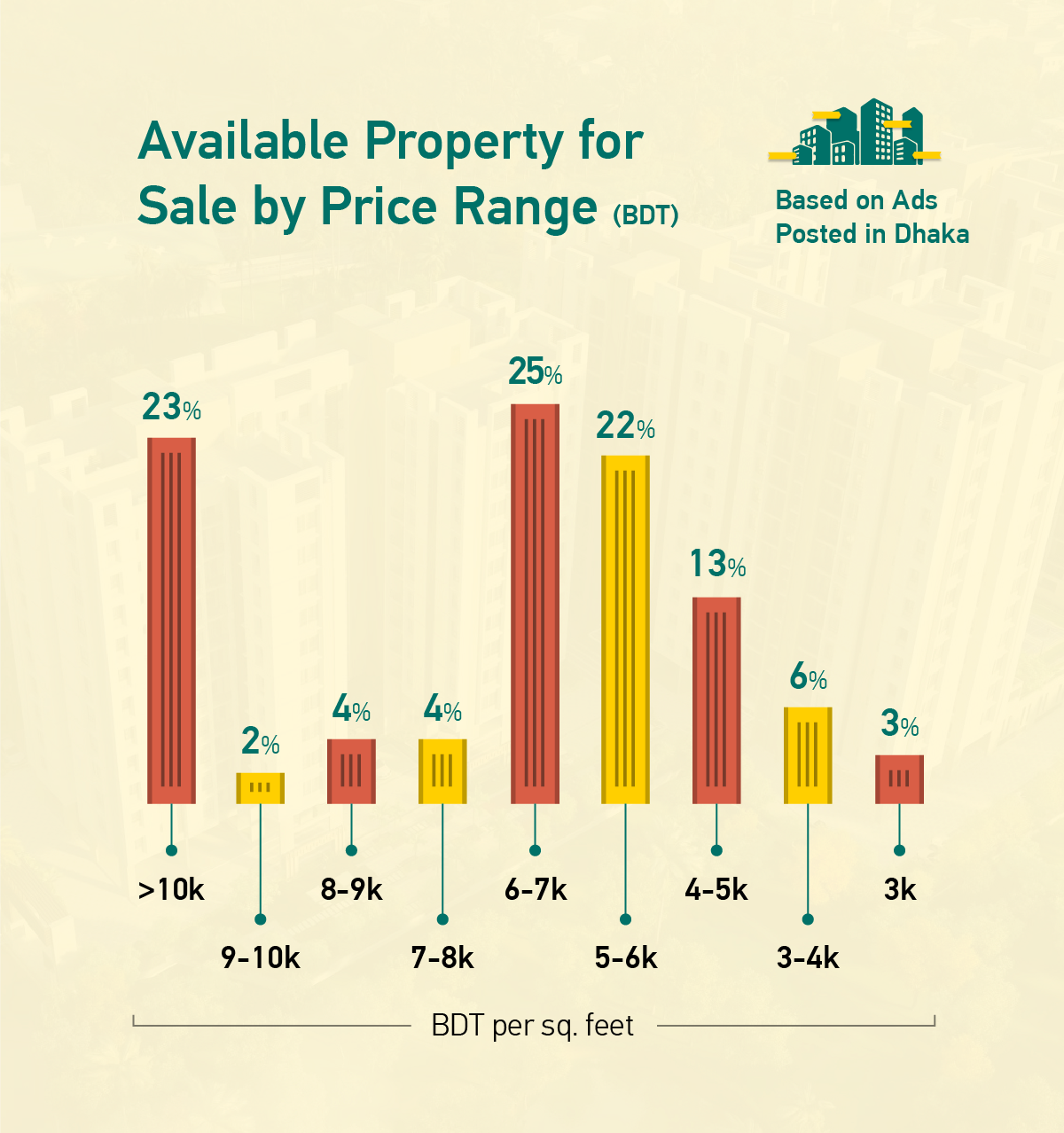 As most properties listed for sale are priced by the square foot, it provides a better look at the market when it comes to selling property. Most properties listed for sale in 2019 were priced between BDT 6 to 7 thousand per sq. ft, while the second-highest number of ads listed are for those priced above BDT 10 thousand per sq. ft. The range between 9 and 10 thousand per sq. ft. has the lowest number of ads posted. This arbitrary pattern indicates that the selling price by the square foot is independent of the size of the land or plot, and is more linked with other factors such as the location of the property.
Property Buying Trend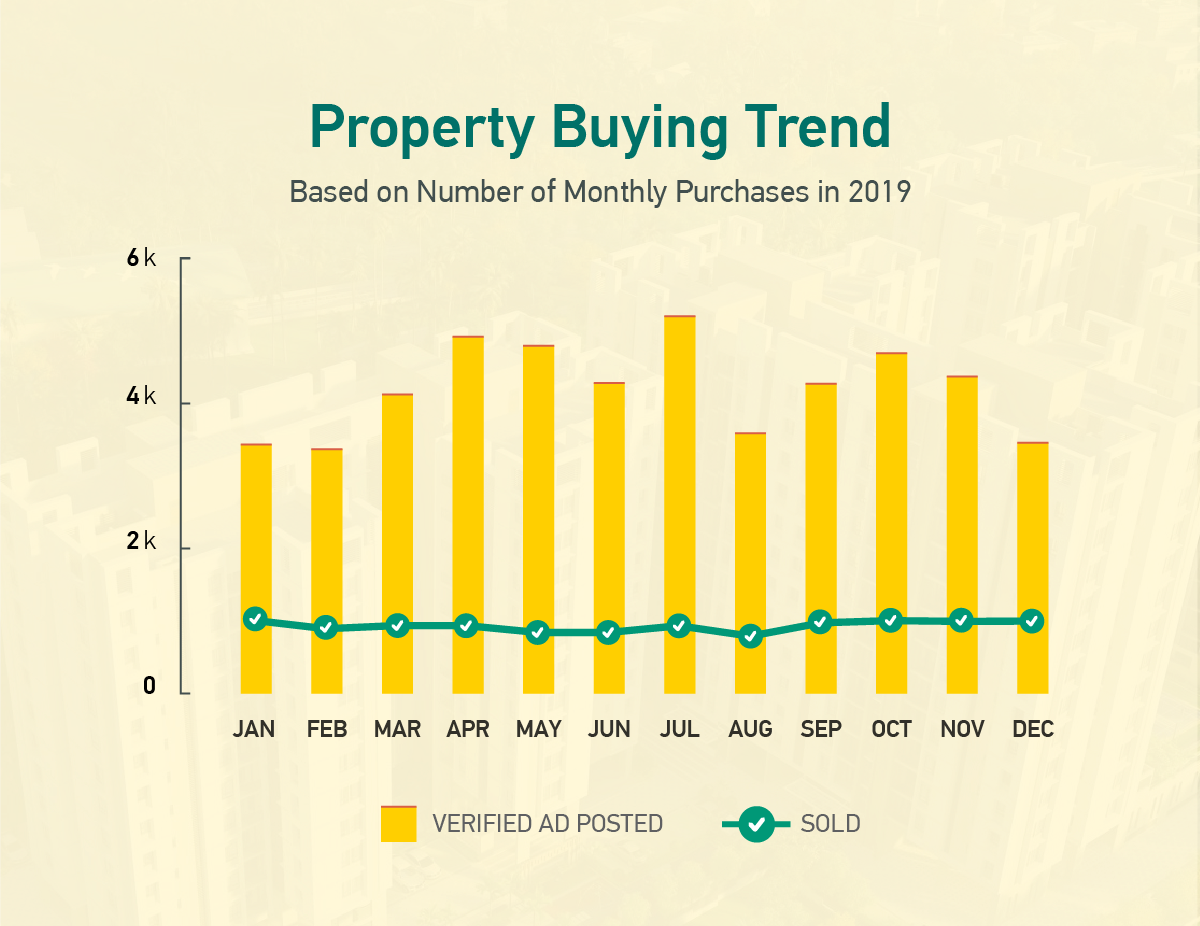 From a first impression, it is clear that the number of ads posted for the sale of properties has fluctuated throughout the year, whereas the number of properties actually sold through these ads has remained fairly consistent every month. Even so, sales were highest in January, then peaked again from October through December, which indicates a tendency of most property sales to occur during winter.
New vs Used Flats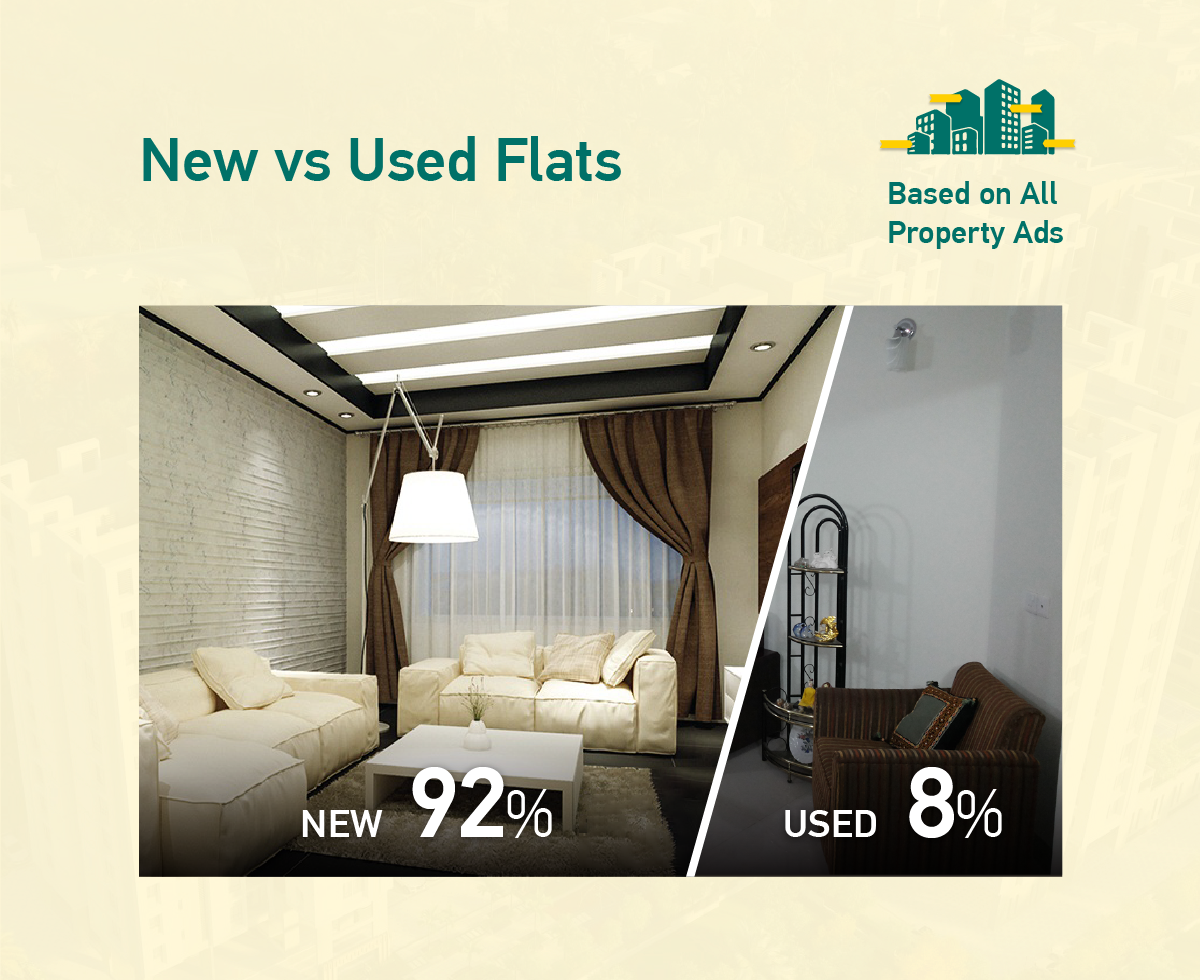 An interesting shift from previous years is that the vast majority of ads for flats and apartments (92%) are now of newly developed ones, indicating that owners of newly built flats are largely advertising on Bikroy, as they have the potential to be sold or rented out quickly and conveniently.
B2B Market Share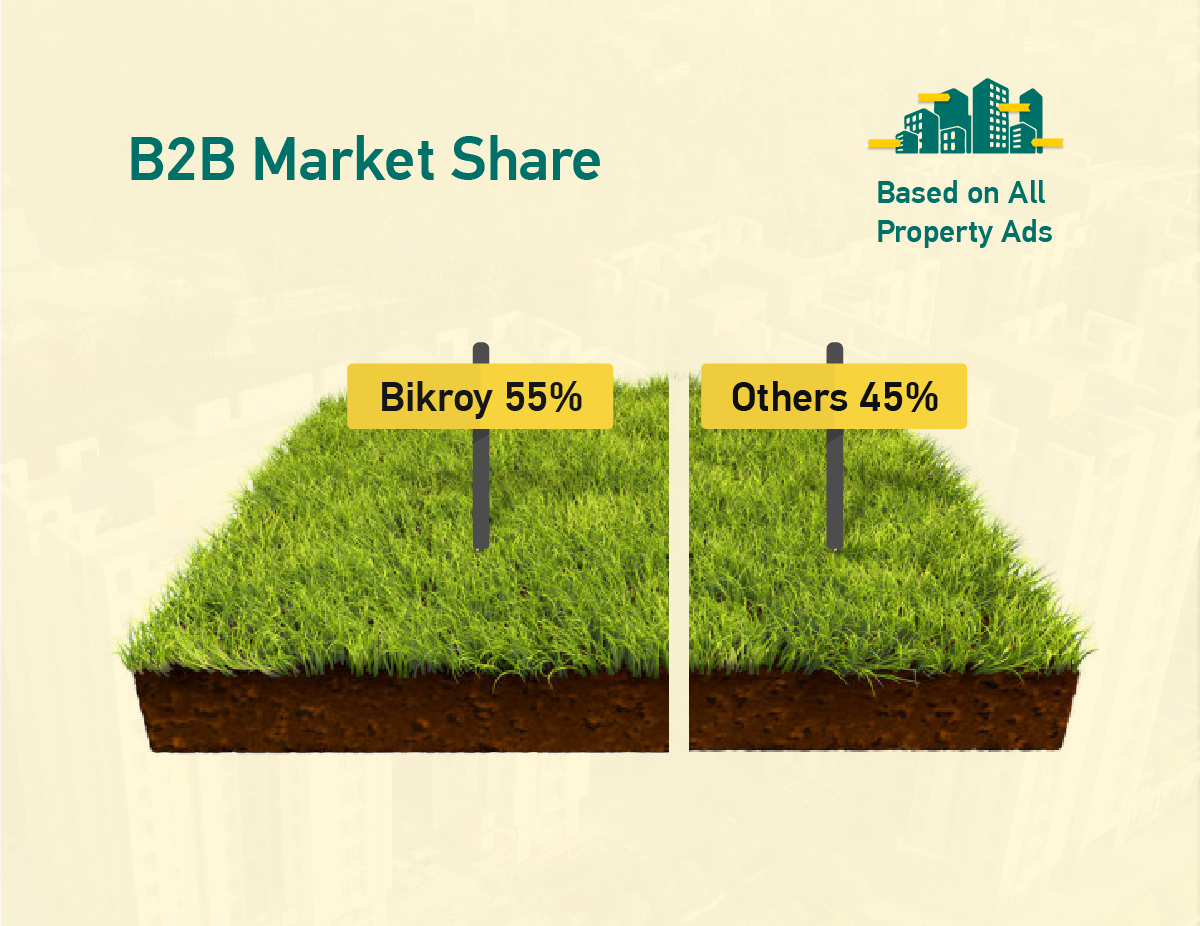 It appears that more properties in the market are bought and sold on Bikroy than the other platforms combined. The B2B market share of Bikroy stands at 55% while the others in the market make up 45%.
Top Searched Locations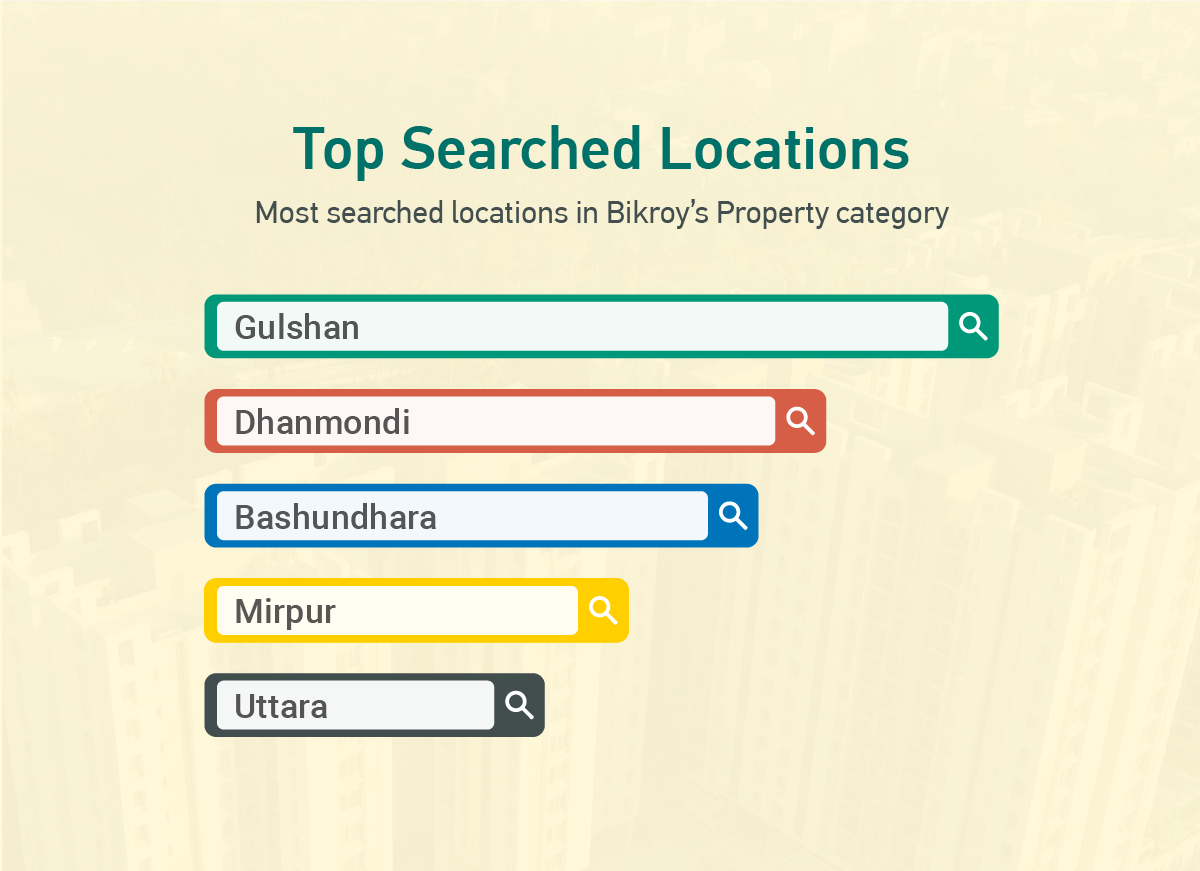 We can also note that as of 2019, Bashundhara was the most searched area on Bikroy, followed by Gulshan, Uttara, Dhanmondi, and Mohammadpur. This backs up the previous finding that Bashundhara also had the highest listings for property sales.
Property Price Valuation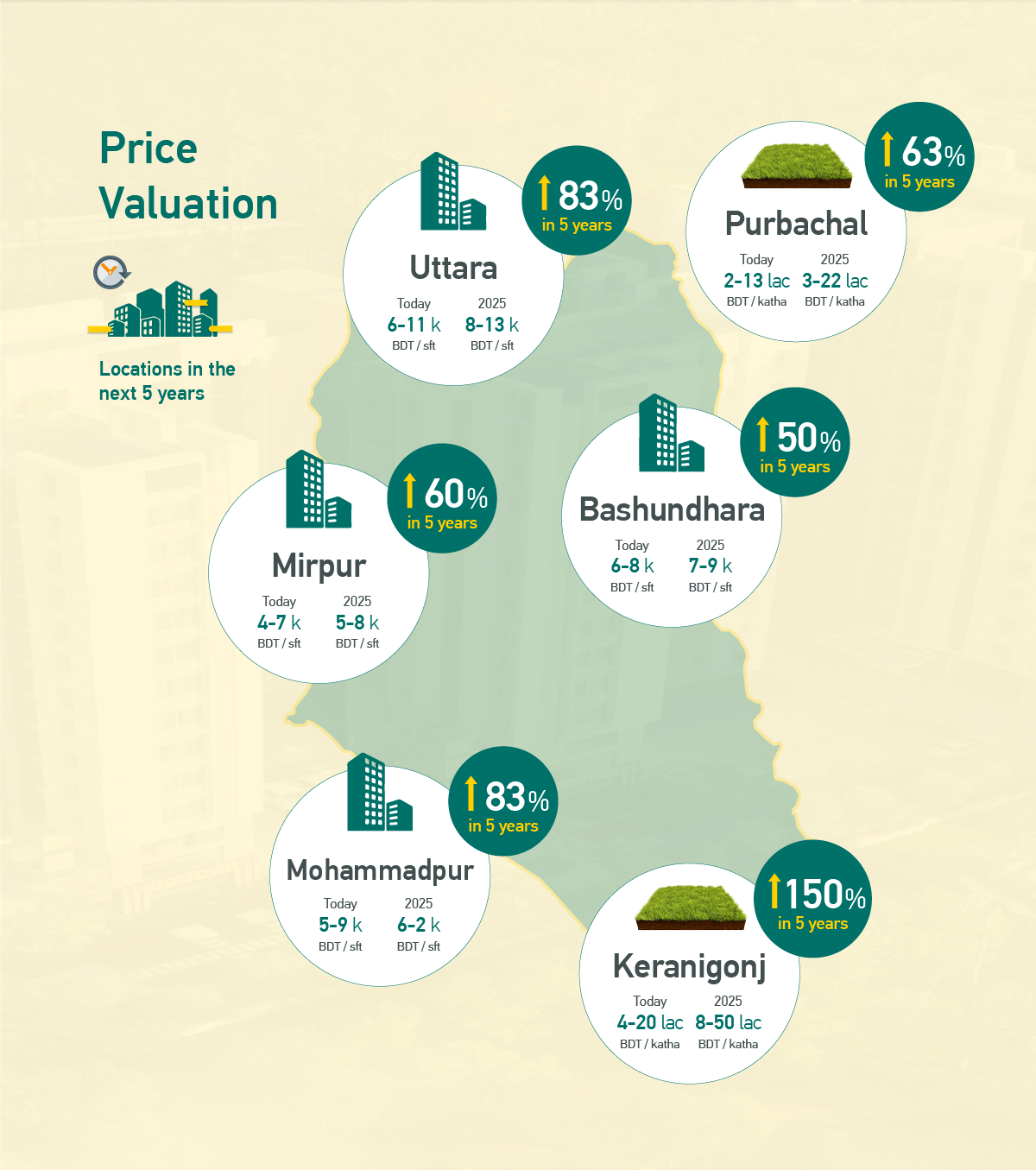 Trend analysis has shed some light on the real estate market in Bangladesh in the next 5 years according to the data accumulated by 2019. Looking at the findings, the area of Keraniganj may experience the highest growth in land prices by 2025. Prices of flats and apartments in Mohammadpur and Uttara are also expected to go up by a significant proportion in the next 5 years, while land in the newly developed area of Purbachal is also expected to become much more valuable. The areas Mirpur and Bashundhara, while today have property value similar to Mohammadpur and Uttara, are expected to see a smaller growth comparatively 5 years down the line.
Even though these predictions were made before the current wave of coronavirus, experts feel that its impact on the country's real estate will be considerably less than the impact on other sectors, partially on grounds that housing is a basic necessity, and there will always be demand for it.
Property Ads from Chattogram, Sylhet, and Khulna
Even though the large majority of listings on Bikroy come from Dhaka, there are still quite a bit of ads from other regions around Bangladesh. Chattogram, Sylhet, and Khulna have the highest number of listings respectively after Dhaka, closely followed by Rajshahi, Mymensingh, Barishal, and Rangpur. The top areas for ads in Chattogram are Halishahar, Khulshi, and Agrabad. In Sylhet city, most ads come from Zinda Bazar, Shahporan and Amber Khana, while in Khulna City the top locations are Sonadanga, Rayermohol and Khulna Sadar.
Conclusion
The real estate market in Bangladesh is very lucrative but often unpredictable and requires a far deeper analysis in order for anyone to consider investment decisions. However, the data from Bikroy serves as an excellent and quick overview of the latest scenario in the property market in Bangladesh. The numbers for 2020 may turn out to be quite different by the start of next year, as we are experiencing an unprecedented global event, but the general verdict so far is that the property market will remain relatively stable during this crisis, and hopefully come out much stronger at the end of it.
We urge the readers to be cautious and practice social distancing during this quarantine. Please stay home, stay safe.
Get full Infographic on:
Pinterest: Property Market in Bangladesh
Slideshare: Property Market in Bangladesh