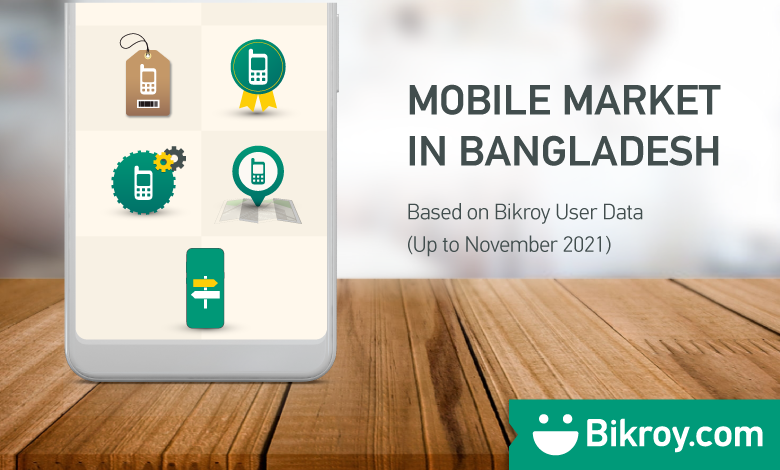 While the smartphone market is waning globally, the mobile phone market in Bangladesh remains uninterrupted and offers sustainable growth opportunities for smartphone manufacturers.
Smartphones are proving to be a major channel for enabling the digital world in Bangladesh. Consumer needs have changed at a rapid speed in the last decade. The fastest adaptation of smartphones has led to demand for high-specification devices in these years.
Bikroy.com takes a deep dive into the mobile market in Bangladesh, discovering a dynamic market with infographic stat. Here we have assembled the answers to the most crucial questions that can assist anyone interested in knowing the current situation of the mobile market in Bangladesh and updates on mobile prices in Bangladesh. 
Which price range is common for mobile phone users in Bangladesh?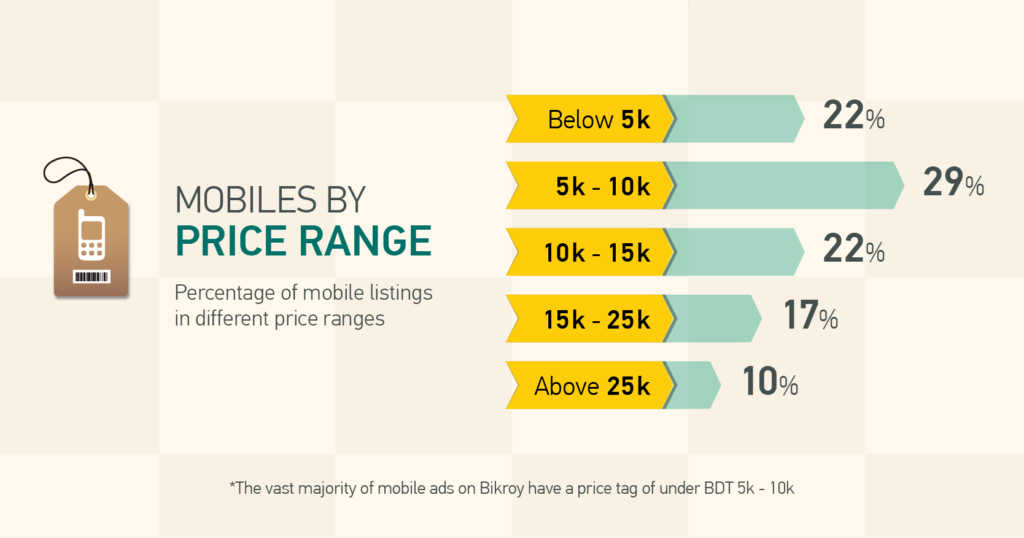 As the infographic shows, most phones available on Bikroy.com lie between BDT 5,000 – 10,000 price point, which is 29% of the entire ads. Whereas, phones of below 5,000 and BDT 10,000 – 15,000 price groups each have a 22% share of entire ads. Cheap phones acquired a significant share because of having a low resale value.
Mobiles ranging from BDT 15,000 – 25,000 take up 17% and the BDT 25,000+ group take up 10% of the entire mobile ads on Bikroy.
Top-Selling Mobile Phone Brands at Bikroy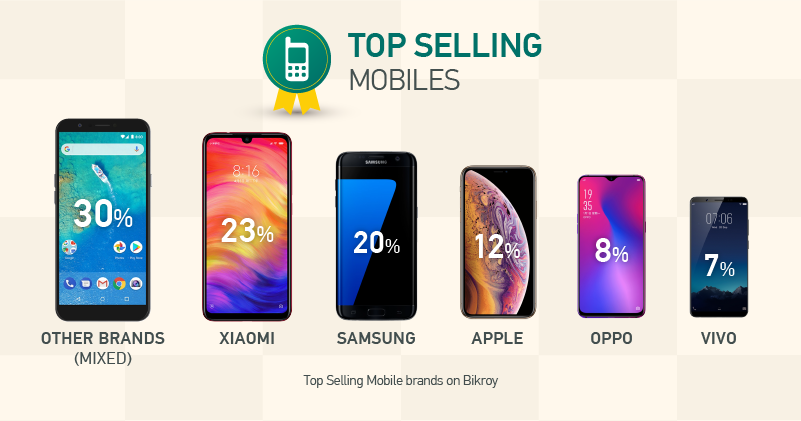 Being a massive market of mobile phone users, most mobile phones are from less popular and local brands like Symphony, Walton, and iTel; which obtained 30% of the posted ads. Next in line, Xiaomi reigns as the most bought and sold mobile phone on site, followed by Samsung, Apple, Oppo, and Vivo.
As the statistics show, the market is dynamic with the numbers. Xiaomi and Samsung are dominating here with 23% and 20%, respectively. On the other hand, Apple, Oppo, and Vivo share their spot with 12%, 8%, and 7%, respectively.
New Vs. Used Mobile Phones: Which Are More Popular?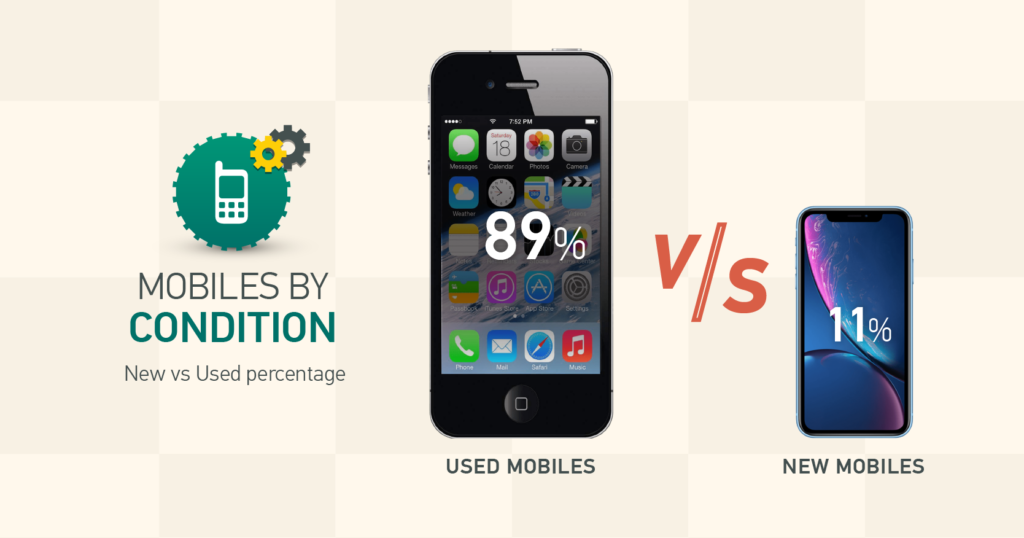 Bangladesh is one of the largest mobile phone markets in South Asia, thanks to brand-conscious Bangladeshi consumers who are also price-conscious. Bangladesh is also the fastest-growing market for second-hand or used mobile phones. Besides, COVID-19 has played a vital role in pushing users to buy second-hand phones.
As per the Bikroy infographic, around 89% of the entire ads have been posted for used mobile phones, while the remaining 11% of ads are for new mobile phones.
Which cities are ahead on posting ads?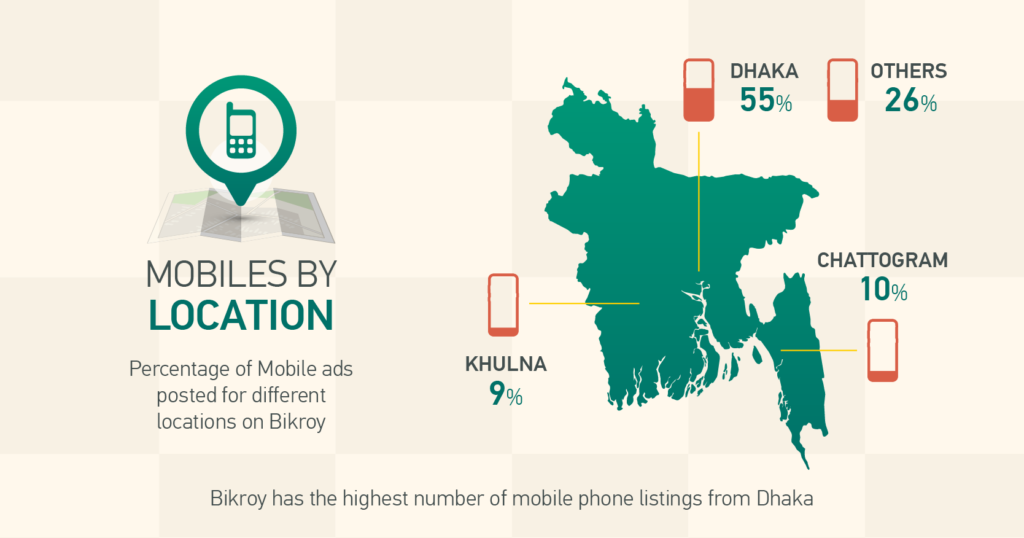 Here we can see the geographical location from which most of the ads are being posted. The statistics show that 51% of ads have been posted from Dhaka. As the capital city and a communication hub for business and education, it's natural that more people are buying and selling mobile phones here than anywhere else in the country.
After Dhaka, we can see that 26% of ads have been posted from other major cities including Rajshahi, Rangpur, Sylhet, Barisal, and Mymensingh, etc. Then there is our port city Chittagong in the third position with about 10%, followed by Khulna in fourth with 9% of all advertisements.
Android vs. iOS vs. Feature phone: Which is the most common operating system?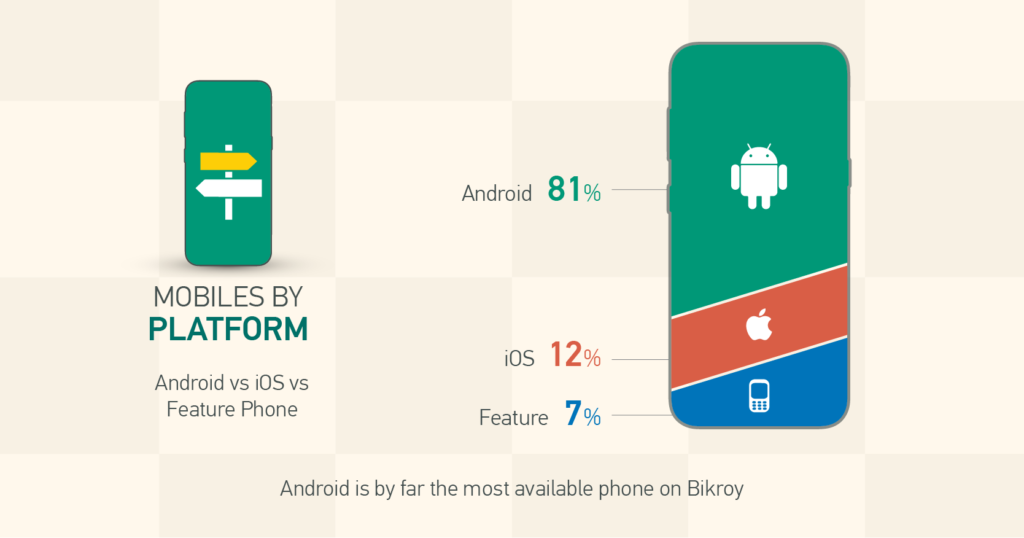 The Bangladeshi mobile market has been dominated by android devices from the early age of using smartphones. Almost 81% of the users have the Android OS because of its endless customization features and most smartphone manufacturers use this OS.
On the other hand, 12% of the entire smartphone users are using iOS. If you think that feature phones are being extinct from the market, this group still obtains 7% of the whole ads.
In Summary
The mobile market in Bangladesh is changing persistently with rapid technological innovations and seems to be rich with cheaper and affordable phones in upcoming years.
With the blessing of online trading platforms like Bikroy.com, it's easy to buy and sell mobile phones within a few clicks, which helps the market grow faster.
Always keep in touch with Bikroy.com to know the latest trends in the mobile market in Bangladesh.
Happy Shopping!
FAQ
Which are the top-selling smartphone brands in Bangladesh?
A data from Bikroy.com has assembled the top-selling mobile phone brands in Bangladesh based on the ads posted on the website:
Mixed Brands (Nokia, Motorola, Symphony, iTel)
Xiaomi
Samsung
Apple
Oppo
Vivo
Which type of mobile phone is being sold mostly in Bangladesh?
Based on the ad posting data from Bikroy.com – The largest Marketplace in Bangladesh, here is the list of mobile phone types:
Android (81%)
iOS (12%)
Featured phone (7%)