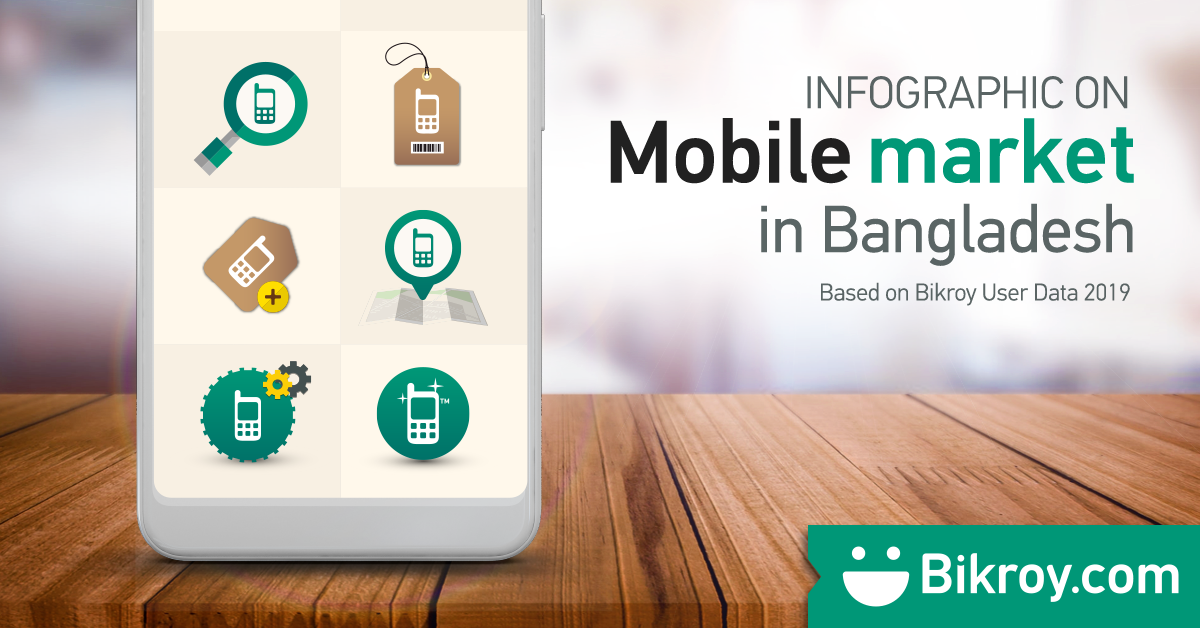 Have you ever left the house and suddenly realized that you've forgotten something? You fumble through your bag and your pockets, but you just can't seem to find it anywhere. And at that moment, it's almost as if your life is incomplete without it. Indeed, without our mighty mobile phones, we might as well be disconnected from reality itself. The power of global communications technology is now pretty much at everyone's fingertips, which essentially makes us slaves to these little devices. So many aspects of our everyday life now depend on mobile technology – trade and commerce, education, food, transport, healthcare, entertainment. It's interesting to speculate the changes that have occurred in the mobile phone market due to this paradigm shift. Customers seem to want something new and different from their phones each year. Here, we will analyze and evaluate some aspects of these trends in the mobile market in Bangladesh, based on Bikroy user data in 2019.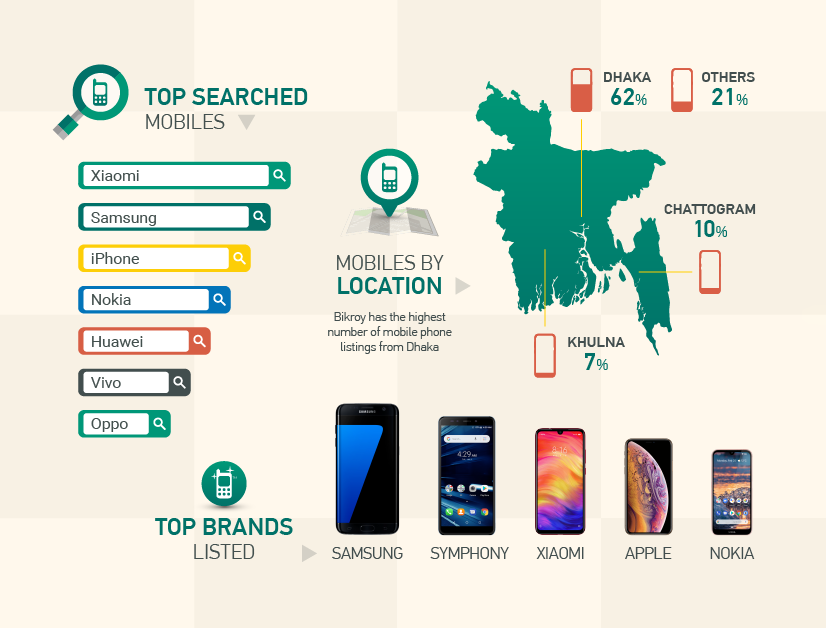 What users are searching for
A quick glance at our search data indicates that Xiaomi is currently the most sought-after brand. Xiaomi has recently grown quite popular in the market for providing relatively cheap phones with great specifications, especially the Redmi series. Ideally, someone on a budget could get great use out of these phones for about 4 to 5 years. These Chinese phones come in a variety of model types, camera options, color choices, and with somewhat good gaming software, and thus can appeal to a large segment of the market. After Xiaomi, the most searched phones are Samsung and iPhone. Although these are generally on the pricier side, Samsung has a large array of reasonably priced phones with good specifications as well. And of course, some hardcore loyal customers will bank their money on Apple any day. The iPhone is massively popular in Bangladesh due to its superb camera specifications and its overall premium feel. Then comes Nokia, Huawei, Vivo, and Oppo. Search for these are quite strong but still comparatively lower than the brands mentioned earlier. Even though Nokia has been revamped and reintroduced as a smartphone after a long absence, it is not nearly as popular as its heyday when it used to rule the feature-phone market.
Where most phones are being sold
Next, we look at the geographical location from which the ads for mobile phones are being generated. The data indicates that more than half of the listings come from Dhaka. As the capital city and a hub of communication, business and education, it's only natural that more people are buying and selling mobile phones here than anywhere else in the country. Chattogram is the next major city where mobile phones are being sold, holding about a tenth of the listings on Bikroy.
What are the top brands on Bikroy
Samsung reigns as the most bought and sold mobile phone on site, followed by Symphony, Xiaomi, Apple, and Nokia. Samsung has been around for a while and has consistently delivered high-quality phones to ensure its loyal customer base. Nonetheless, the market is dynamic, with brands like Xiaomi and Symphony allowing users to find cheaper alternatives to Samsung. Meanwhile, Apple and Nokia are slightly lagging behind due to their buyers being more concentrated in certain areas, though they are expected to get a boost this year after the introduction of their new flagship phones.
Android vs iOS vs Feature
Today, most phones run on either the Android or iOS platform. Android rules the mobile market in Bangladesh by a wide margin (70%) because it allows endless customization and is supported by the majority of mobile phone manufacturers, making it the dominant standard in the mobile phone industry worldwide. The Android vs iOS format war in our time is reminiscent of the Windows vs Mac format war of the early 90s. Apple is well known for their "closed systems" that fuse hardware and software together to create a unique experience which many loyal users love, but also a rigid combination which many tech enthusiasts reject due to lack of flexibility. Nevertheless, iOS brings a healthy 10 percent share of the platform to a single brand, which is great for Apple. And while some may guess that feature phone platforms are going out of the industry by now, looks like they will still be around for some time, being a great low-cost alternative to smartphones.
Mobiles by Price Range
As the data suggests, the majority of phones available on Bikroy are below the 5,000 BDT price point. A large number of phones are also being listed between 10,000 and 2,000 BDT. The reason why cheaper phones are seen to have a larger share of ads on Bikroy is that many used phones tend to have a low resale value. It could also be due to the fact that more brands are introducing budget phones lately. Today, the most basic features of a mobile phone are more or less the same across brands. Users choose their phones based on design and higher-level specifications coupled with perceived brand value. This has created a considerable degree of price diversity in the mobile phone industry.

New phones vs Used phones
According to recent data, each month up to 150,000 mobile phones are available on Bikroy. Despite fluctuations, there has been an overall increase in the number of mobiles sold during the first half of 2019. The increase may be caused by more attractive listings and also online platforms gaining popularity. It's also interesting to note that even though the Bikroy inventory is dominated by used mobile phone listings, ads for brand new phones are on the rise and growing at about 20 percent faster.
Conclusion
So that was a snapshot of the market for mobile phones in our country in 2019. As usual, the market is evolving constantly with rapid technological change. Consumers are getting better and better offers with every passing year, and the market seems likely to see a rise in cheaper and affordable phones while keeping big brands at bay. The more expensive and high-end brands will most likely tend to their niche audience while some will try to dabble into the budget phone arena. In any case, the market is growing faster and it is now easier than ever to buy a mobile phone online, thanks to platforms such as Bikroy. So if you are looking for a mobile phone, check out Bikroy.com for great deals on phones today!
Get full infographic: