Bikroy Updates
Bikroy.com Organized 'Moner Janala' to Inspire Female Employees
Wahida Sharmin was the special guest in this program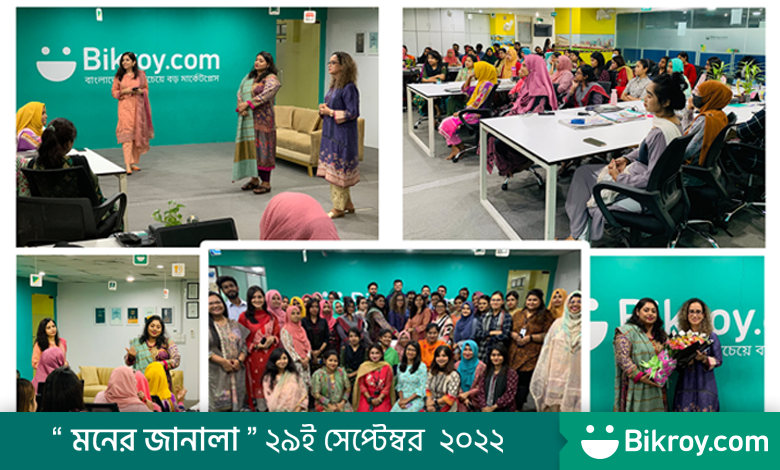 Bikroy.com, the Largest Marketplace in Bangladesh, organized a discussion meeting titled 'Moner Janala' with the participation of the Bikroy employees on 29th September at its head office. Bikroy.com has created a forum named 'Moner Janala' in association with UN Women's #HeForShe campaign. They have been arranging it every three months for the last six years, to excel in leadership qualities among the young female executives.
Wahida Sharmin, Deputy Managing Director of FIT ELEGANCE was present as the Special Guest at the event. Eshita Sharmin, CEO of Bikroy, and Rehenuma Islam, Head of HR & Culture of Bikroy were also present among others.
'Moner Janala' forum aims to remove gender discrimination and increase the participation of female employees in the workplace. Rehenuma Islam and Eshita Sharmin, the two advisors of the panel are continuously working to realize this objective. Though the forum came into being keeping female employees in mind, male employees can also share their opinions here.
Regarding 'Moner Janala', Wahida Sharmin, Deputy Managing Director of FIT ELEGANCE said, "The mentality of setting boundaries for women is deeply rooted in our society. However, many women are breaking this conventional thinking and shining brightly through their work in different spheres. For women, the beginning is not always as smooth as others. I also had to go through many ups and downs to reach this position today. Every woman has a unique identity, and a right to be known by her name. And the first step to establishing identity is work, which boosts her confidence. Thanks to Bikroy.com for organizing this kind of event where working women can freely discuss their challenges."
Rehenuma Islam, Head of HR & Culture of Bikroy said, "'Moner Janala' is a platform where our female employees can discuss their work environment and the challenges they face. By organizing 'Moner Janla', we mainly focus on the mental health development of our female workers and bringing balance between their professional and personal life. For this event, we invited Wahida Sharmin, Deputy Managing Director of FIT ELEGANCE. She shared with us how she has overcome various hurdles and adversities to reach this stage. This event was well received by everyone and we hope to continue arranging such special events in the future as well."
Eshita Sharmin, CEO of Bikroy said, "Bangladeshi women hold many important positions in various local business industries and organizations. There is no time to look back. At Bikroy, we regularly practice gender equality and equal rights. 'Moner Janala' is one such initiative of Bikroy. As a female employee, I am proud to be a part of such an event. We are truly delighted to have a personality like Wahida Sharmin as our special guest, her thoughts on how to move forward in the workplace despite various adversities and the importance of mental health to achieve success are inspiring."