Bikroy Updates
'Moner Janala'- A special initiative for the female employees by Bikroy
Special guest this time is Sanjida Ahmed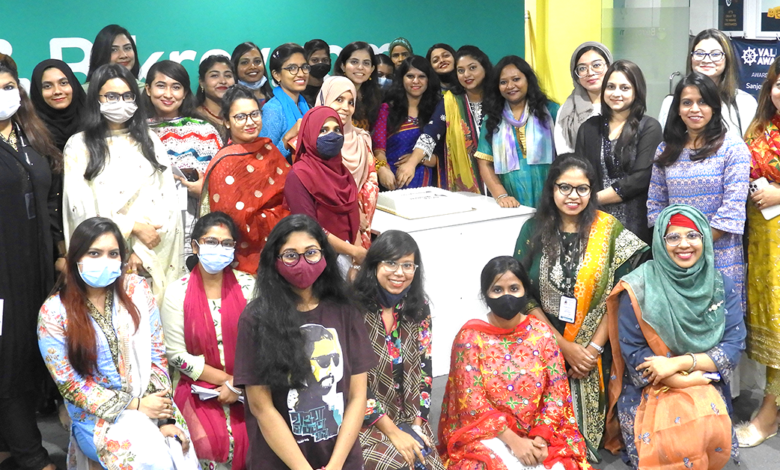 Bikroy.com, the Largest Marketplace in Bangladesh, organized a discussion meeting titled 'Moner Janala' with the participation of the Bikroy staff on 24th June at its head office. This time the topic was 'Women & Work'. Bikroy.com has created a forum named 'Moner Janala' in association with the 'HeForShe' campaign. They have been arranging it every three months for the last five years, to excel in leadership qualities among the young female executives.
Sanjida Ahmed, Program Manager (Gender) at Palli Karma-Sahayak Foundation (PKSF) was present as the chief guest at the event. Eshita Sharmin, Managing Director of Bikroy, and Rehenuma Islam, Head of HR & Culture of Bikroy were also present among others.
'Moner Janala' forum aims to remove gender discrimination and increase the participation of female employees in the workplace. Rehenuma Islam and Eshita Sharmin, the two advisors of the forum are continuously working to realize this objective. Though the forum came into being keeping female employees in mind, male employees can also share their opinions here.
Regarding 'Moner Janala', Sanjida Ahmed, the guest at the event and Program Manager (Gender) at Palli Karma-Sahayak Foundation (PKSF), said, "In a word, 'Moner Janala' is a platform where women can speak their mind. This program is truly a commendable initiative of Bikroy. People in general view corporate culture as a center of profit and loss only, this program somehow proves that notion untrue. In a patriarchal society like ours, a woman faces many challenges, whether in the workplace or at home. On 'Moner Janala', first of all, they can talk about those obstacles and at the same time can find ways to deal with them on their own. The sincerity of the Bikroy management in implementing this program is visible. The spontaneous participation of each employee has made the program more lively. I sincerely thank the Bikroy Management team and wish them all the best."
Rehenuma Islam, Head of HR & Culture of Bikroy said, "At Bikroy, we aspire to grow as a company along with our talent. 'Moner Janala' is a platform where our female employees can share their feelings related to the work environment and talk about any challenges they face at the workplace. We invite established female guest speakers to our events who inspire our female employees by sharing their stories. I believe these stories will encourage our female employees to excel at work."
Eshita Sharmin, Managing Director of Bikroy said, "'Moner Janala' is a tradition of Bikroy, one of our regular initiatives. Despite compelling evidence that more diversity in management levels increases efficiency, women in leadership roles are still low in most organizations. I think the personal and professional life – these two should go parallel for everyone. Since women face relatively more difficult situations, the main purpose of our event is to hear out their challenges and try our best to find a balance. At Bikroy, we want to provide equal chances to both male and female employees to boost up their confidence."