Bikroy Updates
Bikroy Turns 9: Celebrating Our Glorious Journey with You!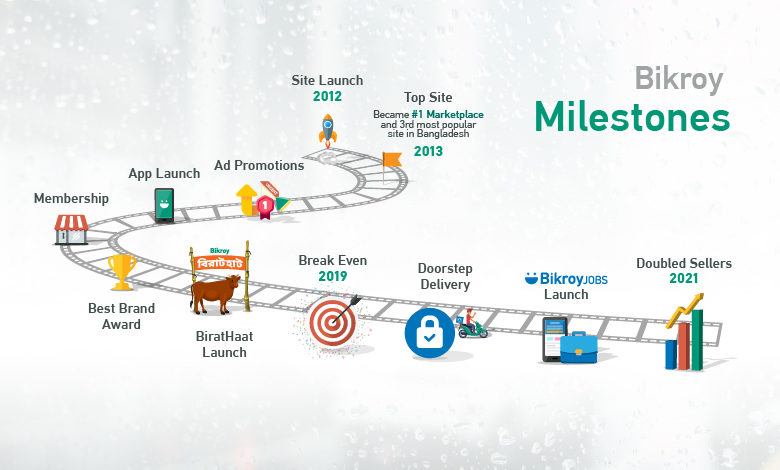 No prizes for guessing what we're celebrating in the whole month of June – it's Bikroy.com's 9th birthday. To serve maximum to online consumers, Bikroy started its journey as an online classified site in Bangladesh in 2012. Being admired among the first online organizations in Bangladesh, you can buy and sell everything from cars to property, electronics, jobs, even you can find your life partner by surfing Bikroy!
In these 9 years, Bikroy.com has become one of the most popular marketplaces in Bangladesh. Recently, on the occasion of our anniversary, many well-known personalities of the industry, honorable members of Bikroy, and many others sent their best wishes.
Bikroy possesses 9 years of experience in online trading and a fast-paced process that fosters collaboration with thousands of SMEs in a distributed environment all across the country. In addition, Bikroy has a deep understanding of current and emerging eCommerce technology and advanced online trading solutions for small businesses.
About Bikroy
According to the Top of Mind survey by Millward Brown, Bikroy.com is now the 4th best brand in Bangladesh with over 3.5 million monthly visitors and has a huge collection of new and used items that make it easy for you to shop anywhere in Bangladesh. Our experts are driven to online trading technology solutions to help businesses flourish.
After launching as the first bi-lingual online classified service in Bangladesh, Bikroy has become the most popular and highest visited online classified website and ranked among the 5 most popular websites in Bangladesh. In addition to Vehicles, Property, Jobs, and Electronics, there are 50+ different categories at Bikroy.
More than 150+ employees are serving Bikroy in Bangladesh. The organization always maintains the 40-60 percent female to male ratio in the entire workforce. Whereas, on the global market, over 600 employees of 23 different nationalities are working in 5 offices worldwide.
Interesting facts about Bikroy
At Bikroy, 2 lakh new advertisements are posted every month. On average, there are 30 interested buyers for each ad. There are also 4 promotional options to sell the product quickly, which helps in sales growth up to 70%. So far, 20,000 members have opened online shops in Bikroy. There are "Verified Badges" for the members to gain the trust of the customers.
In 2015, Bikroy started buying and selling sacrificing animals online for the first time in Bangladesh. From 2017 Bikroy started to arrange the 'Birat Haat' campaign for every Qurbani session, which has become a flagship campaign.
Bikroy introduced rich media banner ads on its website with high-quality animations and rich media content in 2018. Bikroy launched the 'I Love Bangladesh' campaign in the same year. That leads Bikroy to have 4+ million Facebook fans and stay as the top-rated marketplace for three years in a row. Bikroy also achieved "Brand Leadership Awards" and "Best Employer Awards" at the Bangladesh Master Awards 2018.
The latest addition in this success journey is reaching break-even. In 2019, Bikroy.com reached break-even which helped the organization to stay consistent in e-commerce, jobs, and the classified industry.
Bikroy re-launched "BikroyJOBS" in a new platform, new user interface, and new revamped features in 2021. This platform ensures an affordable and efficient recruitment service for employers which specialize in part-time, or skill-based blue-collar jobs.
During the COVID-19 lockdown, Bikroy took some special measures for its members to expand the business. They were offered more vouchers and promotional tools, dedicated customer support, EMI, etc. Special tips are also given to members from Bikroy to reach more interested buyers and sell fast.
In the End
With millions of buyers and sellers across the country and thousands of traders and entrepreneurs, Bikroy.com has become the Largest Marketplace in Bangladesh.
In these years, undoubtedly Bikroy has played an important role in improving the financial and social status of the people of Bangladesh, in selling and buying products online.
To organize and optimize your business for the future – we are here to lift!