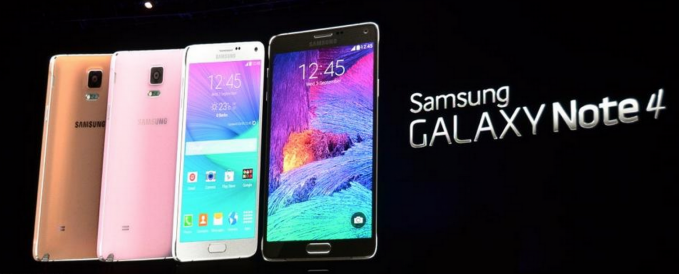 The world finally sees the release of Samsung Galaxy Note 4. Samsung has introduced the Note 4 alongside the curved-screen Note Edge. Samsung Galaxy Note 4 gets plenty of exciting new features including a powerful Snapdragon 805 processor, 2K screen, S pen, advanced camera and much more.
Display
The Galaxy Note 4 offers a vibrant new screen that features 2K display. While the screen size remains unchanged at 5.7 inches, it gets 2560×1440 resolution that delivers 515 pixels per inch. Samsung has outperformed many other rivals in terms of screen resolution. With its Super AMOLED display, the results are simply fantastic.
If you find the colors too vibrant, you can always tweak the display settings for smoother results. The Adaptive Display technology of Samsung Galaxy Note 4 was also seen in Galaxy Tab S. The feature alters colors to adjust to the brightness and warmness of ambient light. This allows for improved visibility even when the mobile phone is directly exposed to sunlight.
Design
Samsung Galaxy Note 4 offers a long awaited upgrade in design. After a long pause, we see the faux-leather back that offers a smoother grip than the Note 3. The casing is also more affordable than that used in Note 3. A metal band wraps the edges of the device, giving it a robust and luxurious feel, which had been lacking in Samsung's line of mobile devices for quite some time.
Removing the rear cover of the device reveals a 3220mAh battery and a microSD slot. It also has the home button fingerprint scanner and heart-rate monitor found in Galaxy S5.
Processing Power
Powered by Qualcomm's 2.7GHz quad-core Snapdragon 805 processor, the Note 4 delivers top performance. It also gets 3GB of RAM. The advanced processing speed also makes the Note 4 more efficient than its predecessor. It also has improved battery life, despite the upgrades in display.
These advancements mean that the Note 4 will run commands, tasks, functions and system processes without a fret.
Camera
The Note 4 replaces the 13MP camera seen in Note 3 with a 16MP version that comes with optical image stabilization feature. We have already witnessed the 16MP camera in the S5. It is quick to focus on subjects and delivers sharp and detailed images. The camera also offers fine results in conditions that are less than ideal.
The front camera gets a wider angle, allowing you to easily capture a group of friends in selfie mode. The 3.7-megapixel camera gets an f/1.9 aperture for enhanced results. The quality of images is not top-notch, but this feature lacks in most advanced smartphones.
Improved S-Pen
The Note 4 retains the trademark S-Pen stylus with a lot of enhancements. With pressure sensitivity at 2048 dps, the stylus gets twice the sensitivity found in Note 3. The results are equally spectacular. It virtually replicates paper writing with the tilt and angle of the S-Pen making an impact on the drawn lines. The natural writing coupled with tilt, pressure and speed of the device clearly reflect the upgrades made to the S-Pen.
It also allows you to select multiple photos and highlight text by dragging the device while holding the function button. This offers a lot of simplicity in selecting text compared to the former methods used in Android devices.
While users new to the S-Pen may require some time to get used to the device, it is relatively easy to master the device and put it to work for anyone who has used it on Note 3. It seems that Samsung has finally turned the S-Pen into a useful tool with multiple functions.
Software
The Note runs on Android 4.4 KitKat OS, which is the latest version released so far. It gets Samsung's TouchWiz User Interface. It allows simple navigation, but if you are upgrading from a previous Samsung device, you may find a similar look and feel of the UI. It comes with a range of Samsung extras.
Multi-tasking is simplified thanks to the 5.7-inch wide screen. It comes with the multi-window options that allow you to run separate tasks simultaneously by pulling up two different windows. However, some of the apps still do not support this function, so you will have to wait for their updates to become available before you can access them in the multi-window screen.
The multi-window is a useful feature that has been seen in many new Android devices, including LG G3. There are many uses of this feature. For instance, you can capture photos while reading tips on taking good shots. You can also keep the calendar open while searching for flights on a Web browser.
It also allows conversion of photos of text, notes and annotations to a digital form that can be edited online.
The Note 4 gets Samsung's S Health software pack that was found in S5. While a great effort towards ensuring your wellbeing, the software pack still needs serious improvements that may be found in upcoming models released by Samsung.
The new voice recording app in Note 4 utilizes an improved noise cancellation technology owing to three microphones in the phone device. It successfully isolates voice recordings in a noisy environment, offering highly detailed recording.
Battery
The Samsung phone has a 3220mAh Lithium-Ion battery. It offers a quick charge feature that allows up to 50 percent battery to be charged in 30 minutes. Samsung claims up to 20 hours of standard use battery life.
Conclusion
Overall, the Note 4 is an impressive phone device that offers many exciting features. It has a sharp and vibrant screen. It also gets an improved camera, powerful S-Pen and an improved design. These are strong reasons to opt for the Note 4, which gives a tough fight to its prime competitor, the Apple iPhone.
Samsung Galaxy J2 Core 1.16 (Used)
Samsung Galaxy S20 8/128 (Used)
Samsung Galaxy M02s (Used)
Samsung Galaxy A03S . (Used)