Vehicles
How to Prepare Your Car for Emergencies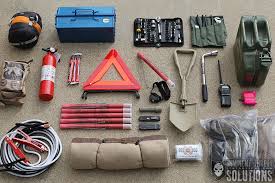 Emergencies while you're driving can pop up anytime, anywhere, regardless of how much importance you place on car maintenance. Most of the problems are unforeseeable because they are often caused by things you have little to no control over. While you might never know when you are going to end up in a car emergency, you can still be prepared. By taking some simple steps ahead of time, you can save yourself a lot of stress and hassle when an emergency strikes. Here are some essential items to keep in your car at all times.
Jumper Cables
Jumper cables are great if your battery dies and you have someone nearby willing to help you out. Your jumper cables should be at least 10 feet long and covered with at least 8-guage rubber. Be sure to familiarize yourself with the process of correctly using jumper cables.
Spare tire kit including a jack and lug wrench
Learn how to change a spare tire in case of a tire blowout or serious puncture. With used cars, it is important to check if car spares actually exist before you head out on the road. Periodically check your spare tire to be sure it has enough air in it.
Air compressor
Depending on how far you need to travel on a spare tire, you may notice that it can quickly lose air. An air compressor, which runs off of your car battery, can pump air back in so that the tire stays fully inflated.
Aerosol Tire inflator
If you get a flat tire and are stuck in a dangerous place where you can't safely take the time to change the tire, then aerosol tire inflators like Fix-A-Flat are a great option for car repairs. These canned products allow you to seal punctures in your tire and inflate in seconds, without any other tools needed. This quick fix will get you to the next service station where a more permanent repair can be made. The product works on all wheels and is easy and safe to use.
Flares or hazard triangles
Emergency road flares or reflective hazard triangles can help keep you and your car safe after an accident has occurred by alerting other drivers to the site of the accident.
Flashlight
If you are involved in an accident at night in a poorly-lit area, a flashlight will be a necessity for seeing your car parts. If you have a flashlight that runs on batteries, be sure to have an extra set of batteries on hand as well. An alternative option is a mechanically powered flashlight, which is powered by your motion. Depending on the model you find, you simply shake the light or wind a crank or squeeze a handle to generate enough electricity to illuminate your light.
Seatbelt and window escape tool
These small tools fit in the palm of your hand and serves dual purposes to help you escape quickly after a car accident. The recessed blade cuts through fabric seat belts, and the pointed steel head of the tool can be used to quickly shatter windows. This feature is especially important for cars with electric windows since they won't operate without power.
Fire extinguisher
Find a small distinguisher that is classified for both flammable or combustible liquids and electrical equipment fires.
Medical Supplies
Have a first aid kit stocked with bandages, gauze, adhesive tape, antiseptic wipes and antibacterial ointments. If you or a family member has a medication they rely on, it is a good idea to keep a stash in your car in case of a prolonged emergency.
Food and water
It's never a bad idea to have a water bottle or two, along with some non-perishable packaged snacks like protein bars, just in case you are stranded for a prolonged period of time.
Keep these items together in one place in your car, such as a fabric bag or hard shell case. That way you'll be able to find everything you need quickly and easily in an emergency.
From thounds of cars ads in Bikroy.com buy your desired car.