Vehicles
Preparing Your Car For Sale – Detail Makes perfect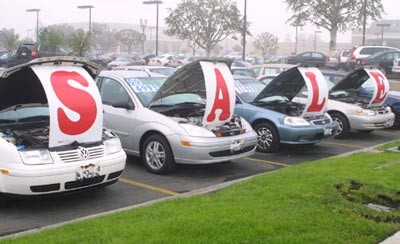 Second hand cars are frequently found for sale on on used car websites that bring together a large quantity of potential buyers and sellers and make available in a single location a multitude of vehicles. Quality brands such as Toyota, Honda, Nissan, and more are listed by owners on bikroy.com from all seven of Bangladesh's populous districts. This makes selling used cars easier than it ever has been before, but there are still important preparations that increase the chances of sale for used cars for sale by owner at online classified marketplaces.
Put Together a Good Add With a Competitive Price
Besides checking for appropriate and competitive used car prices that leaves some room for negotiation, taking multiple pictures of your car that show it from different angles and show inside the doors and inside the hood, creating an accurate and descriptive title, and listing all important information on your main page, there is the issue of making the car itself ready for sale.
Get All of Your Paperwork Ready
First of all, cars for sale that have all their legal paperwork (especially a valid title) will sell faster. If you have old repair receipts and oil change receipts, these can be of interest to a buyer to show the car was well maintained. Especially try to include any receipts that have warranties with them. These can add value to the car and potentially increase sell rate.
Know the Car's Condition and Fix any Problems if You Can
It is important to either have a mechanic look over the car or to have someone knowledgeable in auto repair inspect it thoroughly. You do not want a buyer to point out an issue you were not aware of just before you make a sale. Second hand cars are generally expected to have some wear and tear on them and maybe need a few repairs, but you must either fix the problems or tell the customer about them. You must assess whether it will be worth it for you to fix mechanical or cosmetic detriments. If you do not have the money to repair them, you may have to lower your price. If it is possible to fix broken mirrors, replace old worn down tires, replace engine parts no longer functioning, and even put on some touch up paint and remove dents, it can add extra money to your final selling price. If the car is worth buying, then it is usually worth repairing into top possible condition prior to sale. The main exception is if you are offering an unpopular model and do not want to risk the investment of repairing the car. In that case, you should disclose all problems to the buyer.
Clean the Car Fully Before Taking the Picture for the Add
Post a clean car and have the car still clean when interested buyers come to look at it. A good washing and waxing will remove dirt and give your car a shine. Scrub off any stubborn stains- they will be an eye sore to the buyer. Check under the hood and wipe off grease and oil that may have spilt. Top off fluids and oil. Throw in a full tank of gas as an added bonus. Also do not forget to clean the inside of the car as well. Remove all junk from inside, including from in the trunk. Wipe down the inside and outside of the front and rear windshield and all car door windows. Polish the steering wheel, dashboard, glove box, radio, everything. Vacuum the seats and the floor, several times if necessary, until they are free of dirt and debris. You may want to have a professional detail job done, but at least clean the used car till it looks as close to new as can be. You will need to buy some cleaning products to turn the vehicle into something very clean, odor free, and attractive to car seekers. Yours is not the only car on the vast internet market in Bangladesh, and so it is imperative to compete in cleanliness as well as in pricing of your vehicle.
Have Others Check On Your Preparation Measures
When you are satisfied that the car is in good working condition, is clean inside and out, smells good, looks great, and has all its necessary paperwork, then it is time to get a second opinion. Let a neighbor tell you how they think the car looks. Ask a friend who is good at working on cars inform you of any minor or major repair needs that you may have missed. Get someone with a penchant for extreme cleanliness to inspect the car on that score. You may want to have that person sniff around inside the car to see if you really got rid of the cigarette smell as well. Double and triple checking will only better ensure that your vehicle is ready to market.
Make a Great Add
Having done all to ready the car for customer perusal, now get your digital or other camera and snap pictures of different sides of the car at various angles. Open the doors and get a picture of the inside front and back, even in the trunk. Uncover the hood and capture an image of the engine so that mechanically informed buyers will be able to evaluate even online the condition of your car to some extent.
Conclusion
Selling a car online involves a certain amount of preparation and work to increase the likelihood of making a sale, of making that sale quickly, and of getting a good price.
All those same issues were present before the introduction of online marketplaces, and the online tool tends to decrease selling time and help buyers and sellers find that perfect match. But though internet used cars at used car websites enjoy such benefits over many other sale options, yet it is still important to fix up and clean up the car thoroughly if one wishes to optimize their chances of success.