Pets & Animals
Tips on Buying Qurbani Animals from Online or Digital Haat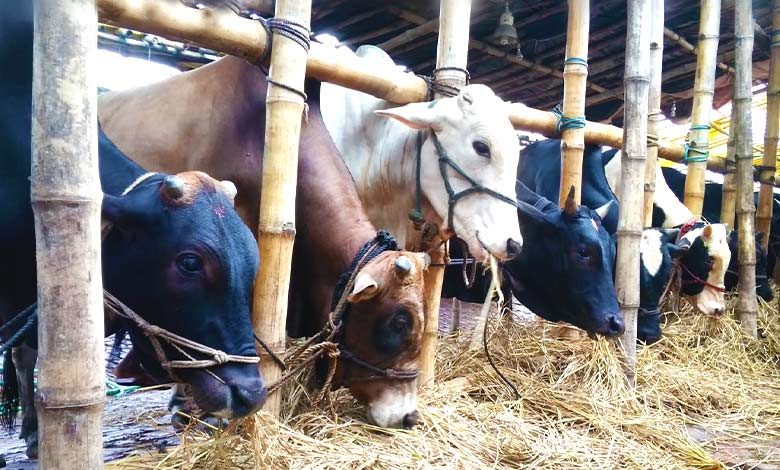 Eid-ul-Adha is almost here, an occasion that undoubtedly requires far more preparation compared to the Eid-ul-Fitr that comes just over two months earlier. There are so many things to manage – from buying sacrificial animals to distribution and cooking – that we can barely catch our breath. This year, the festival has been rendered drastically different by the ongoing COVID-19 pandemic. There isn't much scope to gather sacrificial animals in a large open field like it is usually done. Furthermore, it's almost impossible to maintain social distance in these places. In order to avoid health risks, people in large numbers are flocking to online markets for these animals. These digital haats are also very effective in saving time and labor. The following tips may help you buy the right sacrificial animal for your family this year.
Since the inception of buying and selling Qurbani animals online, a common question went around: Is the online exchange of these sacrificial animals in line with Shariah? We consulted Imam Jubayer Al Mahmood about this:
Important Information About the Health of the Qurbani Animal
Let's start with the health conditions of the animal. The age of the sacrificial animal is a very important issue. Goats, sheep, and ewes should be at least a year and cows at least two years old, while camels should be at least five. However, sheep or lamb that are less than a year old but have grown as much as one can be accepted. Unfortunately, many unscrupulous traders use steroids and hormone injects to fatten up the animals before they're ready, trying to sell faster. But such harmful chemicals can have an adverse effect on the animals' health. Furthermore, consuming the meat of these animals can lead to various complex diseases in humans. So when buying a strong-looking animal for sacrifice, it should be verified whether the natural growth process has been tampered with.
In order to sacrifice properly, the animal must be mature and healthy. But how do we know if an animal is suitable for sacrifice? Let's consult an expert:
How to Identify Healthy Animals
The animal will move, with no signs of fatigue or lethargy

The animal will move its ears and tail all the time

The eyes will look brighter

The nose will feel wet

The animal will be chewing food

The skin will remain smooth

The hump on the back will be tight
The Current Condition of Cow Haats
Usually, the Qurbani haats or cow haats are well-organized at this time of the year, with just a few days left before Eid. This year, it has become a challenge to buy animals at the haat while following health and safety protocols regarding COVID-19. Therefore, most buyers have turned to the digital haat this year. The government has launched digital haats for shoppers in addition to running a few offline haats. Sacrificial animals are also found on the Facebook pages of various e-commerce sites and farmers.
Bikroy.com, the Largest Marketplace in Bangladesh and the most popular platform for buying and selling Qurbani animals online has organized its annual 'Birat Haat'. This is extremely convenient for buyers in terms of price comparison and verification. For many years, Bikroy has been a trusted and reliable medium for both buyers and sellers. Interested buyers can easily search in Bikroy's "Farm Animals" category and select their preferred animals from the ads. Make a well-informed decision by comparing the price of the advertisement and the offer, so you know exactly what to expect and prepare for it in advance.
Because of the ongoing COVID-19 pandemic, Bikroy's trusted farm owners are offering some new facilities as mentioned below:
Scope of buying and selling sacrificial animals online from home

Free delivery to the local area

There is a paid delivery system all over Bangladesh

The meat will be processed and delivered home

There is cash on delivery facility

The advantage of buying as per live weight

Sacrifice partners will be found for Qurbani and processed and delivered home
Let's hear about the service from our customers, members, and our employees:
Tips for Buyers
In fact, there are no fixed rules for buying a sacrificial animal. Your experience will be most useful here. However, if you haven't done this before, it might help to consult a more experienced person with some knowledge of the market. Here are some tips to help you buy a sacrificial animal online:
Research the price:

Find the source of the animals offered online. The time when you buy it also plays a role in determining the price. Many different breeds of sacrificial animals are now available, and the price of the animal may vary according to breed. Before deciding on a deal, you can research the marketplaces within reach to make sure that the price is consistent with the breed and weight.

Come to an understanding with the seller:

Buying online doesn't mean you won't have much contact with the seller. Talk to the seller in great detail to find out the animal's age, rearing history, eating habits, anything you can. If you do not have a truck or a means to transport the animal, ask the seller about any delivery facilities they may be providing. Any delivery charge should be discussed at the time of bargaining. Also, let them know your budget. Only buy from reliable sellers – some of the country's most reputable and trustworthy sellers are on Bikroy's platform.

See the animal with your own eyes:

The most important step in buying a Qurbani animal is to make sure you see it properly. Ask the seller for as many pictures as possible from different angles, you can also take a look through a video call. If a seller is reluctant to show a picture or video as clearly as possible, it is best not to buy from them. In this case, you can see the animal directly by contacting the seller.

Buy the animal you liked:

From an Islamic point of view, you have to choose an animal that is destined for sacrifice. Even if you like the animal, check it at the last minute. Pay the price only after you are 100% sure of the sacrificial animal. The best option in case of payment is to make cash or digital payment after receiving the animal. If possible, take care of the animal with your own hands and feed it after purchase.
Conclusion
Hopefully this year our tips will be useful when it comes to buying animals online during the Qurbani season. Over 1,600 cattle are listed on Bikroy. So take a look at all the best offers on our site today and bring home the sacrificial animal of your choice on time. Buy the animal only after going to the seller's farm and verifying everything. This time around, many will not be able to make Qurbani. The real success of Eid will come only if we can share everything in harmony with the mentality of sacrifice.
Wish a very happy Eid-ul-Adha in advance to everyone.