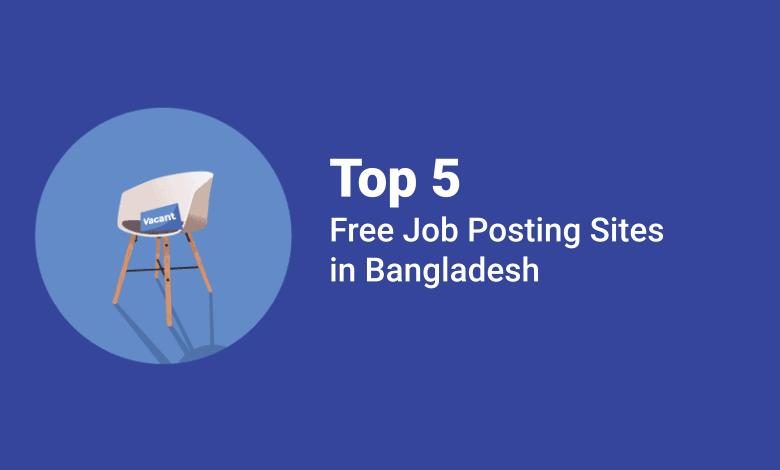 Are you always checking offers to post a vacancy ad on national newspapers, or surfing multiple job portals in Bangladesh for the best suitable candidates? For many companies, finding the right candidate for job postings is undoubtedly a time consuming and difficult task. You can generally choose two options in Bangladesh – advertise in a renowned newspaper or post a vacancy on a good job portal.
Placing a small advertisement on the premium job posting sites costs no less than thousands. On the other hand, if you go with print media, you will have a limited duration- your ad will be published only for a day or two, depending on your payment.
Whereas free online job advertisements have two distinct advantages. Firstly they will remain on the website for a longer period of time. Secondly, you have innumerable choices to post jobs for free over these platforms.
Let's have a look at the advantages from a close perspective.
Advantages of Free Job Posting
You can't dispute that paying a job portal for posting your advertisement has some inherent benefits. If you're looking for global candidates, putting ads on some top-notch websites can make it visible to thousands of job seekers all across the world. However, these job portals also offer similar benefits to post on free job boards.
Free job posting sites basically allows you to post on the same job on several websites, which increases the chances of viewing your ad by more qualified job seekers. Similarly, the application number will also get higher, and you can carefully list, interview, and hire from a wider talent pool.
Why Post Free?
Corporate industries, multinational companies, and government agencies keep a large budget for their advertisements. Therefore they can easily bear all the expenses for their job ads. But, SMEs and start-ups usually have a limited budget for advertising vacancies. Hence you can post your advertisement on some free job site.
Although there are several paid job advertisements sites in Bangladesh, here we list some of the top-most platforms that offer free job posting for both businesses and individuals.
Top 5 Free Job Posting Sites in Bangladesh
BikroyJOBS
BikroyJOBS is a popular online job portal in Bangladesh where you can get all sorts of advertisements for part-time and entry-level jobs across the country. The platform is offering a curated search for your recruitment goals, especially if you are hiring blue-collar workers. Here is a quick glance at BikroyJOBS-
450,000+ unique visitors per month
380+ new job ads per month
1,000+ live ads per month
400,000+ CV Database
50+ registered employers
200,000+ applicants every month
As an employer, the main benefit of using BikroyJOBS are multiple hiring gateways, free job posting, portfolio management, membership offers, and job alerts.
Satisfied top employers working with BikroyJOBS include Aarong, Eskayef, Pran, Daraz, food panda, Shohoz, Obhai, Daraz, eCourier, and a growing list of reputed brands and organizations with both local and international presence.
LinkedIn
LinkedIn is not actually a recruitment portal; instead, it allows professional and B2B networking among the users. However, Linkedin has more than 10 million active users in Bangladesh.
LinkedIn does not offer a recruitment portal to post jobs for free, but there are two features an employer can utilize. If your organization or you have a LinkedIn profile, you can form a user group and post ads for free.
These ads will create alerts among the users associated with them. Secondly, you can update your profile status by posting job vacancies. LinkedIn has a recruitment app installed with the system that can notify users interested in such kinds of openings.
Glassdoor
Glassdoor is a US-based company that offers recruitment services in several countries as well as in Bangladesh. It allows employers to post jobs and additionally, Glassdoor's portal carries a huge database of company reviews, CEO ratings, salary reports, interview questions, office images, and many more.
For employers, Glassdoor has a separate platform named "Glassdoor for employers" which offers effective recruiting and employer branding solutions. They help thousands of their clients promote their own brand to candidates researching them and advertise their jobs to ideal job seekers.
Facebook Job Search
Finding the right talent is always a challenge, and to ease that, one should invest their time where most of the applicants do. Yes, talking about Facebook, where employers can post job opportunities on their business page for free.
Job opportunities will appear on a link on the employers' business page, and potential candidates have the chance to learn more about the business and the job opportunity before they apply.
Employers can post jobs through desktop and mobile, and candidates also can apply from these to platforms. After posting jobs, employers can review the posting, contact applicants, and schedule interviews through the same application on their page.
Facebook Groups
Facebook job application is a great addition to this large growing social media. You can post the job opening to your own Facebook page, but what if you have a lower number of members over there? The chances of reaching the appropriate candidate will be down significantly.
If you want to reach out to a larger audience with your vacancy announcement than just your followers, then you don't have to look too far. Just find the perfect and popular vacancy groups over Facebook.
To find appropriate groups on Facebook, keep focusing on "who," "what," "where"!!
Who: what type of industry do you want to reach? Ex: Manufacturing? Health? IT?
What: Jobs!
Where: Dhaka? Or anywhere in Bangladesh?
Now, join the groups and you can directly post to their timeline by announcing your vacancies, or you can post a job on your own business page and share it with these public vacancy groups.
Final Words
Since Bangladesh has a vast pool of younger talents, there are millions of job seekers- looking for a job. Hence, free and easy job posting in multiple job portals is advisable since it helps you reach out to a broader group of job seekers. If you are looking for a free job site, you can consider one of the above-mentioned top 5 job sites in Bangladesh.
On these free job posting sites in Bangladesh, you can easily post your job by giving ads. Interestingly, most of these sites are integrated with Google for jobs to serve you a free listing in google search for jobs.
Happy Hiring!