Bikroy Updates
Bikroy Announced the winners of #ILoveBangladesh Story Contest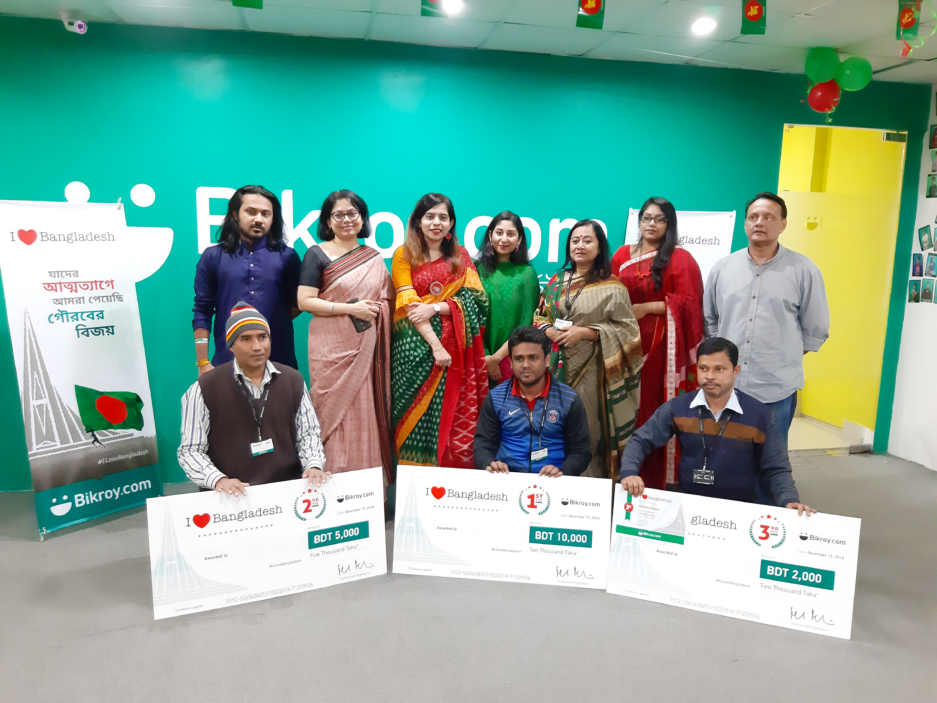 Bikroy.com, the largest marketplace of Bangladesh, announced the winners of #ILoveBangladesh story writing competition on the occasion of the Victory Day. The prize-giving ceremony was organized at the head office of Bikroy.com on December 19, 2018. Freedom fighter and musician Martyr Altaf Mahmud's daughter Shawon Mahmud was present as the special guest among others. Above 200 write-ups were collected among those three stories were selected as winning stories. Mr. Didarul Islam was announced as the 1st prize winner; Md. Sayeed-Bin-Aziz and Mr. Monzurul Hoque were announced as the 1st runner-up and 2nd runner-up respectively. The winners received the prizes from the special guest. Moreover, the respected guest was awarded a crest by Bikroy.com management team.1
Recently, Bikroy launched the #ILoveBangladesh story writing competition to share the daunting stories of the freedom fighters and real patriots who can be an inspiration for the young generation of Bangladesh. The participants submitted a video or written form of their stories by visiting Bikroy blog.
A panel consisting of honorable freedom fighters and the management team of Bikroy.com selected the best three stories. The first prize of the contest was 10,000 Taka, second prize was 5,000 Taka and third prize was 2,000 Taka. In addition, the winners received certificates and the three winning stories will be posted on the Bikroy blog very soon.
Eshita Sharmin, Head of Marketing and Ad Sales of Bikroy.com said, "Bikroy is always keen to bring something new. Bikroy dedicates this Victory Day by #ILoveBangladesh story writing competition where we invited the participants to share true stories of the real patriots and the freedom fighters who sacrificed so much for this country. We are overwhelmed to see the enthusiasm and active participation from the participants in such a short time. We have received so many good stories from where the 3 winners have been selected. On behalf of Bikroy family, I want to thank all the participants who invested their precious time and participated in the contest."

Lining Axforce 80 for sale!!!
Yonex astrox 88D pro... for sale!!