Bikroy
Bikroy.com at a Glance in 2020
Company culture refers to the personality of a company. It defines the environment in which employees work. It includes a variety of elements, including work environment, company mission, value, ethics, expectations, and goals. It is also a critical factor for acquiring and retaining top talent. Additionally, good company culture can help your business succeed. It is important to ensure that the company is able to provide an impressive work environment for its employees through policies, engagements, and events.
Bikroy.com is the largest marketplace in Bangladesh. In 2012, Bikroy.com started its journey in the Bangladesh market,  using technology to create a better & more sustainable form of commerce.
At Bikroy.com, we have always considered ensuring a good company culture for our 200+ employees which keeps them motivated. Looking at 2020, we have compiled some of our events with our employees since we introduced Bikroy.com on the LinkedIn platform.
Engaging environment:
Bikroy.com believes to create a friendly and fun-loving work environment for the employees which ultimately reduces the stress level of the employees. As part of our casual work environment, we always try to follow the tradition of arranging different events to bring all our colleagues together and celebrate small and big joys.
New Year Celebration 2020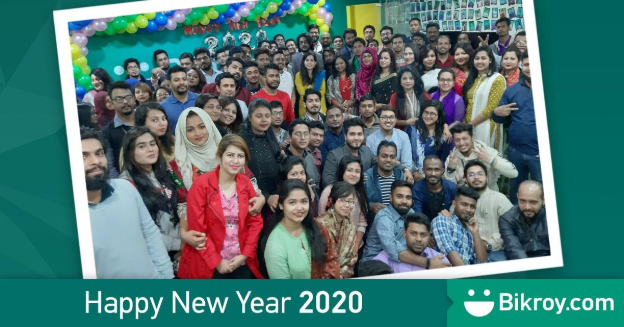 A new year starts with new hope, a new plan for everyone. Bikroy family welcomes the New year on the first day of 2020 with good wishes, delicious food, and laughter!!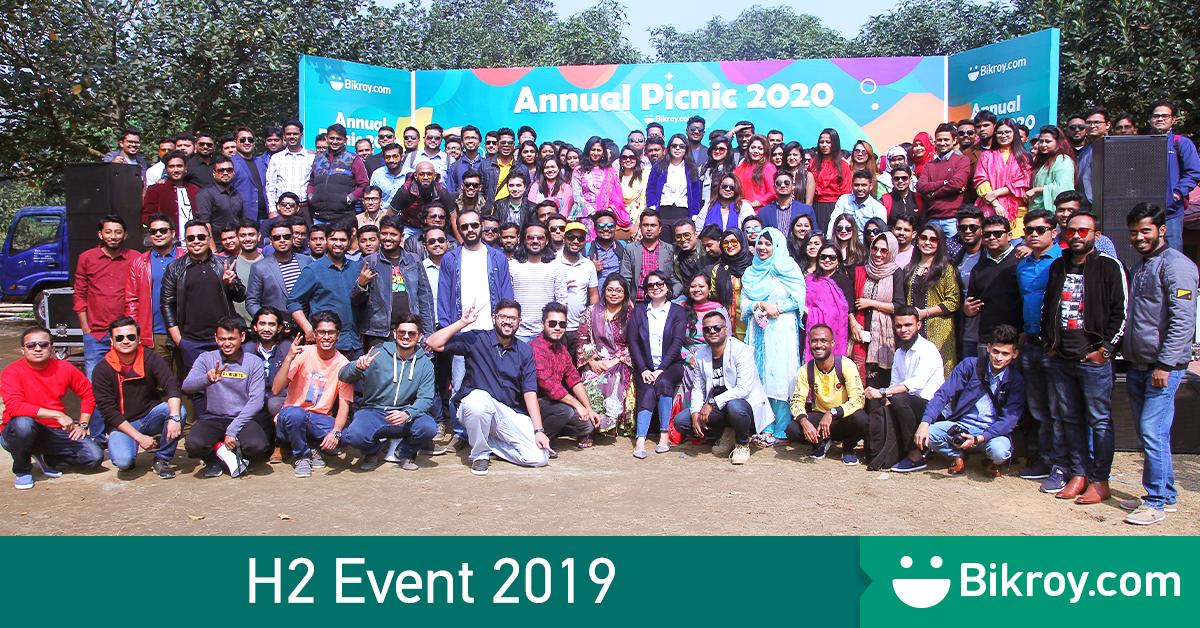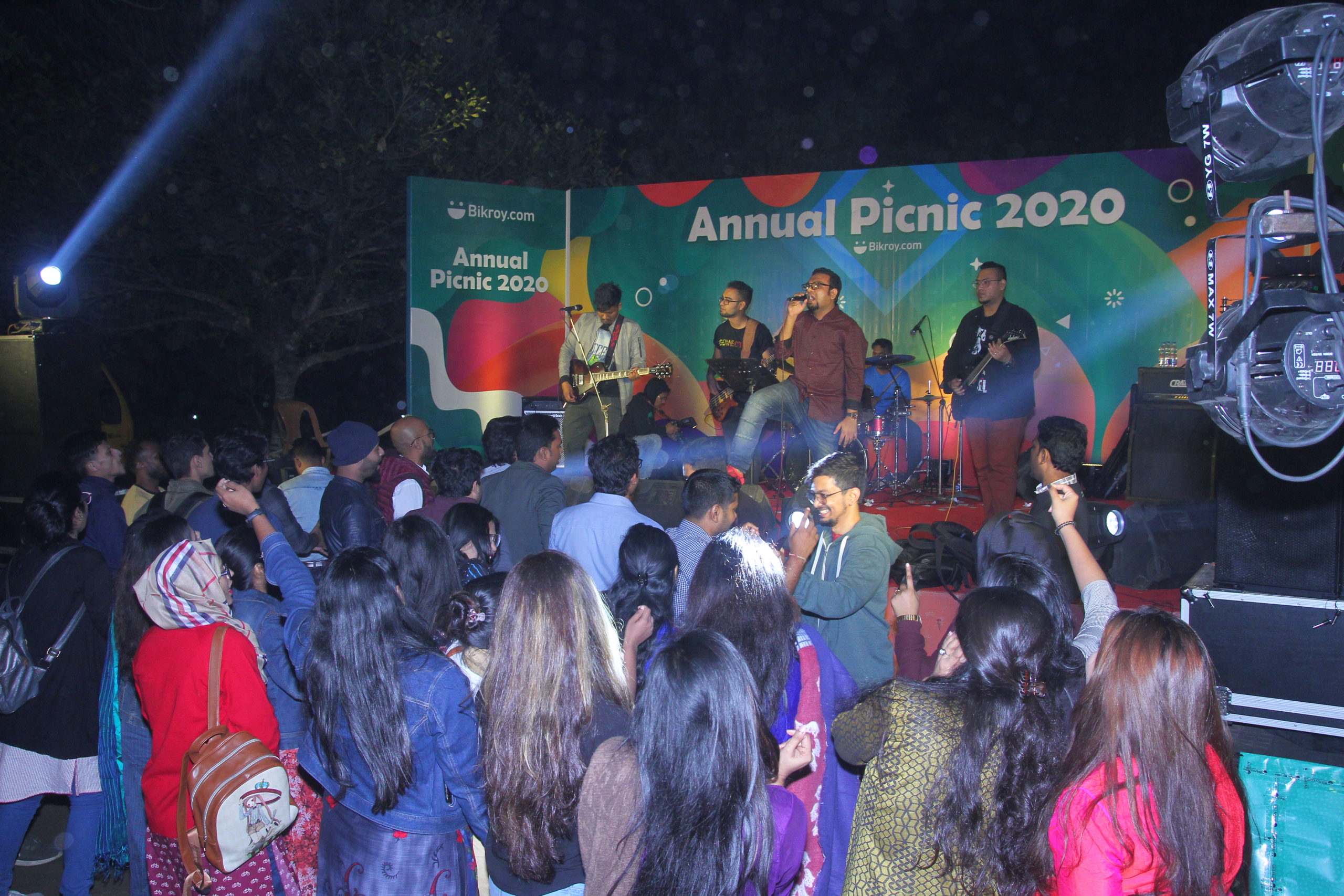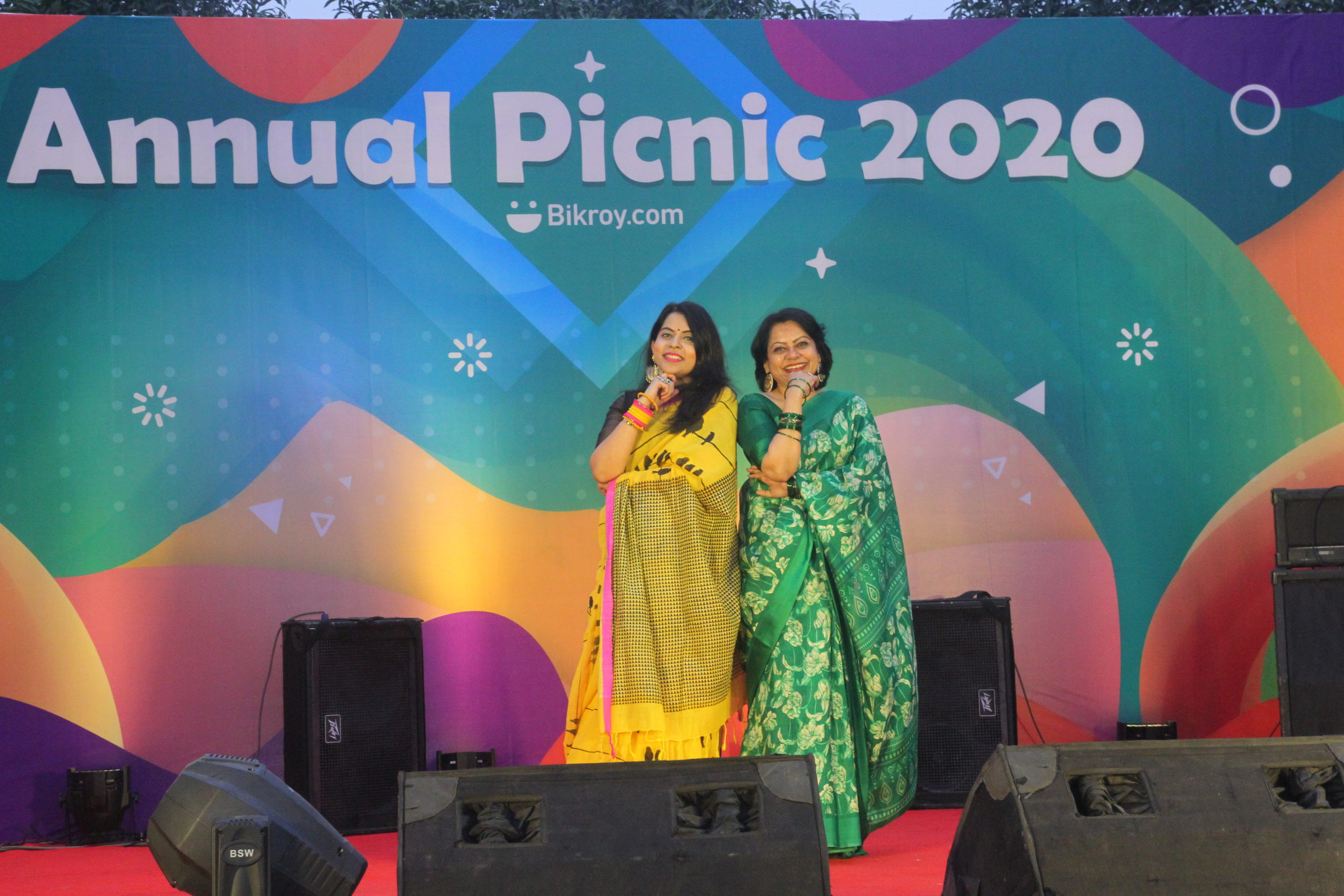 Happy faces of the Bikroy employees from all across Bangladesh in the Annual Picnic 2020. A memorable day for the Bikroy family, we relaxed and celebrated our hard work and achievements as well. It's a day where no one is senior or junior, we all are family & enjoying our time together.
Video link: https://www.linkedin.com/feed/update/urn:li:activity:6639861034574282752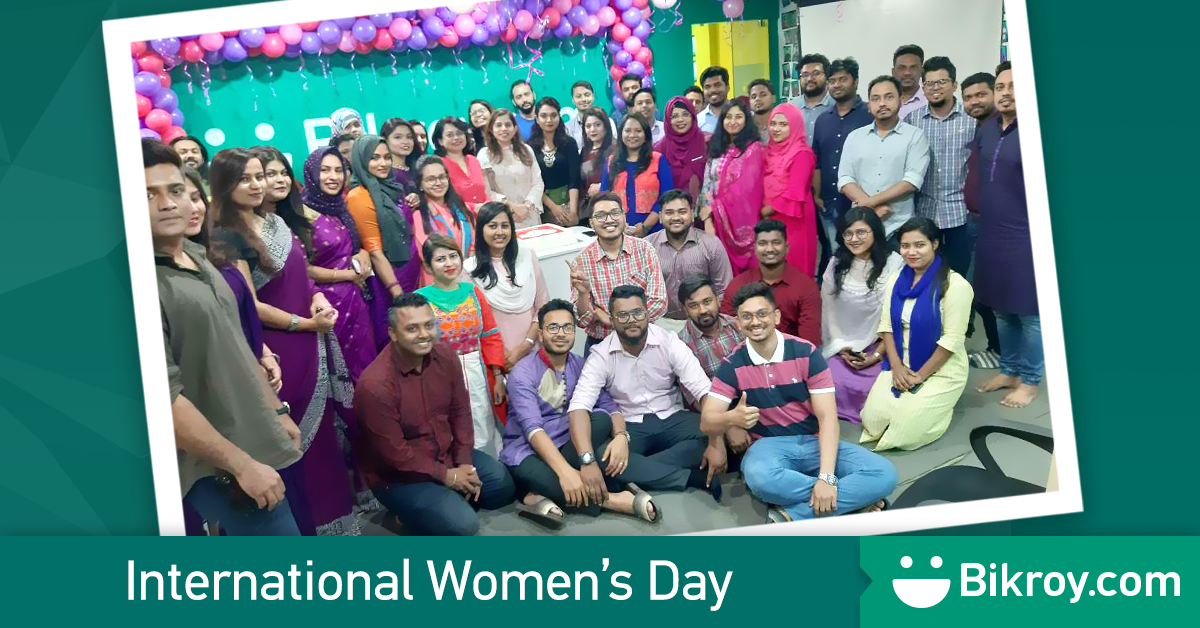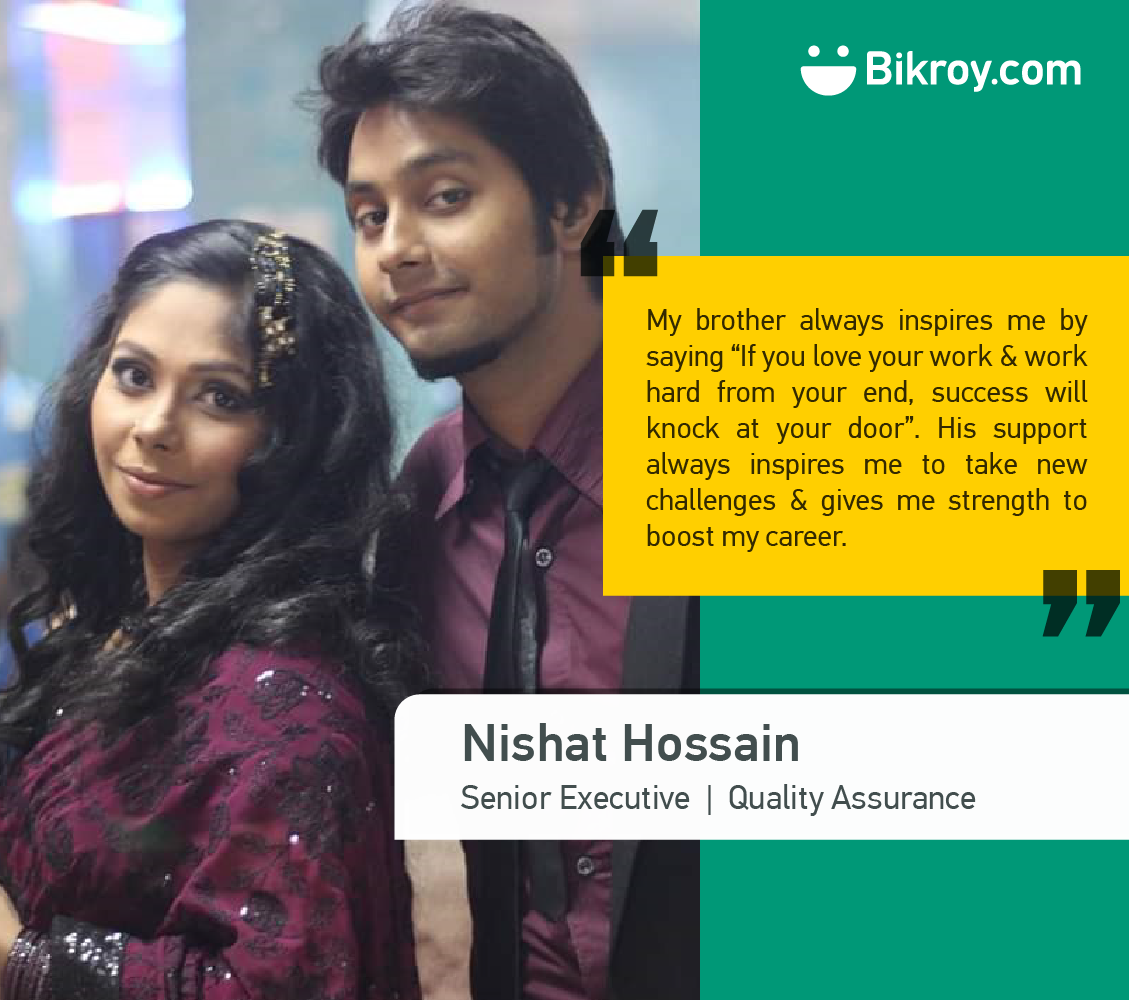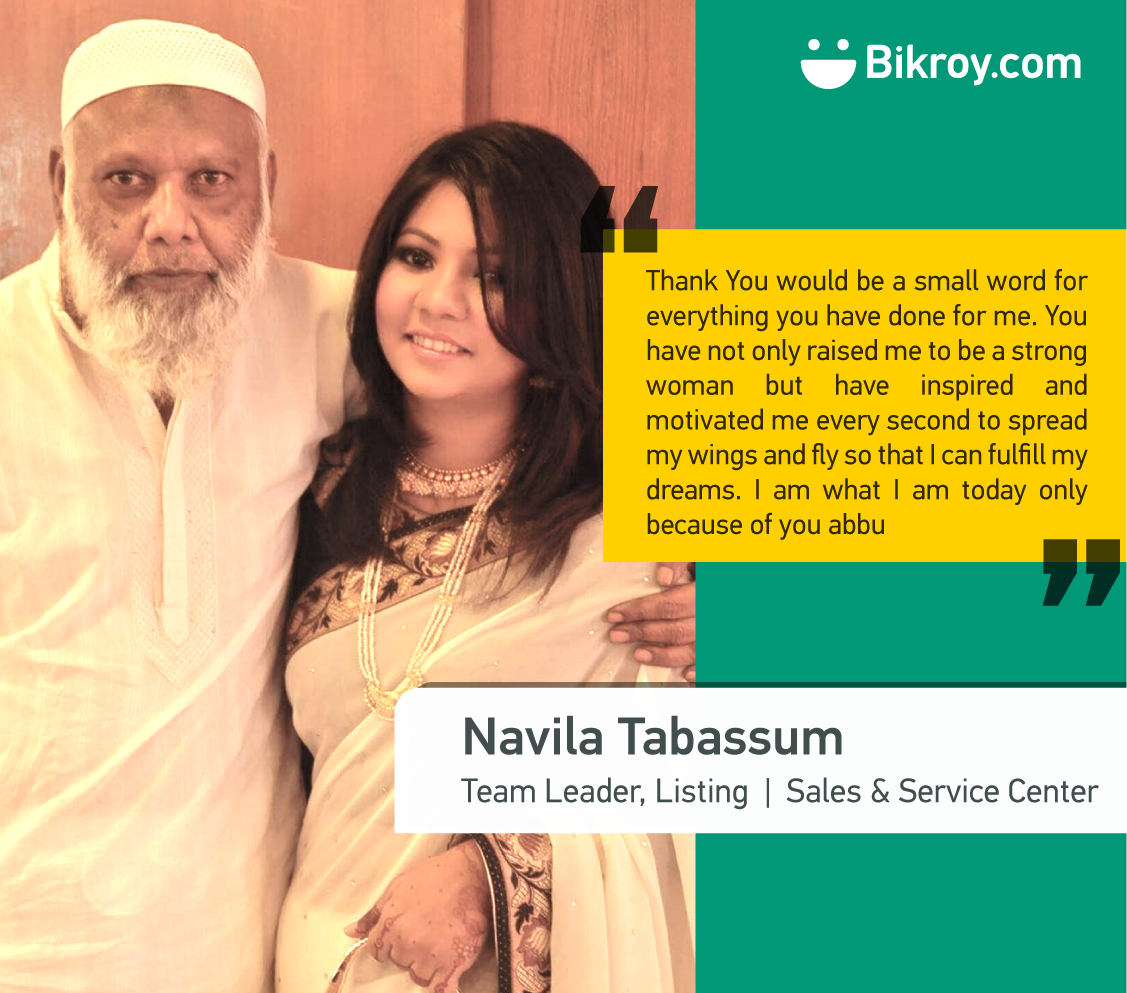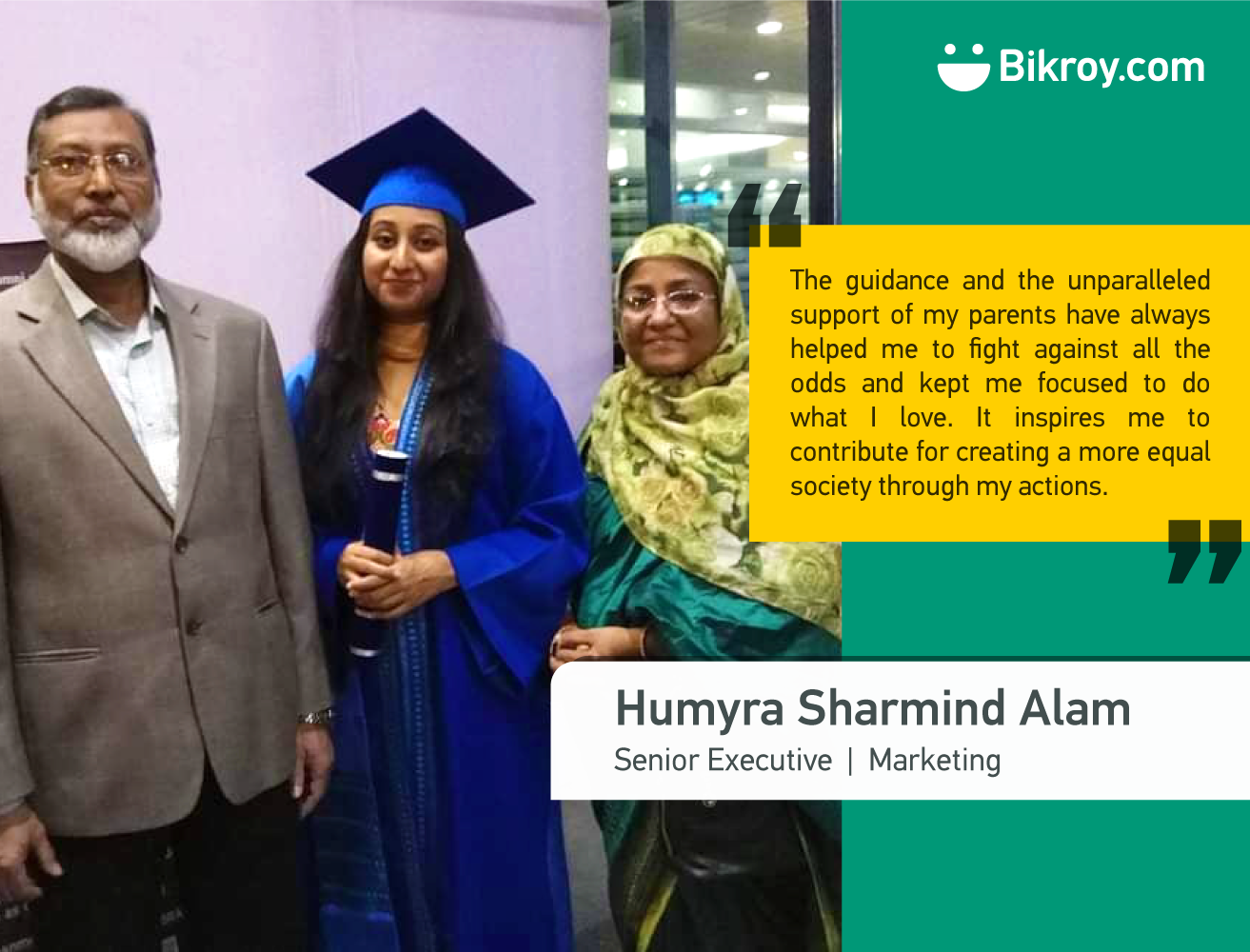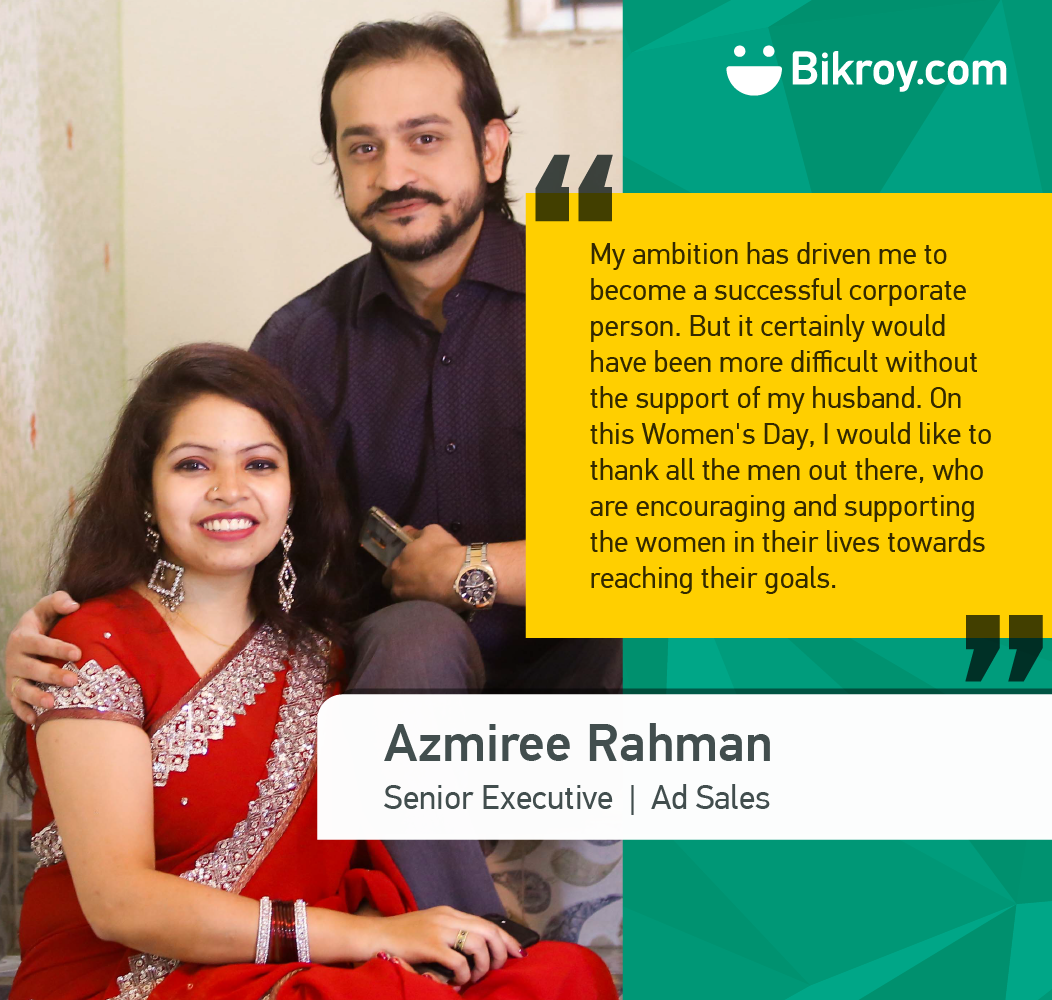 We celebrated International Women's Day on March 8, 2020, at our office. This Women's day has the theme #EachForEqual which looks to celebrate women's achievements, to raise awareness against bias, and to take action towards equality. This time we invited Ms. Farzana Tisha, Facilitator of #IamRemarkable (a project of Google) in Bangladesh and Head of Marketing of Brain Station 23 Limited, graced the Moner Janala event with a wonderful session on understanding the "Gender Equality & Women's Empowerment". On this occasion, we also asked our female employees to share their stories about the people who inspire them to do something in their life.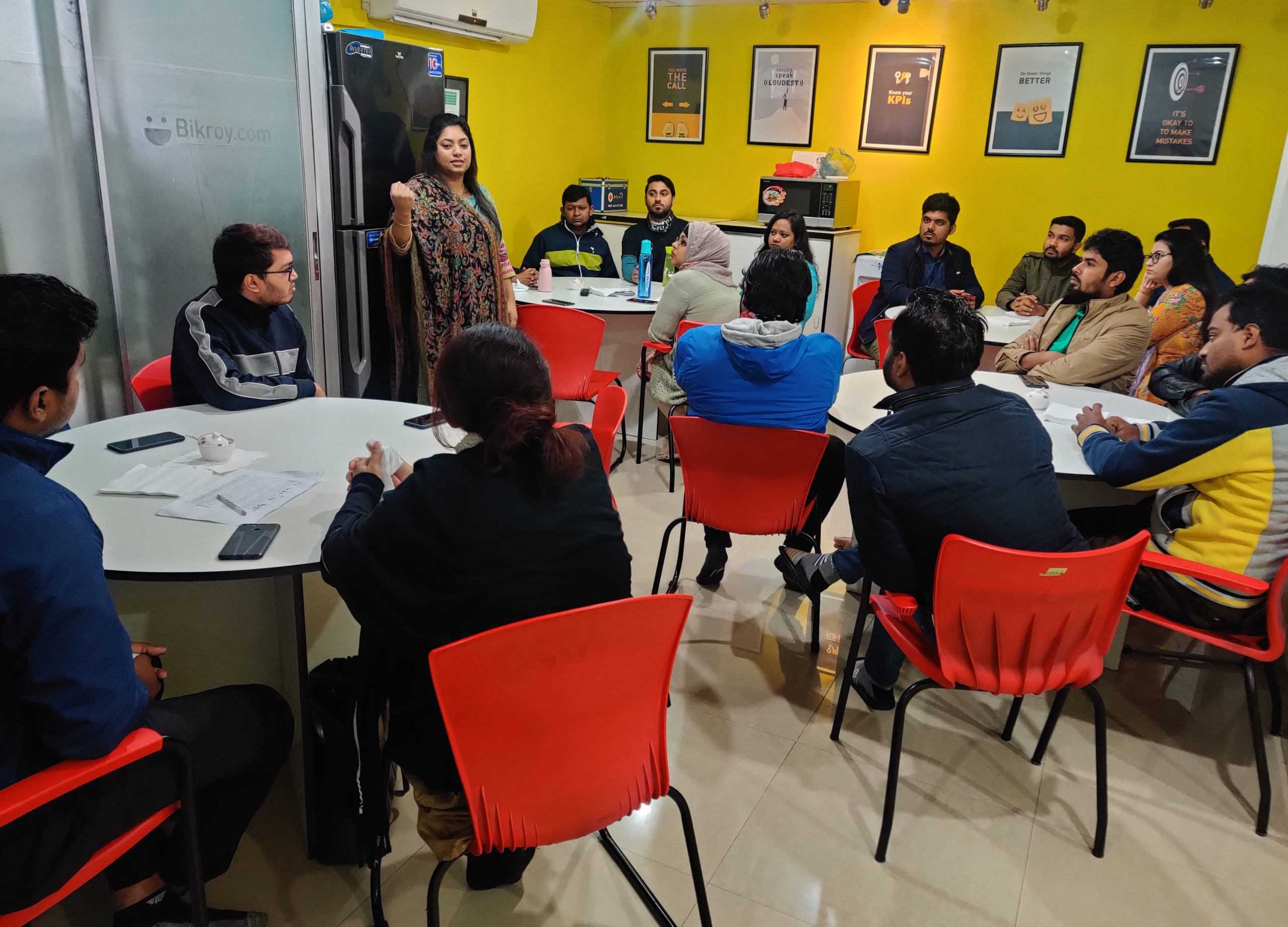 At the beginning of every month, we arrange a session called Bikroyadda for the employees which is a platform to the young professionals where they are given a wonderful opportunity to learn from the leaders. This session helps the Bikroy employees to make casual & friendly relationships with the leaders and colleagues where they can share their ideas & opinions.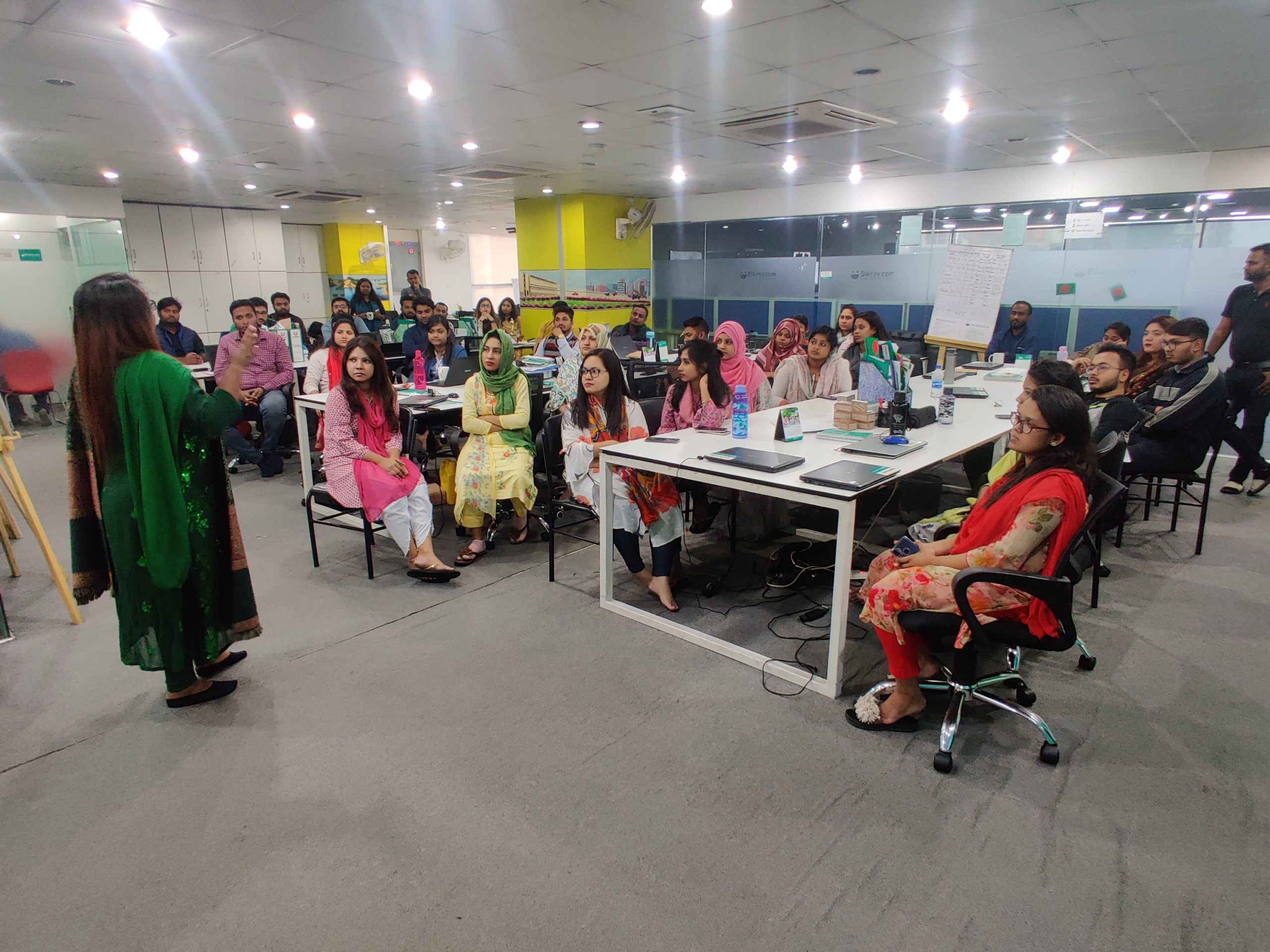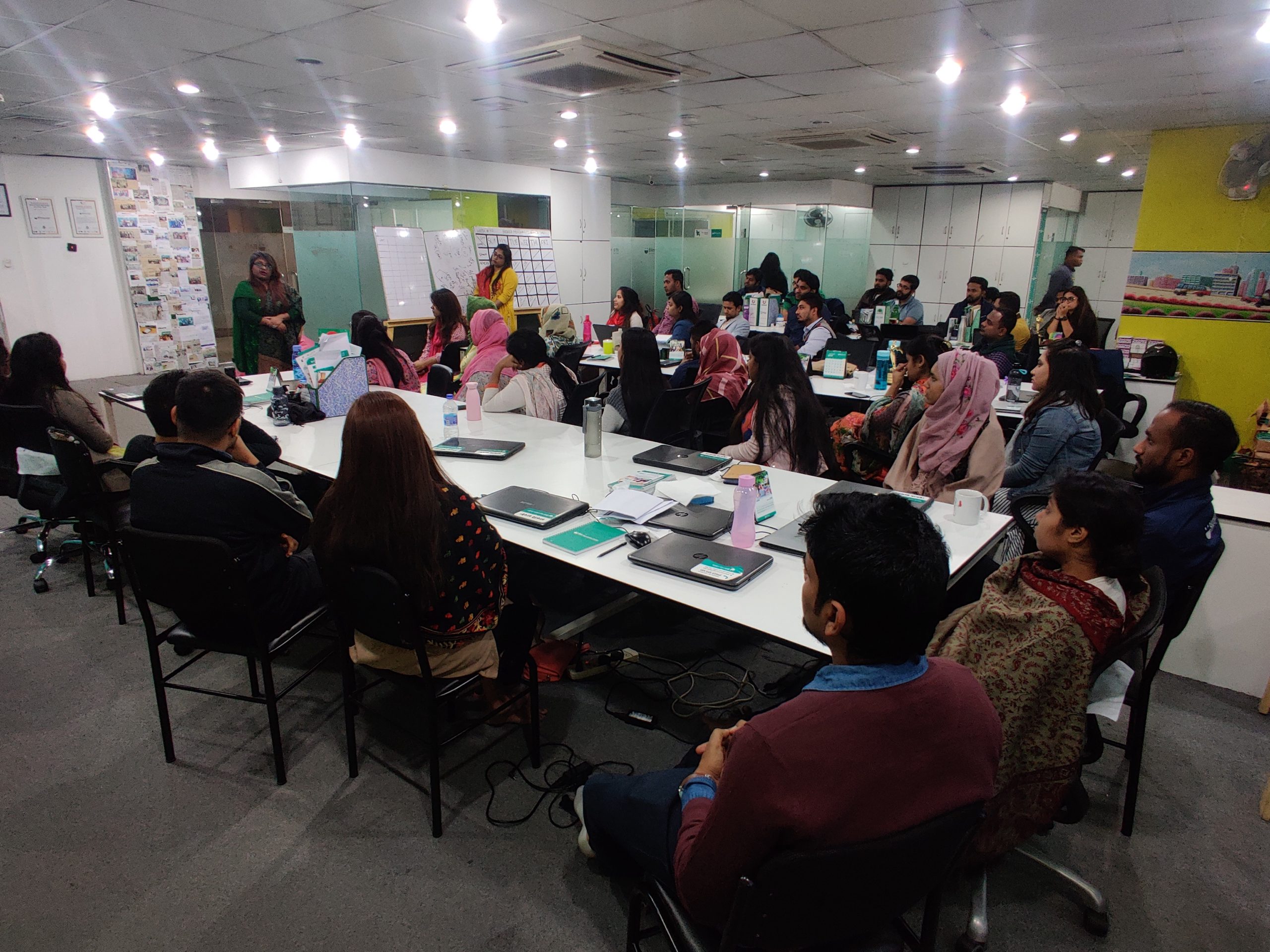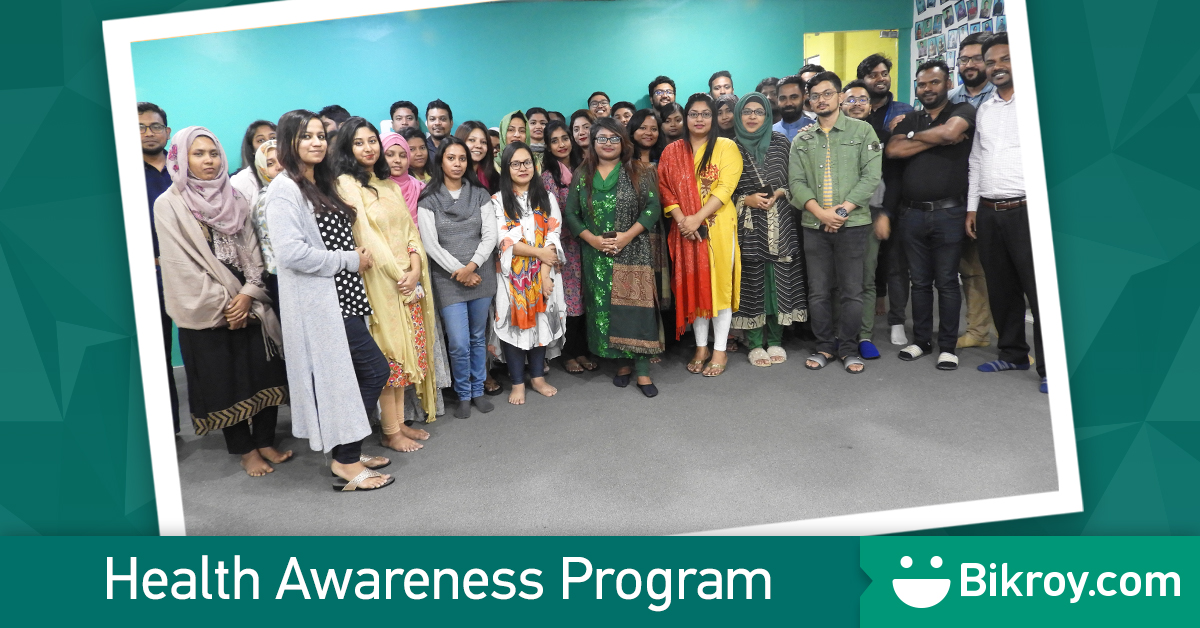 Our employees spend most of their time at the office and therefore delivering a healthy workplace is very important to keep our employees productive & healthy. Bikroy.com arranged a Health Awareness Program for the employees. This time we invited Dr. Nazia Binte Alamgir- (MBBS, FCPS-P2 (OB-GYN), CCD (BIRDEM), Gynecologist & Obstetrics Surgeon), who shared her knowledge to educate the employees regarding UTI (Urinary Tract Infection). The health awareness program was very interactive & our employees gained a lot of knowledge on this topic. 
Monthly Birthday Celebration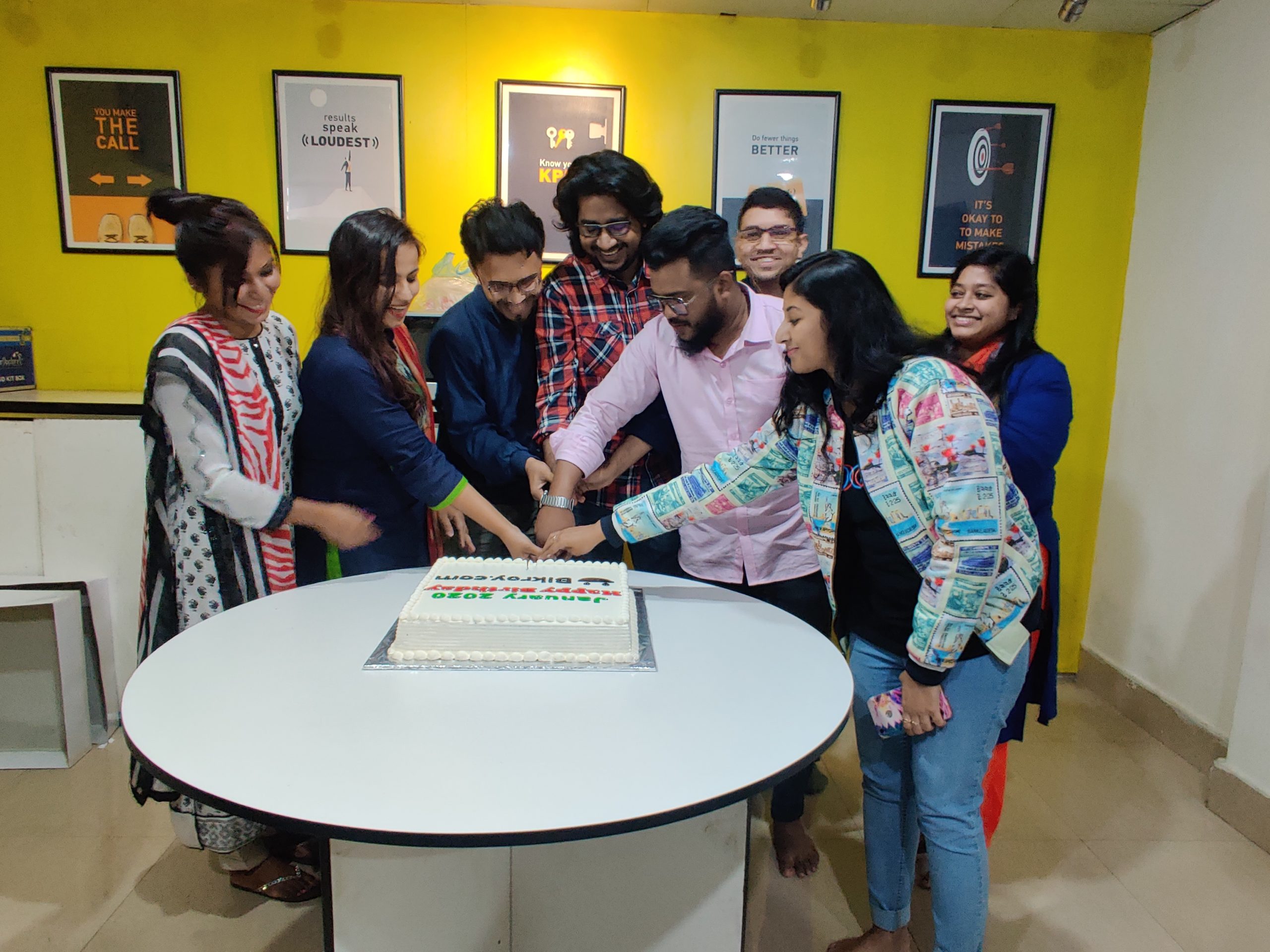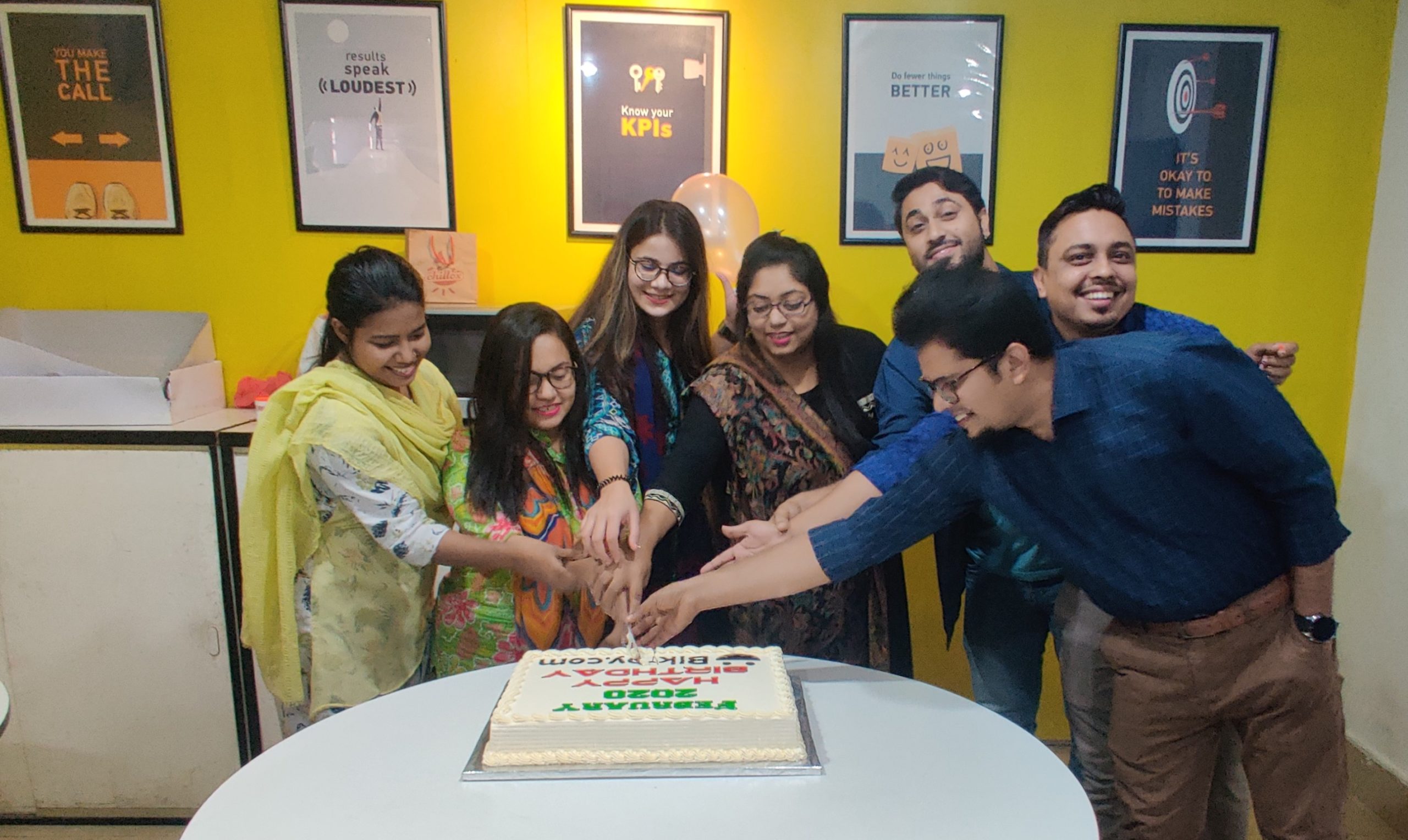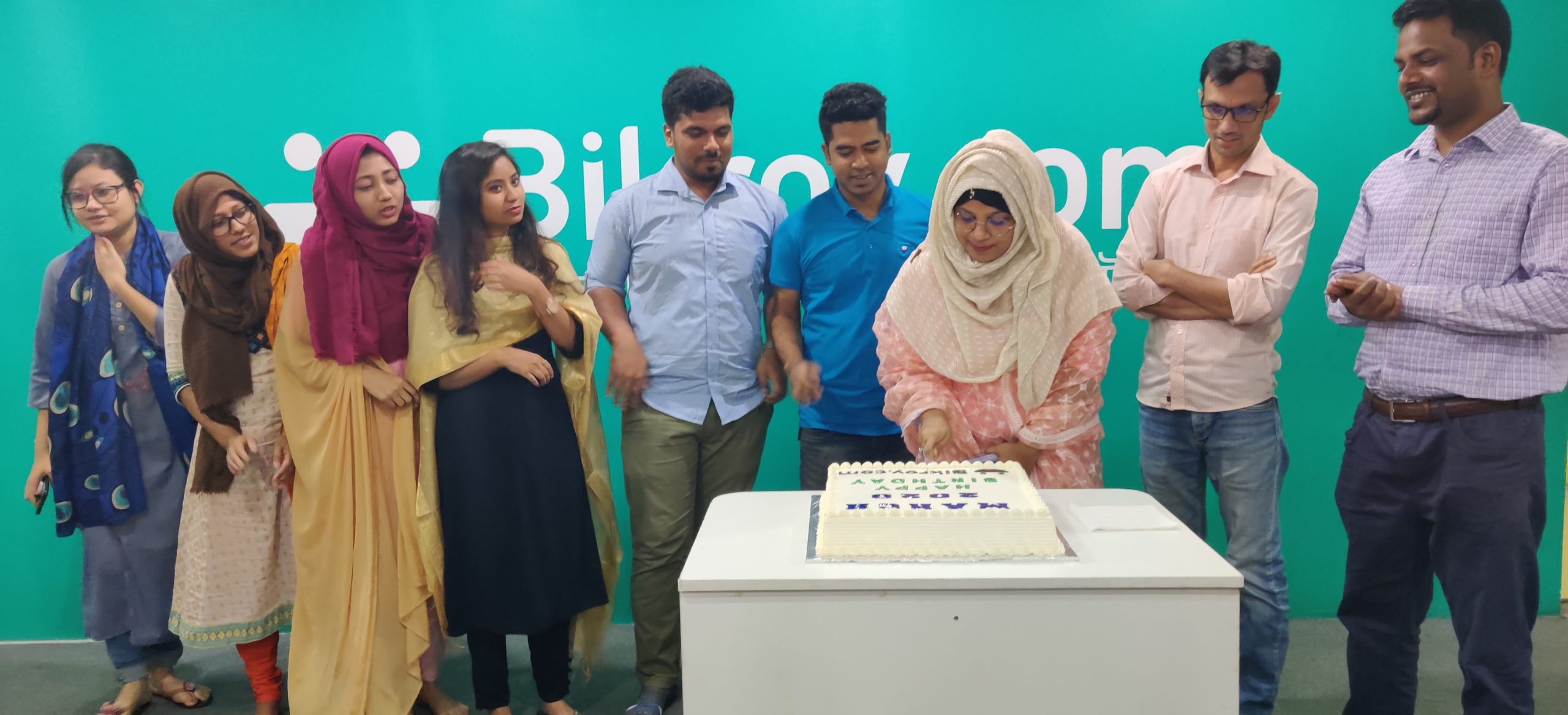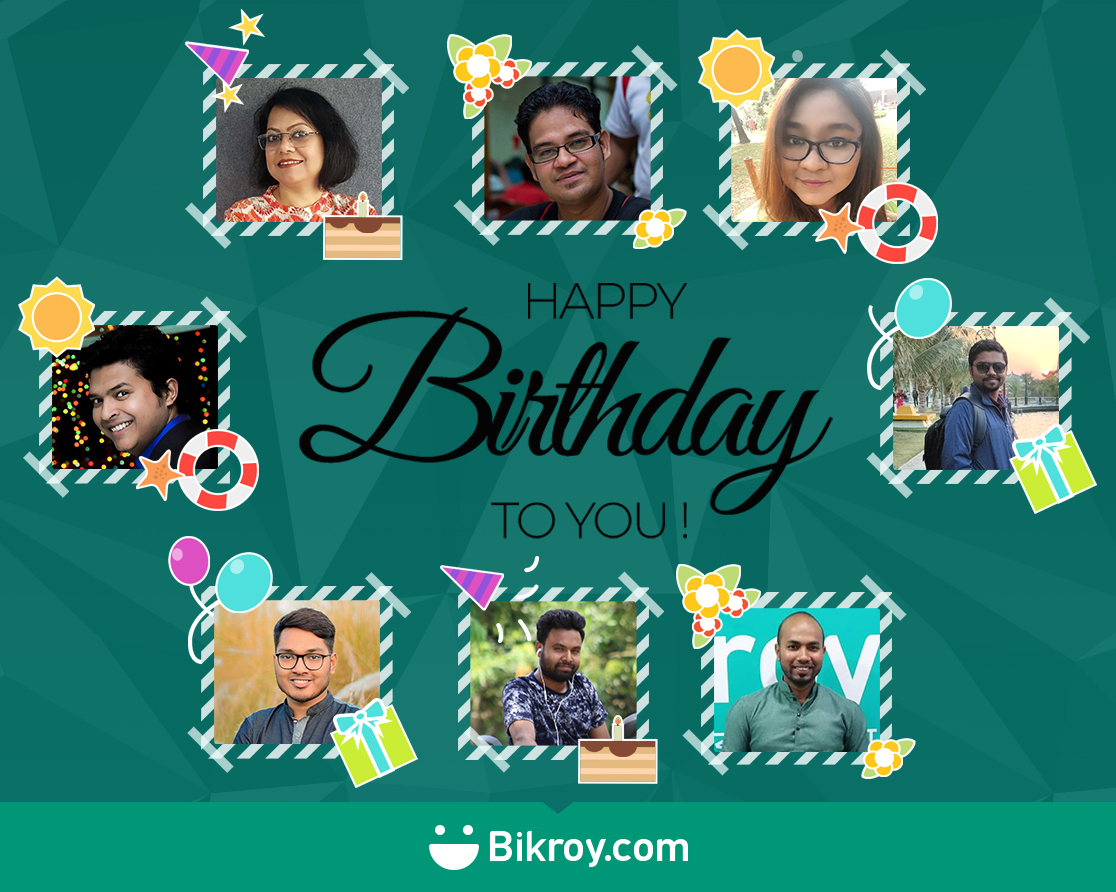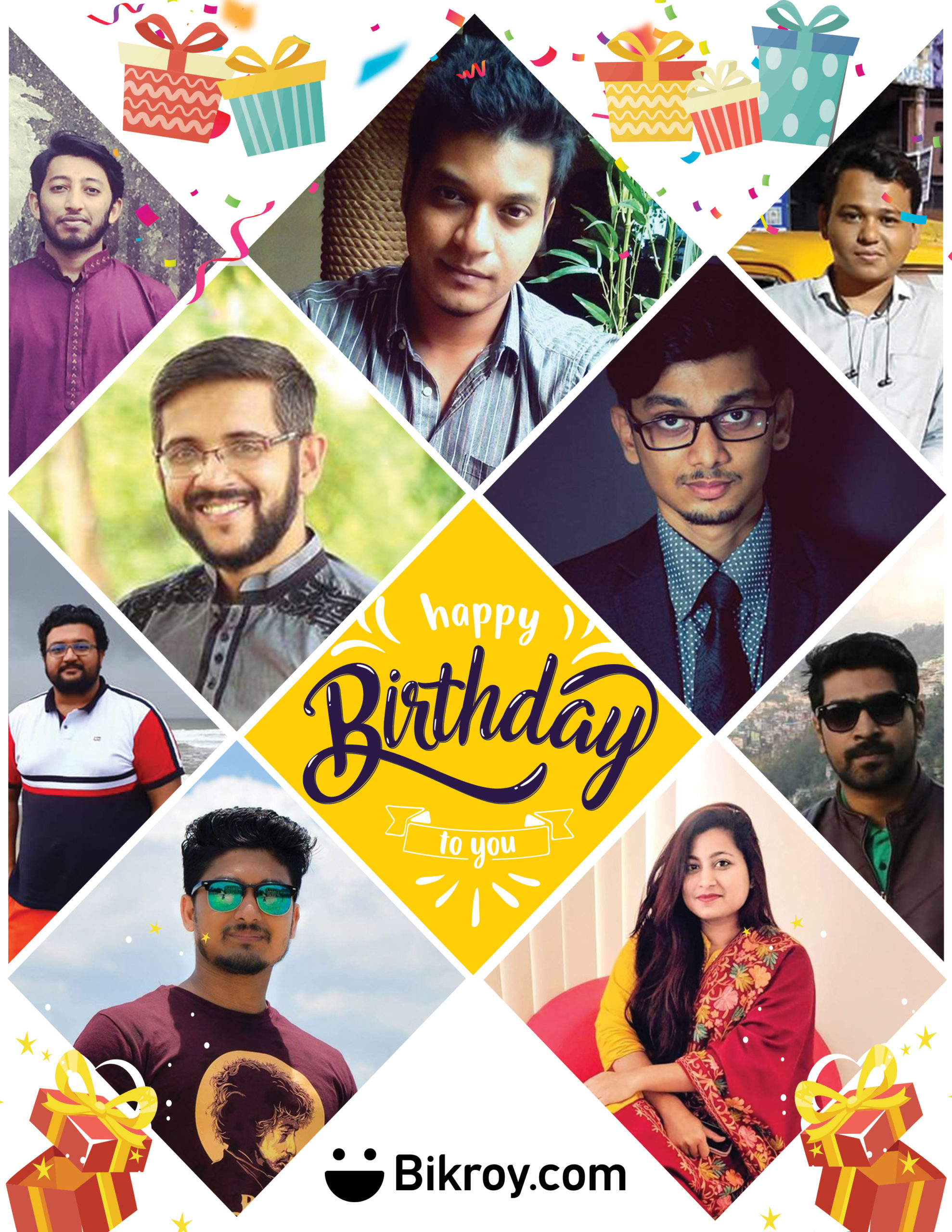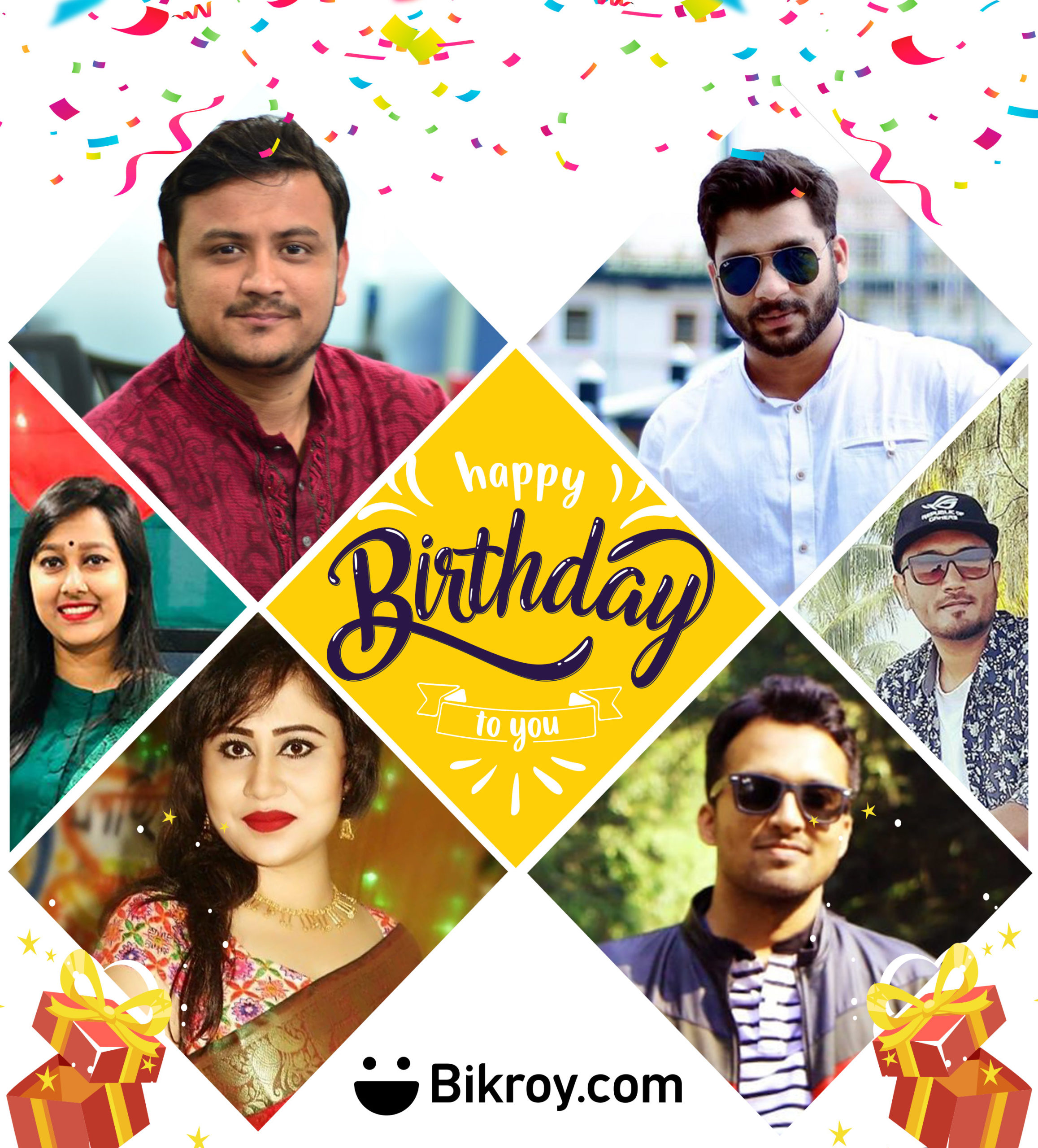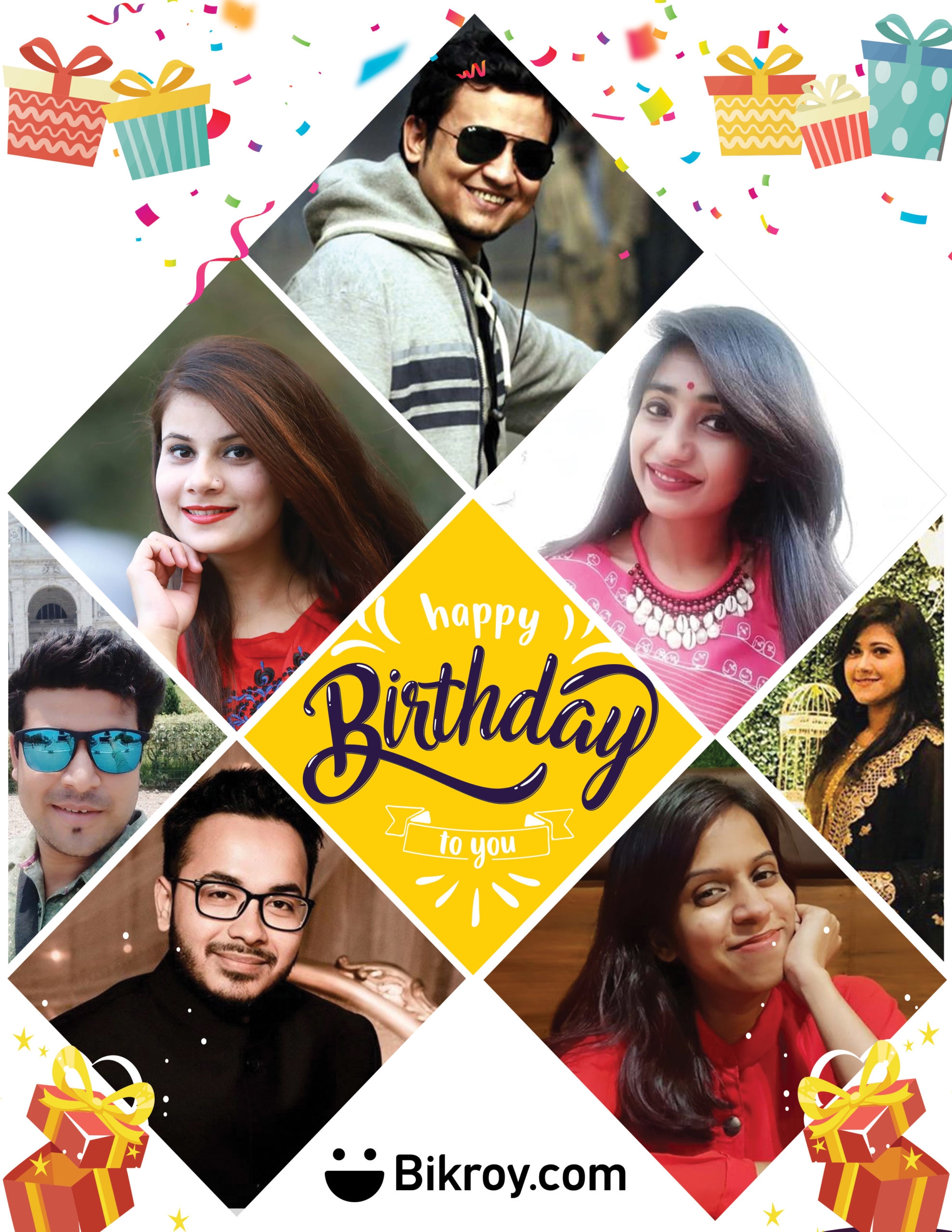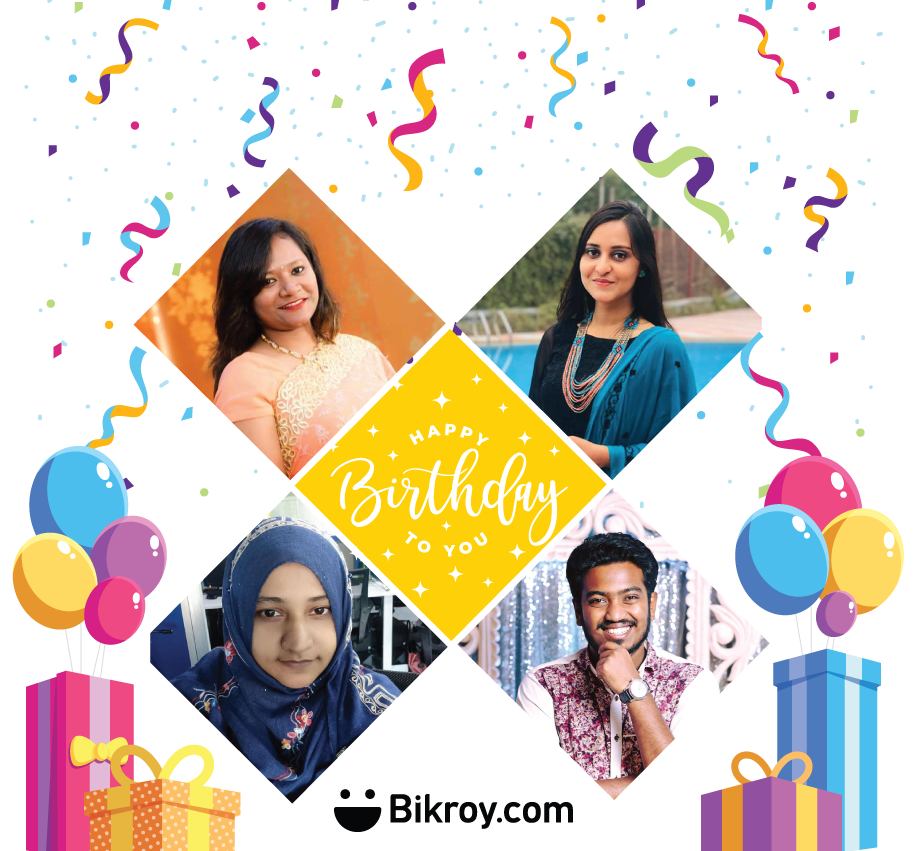 Our employees are our family. We love to make our employees feel very special on their birthdays. We do different kinds of activities to celebrate their birthday and try to make them feel that we value their special days.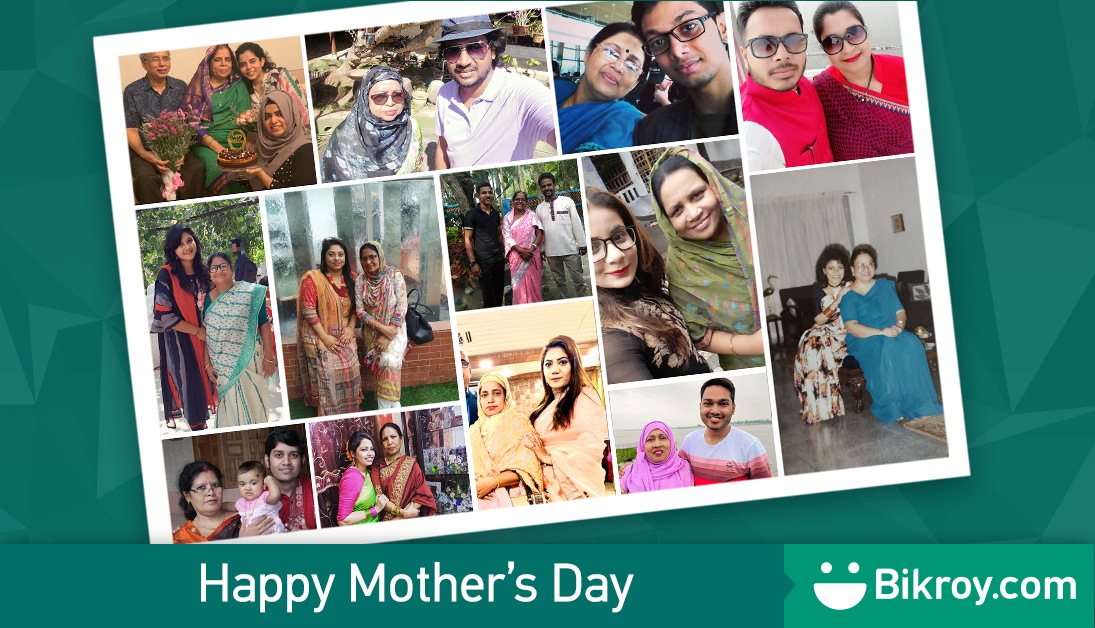 We celebrated Mother's Day 2020. We asked our employees to share their pictures with their moms.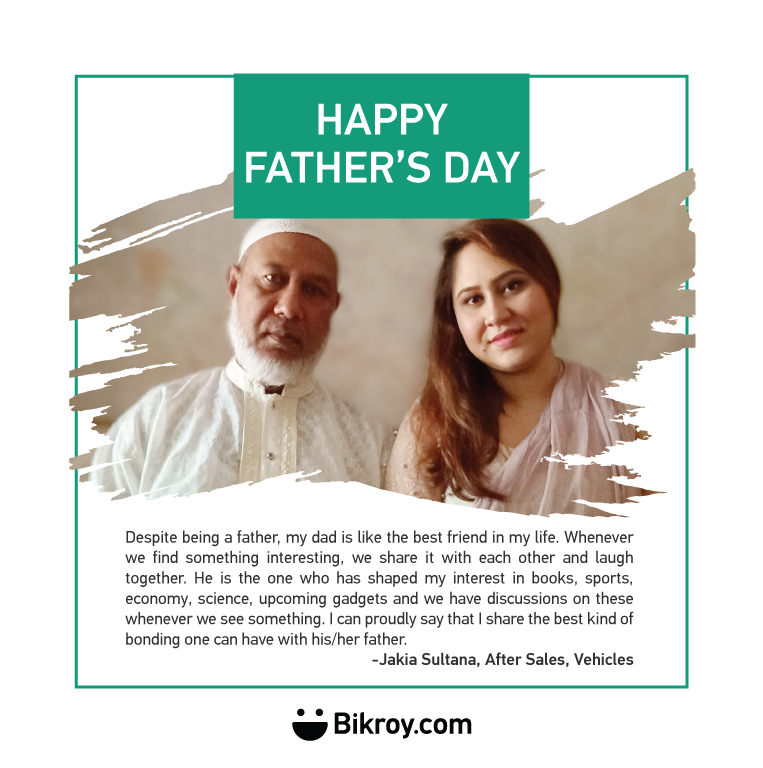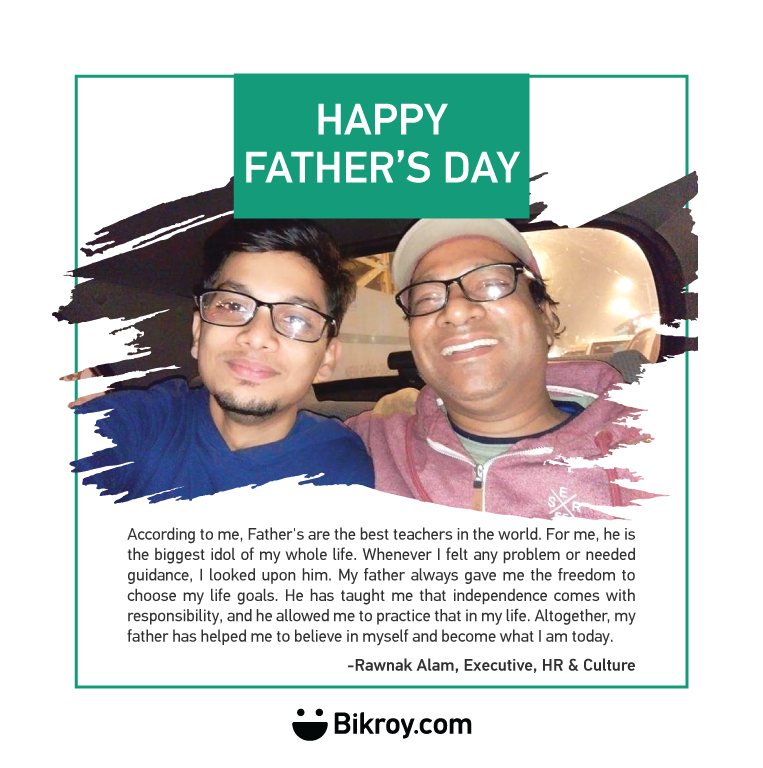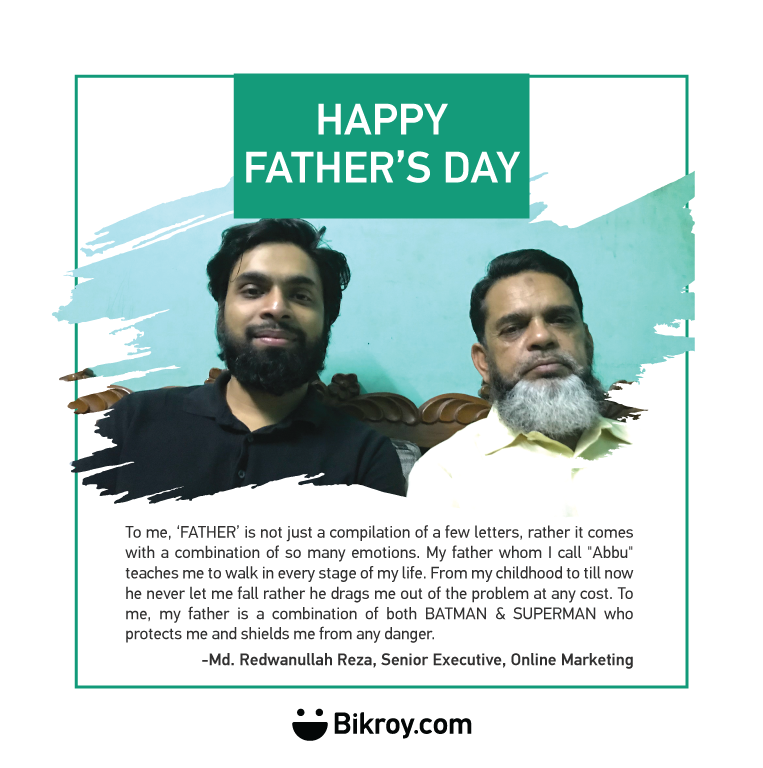 Bikroy.com celebrated father's day for the whole month of June by lighting up on different thoughts of our employees regarding their fathers. Let's hear from them. We tried to know how their father's guidance and advice have changed their perception towards their life.
Bikroy shows its gratefulness and love towards all the Fathers out there and wishes them happy days ahead.
Bikroy.com's initiative to ensure workplace safety: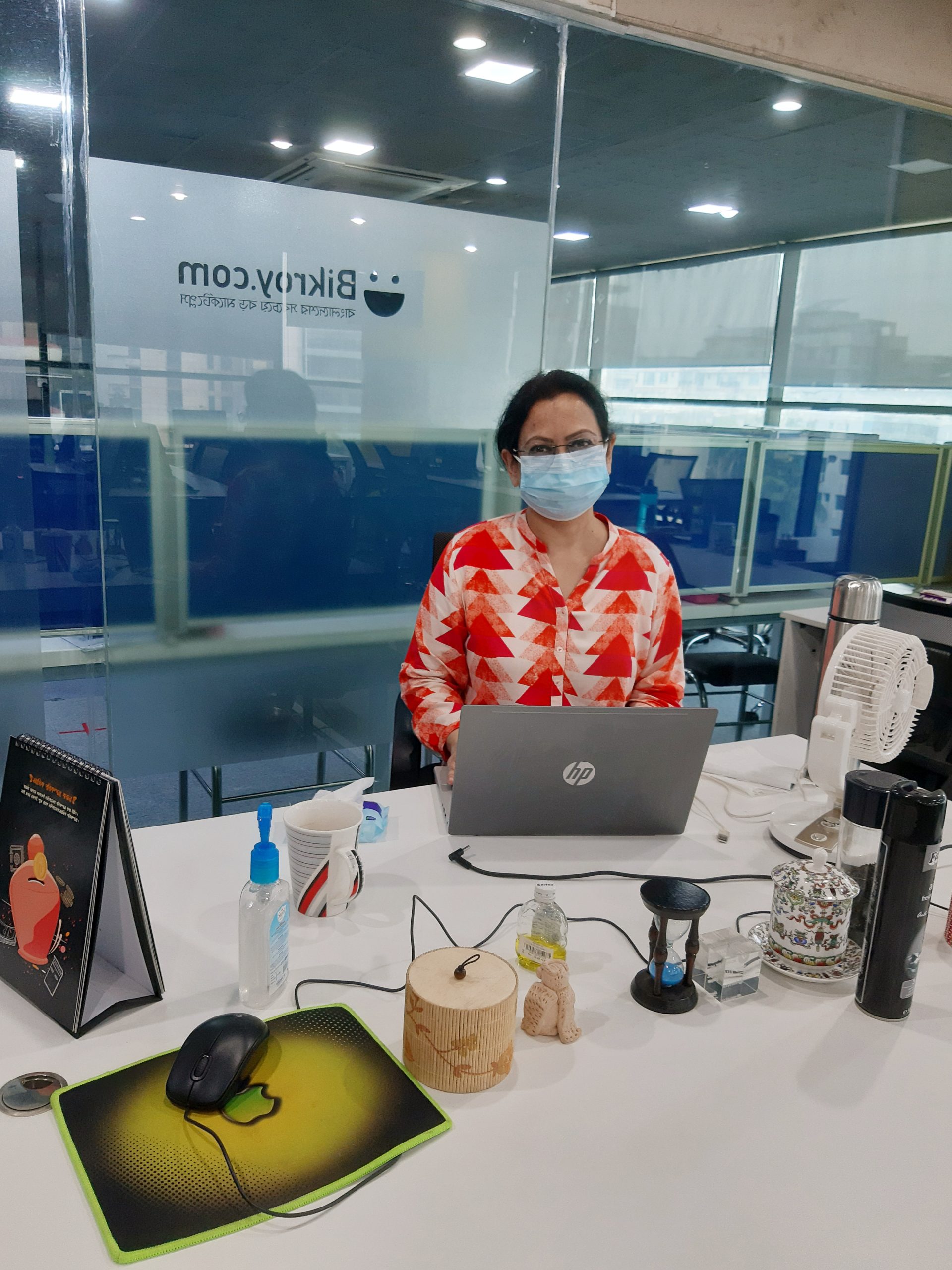 Even as the nation goes into extended lockdown, online business has become the lifeline for the country. This is now mandatory to keep and maintain safety for the employees and visitors at Bikroy.com's premises. 
In Bikroy, we are ensuring the safety and security of the employees and visitors. Hygiene factors, temperature checks, and personal protective equipment like Mask, and Goggles have become business as usual in this new reality. Also, a clean office environment by checking air filters and disinfection spray for official tools is controlling strictly. Tissues, trash can, hand soap, alcohol-based sanitizer, etc. all there to secure 100% safety for all in office premises.   
We have our own safety measure policy to follow and we have developed our own Emergency Preparedness & Response Plan in this COVID -19 situation. 
You all are curious about what's going on behind the scenes? Let's take a look at these pictures from Bikroy.com premises and the scenario will be vivid to you.
Whenever an employee checks in and checks out from the office, a security guard checks an incoming employee's temperature with a handheld thermal scanner. Bikroy has made it a mandatory duty for the security guards at entry and exit points.  
At Bikroy employee safety is our top-most priority and so we make our own alcohol-based sanitizer to keep the employees disinfected. Whenever an employee enters the office, the security guard provides hand sanitizer to disinfect the employee.
At Bikroy, we do not remain content just by ensuring sanitizer at the entrance. To ensure sanitization of each and every person entering the office, Bikroy has set up a Stand Sprayer which ensures the disinfection of all the entrants.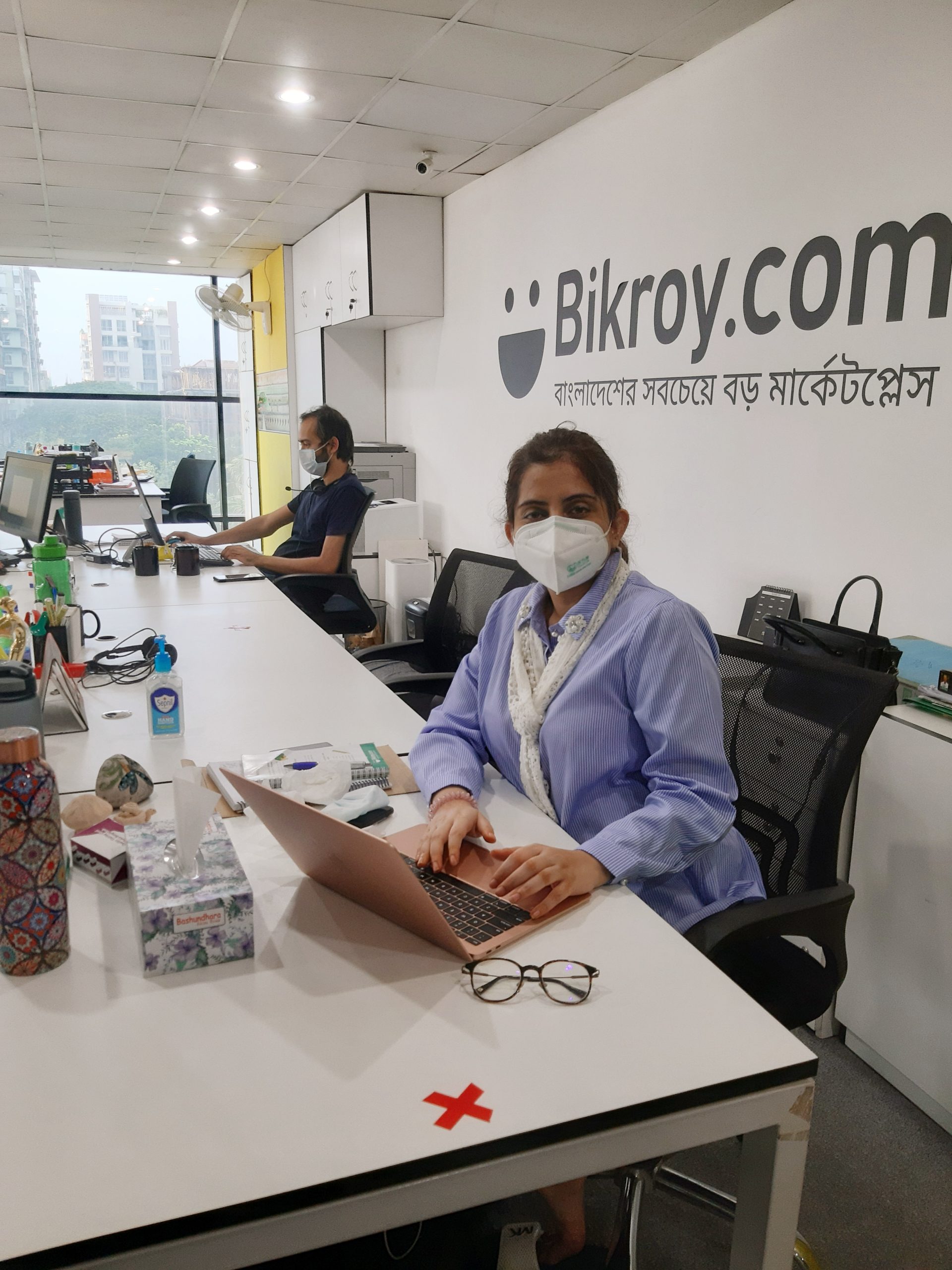 Bikroy cares for the employees not only during the entry & exit but also during the whole office hour. After entering the office, every employee is provided with disposable surgical masks, disposable gloves, and hand sanitizer bottles so that they stay safe from the virus spreading.
After making sure employees are disinfected and safe from virus spread, Bikroy focuses on sanitizing the office premises. Cleansing and sanitization of contact surfaces are carried out every few minutes by the staff at Bikroy premises.
After ensuring all the prevention mechanisms, Bikroy focuses on emergency medical support for the employees if someone gets sick. Bikroy has arranged an emergency medical box, Oximeter, Oxygen Cylinder ready for use at the office premises, so that sick employees can be provided primary medical care.
Maintaining Social Distance
Bikroy.com  thoroughly ensures social distancing during the entry, exit, and office hours. Every employee is made to keep at least 3 (Three) feet distance from one another, which is strictly monitored by the HR & Admin. 
Managing Emotional Well-being Webinar: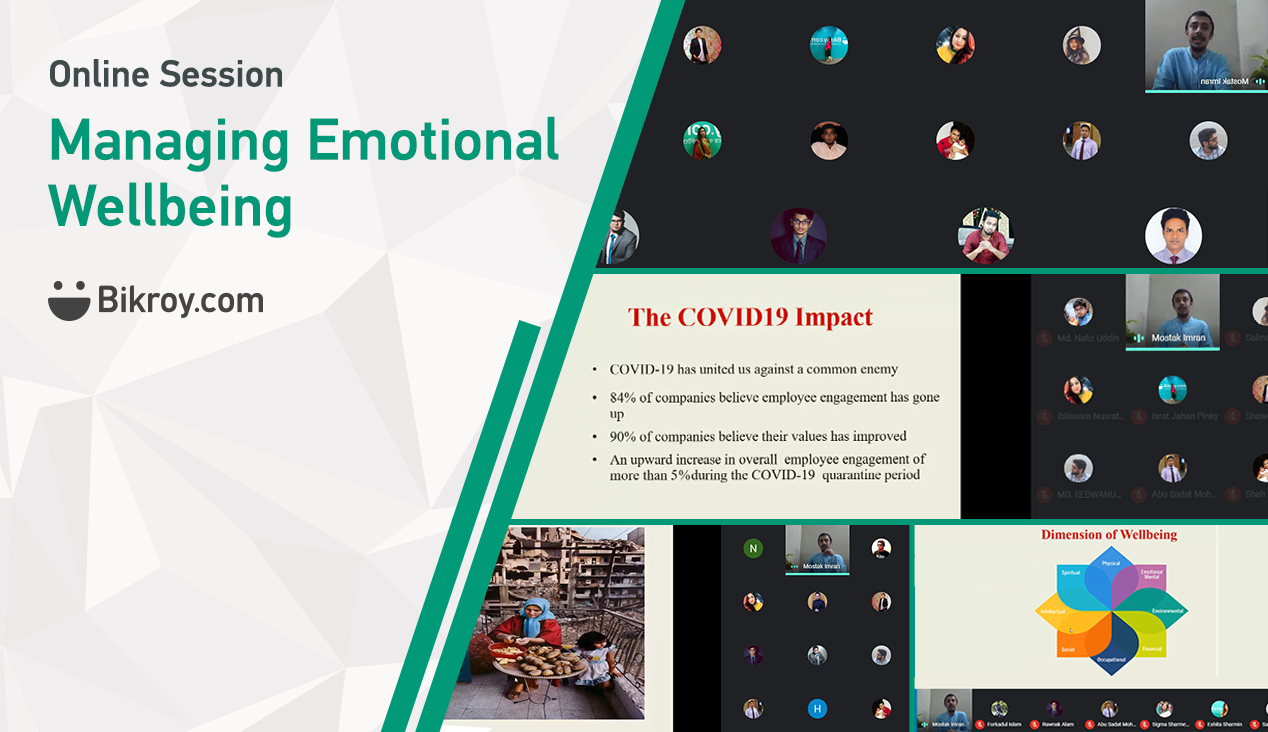 Bikroy.com had the immense pleasure to have Mr. Mostak Ahamed Imran, Deputy Lead, Psychologist and Play Therapist from BRAC Institute of Educational Development to conduct a webinar program on "Managing Emotional Well-being". Bikroy.com arranged the program with a focus to help employees to manage their stress and to have a good work-life balance during this pandemic situation.
Our employee's Well-being is our only concern!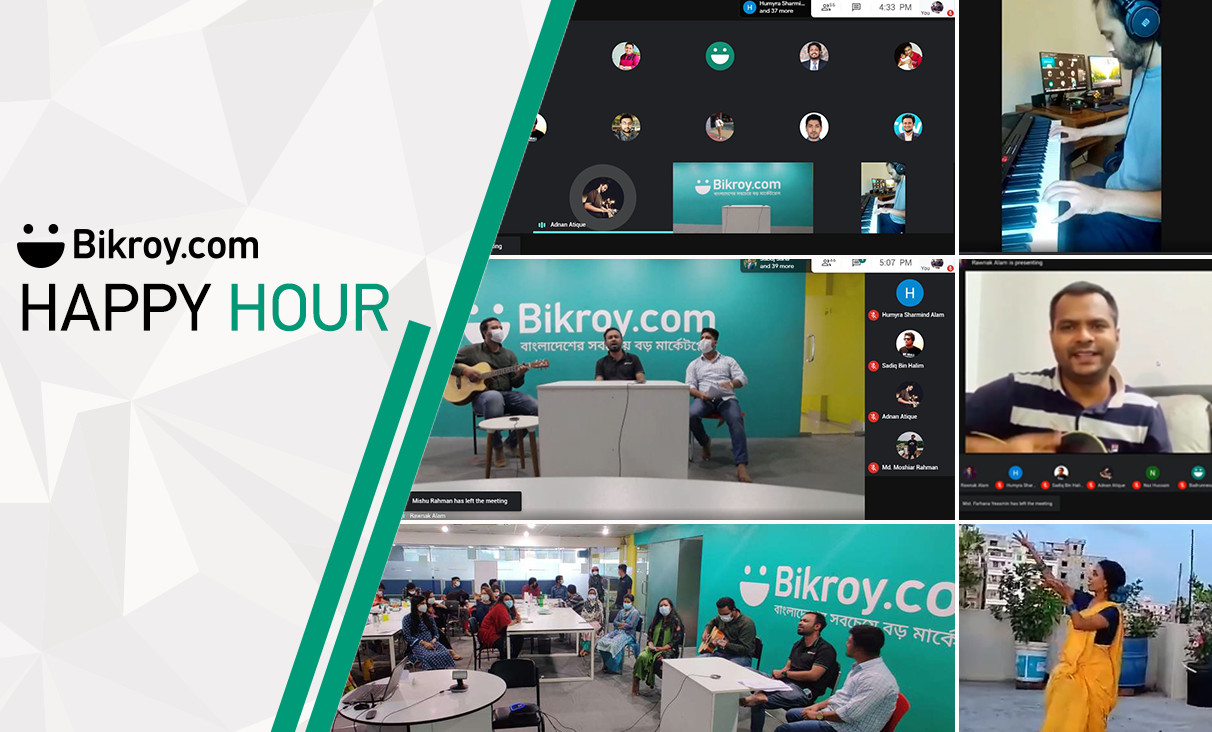 We always believe a happy employee is an efficient employee! Hence, in order to boost employee morale and engagement, the Bikroy HR team recently organized a virtual "Bikroy Happy Hour" program! Few of our employees have participated from home and few have participated from office. This is how we are adopting our new normal style to maintain our employees bonding with each other. Thanks to all the participants for making those few hours so enjoyable and memorable for us.
Happy Friendship day 2020: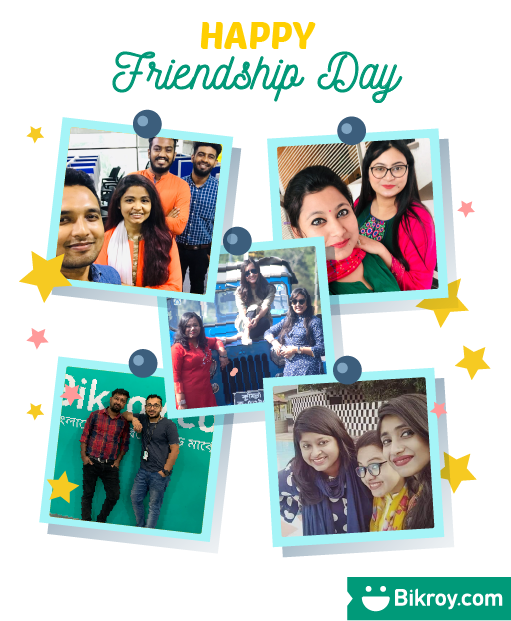 Bikroy.com celebrated Friendship Day. So, we asked our employees to share the pictures with their colleagues who have become their friends while working together. Happy Friendship Day!!

Bikroy Work from Home Culture: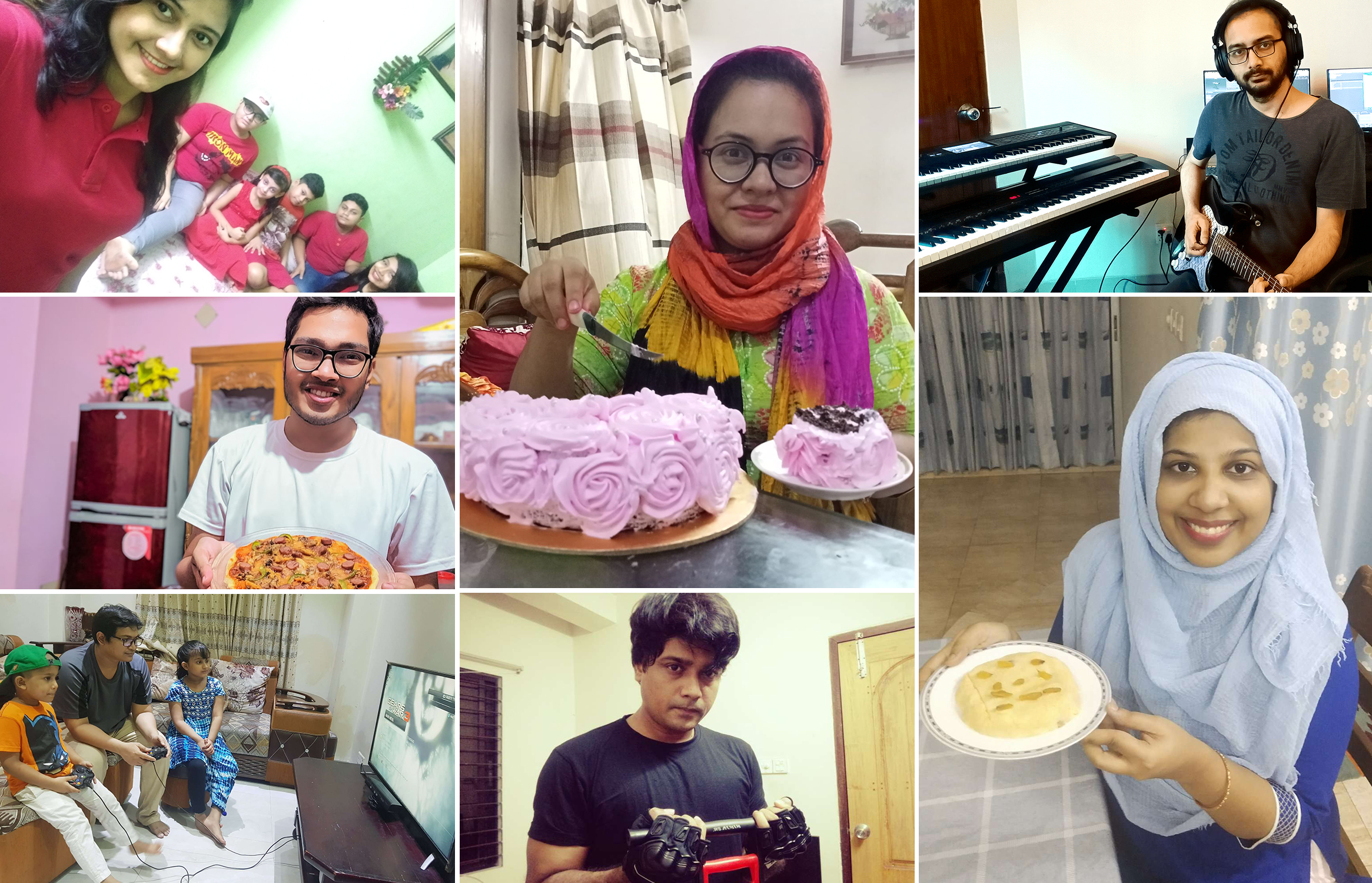 As the pandemic situation is not over yet, at Bikroy we are still practicing the work from home culture along with flexible office days for ensuring the safety of our employees. While working from home, our employees are managing their work as well as spending some quality time for themselves, where they are focusing on their hobbies, family time, etc which helps them to be motivated & energized during this critical time. 
Women Empowerment: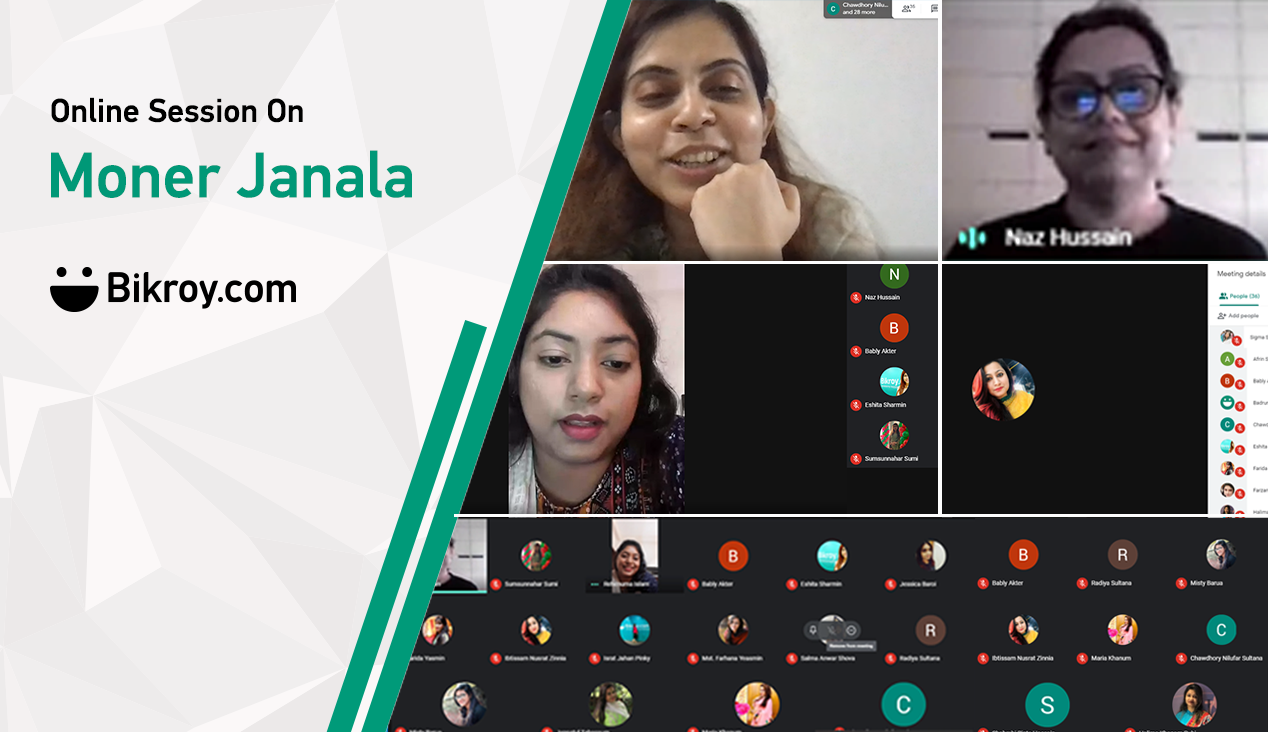 At Bikroy.com, we believe in women empowerment & we try to ensure the work-life balance. To share the experiences of our female employees, we organized an online session called "Moner Janala" where the female mentors & other female employees shared their stories on how they are spending their time during this pandemic & also shared health tips and other suggestions on balancing the work-life. 
For Moner Janala, Q3, 2020 we had our female leaders from Bikroy, CO-Managing Directors Ms. Eshita Sharmin, and Ms. Naz Hussain, and Head of HR & Culture Ms. Rehenuma Islam as guest speakers who attended the session on July 25, 2020, and shared their valuable thoughts. The session was very interactive and the most enjoyable part was the yoga session.
Together we share, learn & grow
At Bikroy.com, we aim to develop our employee workforces through fun learning sessions, ensuring that leaders are more effective in leading change and that employees have opportunities to expand their skills. We love to invest in our employees to empower and develop a highly-capable workforce that provides the best result.
We believe in targets and performance. We encourage transparent and honest conversation culture through regular feed-backs. It helps us with continuous development, focusing on important matters which are supported by coaching & recognition. 
Employee skills Development Training Program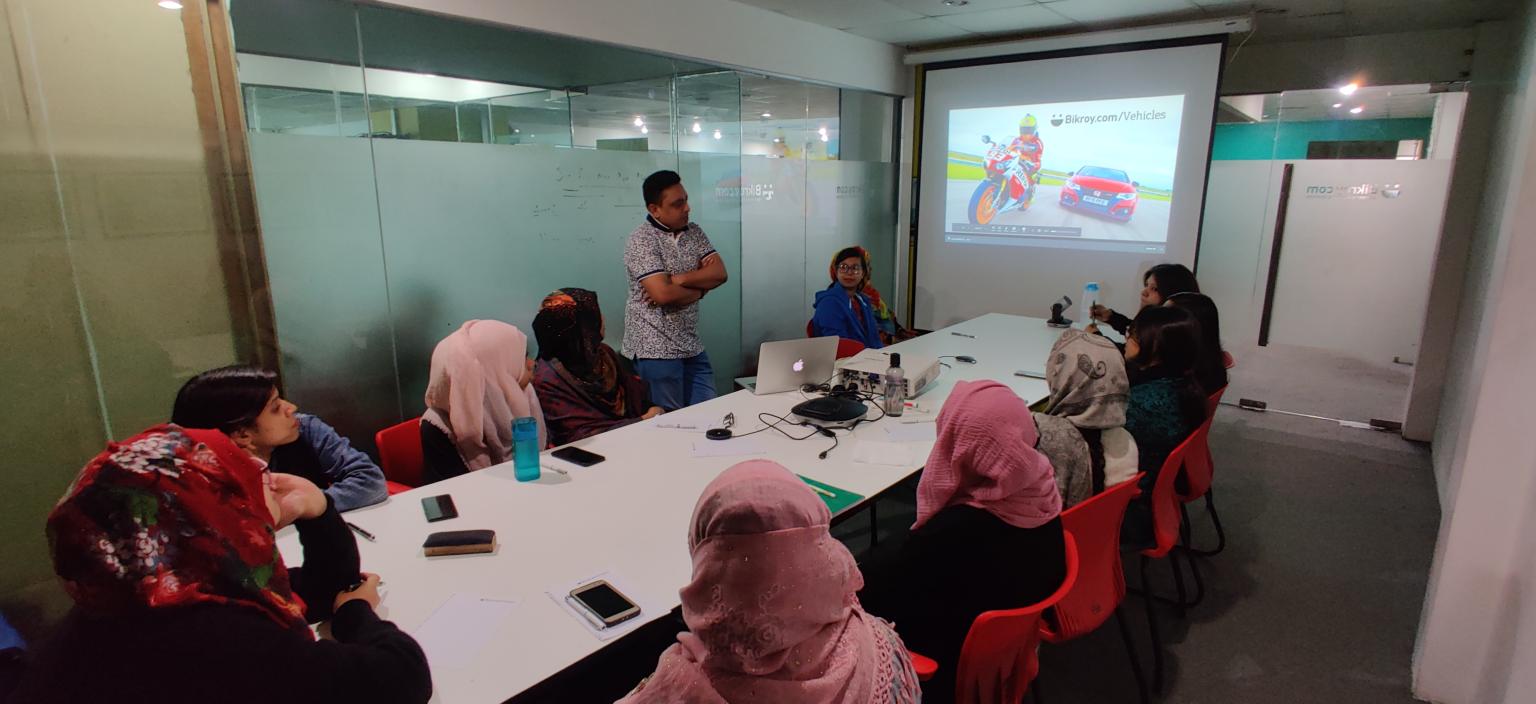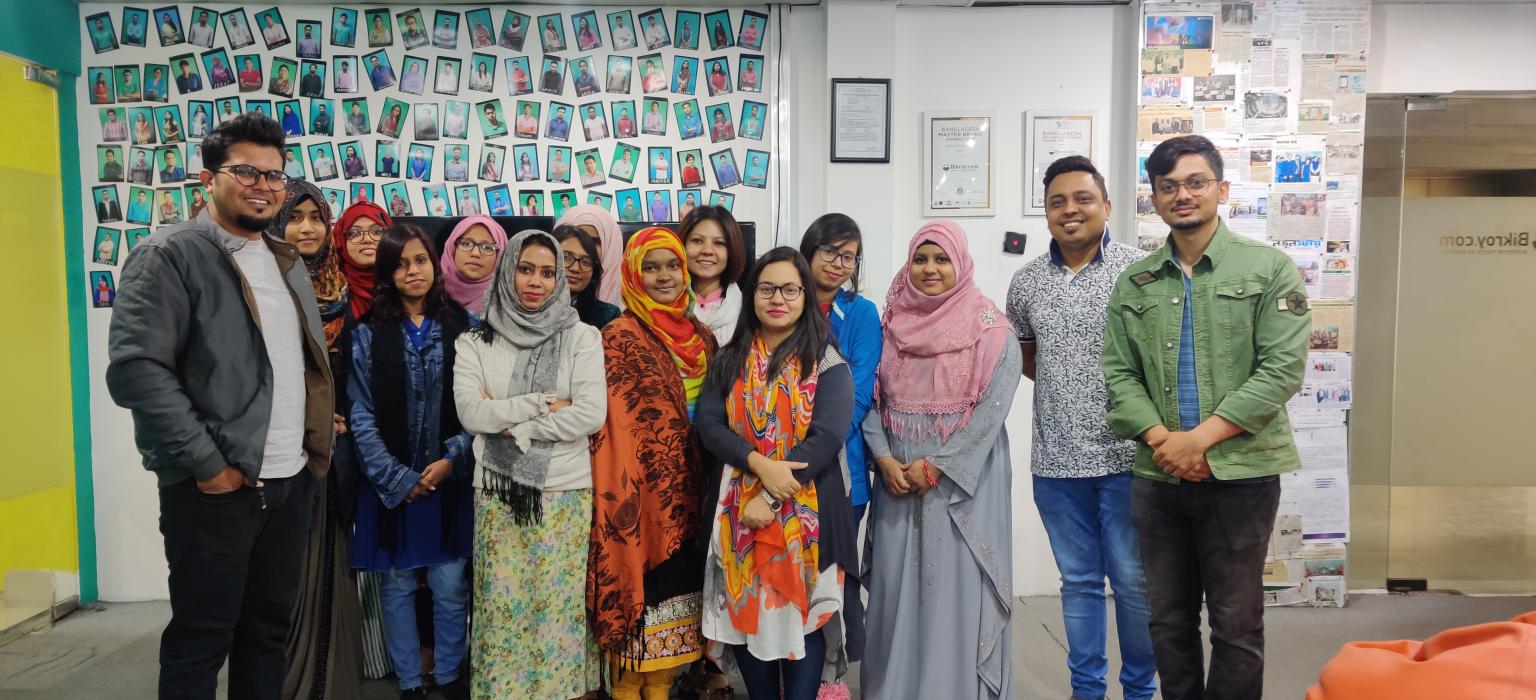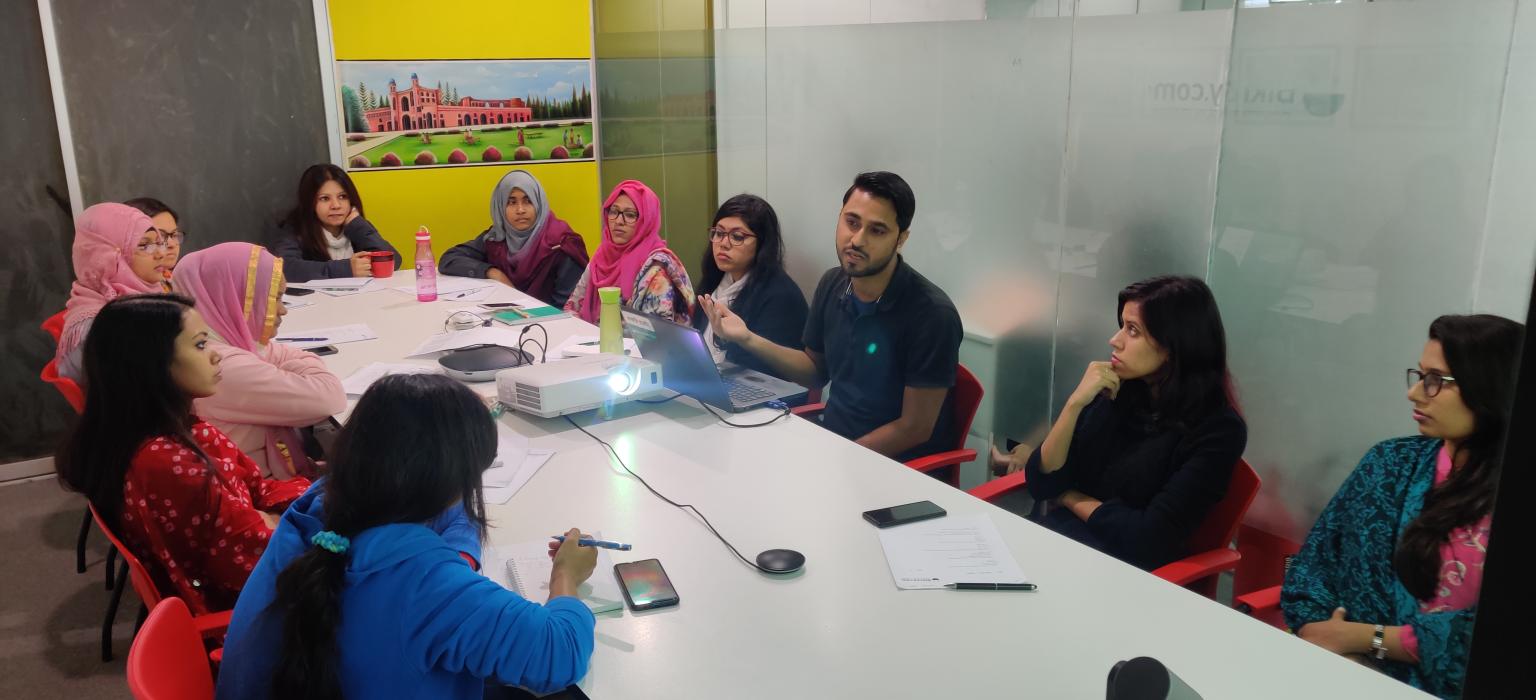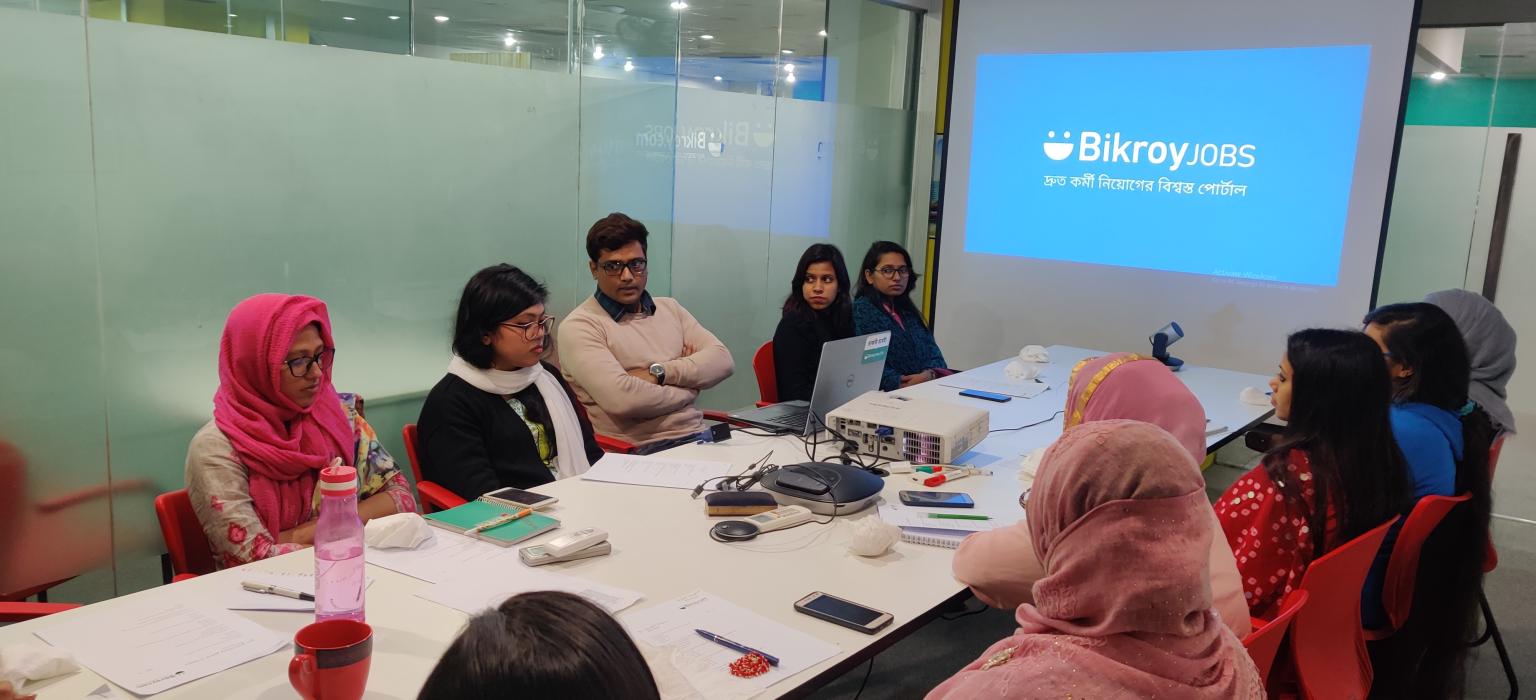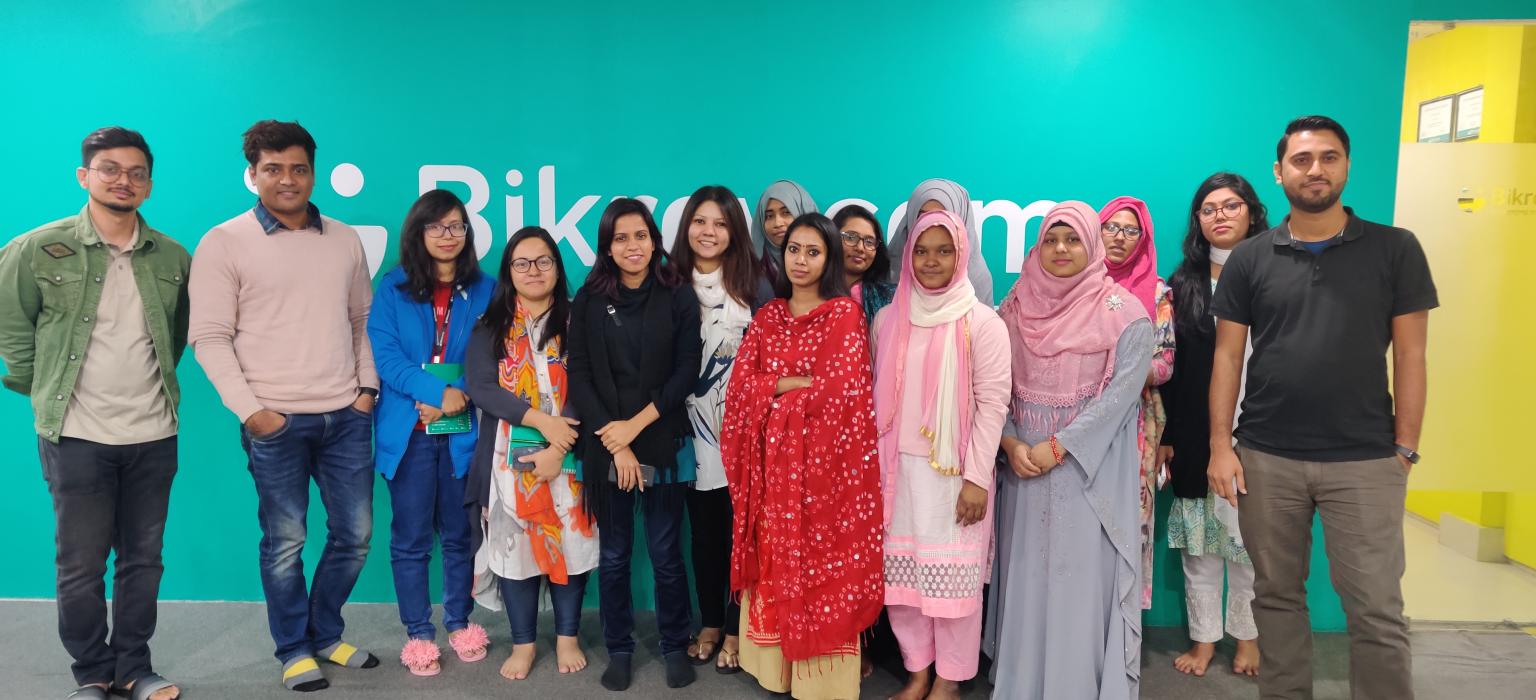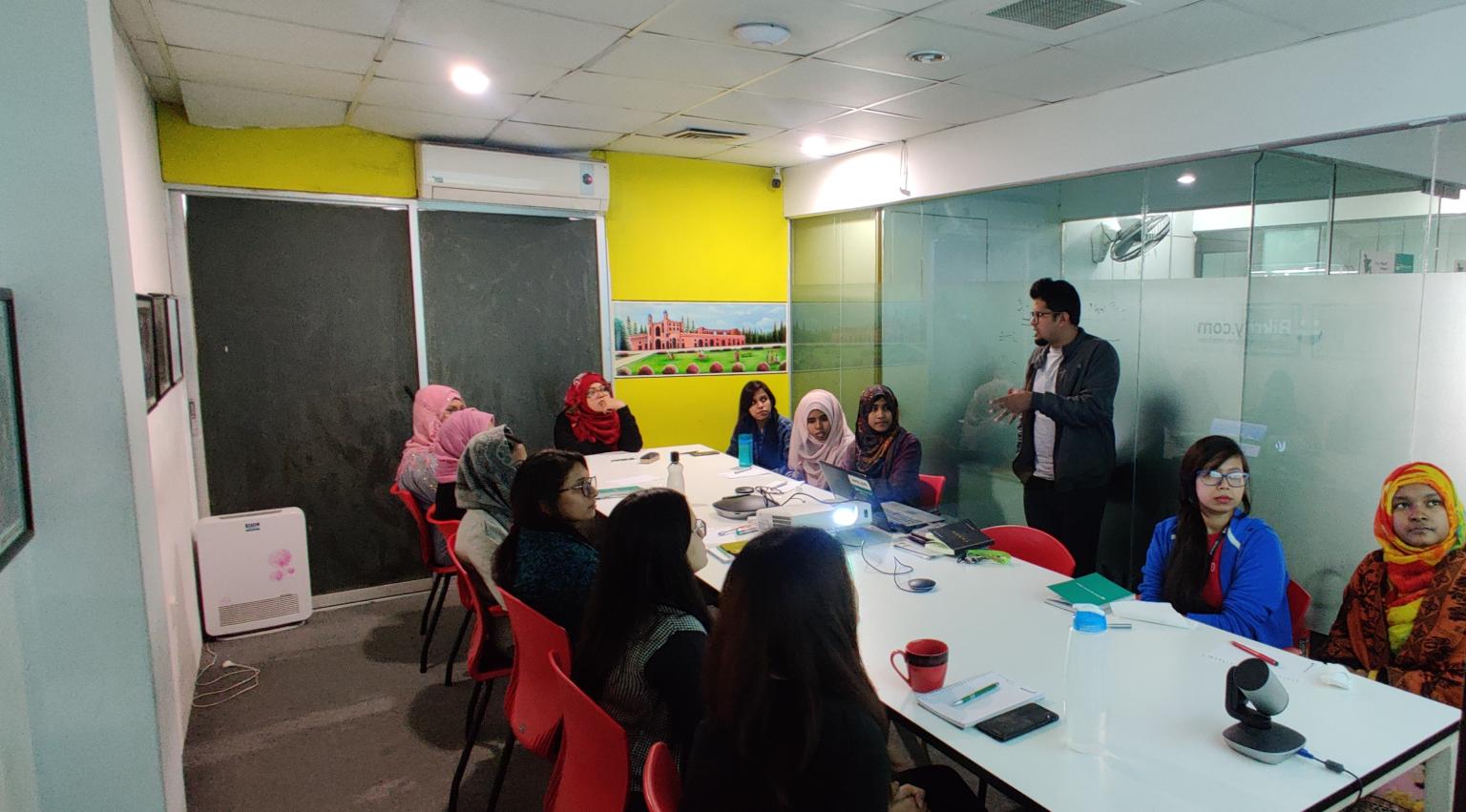 Glimpses of the participants of the Employee skills Development Training Program. Team leaders from the cross-functional teams gave training to our listing team on their specific product knowledge. This training will help the participants to provide better service to our customers for the different verticals. We thank all the participants and the trainers for the successful training session.
Steps of Successful Call Management
Bikroy.com had the immense pleasure to have MD. Emdadul Hoque Mobin, Manager, Property to conduct an Online Training Program on Steps of Successful Call Management. Bikroy.com arranged the program with a focus to continue its effort to facilitate employee skills development. From this training, the participants got to learn about improving their communication skills, developing their workstyle and convincing skills over the phone with clients, client pitching, time management for sales activities, etc.
On-Call Negotiation Masterclass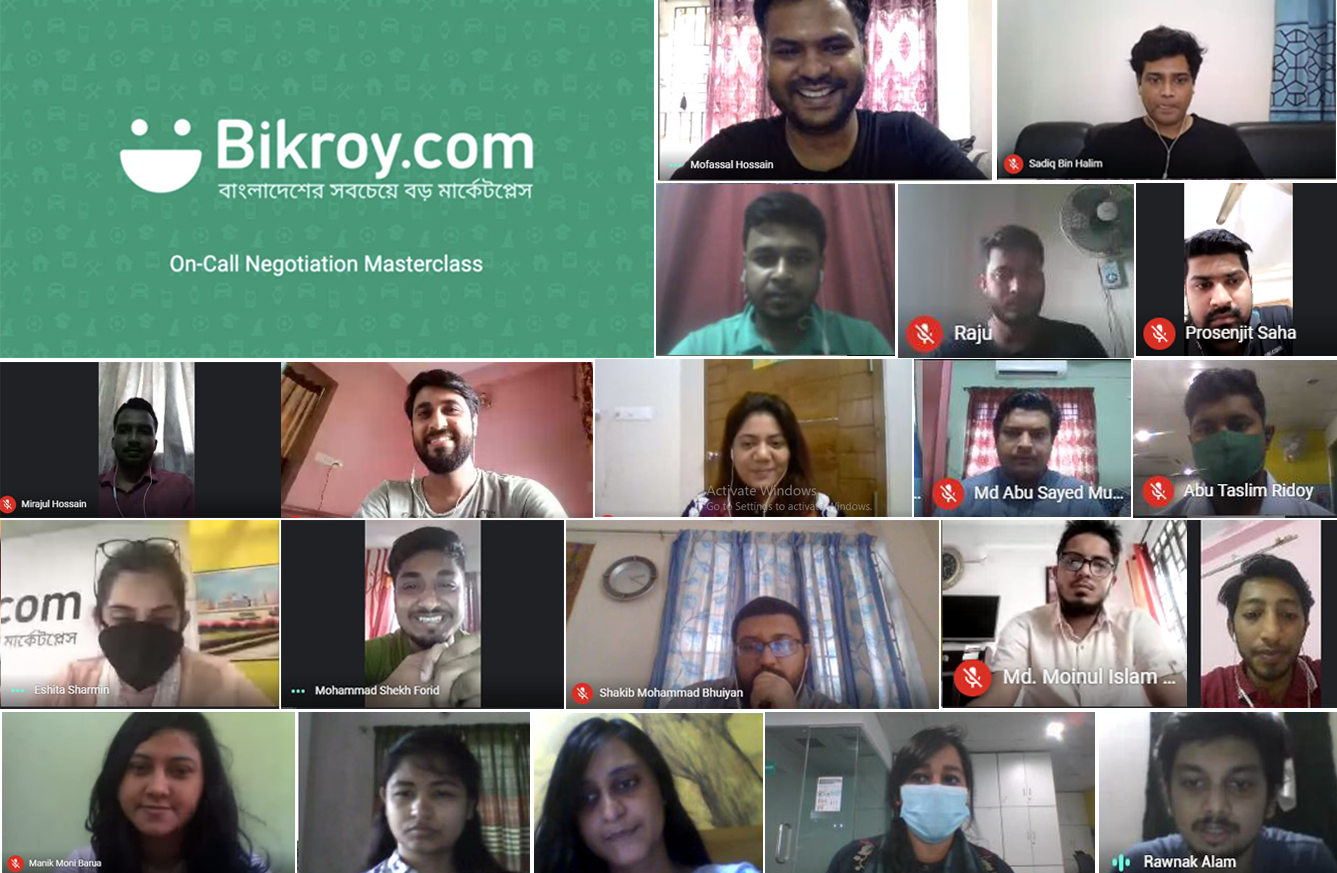 Bikroy.com believes investing in employees' skill development will give a great return. As a part of the continuous development program of the employees, Bikroy had the immense pleasure to have Md. Mofassal Hossain and Md. Sadiq Bin Halim, to conduct an Online Training Program on "On-call Negotiation Masterclass." Bikroy.com arranged the program with a focus to continue its effort to facilitate employee skills development.
Online Training on Professional Email Communication: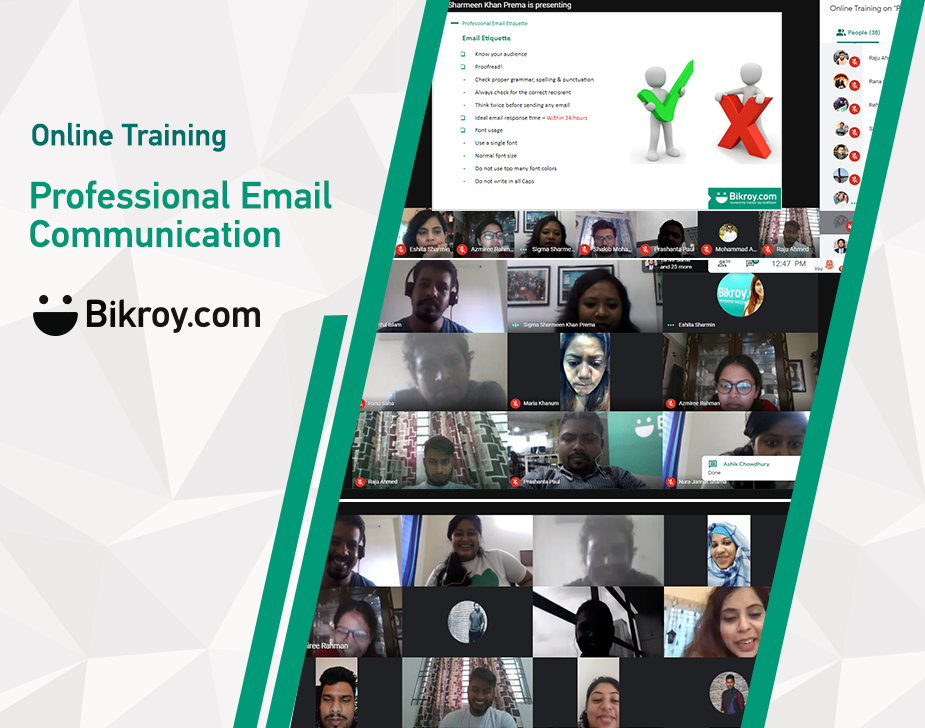 Communication is one of the most important skills for any employee. Among those skills, proper email communication is a must for any corporate culture. With a view to developing the employee's email communication skills, Bikroy.com arranged an online training program named "Professional Email Communication". Bikroy had the immense pleasure to have Ms. Eshita Sharmin, CO-Managing Director as Keynote Speaker & Ms. Sigma Sharmeen Khan, Talent Acquisition Specialist as the facilitator. From this training, the participants got to learn about improving their communication & writing skills depending on the different situations.
Investing in youth:
At Bikroy.com, we are always hunting for the right talent that will help our organization grow. In order to source the right candidates, we have collaborated with top educational institutions in Bangladesh and participated in their career fairs & seminars.
Some of the most important events for 2020 are:
IUB Internship Interview Session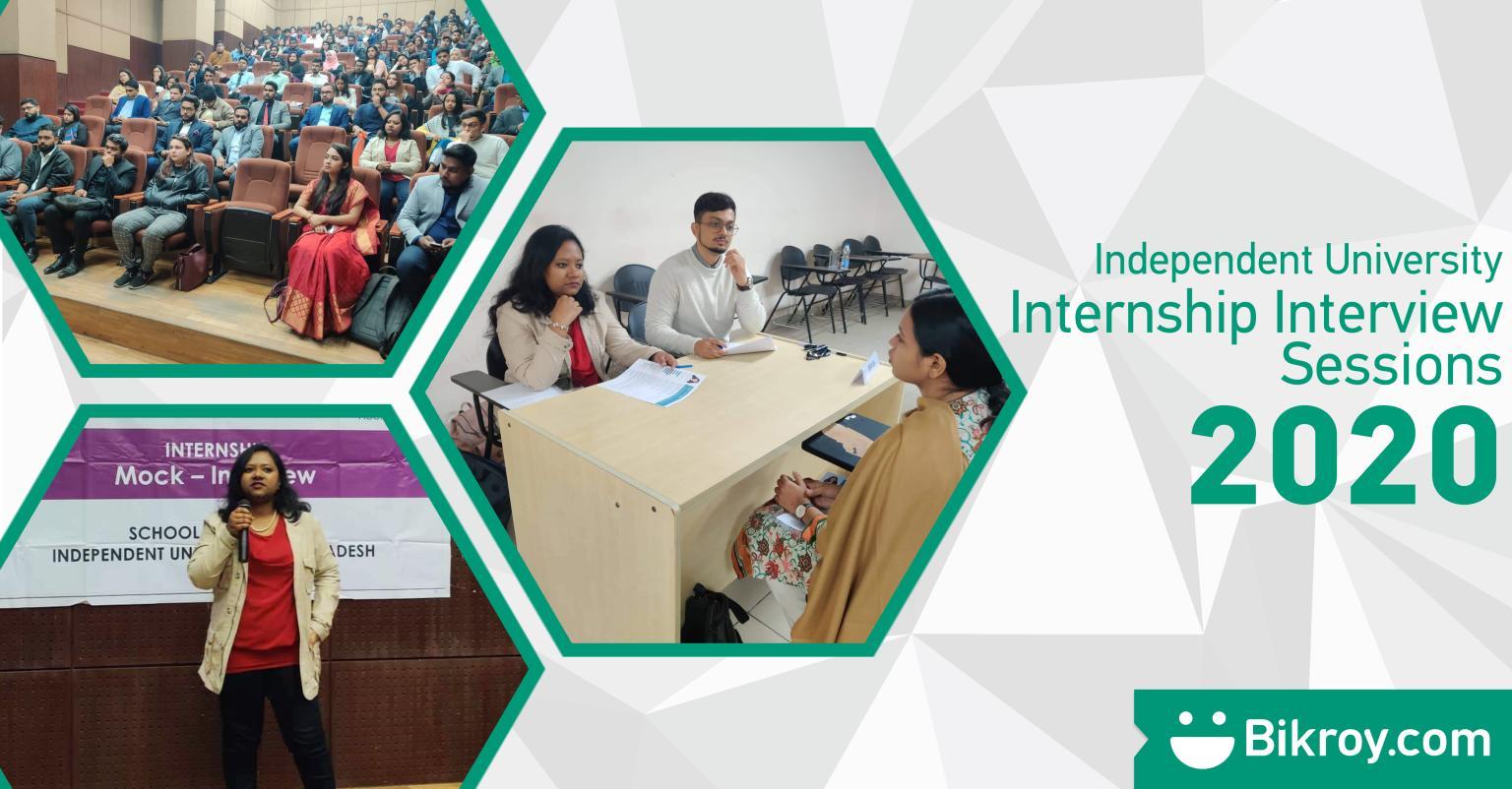 Bikroy.com HR team participated in the IUB Internship Interview Session 2020 on January 15, 2020. We got huge responses from the students who are going to graduate. We shared our expectations & also took spot interviews for hiring interns for our organization. 
"Powerpoint Presentation: Interviewer's Expectation vs Reality" Session at BRAC University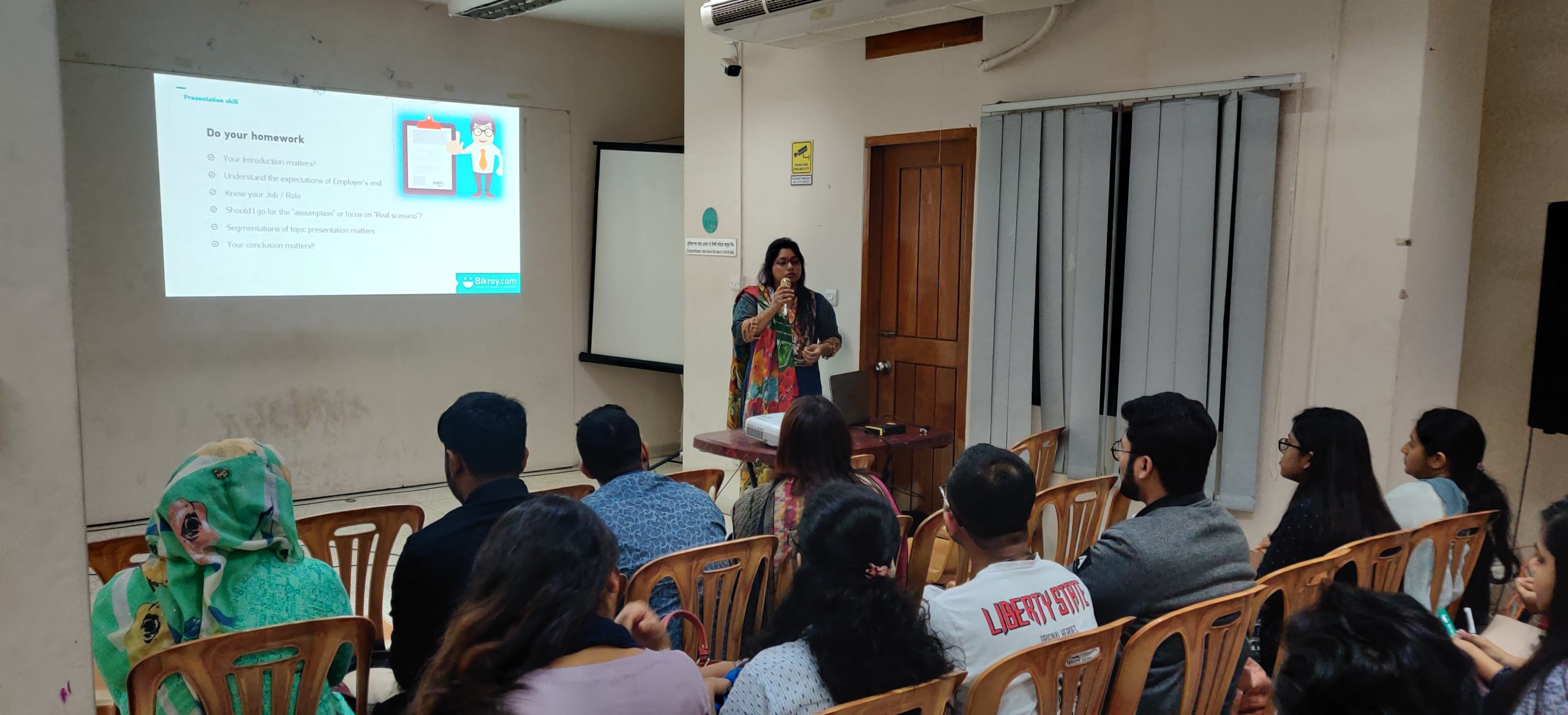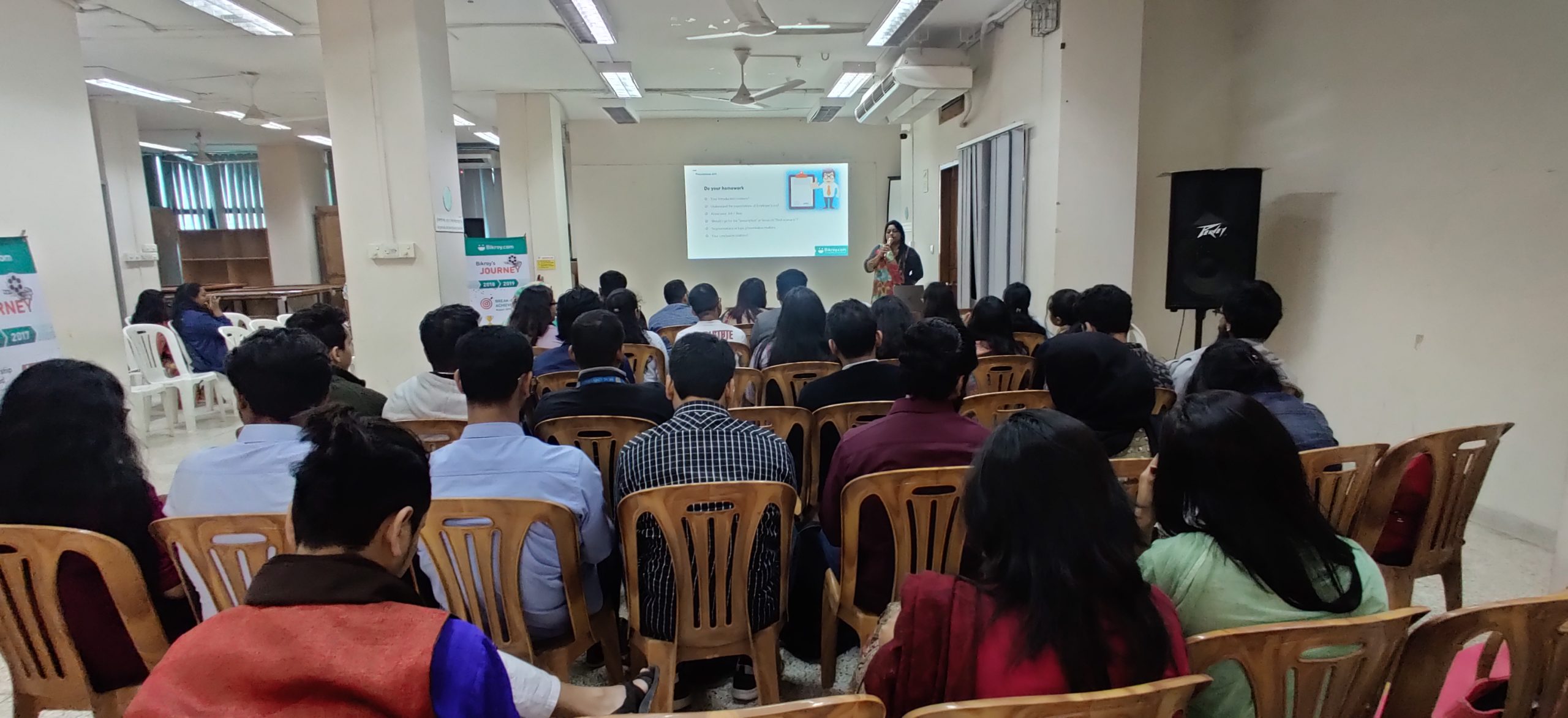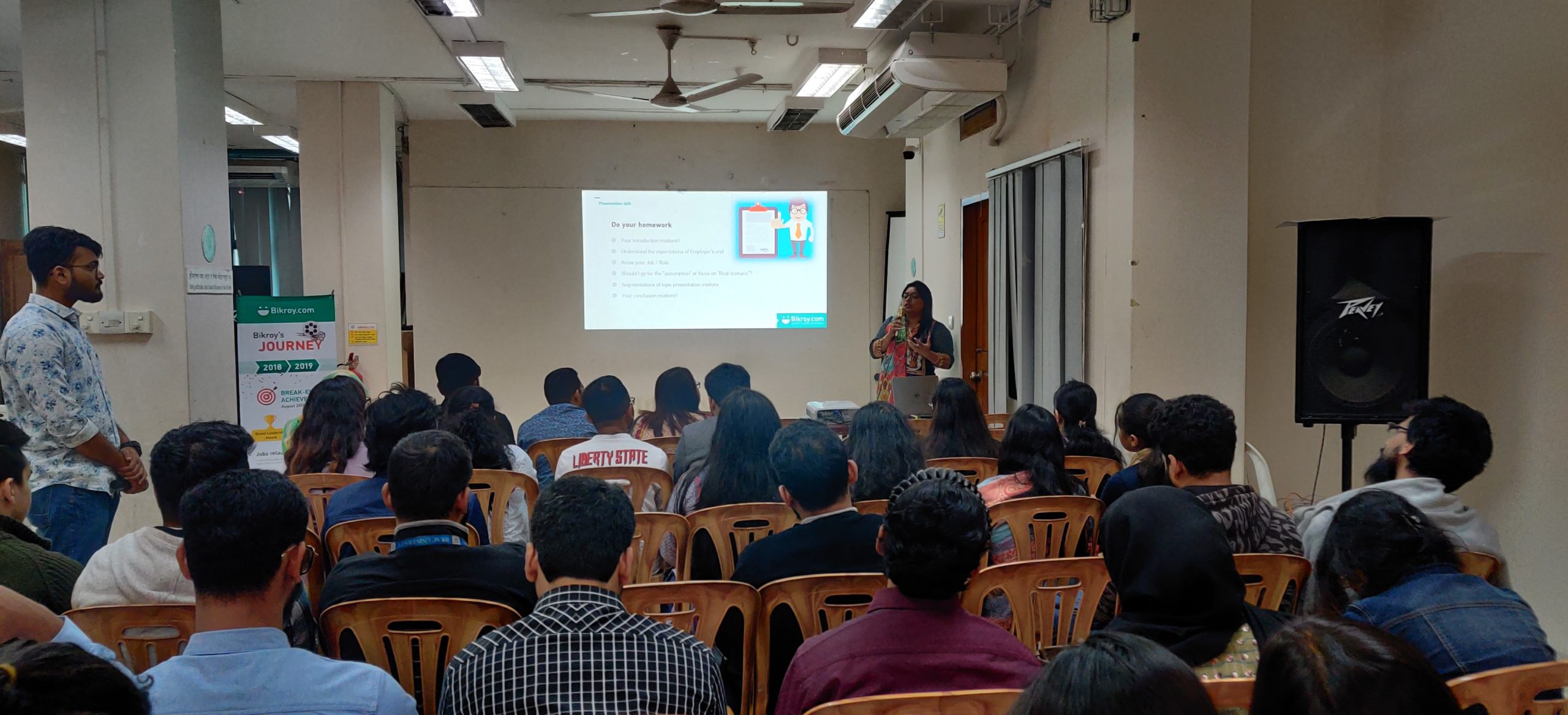 Bikroy.com regularly participates & shares the corporate ideas with the BRACU Students through their PSDP Session. This time also bikroy.com took a session on "Powerpoint Presentation: Interviewer's Expectation vs Reality" with a collaboration of the BRAC University Professional Skills Development Program (PSDP). Ms. Rehenuma Islam, Head of HR & Culture of Bikroy.com was the Guest Speaker. At this session, the students got the idea of how to make a corporate presentation & also how to meet the interviewer's expectation. Around 60 students participated in the session who are going to graduate within a few months. We wish them good luck!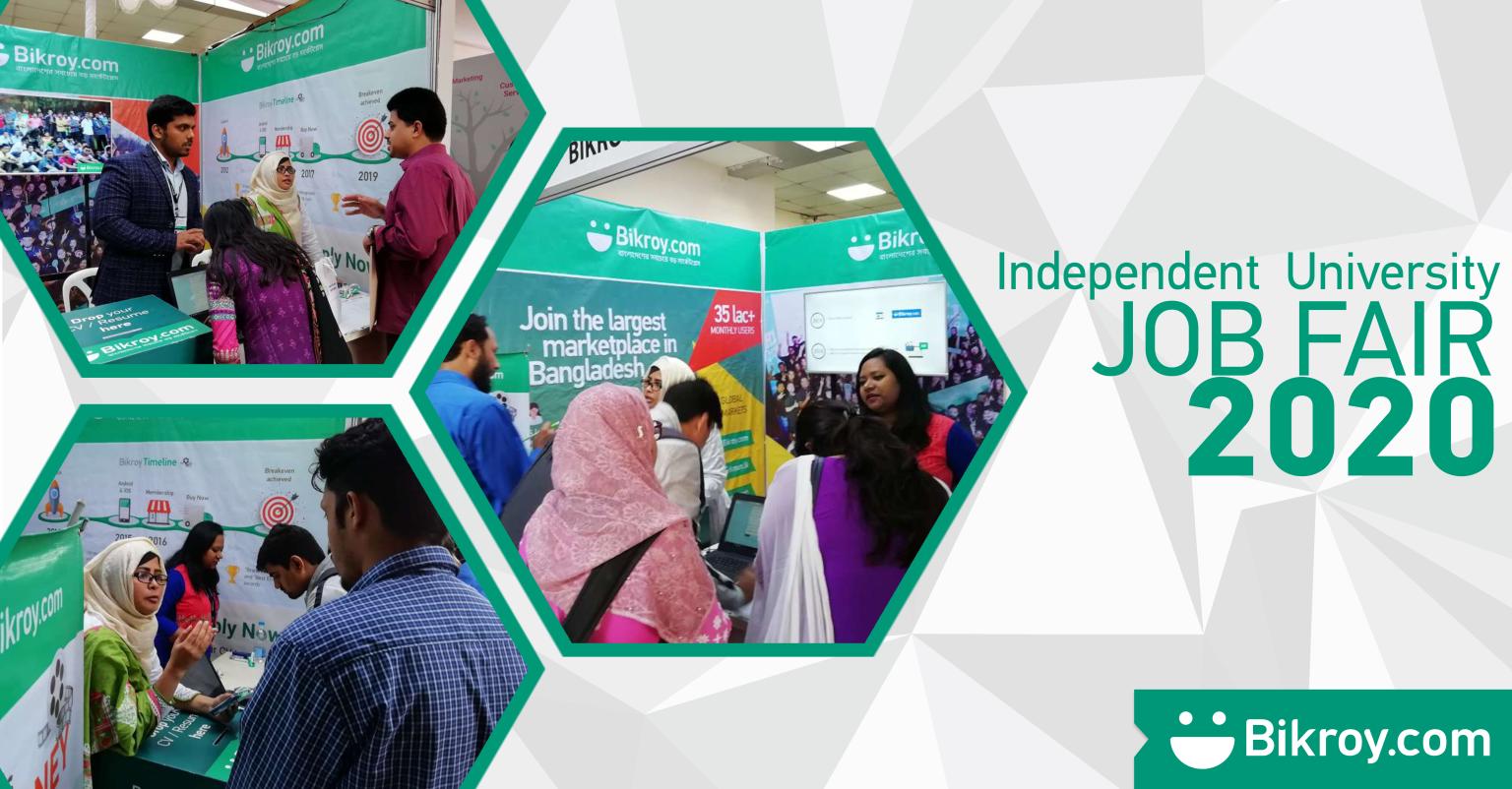 Bikroy.com HR team spent a great day at IUB Job Fair 2020 on February 11, 2020. We met the graduates and shared our ongoing opportunities with them & also gave suggestions regarding how they can start their careers.
United International University National Job Fair 2020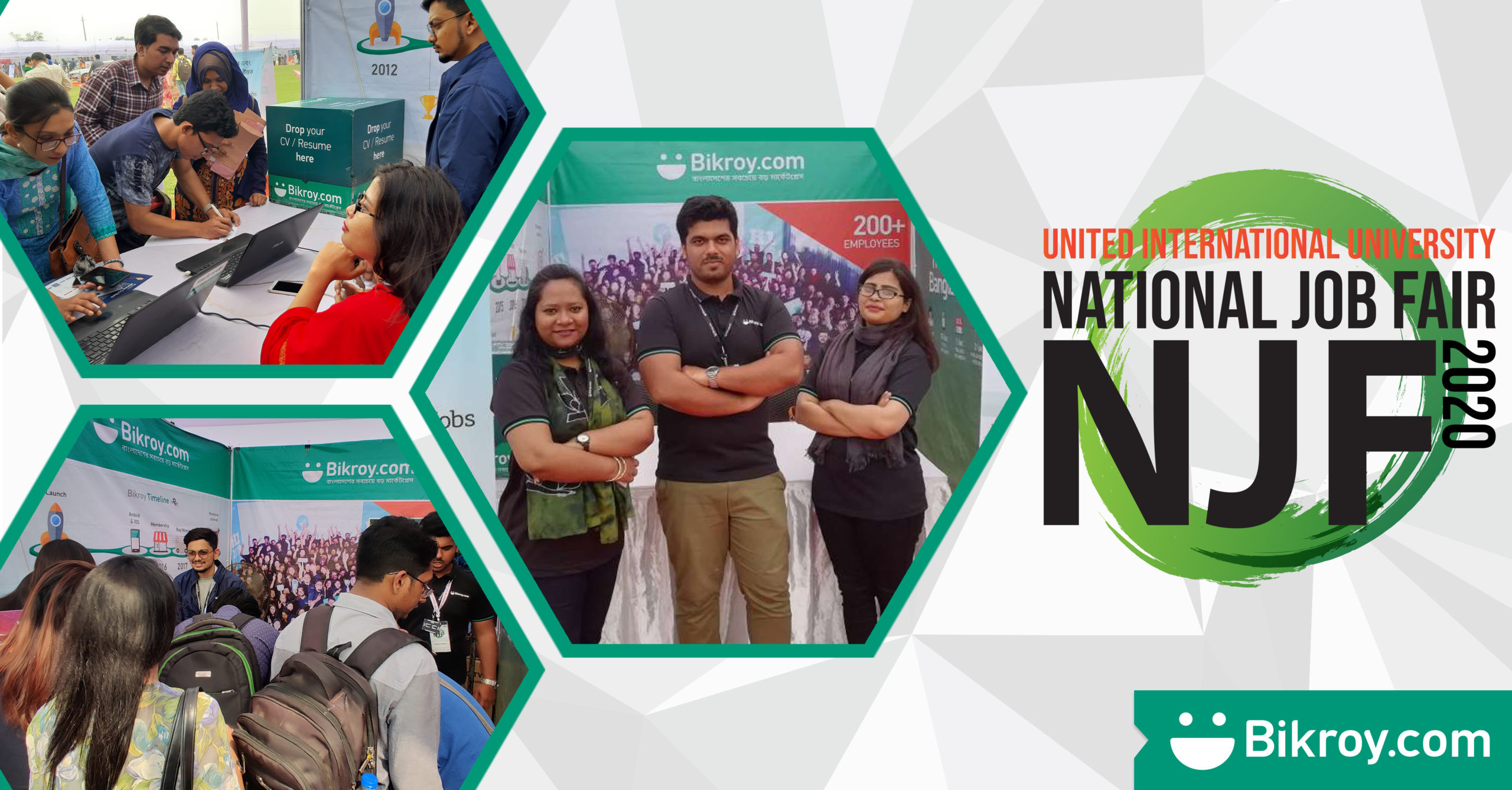 Bikroy.com team participated at United International University National Job Fair 2020 on February 23 & 24, 2020 to find potential talents for our organization. We got a huge response from the fresh graduates & also other job seekers at the Career Fair who showed their interest to work with us, the country's largest online marketplace.
Webinar on "Preparation for the Job Market" at United International University: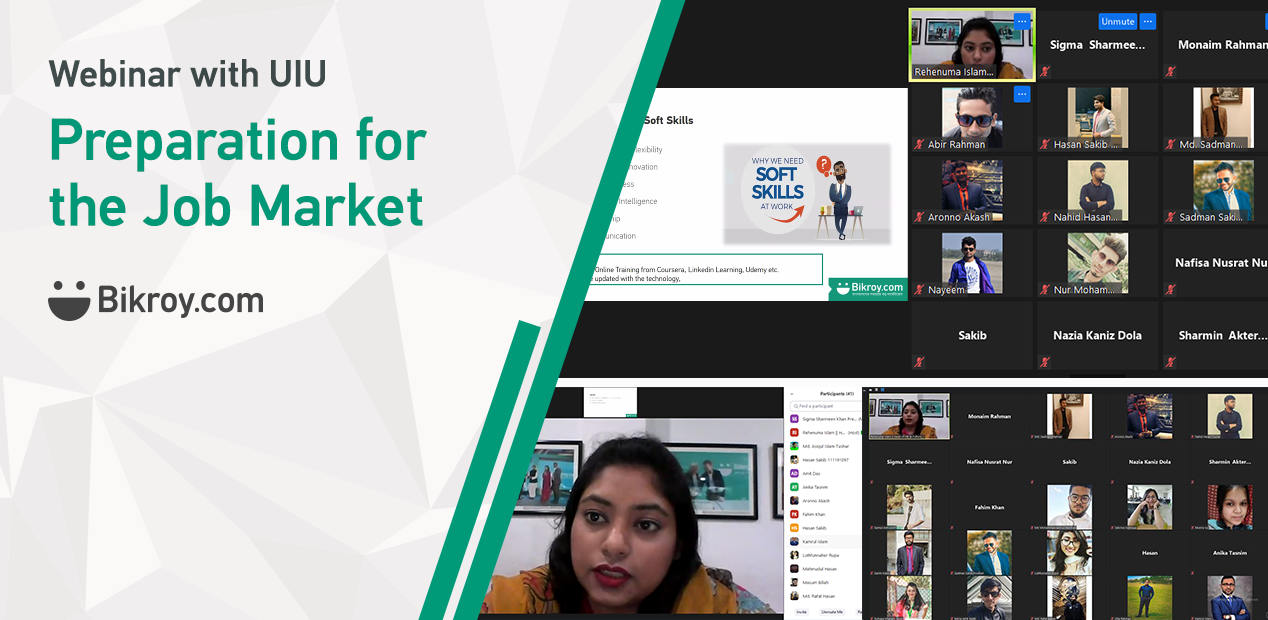 Bikroy.com regularly works for talent development with different universities. This time also Bikroy took an online session on "Preparation for the Job Market" with a collaboration of the United International University HR Forum. Ms. Rehenuma Islam, Head of HR & Culture of Bikroy.com was the Guest Speaker. At this session, the students got an idea about the current job market scenario & also got suggestions on how they can prepare themselves for the job market in this new normal situation. Around 65 students participated in this online session who are going to graduate within a few months. We wish them good luck!
Interview Session on IUB Internship: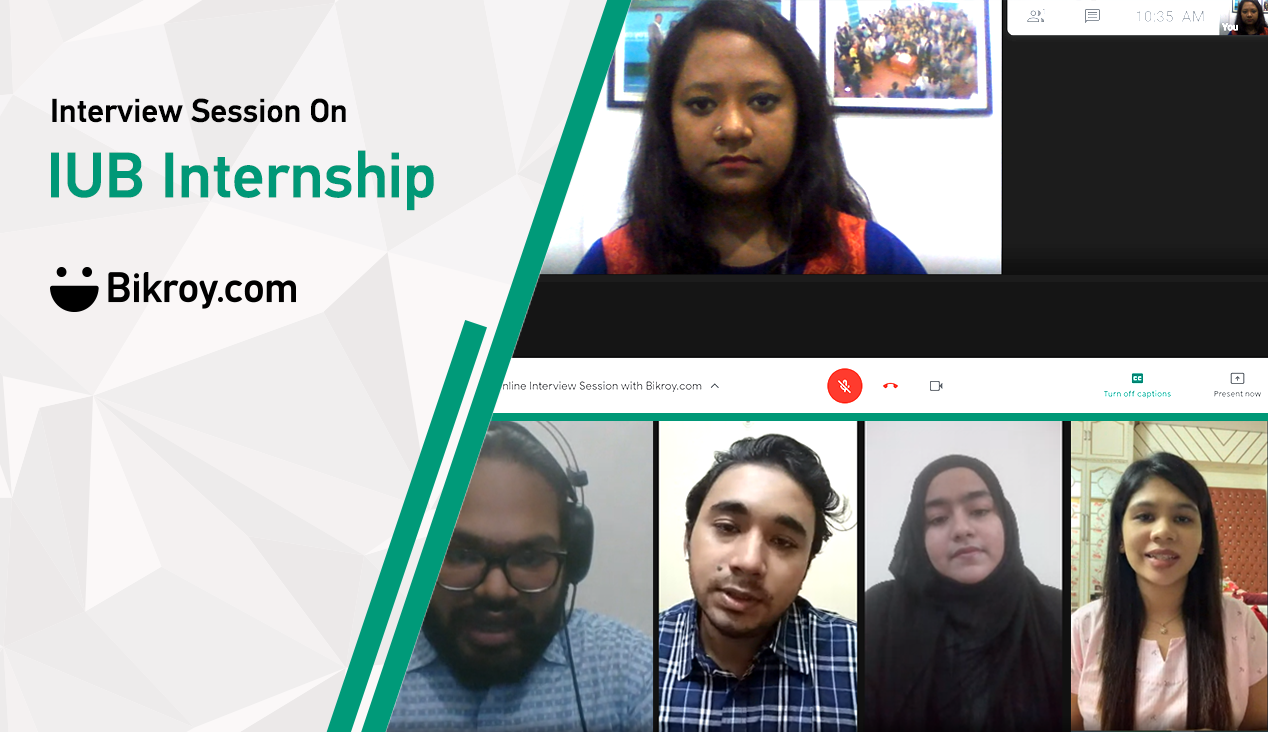 Bikroy.com HR team regularly participates in the IUB Internship Interview Session with the collaboration of IUB School of Business to hire interns for the organization. Considering the current situation, this time IUB arranged an online interview session. We got very good responses from the students who are available for internships. We also discussed the required skills of the current job market and gave career advice to the students.
Creating a winning culture:
At Bikroy.com, we believe in rewarding our employees for their hard work. We have monthly & half-yearly Employee rewards, such as "Employee/ Team of the Month", "Half Yearly Awards" & "Annual Value Awards". It plays a major role in attracting and retaining talent within the organization. Some glimpses of such rewards are shown below:
Employee/ Team of the Month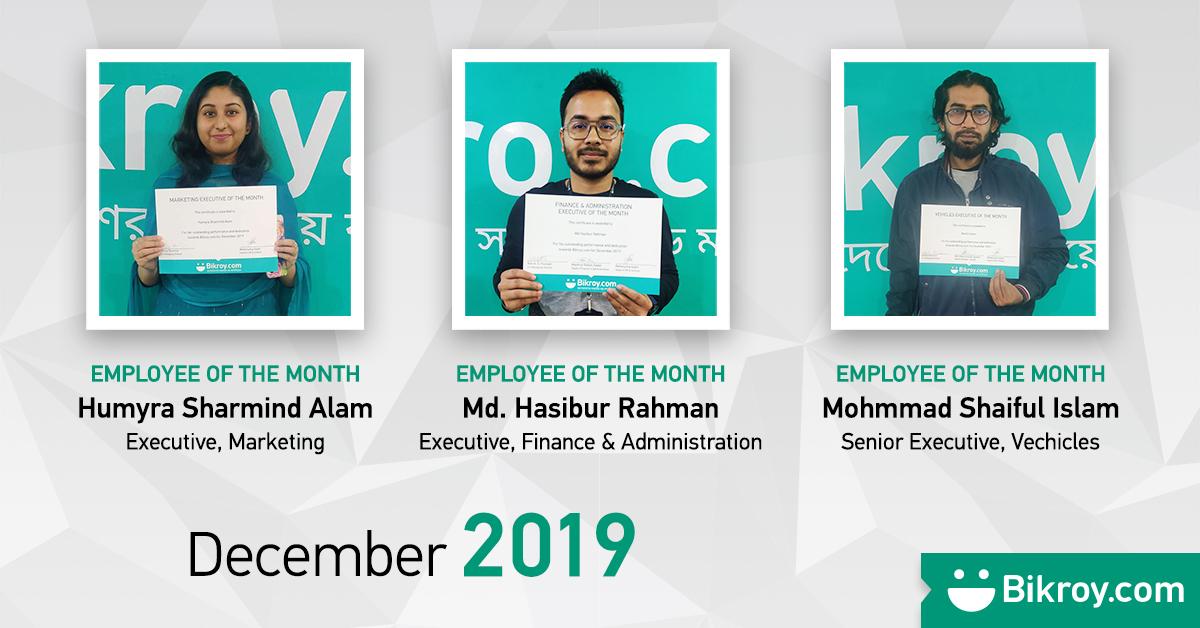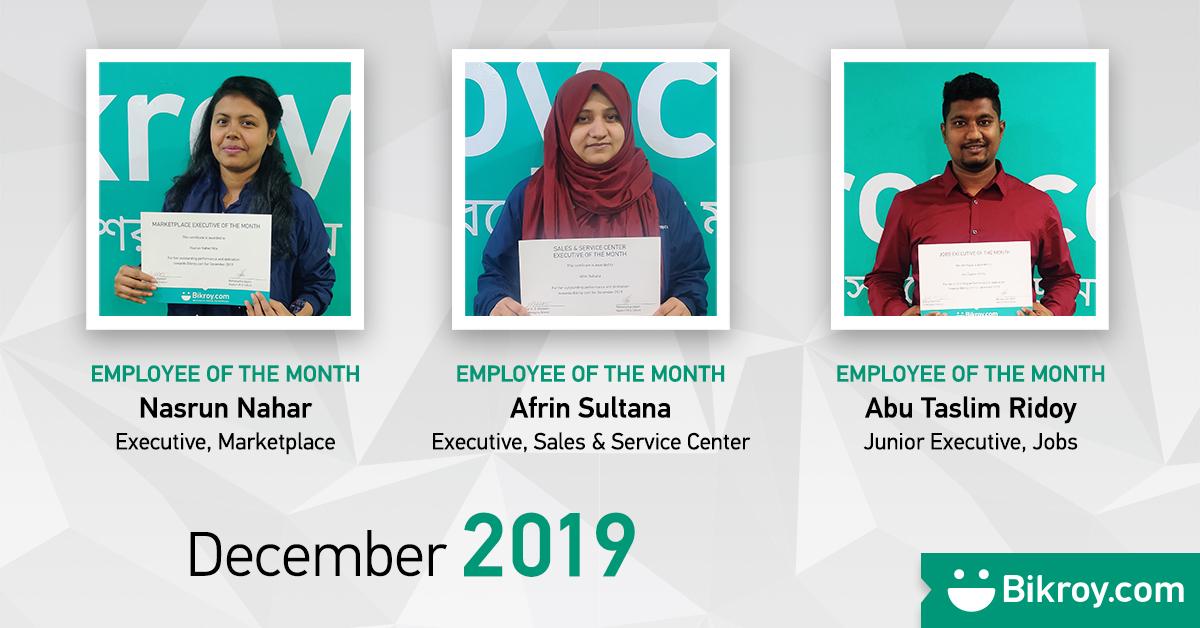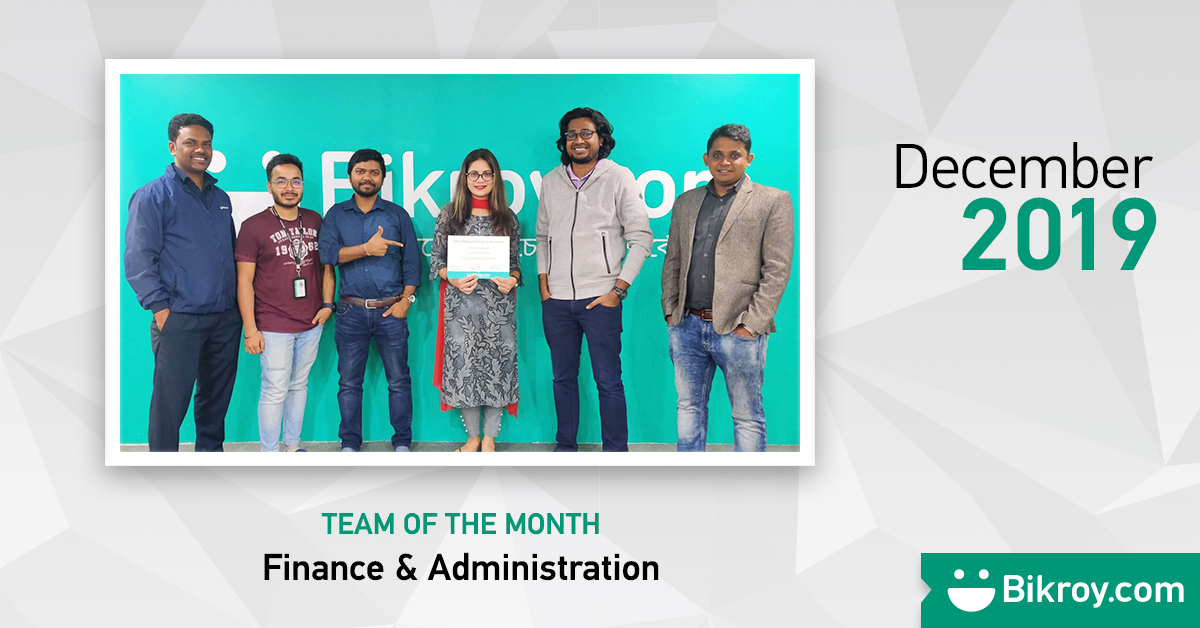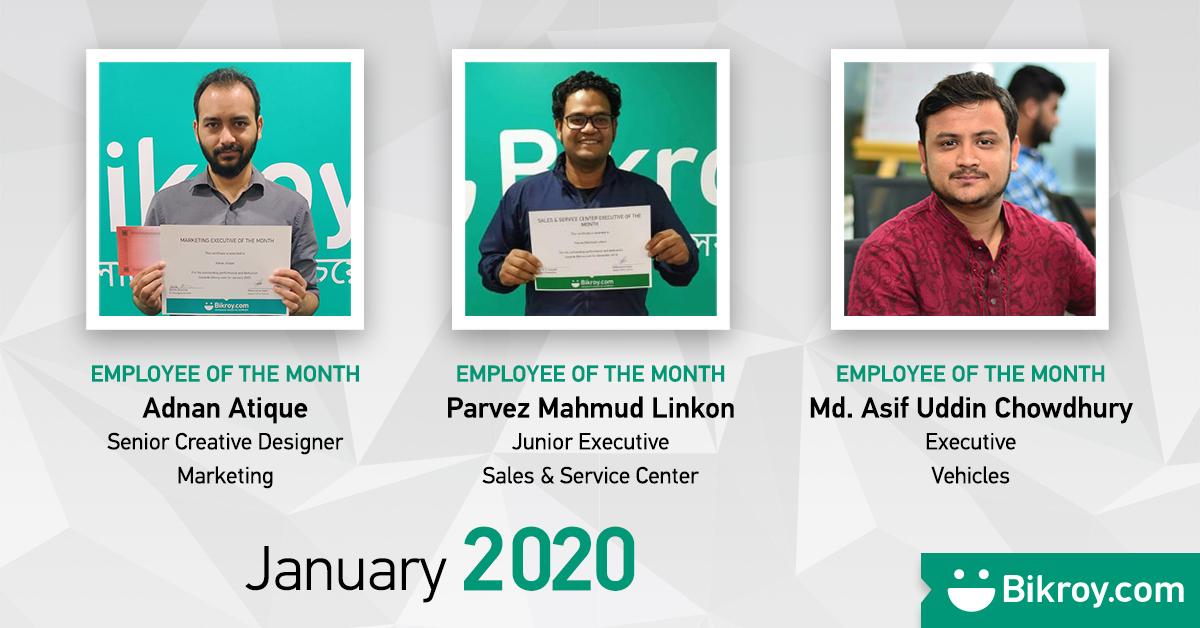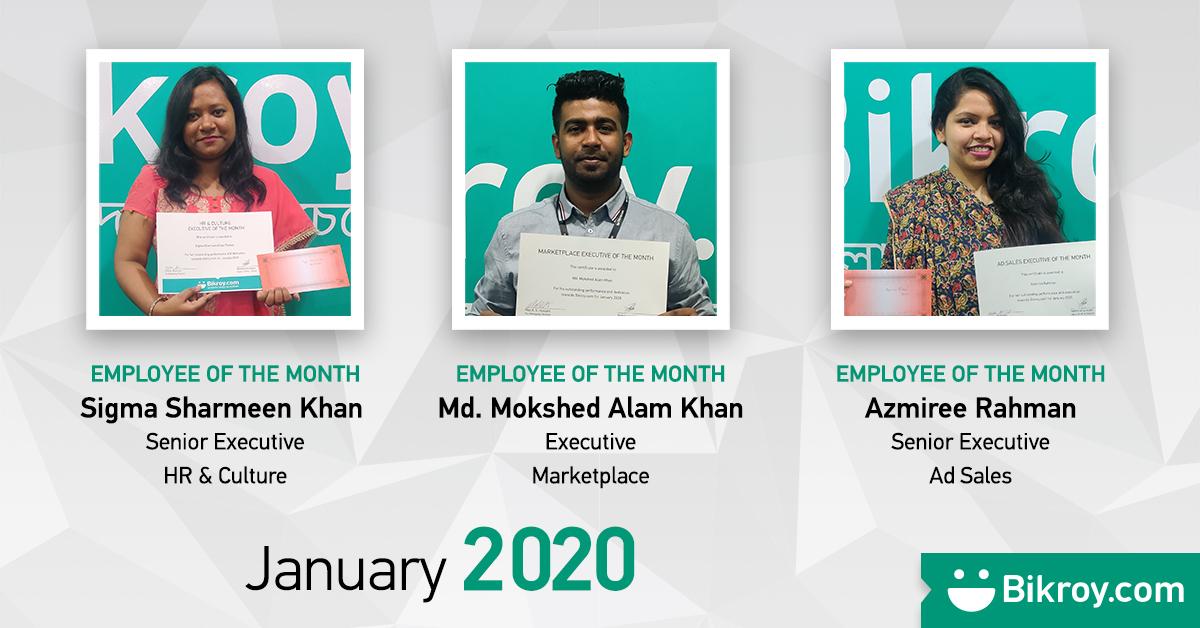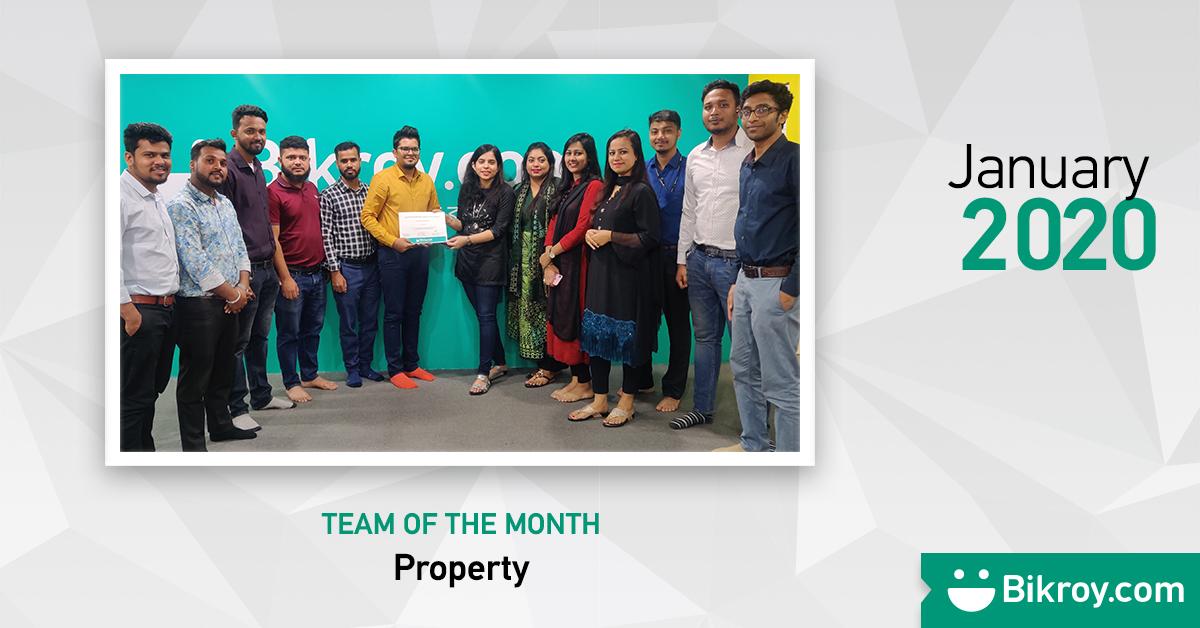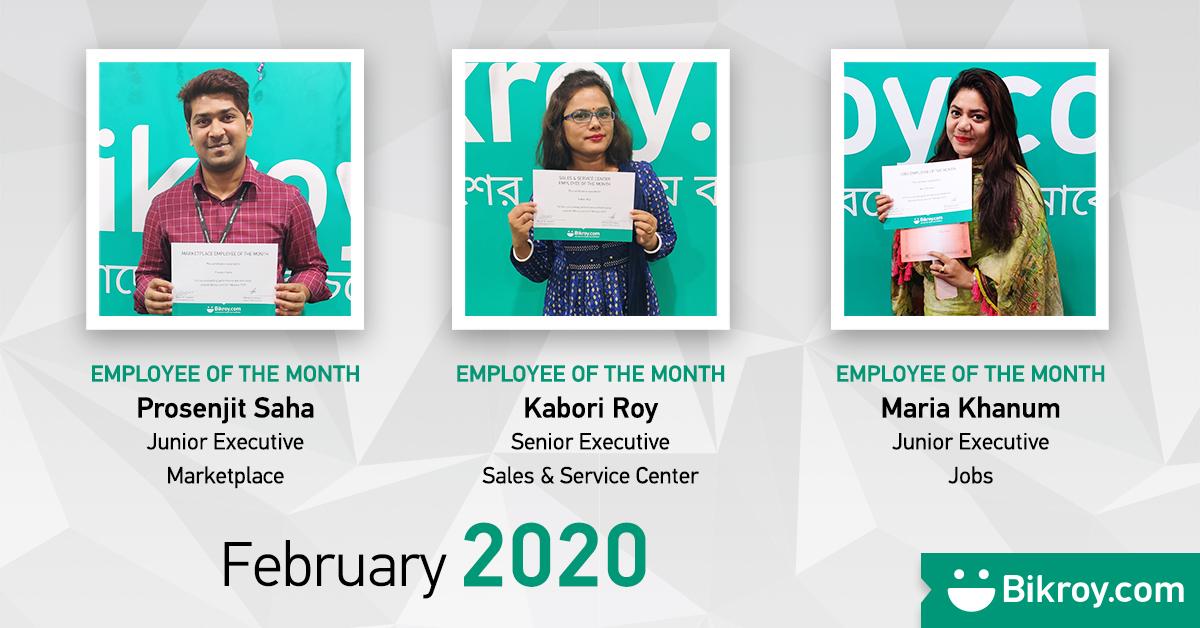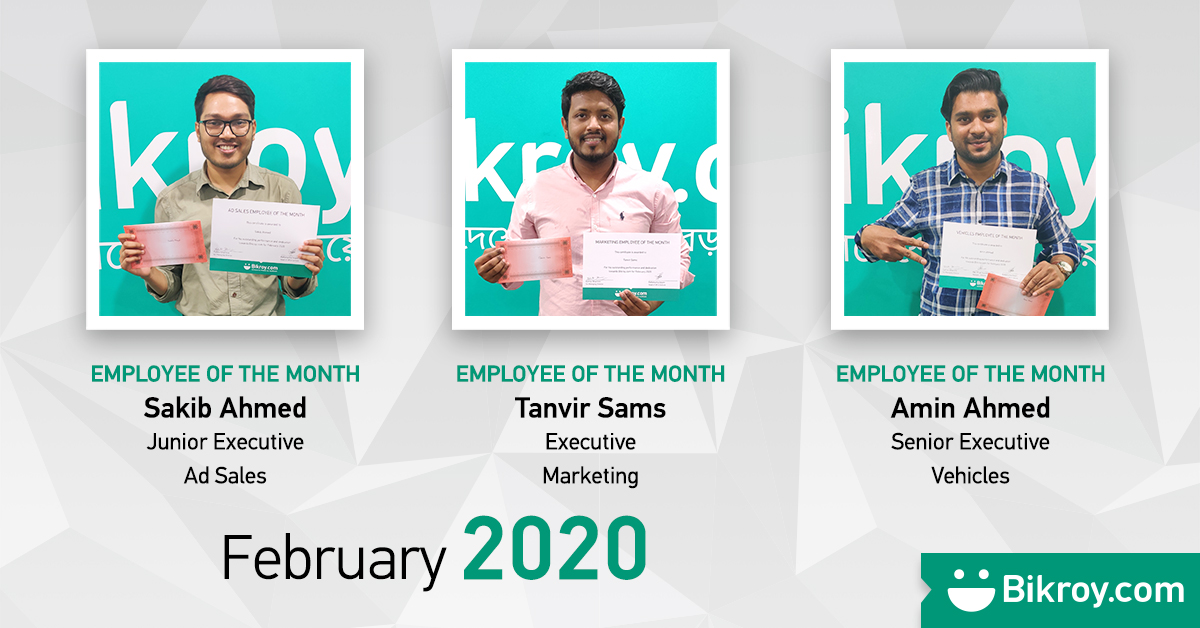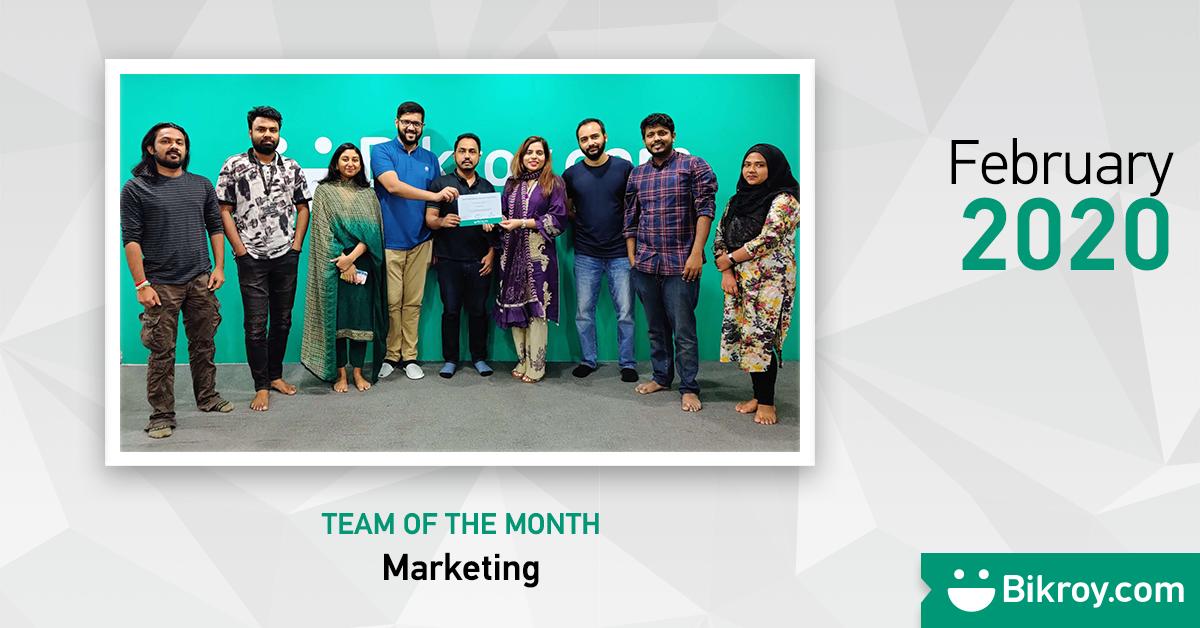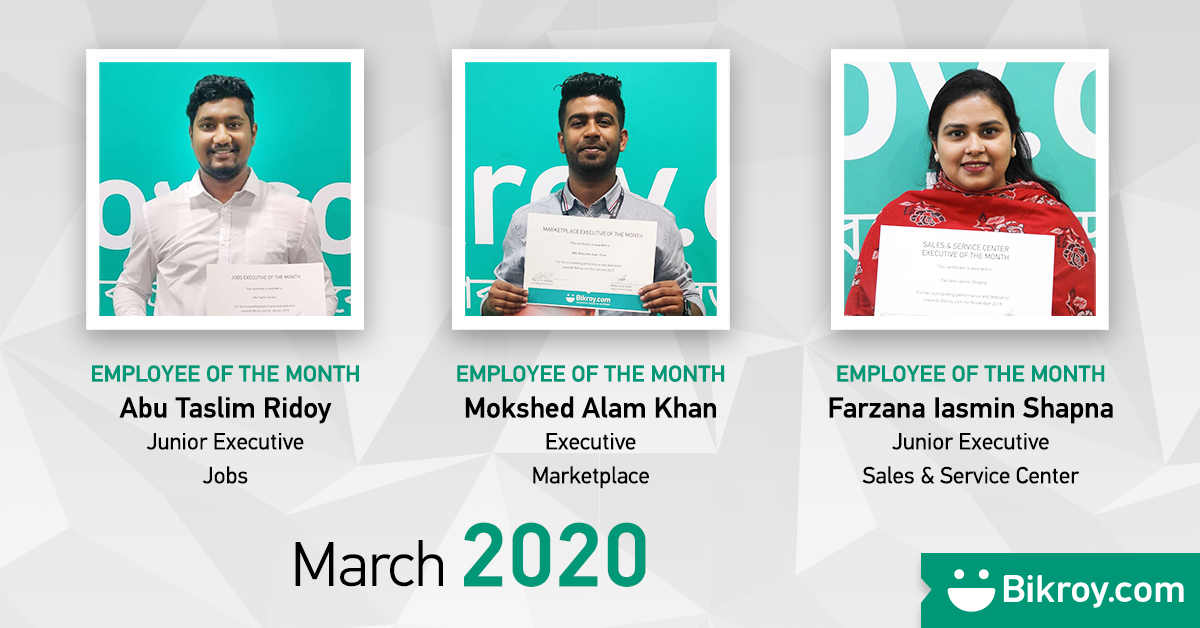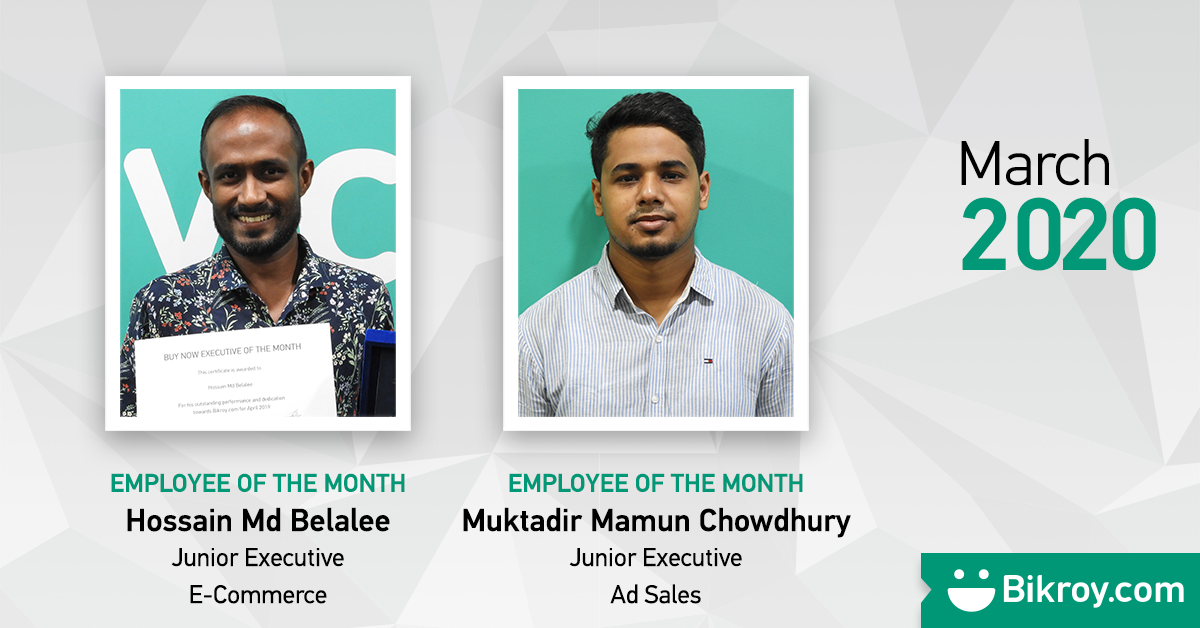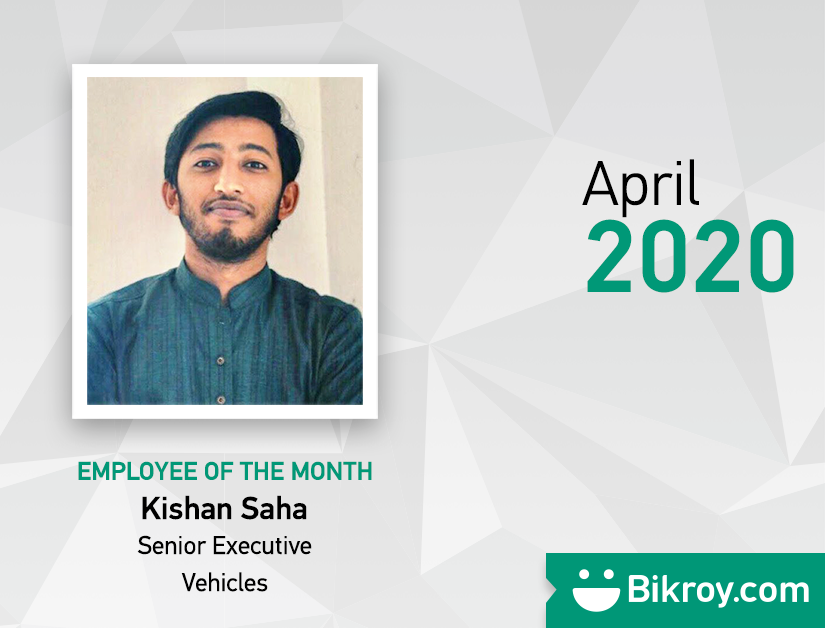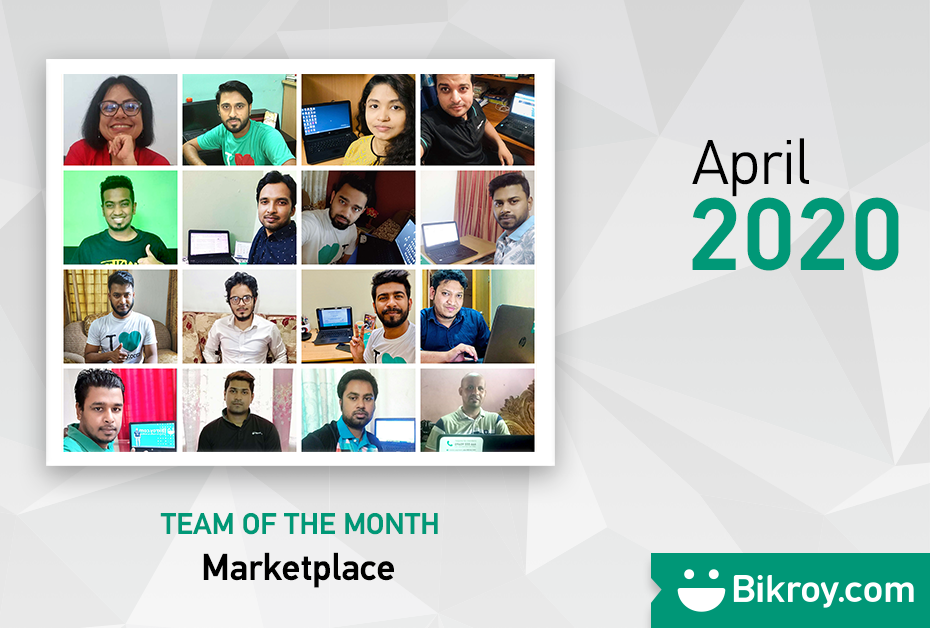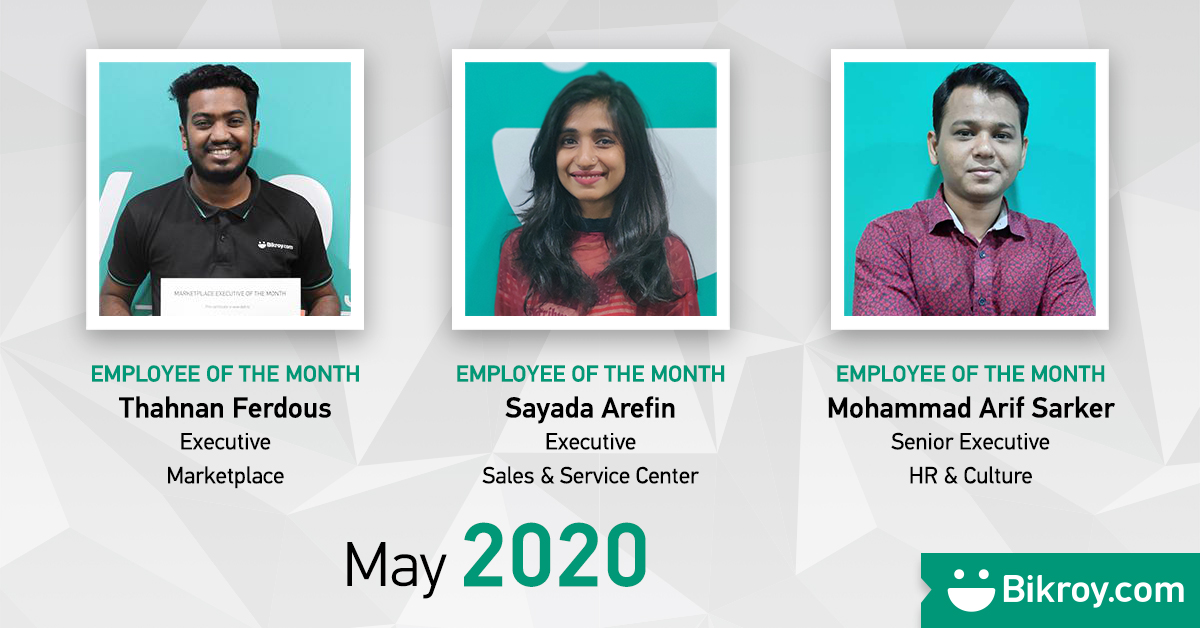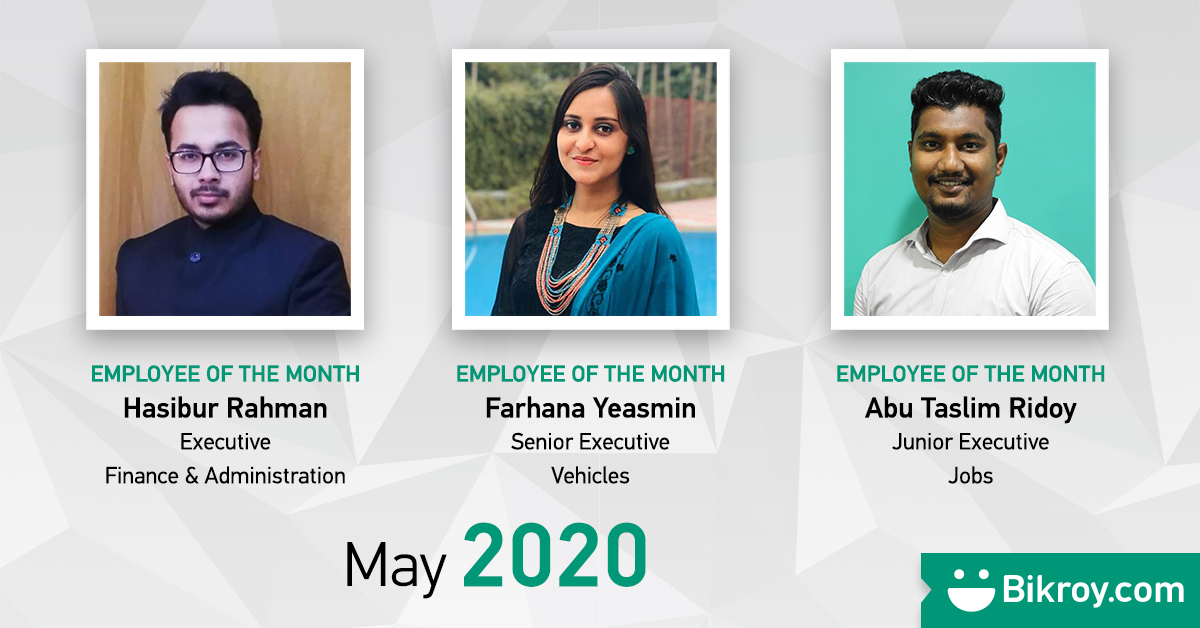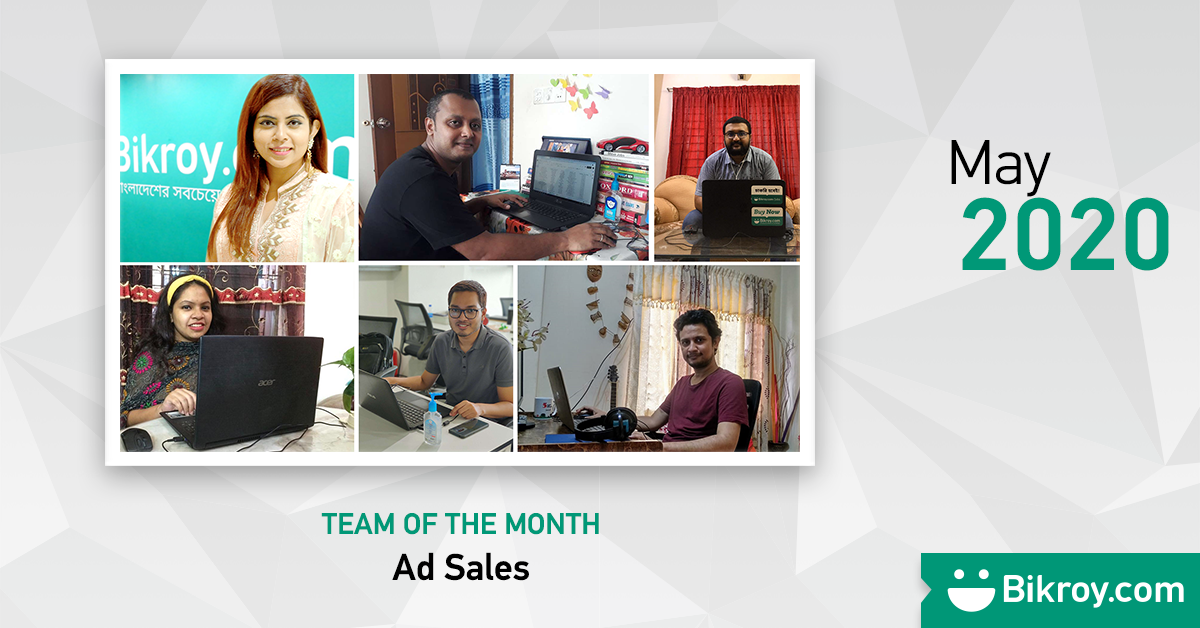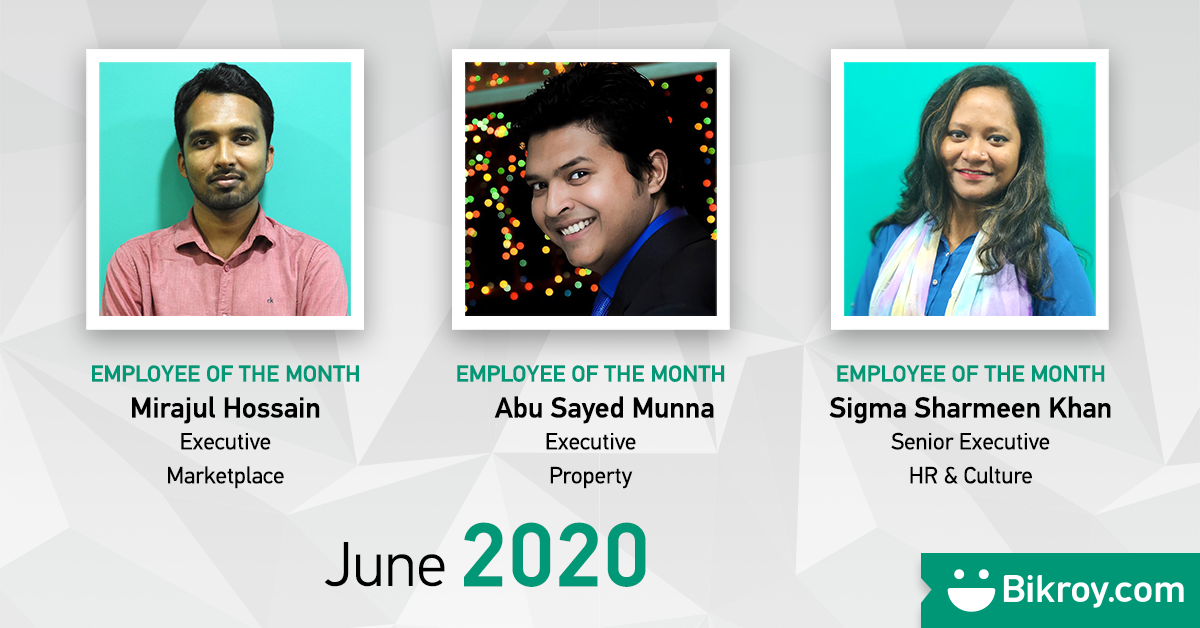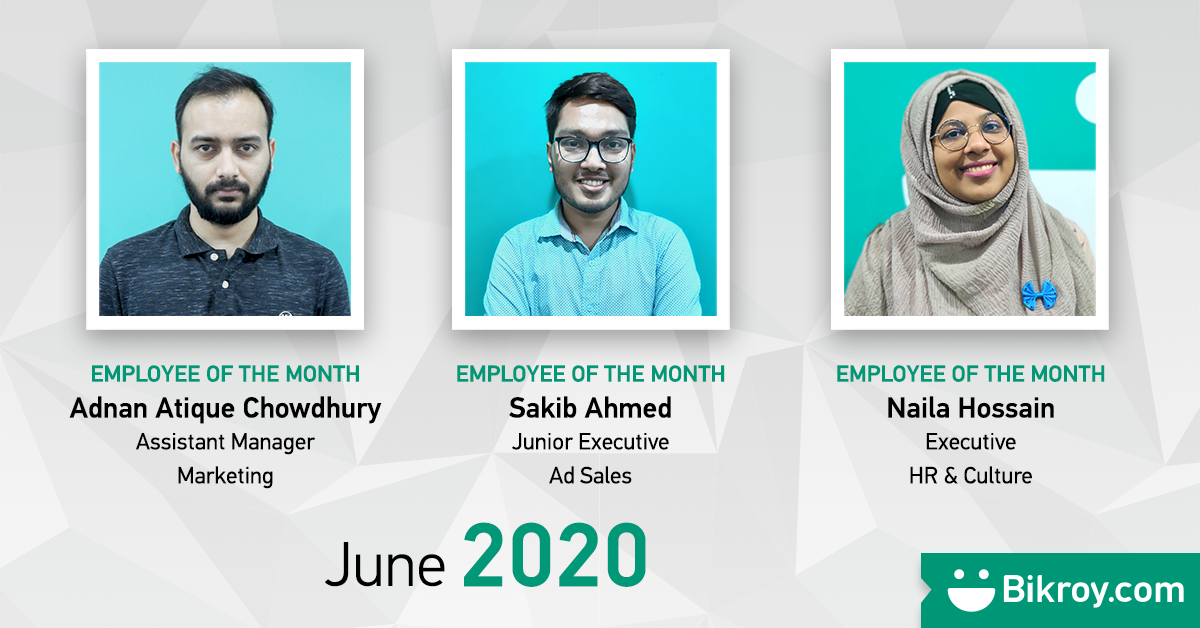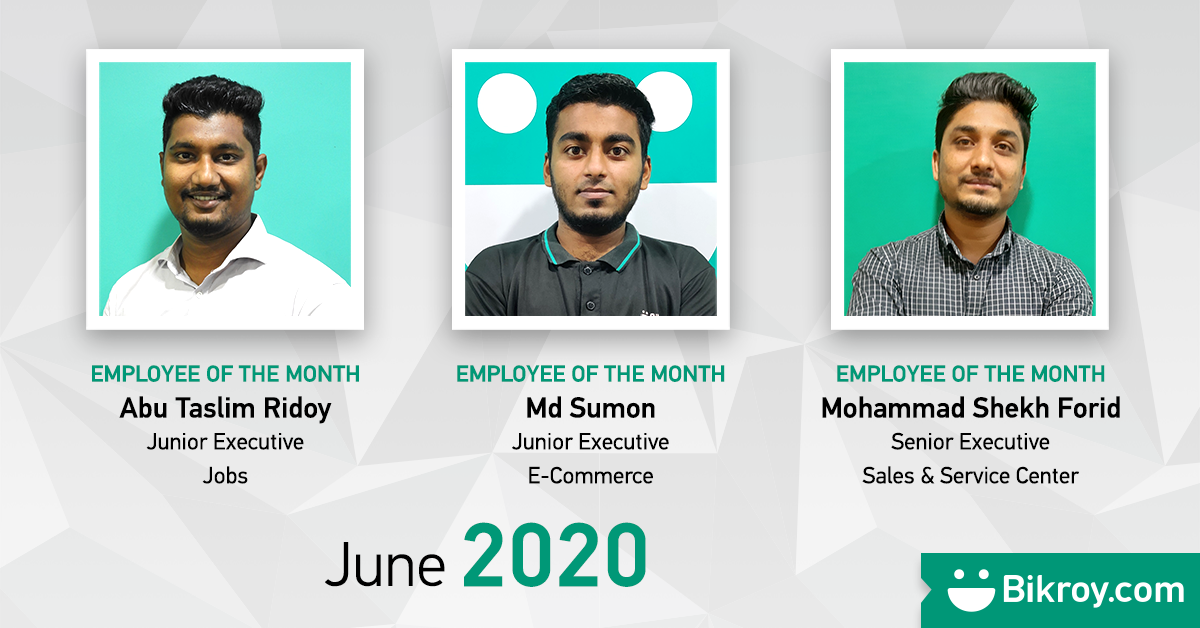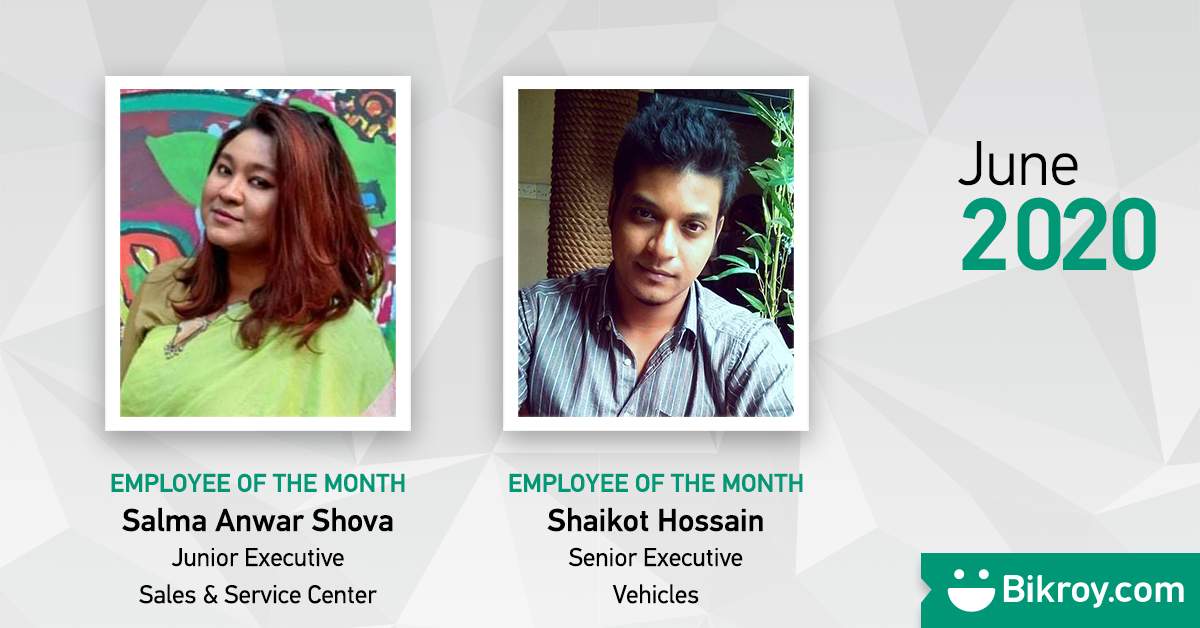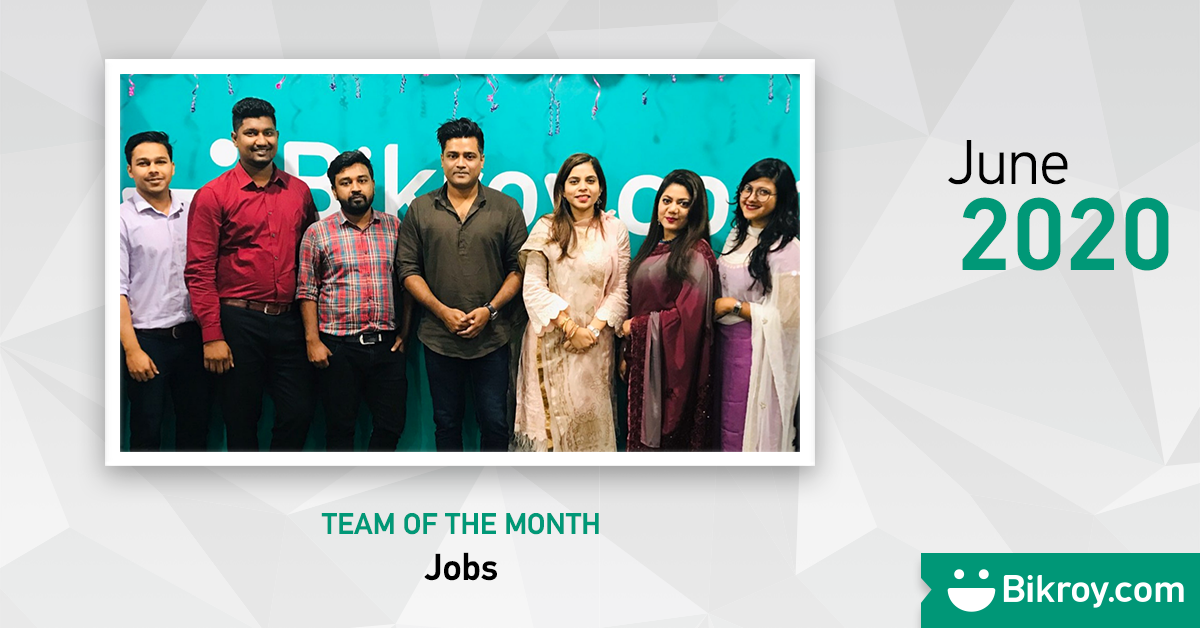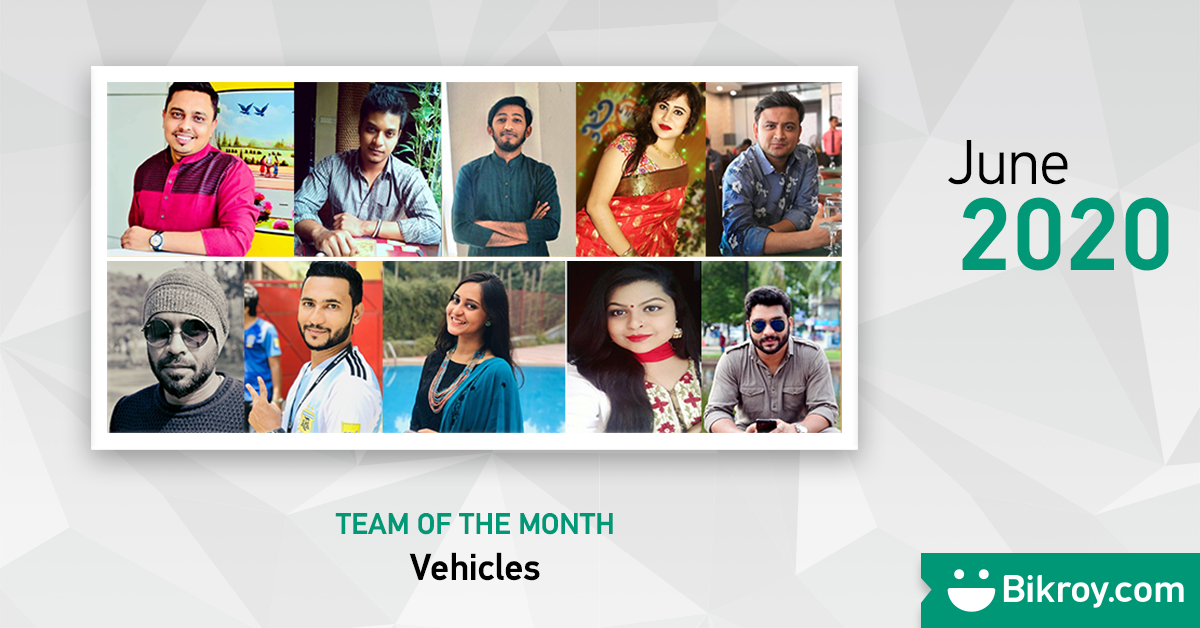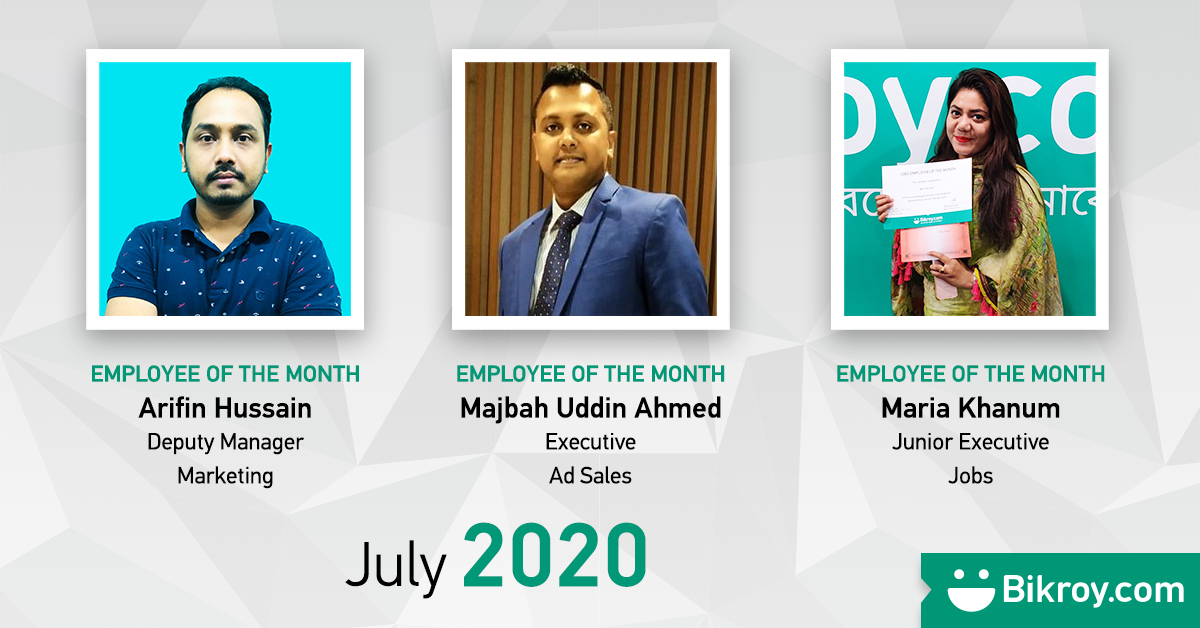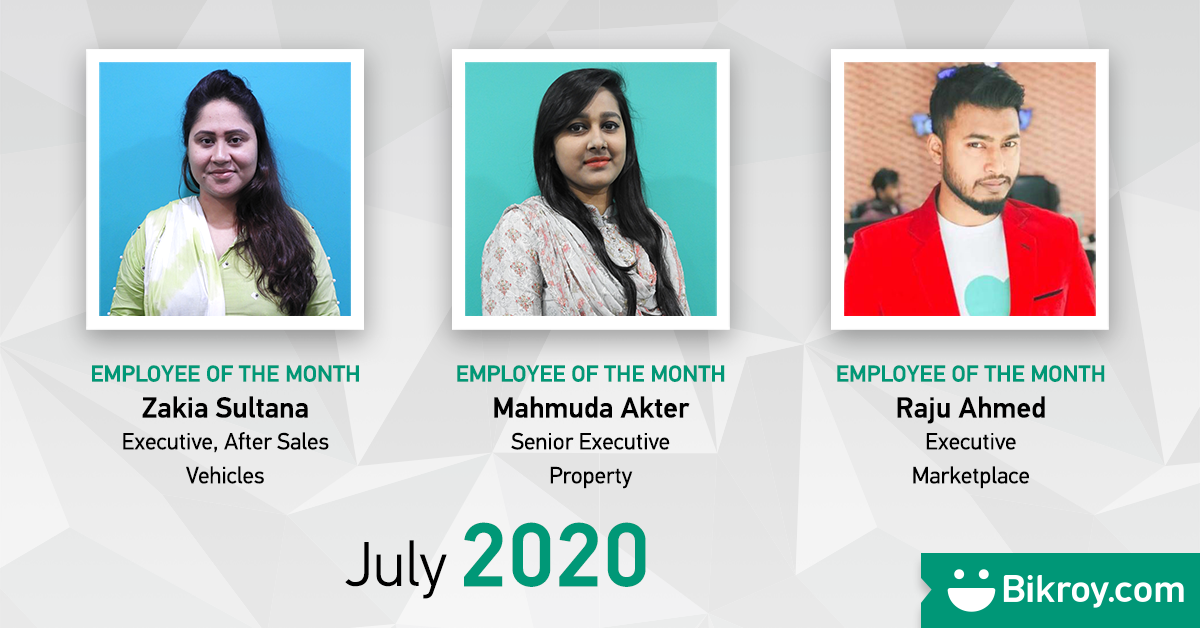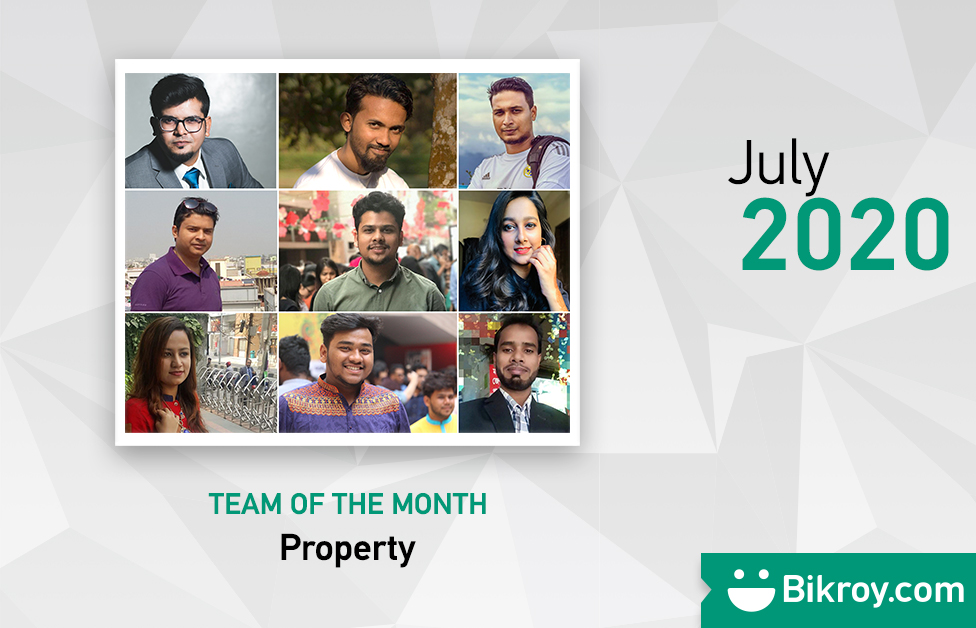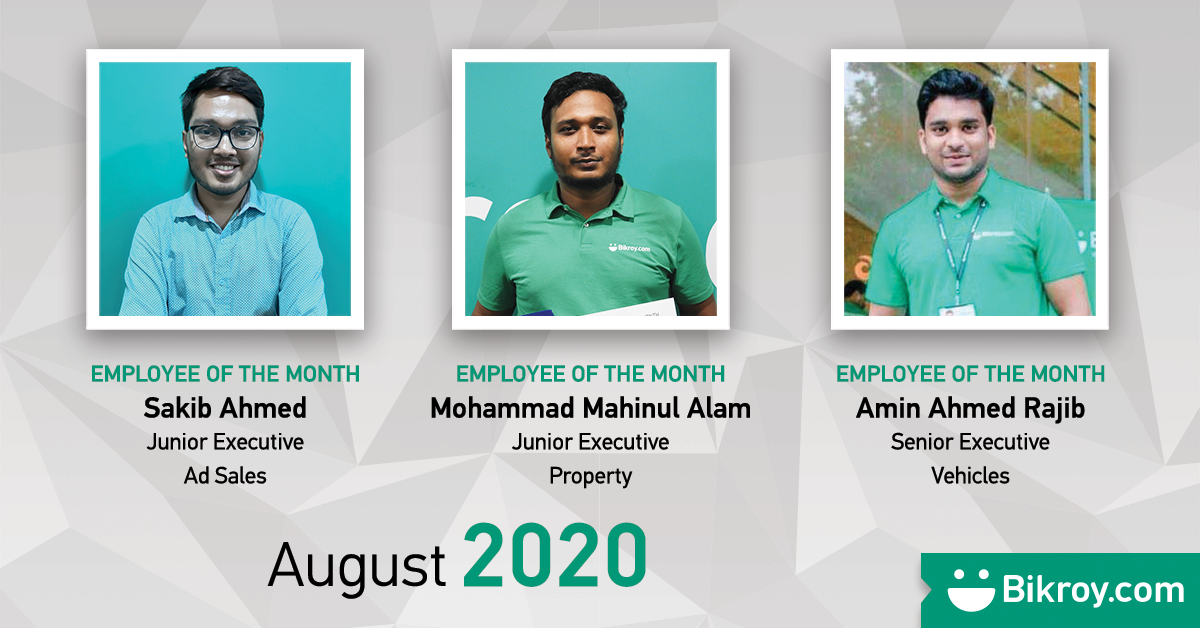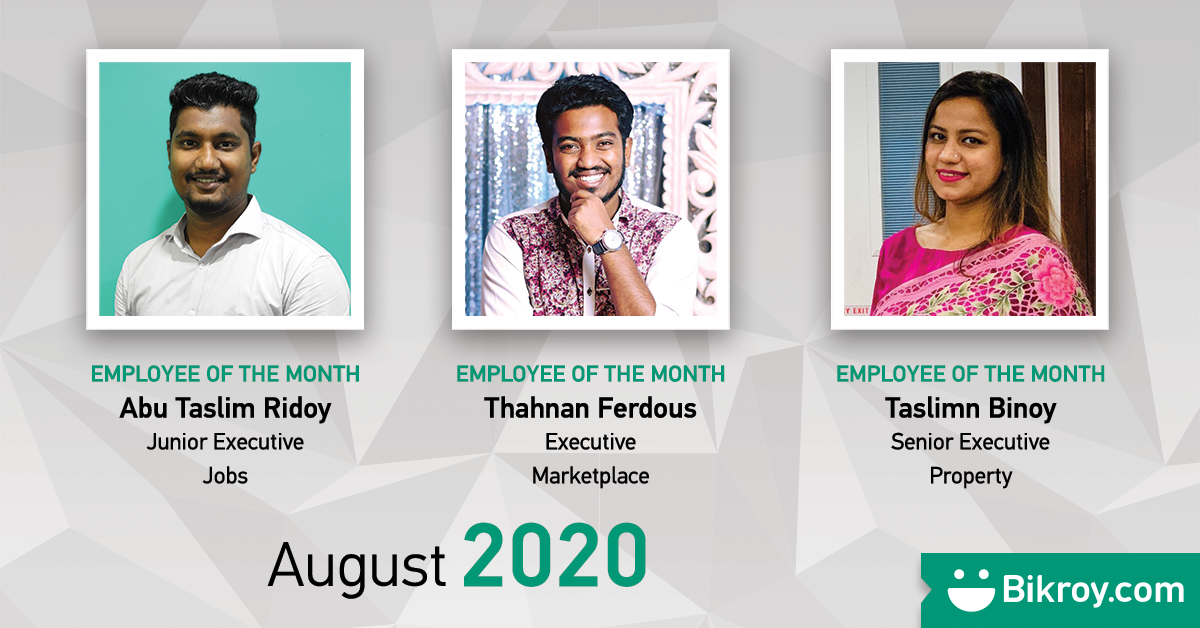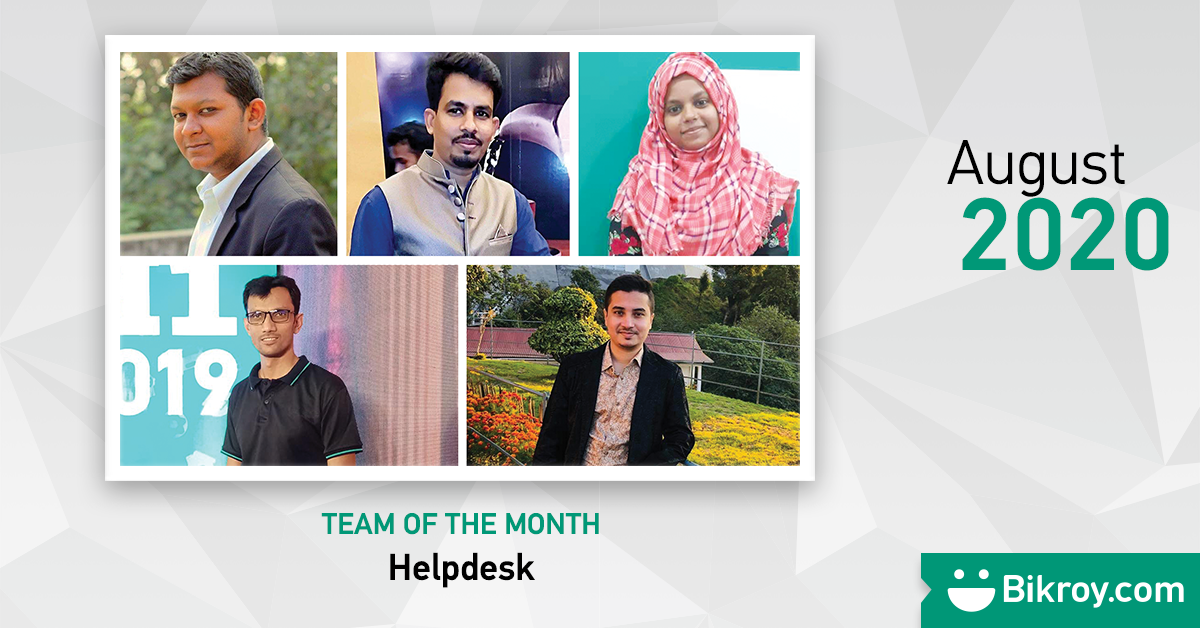 This is the most awaited event for the employees. Bikroy rewards the employees and teams on their monthly target achievements. The best performing employees & teams are recognized for their hard work and achievement.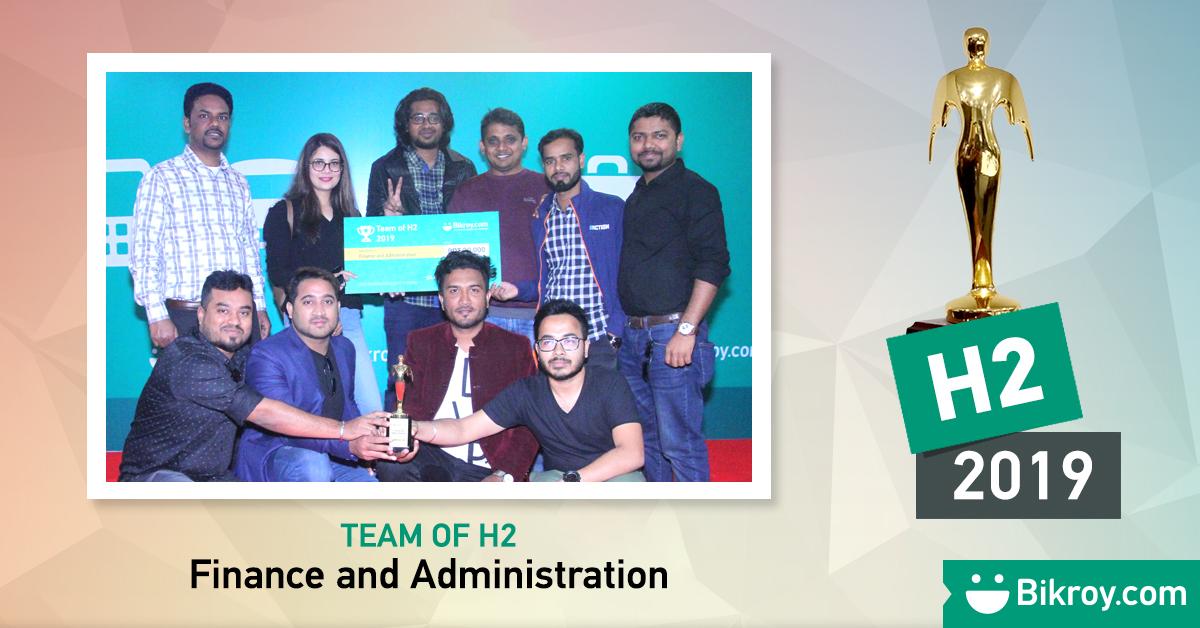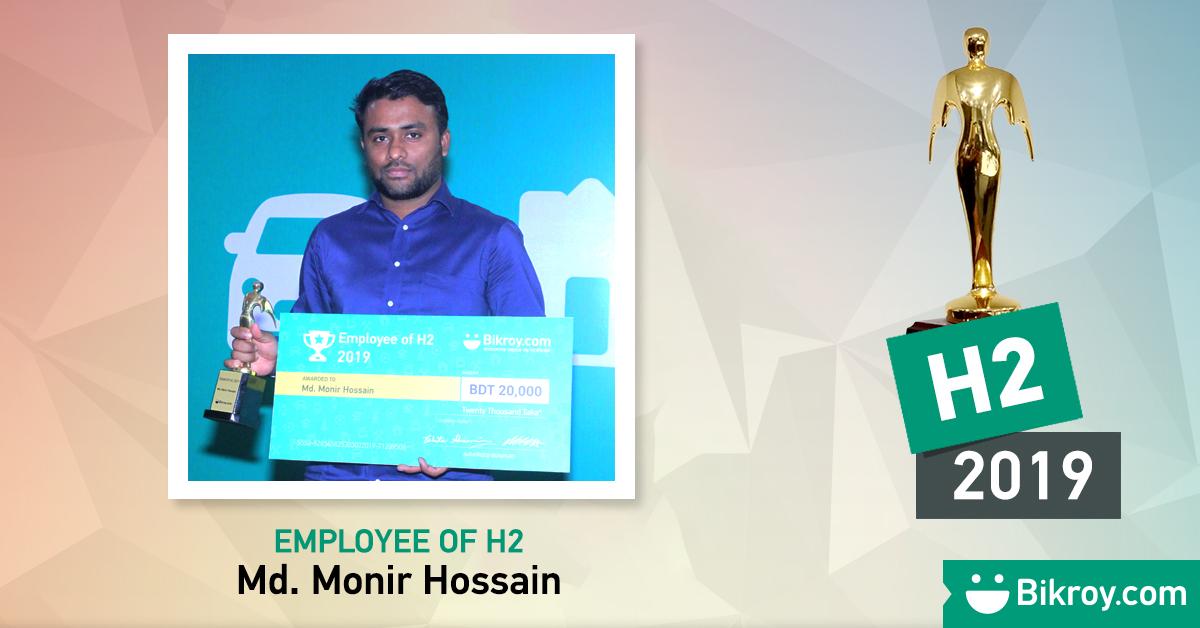 These are half-yearly recognition for employees & teams who have performed their best and achieved targets.
Saltside Value Award 2019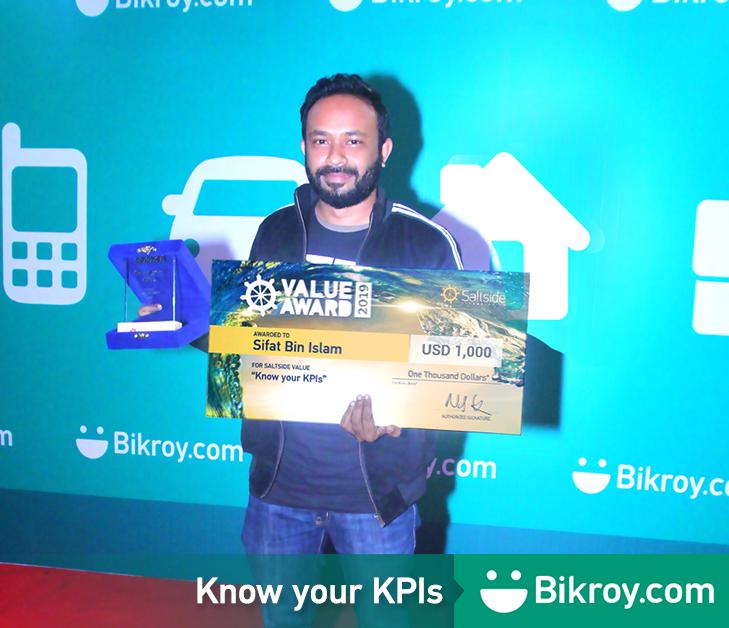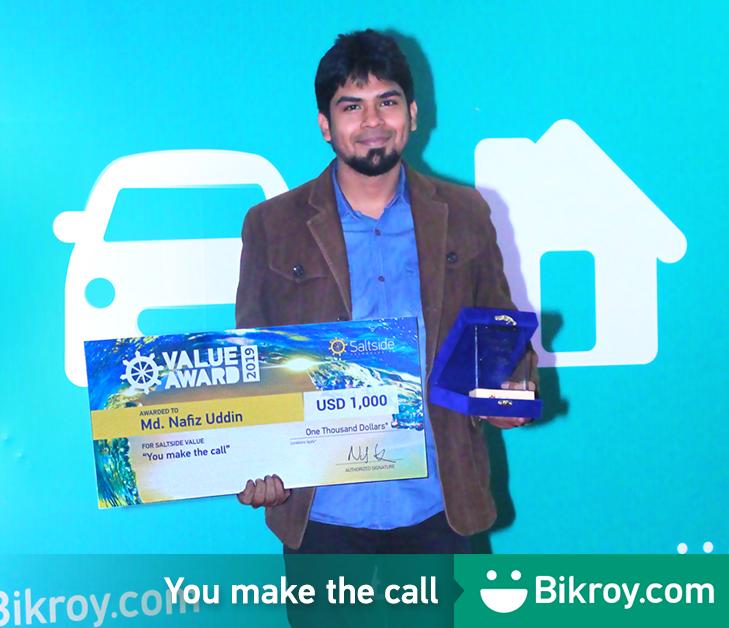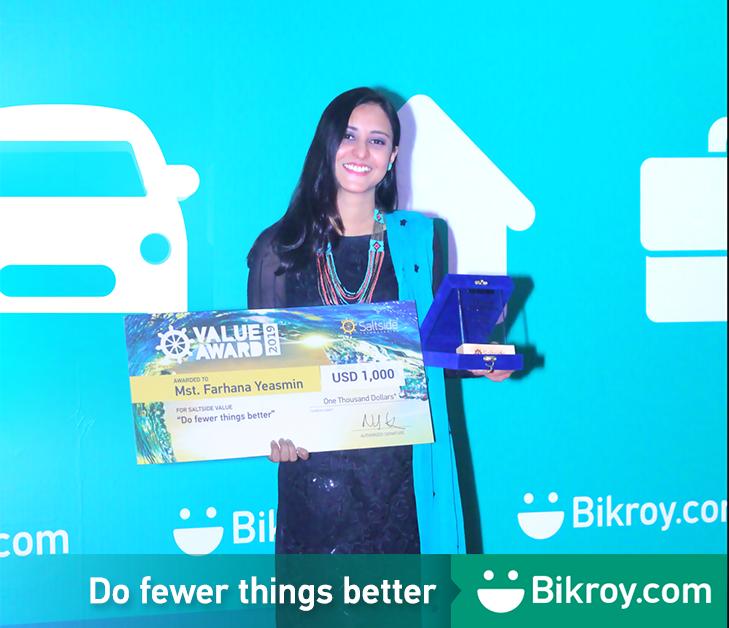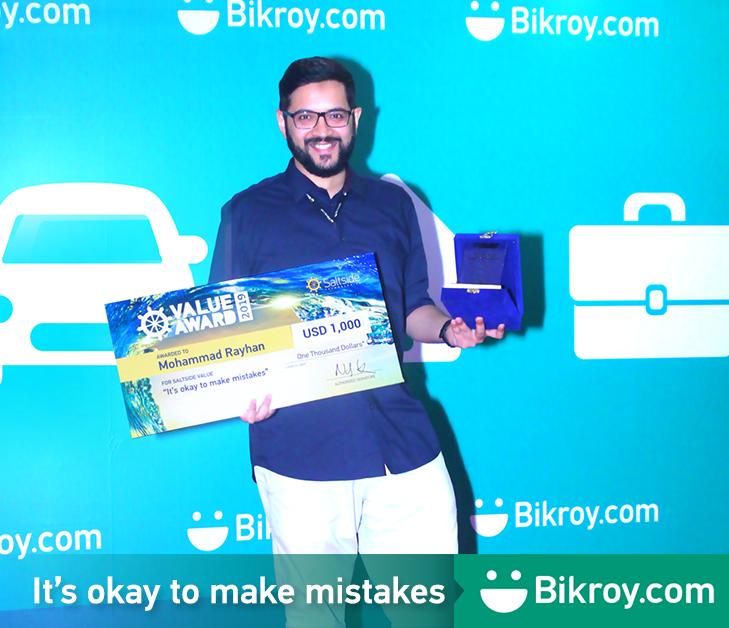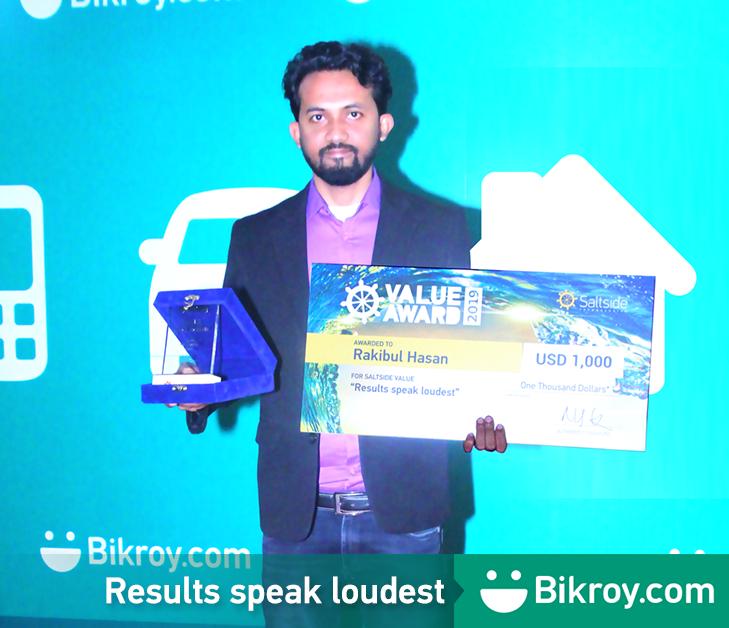 Each Year, Saltside Technologies Ltd, offers a special "Value Awards" series for the employees of all Saltside Offices. These people are selected based on who best represents one of our 05 Saltside values, from any of our offices (Bikroy.com is one of the subsidiaries of Saltside Technologies Ltd.) and departments. At Bikroy.com, we believe that employees who follow the organizational values and culture contribute to the development of the organization are the winners. 2019's Value Award winners were: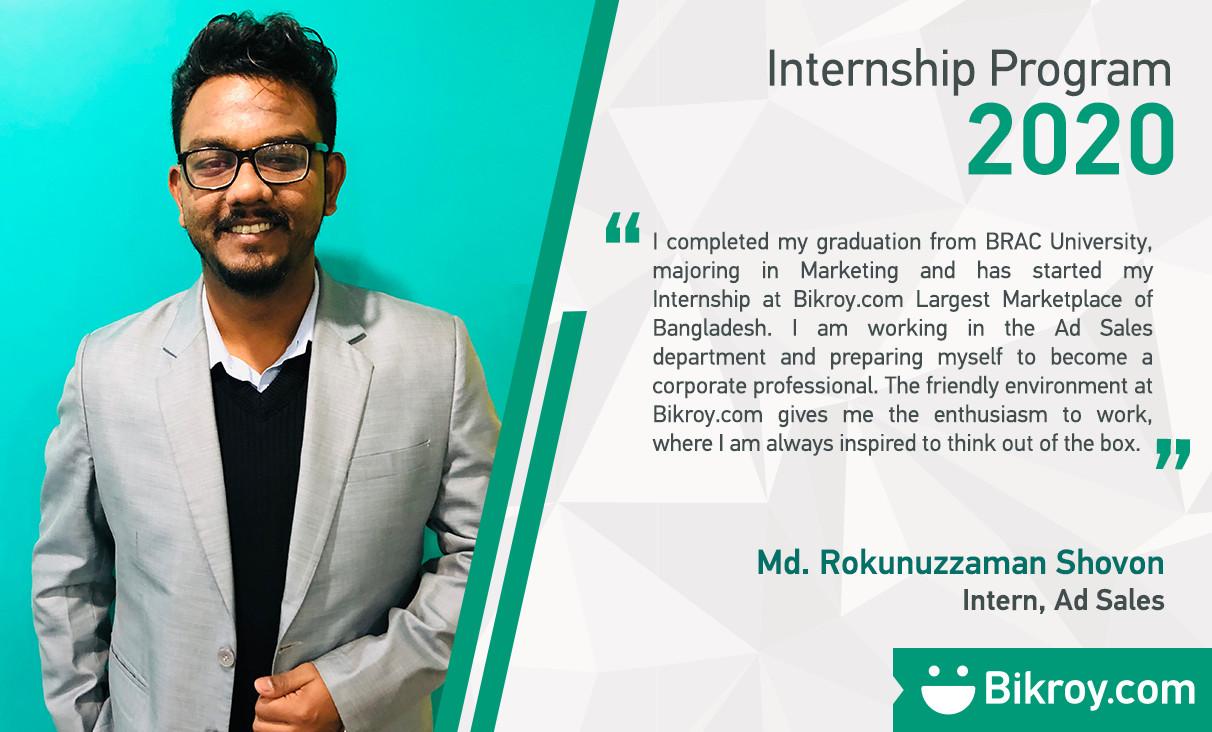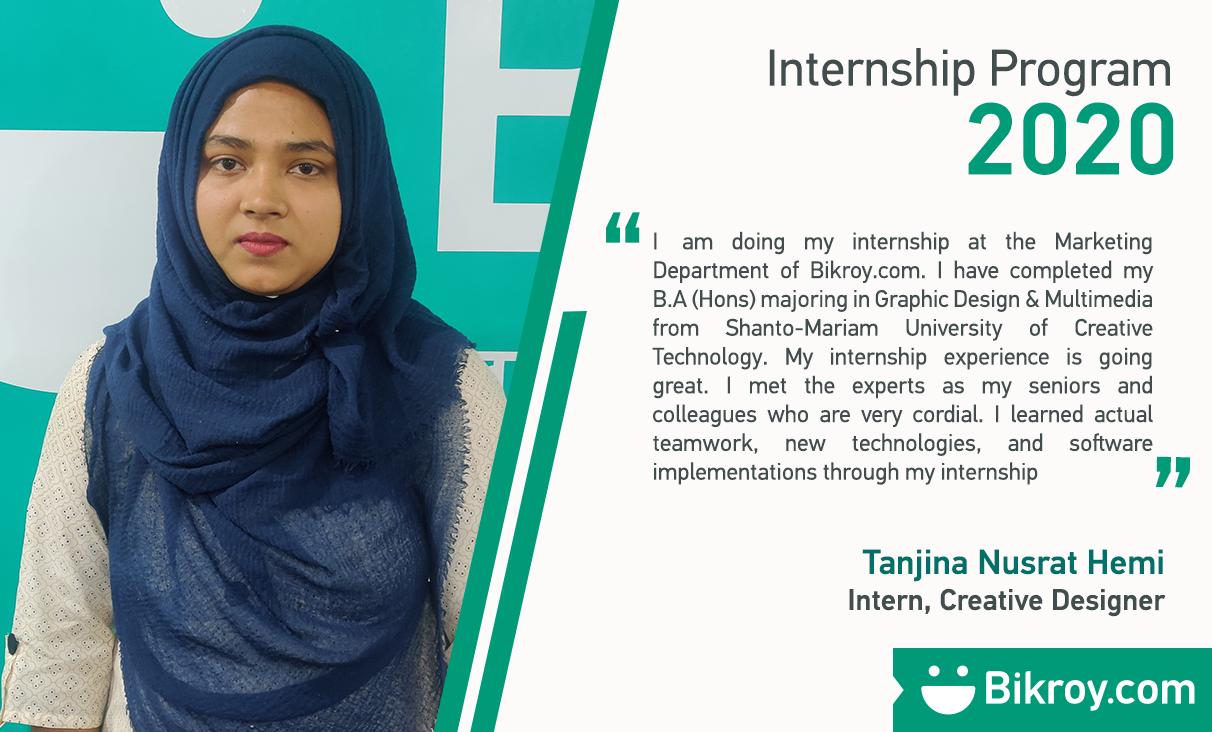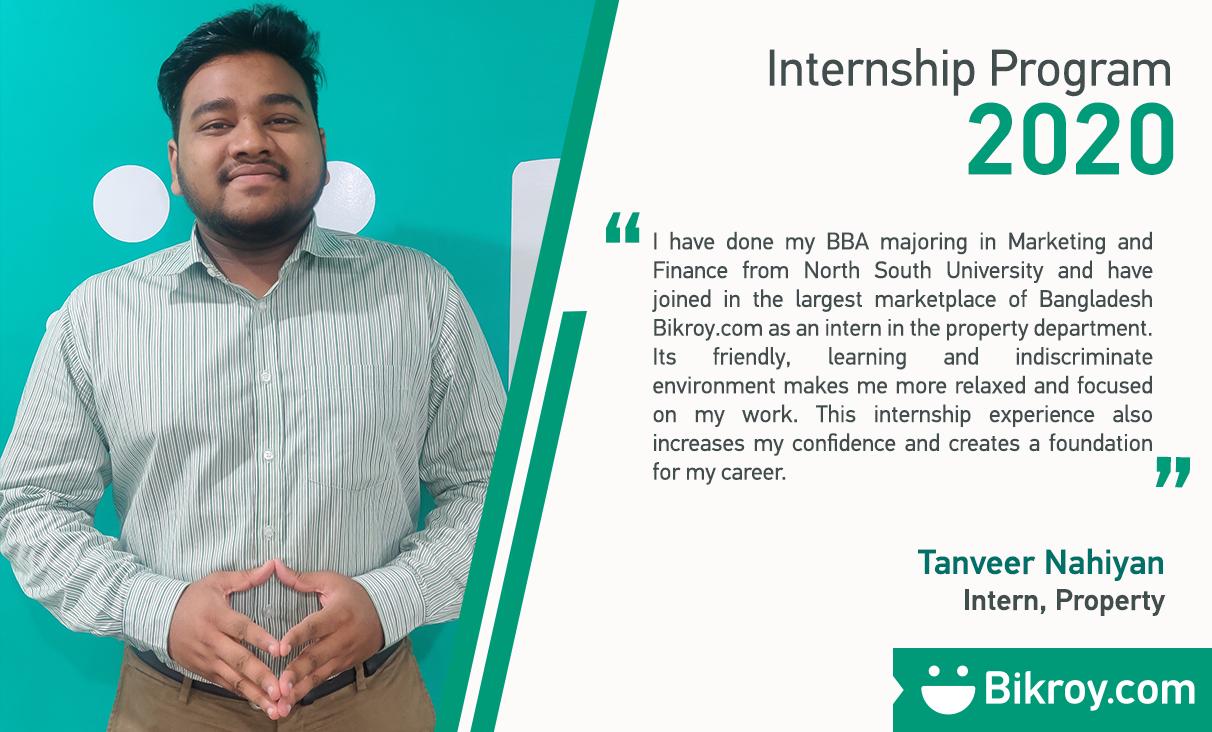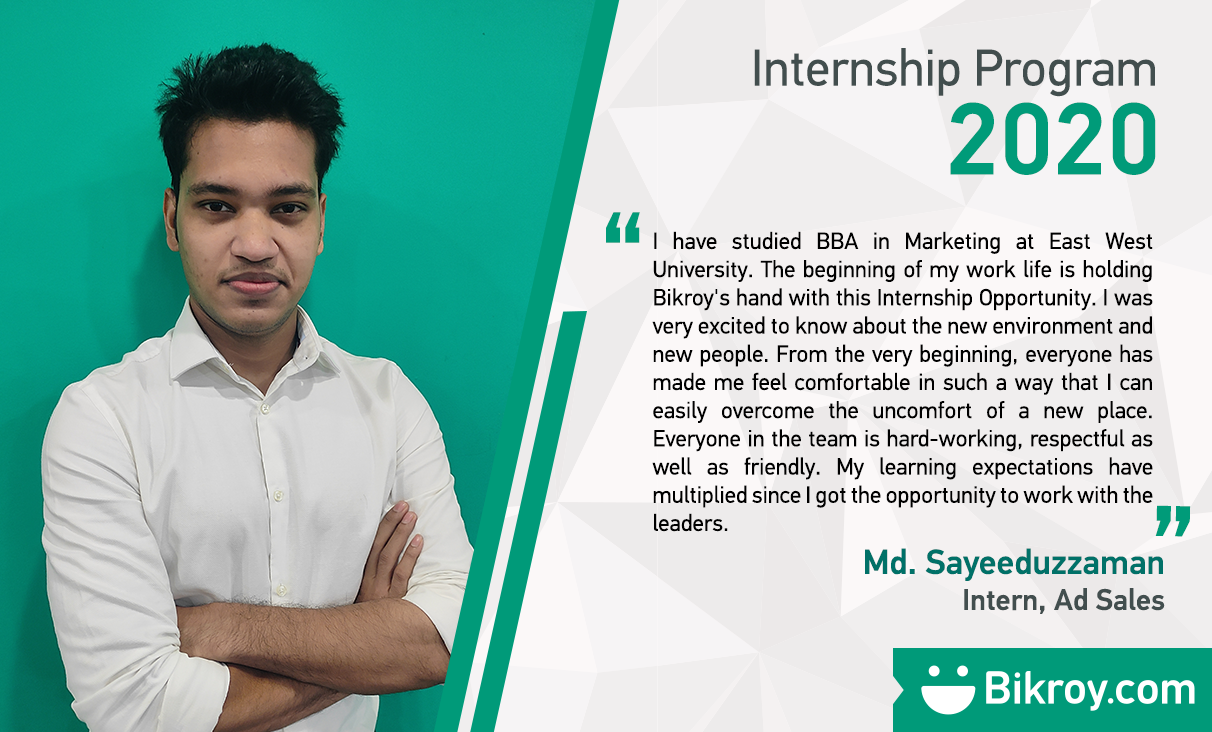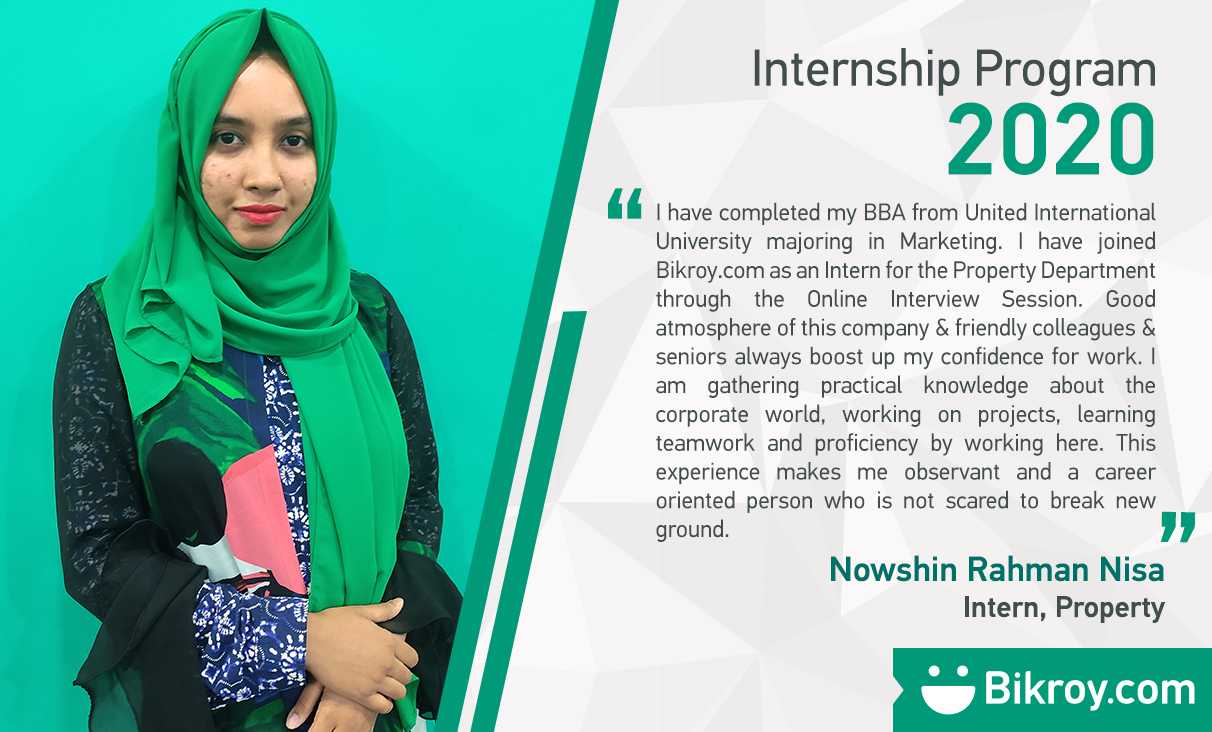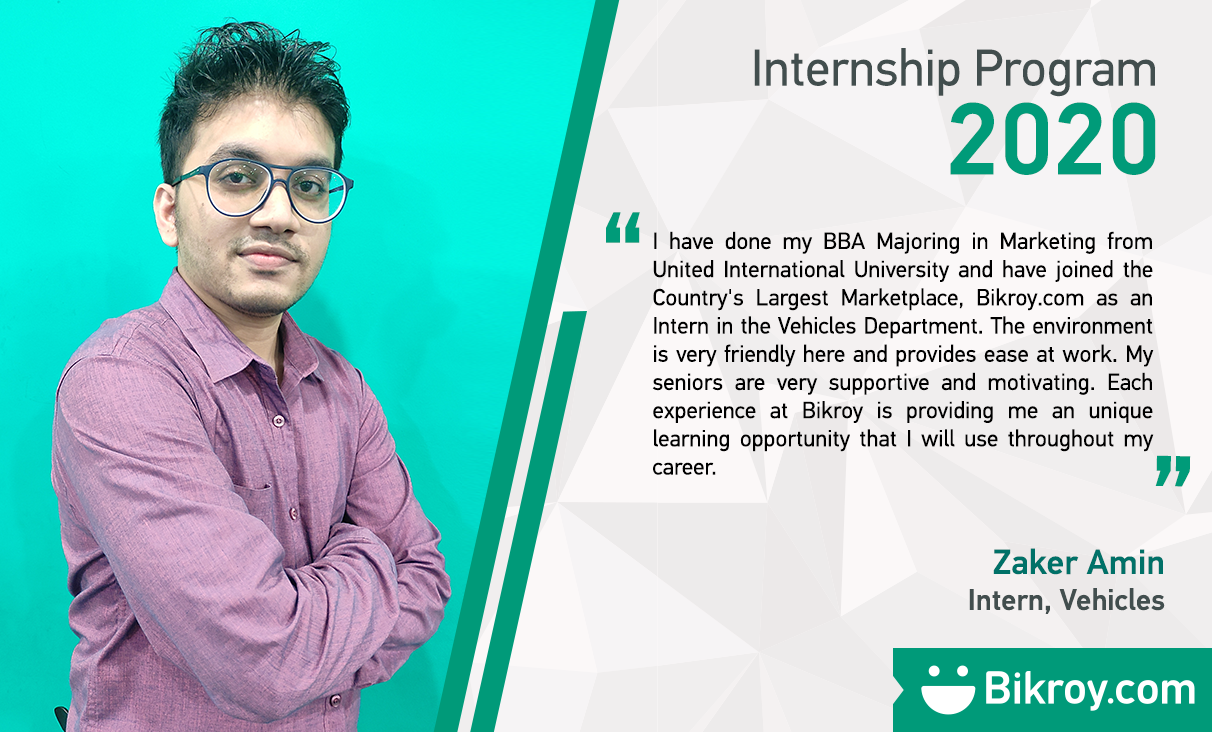 Bikroy.com offers an Internship Program regularly to the students of different universities who get the opportunity to work & learn from the leaders of the Country's Largest Marketplace. Let's listen from our Interns who are getting ready to face the challenges in the job market.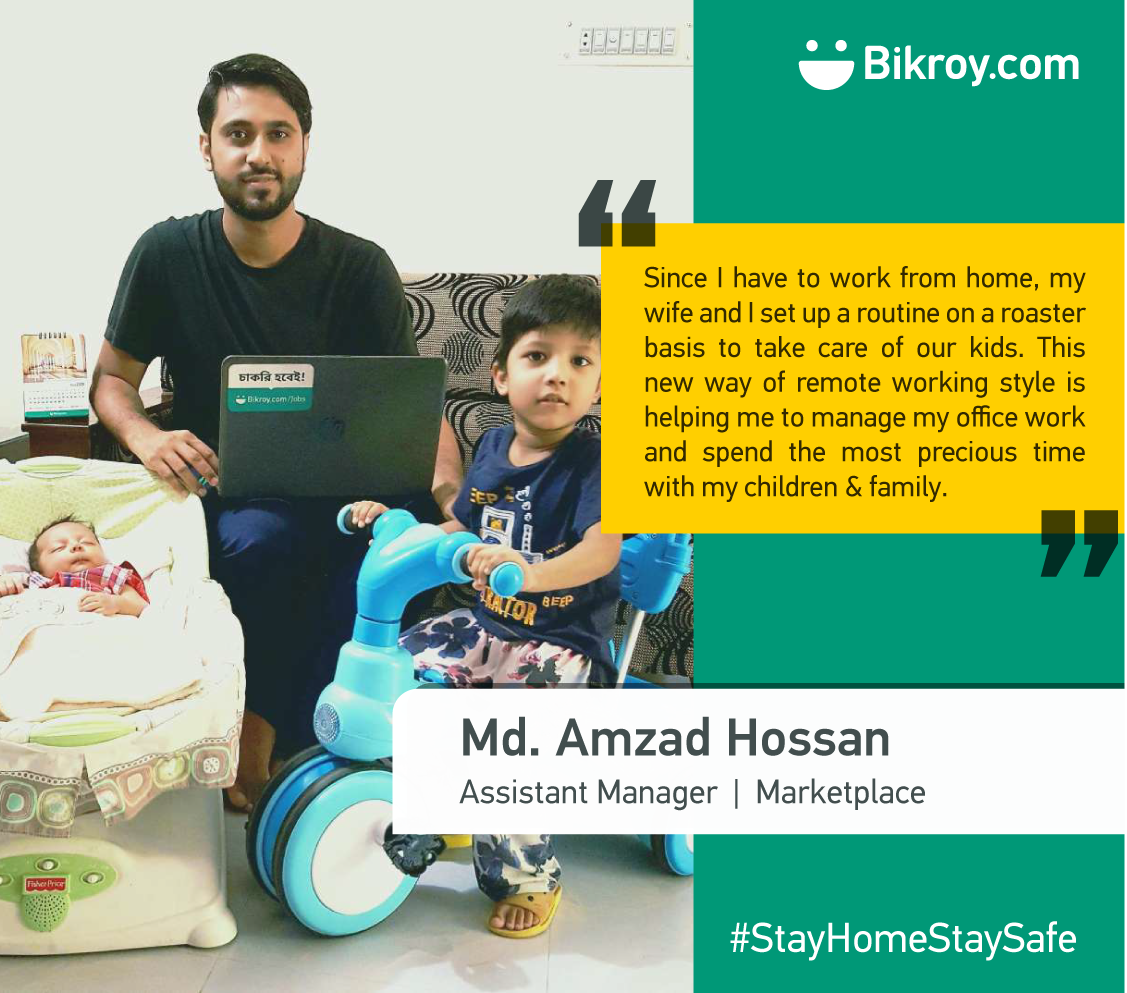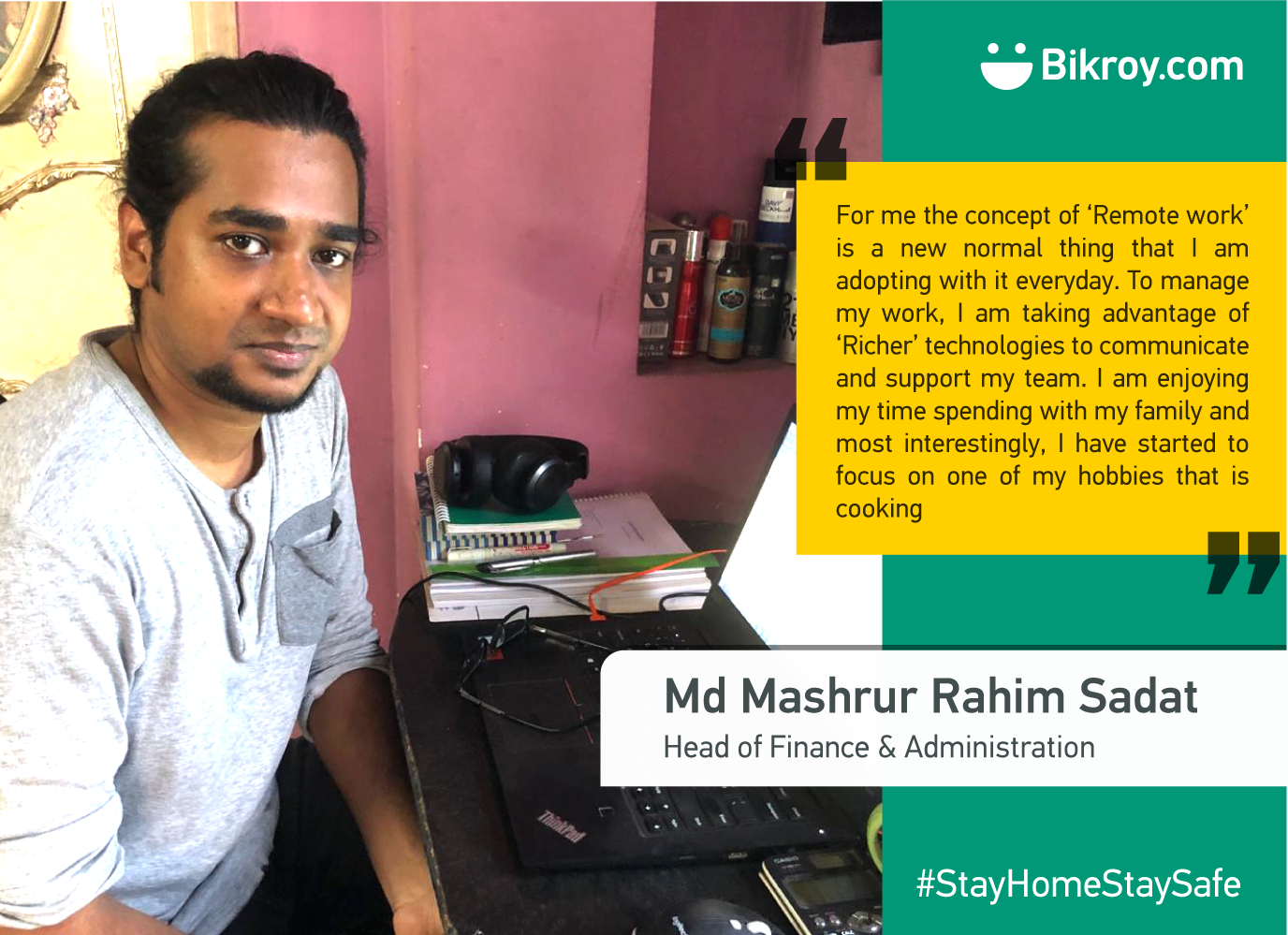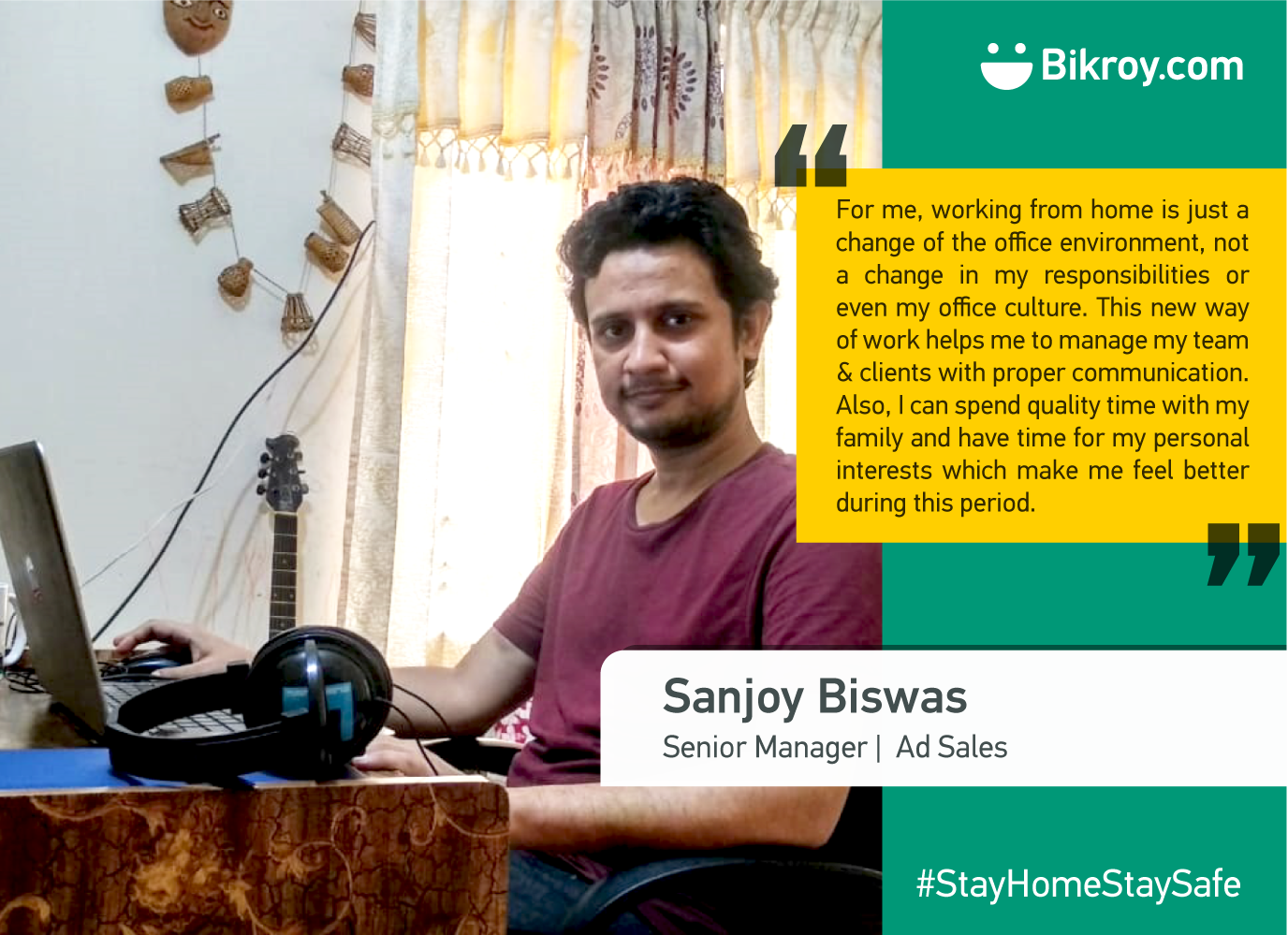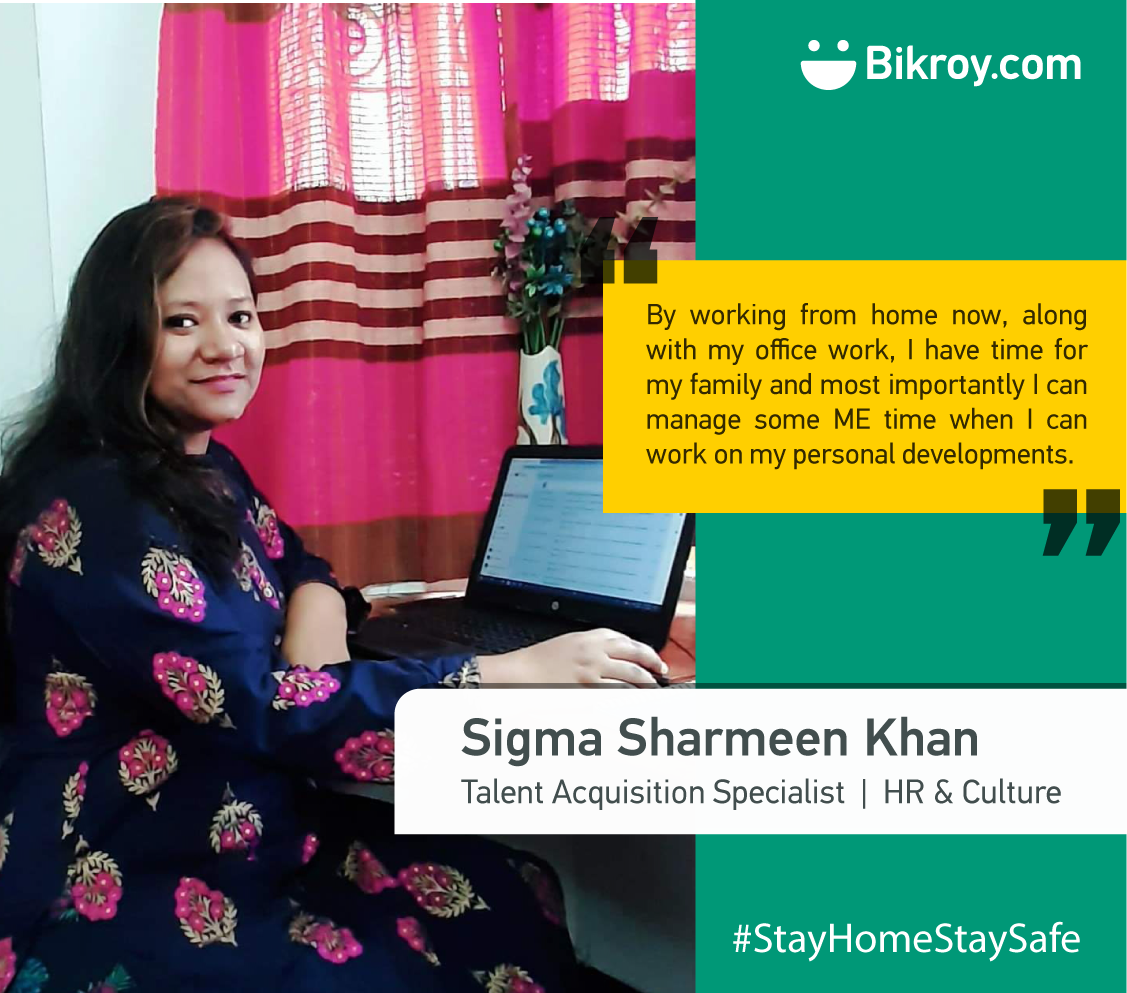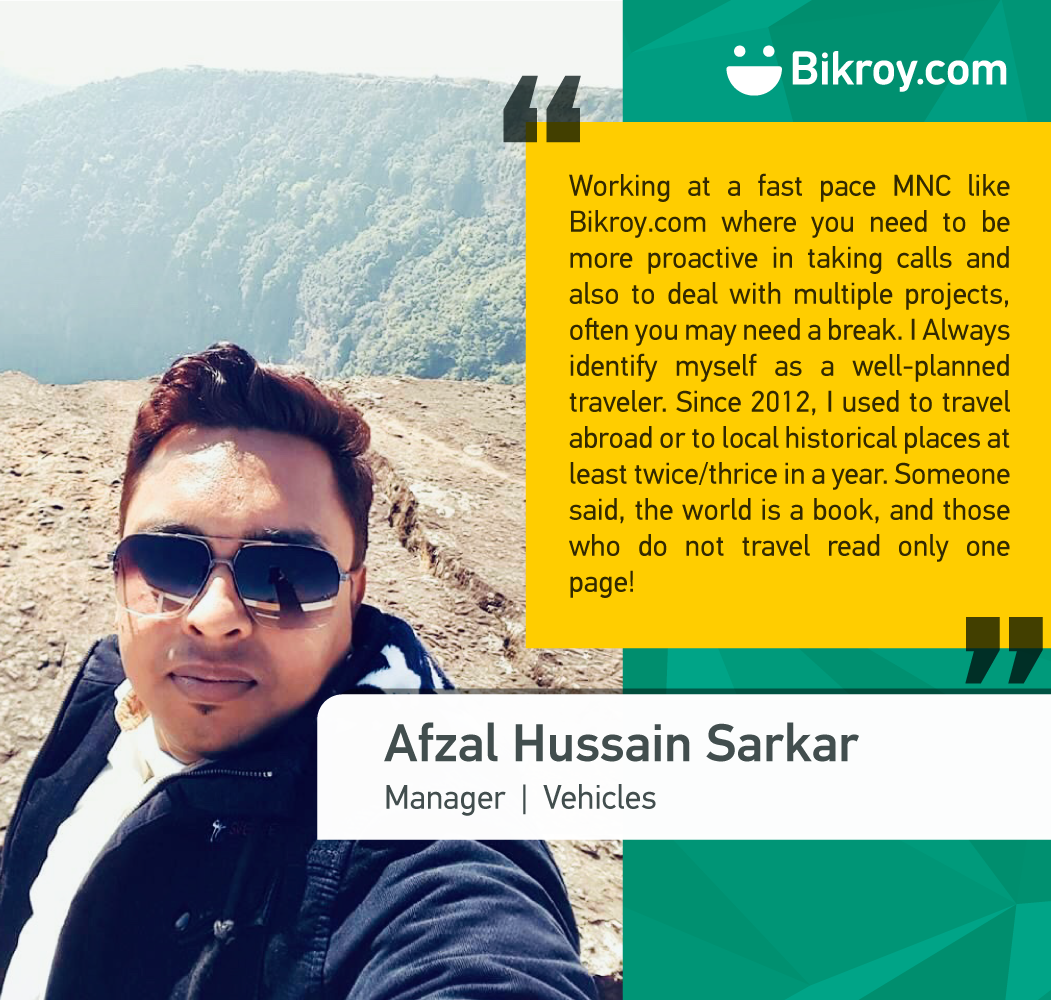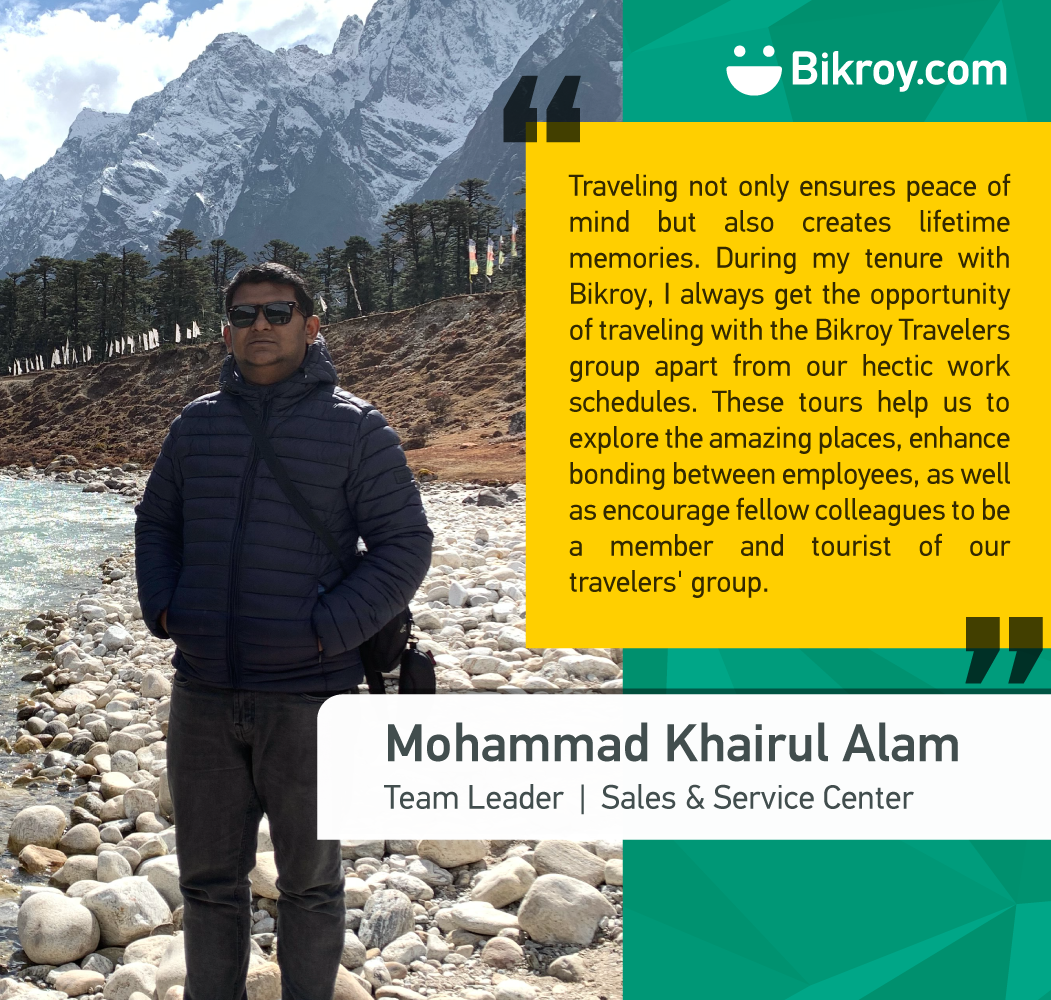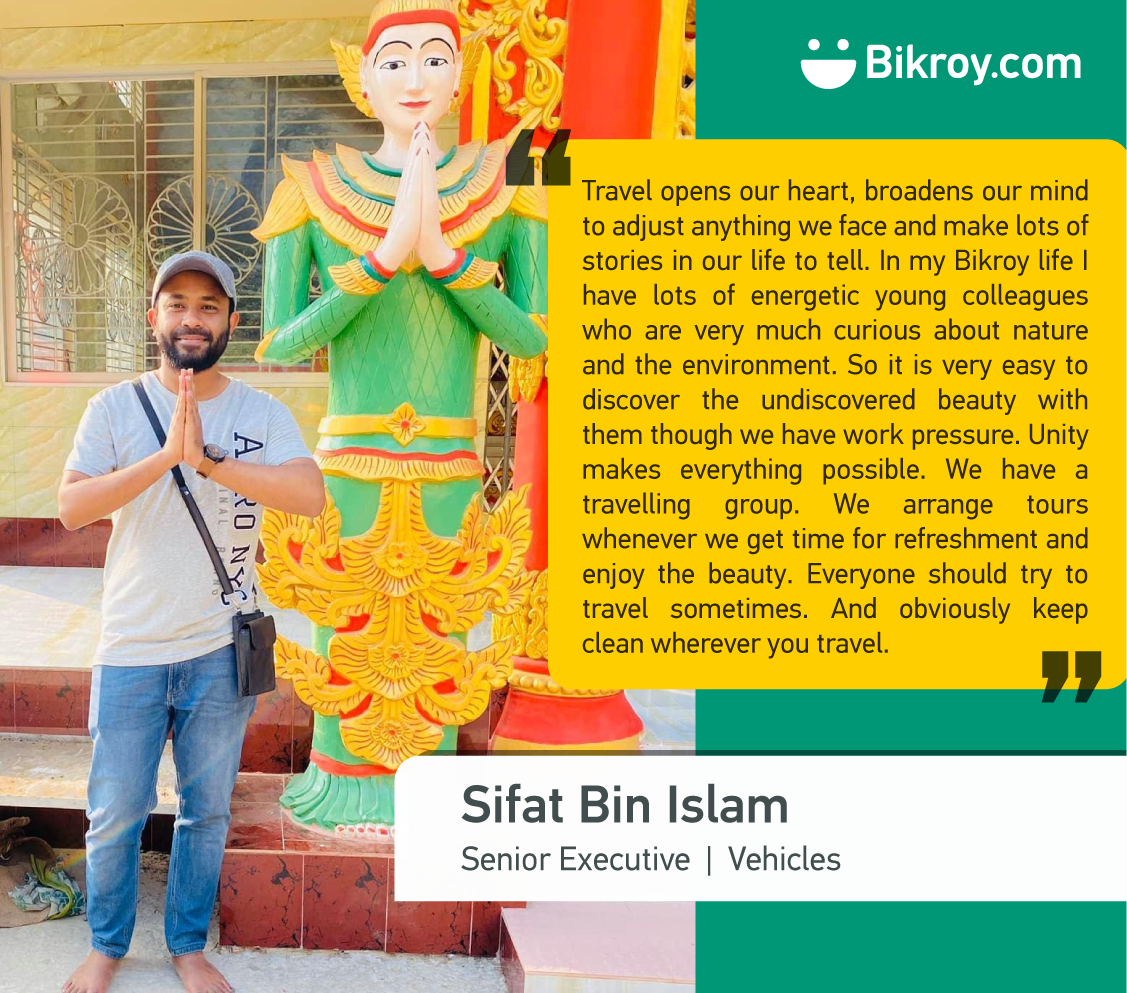 Employees shared their feelings about Bikroy and the work environment.