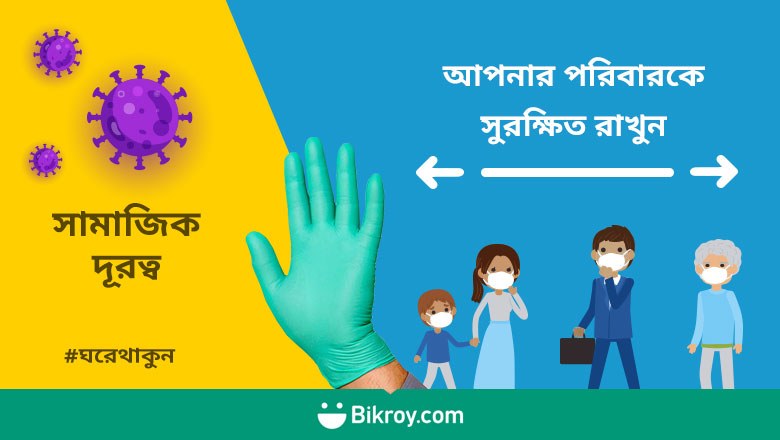 According to health authorities, Bangladesh is now about to enter the third phase of this pandemic, as the new Coronavirus disease spreads to new areas and infects an increasing number of people each day. What comes next is extremely crucial. With a staggering 1,116 people per square kilometer, it will be a tremendous challenge in the next few weeks to slow down the proliferation of this deadly virus.
The ongoing global crisis had most of us in confusion over the past few weeks about whether or not to panic, with some showing concerns that people are not taking this threat seriously enough. As of today, the virus has already infiltrated our country, an increasing number of people are being infected and fatality figures are slowly climbing. There is uncertainty about who might have it or might be spreading it unknowingly, as most cases show little or no symptoms before suddenly getting severe in about 2-3 weeks.
Fortunately, global experts say that awareness and the right measures taken by everyone can slow down or even stop the spread of this disease. It feels almost surprising that something as simple as washing your hands regularly can contribute to a significant reduction in the number of infected people over time. In this constantly evolving situation, and misinformation across social media, it is important to get the facts straight on how to protect yourself and those around you during this very serious time of crisis.
Symptoms: How to identify COVID-19
What escalates confusion is that the new Coronavirus displays mild to no symptoms, as classified by the World Health Organization (WHO). This essentially means that most people infected will not require hospitalization. Coronavirus is a respiratory disease and common symptoms include fever, tiredness and dry cough. It may also include shortness of breath, aches and pains, sore throat, and very rarely, diarrhea, nausea or a runny nose. People at high risk are those over the age of 60 or those with underlying medical conditions. The WHO states that healthy people with mild symptoms should self-isolate.
What is social distancing?
We have already seen major important events being canceled or postponed recently. We should collectively understand the importance of social distancing at this time. Social distancing is anything done to increase physical space between people deliberately, in order to avoid spreading illness. Chances of catching or spreading COVID-19 is greatly reduced by maintaining a distance of at least 3 feet from other people or canceling any event that brings people together.
Measures taken to practice social distancing around the world have included:
Closing schools

Switching to online classes

Closing offices

Working from home

Using rotation to reduce the number of people in the office

Keeping in touch through social media instead of meeting up friends and family
How to practice self-quarantine
Contrary to what many believe, self-quarantine is not just for those who fall sick. If you have been out and about recently, and especially if you have traveled, you might want to practice self-quarantine, even if you are not showing any symptoms. Health experts recommend at least 14 days of isolation to provide enough time to know if you are infected.
Best practices for self-quarantine:
Staying at home

Not having guests over

Keeping clean

Washing hands frequently

Not sharing towels and utensils

Regularly disinfecting surfaces such as doorknobs and light switches

Wiping your mobile and other electronic devices with alcohol pads once a day

Keeping shoes outside the house

Drinking lots of fluids and increasing Vitamin C intake
What else can we do?
What makes the new Coronavirus so deadly is how fast it spreads, as well as the absence of symptoms in a large group of people. The virus reproduces rapidly in an infected person and can pass on to others through air droplets produced by coughing and sneezing, or touching objects handled by infected persons and then touching your face. This means that a large group of people is essentially spreading the virus to others without even knowing that they are infected. Our hope to slow down this pandemic relies on society at large, acting consciously and taking preventative measures. Many countries have gone into a complete lockdown, businesses are shutting down or being temporarily closed. Streets are empty. Even though the Bangladesh Government has declared holiday for 10 days, many people are still visiting their friends and family and risking others. This should be avoided at all cost. In cases where human interactions cannot be avoided, like going to the grocery store or the bank, some safety measures can still be taken:
Wearing a mask around other people

Coughing or sneezing into a tissue and discarding it safely

Using a hand sanitizer when washing hands is difficult, e.g. when outdoors

Using gloves or an envelope while making money transactions, and while using the ATM
If you get sick
Even with precautions, chances are that many people will get sick with the Coronavirus or at least get similar symptoms. According to health experts, the majority of infected people will recover without needing special medical care. Here is what to do if you suspect that you might have the Coronavirus:
Stay home and do not visit public areas

Stay in touch with your doctor, follow instructions for home quarantine

Contact your local health authorities if you have any of these emergency warning signs:

Difficulty in breathing

Persistent pain or pressure in the chest

New confusion or inability to arouse

Bluish lips or face
Stay home, stay safe
The COVID-19 pandemic is unlike anything the world has seen in the last century. It is a global emergency as most countries in the world have been affected in a very short period of time. However, it can be easily prevented if each one of us is doing our part and listening to the health experts. As deadly as this virus is, it cannot sustain if we can stop it from spreading so rapidly. As the disease thrives on our social interactions, staying as far as possible from other people for a few weeks, as well as following some basic protocols for keeping clean, will go a long way towards making our country – and even the world – bounce back from this. We hope that you have been reading this from the safe confines of your home, staying clean, focusing on your hobbies, and working remotely to ensure the safety of everyone.