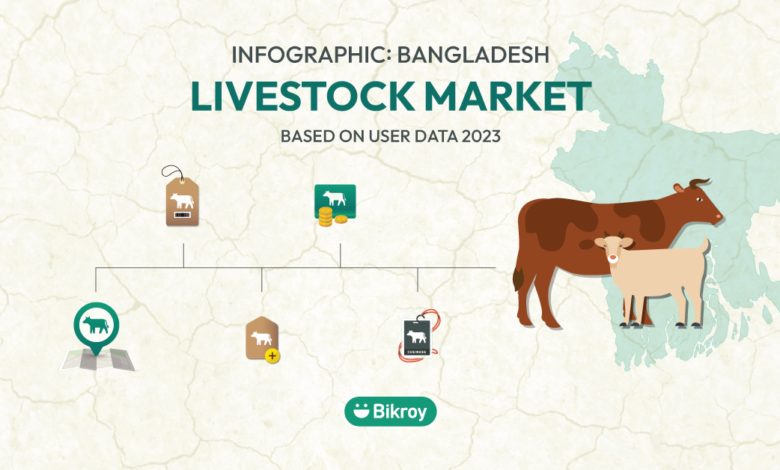 Eid means happiness. Eid means joy. But during this year's hot season, going to the animal market to buy the sacrificial animal of your choice and bring it back home has become a little more unbearable. That's why many people are buying sacrificial animals online from home. In the past few years, buyers and sellers have been encouraged to trade in sacrificial animals on classified platforms. And so, like always, this time Bikroy, the pioneer of organizing digital cow haats in Bangladesh, has brought its flagship campaign, 'Birat Haat'. So why delay any longer? Let's take a look at this year's Bangladeshi Livestock Market based on Bikroy User Data in 2023.
Livestock Listings by Location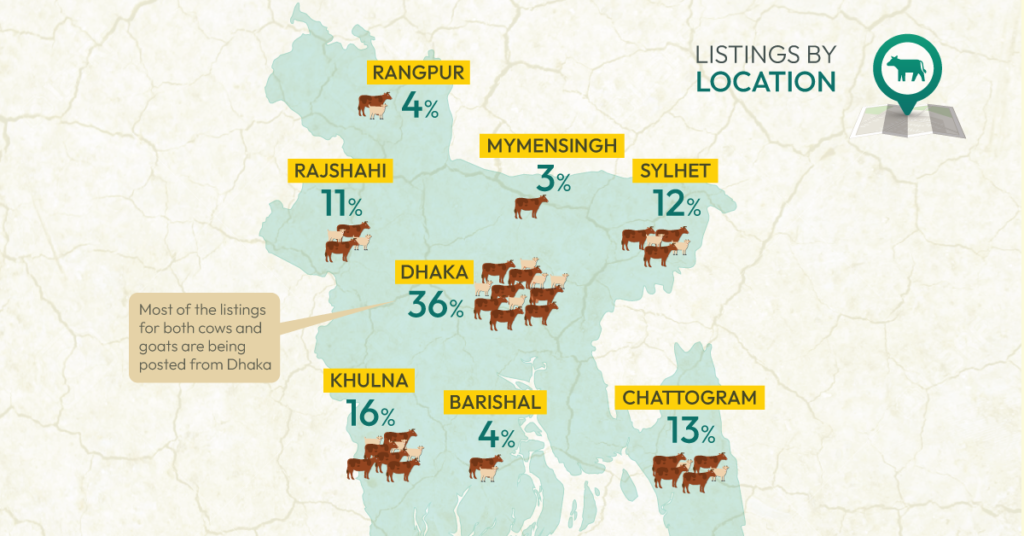 The majority of cattle sale advertisements in Bangladesh are placed in Dhaka, Khulna, Chattogram, and Sylhet. Dhaka alone advertises 36% of all cattle and goats, which is 4% higher than the previous year. This is for a variety of reasons. During this season, many farmers in the country bring their livestock to Dhaka for sale. As a result, Dhaka has a high advertisement rate.
Compared to last year, when Chattogram was in second place with 22%, this year Khulna is in second place with 16%. Advertisements for cattle were put up as follows: 13% in Chattogram, 12% in Sylhet, and 11% in Rajshahi. And as usual, livestock listings from Barishal, Rangpur, and Mymensingh accounted for the lowest percentages, at 4%, 4%, and 3%, respectively.
Livestock Listings by Price Range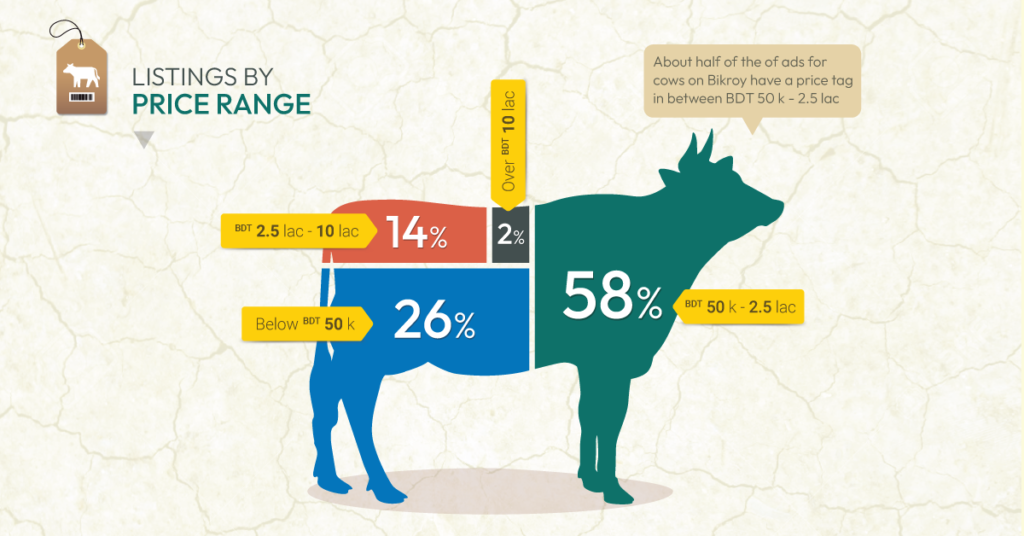 In 2023, 58% of the entire cattle listed in Bikroy are priced between BDT 50,000 and BDT 2.5 Lakh. 26% of postings are under BDT 50,000, which is up by 3% from the previous year. That means the advertisement rate for the smaller size of the animals has risen this year. Furthermore, 14% of cattle advertisements cost between BDT 2.5 Lakh and BDT 10 Lakh. Finally, just 2% of the animals were worth more than BDT 10 Lakh.
Livestock Listings by Inventory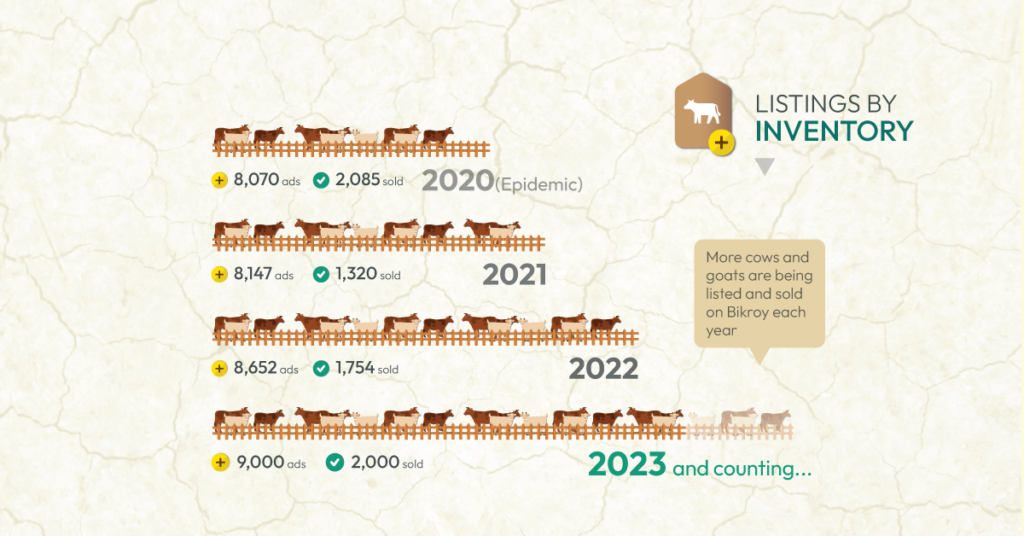 The number of ads for cows and goats on Bikroy is increasing every year. The market was in a bit of a downturn in 2020 because of the lockdown and COVID crisis, and 2,085 animals were sold from 8,070 advertisements. In 2021, however, 8,147 advertisements were posted, with around 1,320 animals being purchased. The ad posting figure in 2022 was 8,652, with 1,754 animals sold. The current number of ads uploaded in 2023 so far, is 9,000. 2,000 animals have been sold among them so far.
Livestock Listings by Type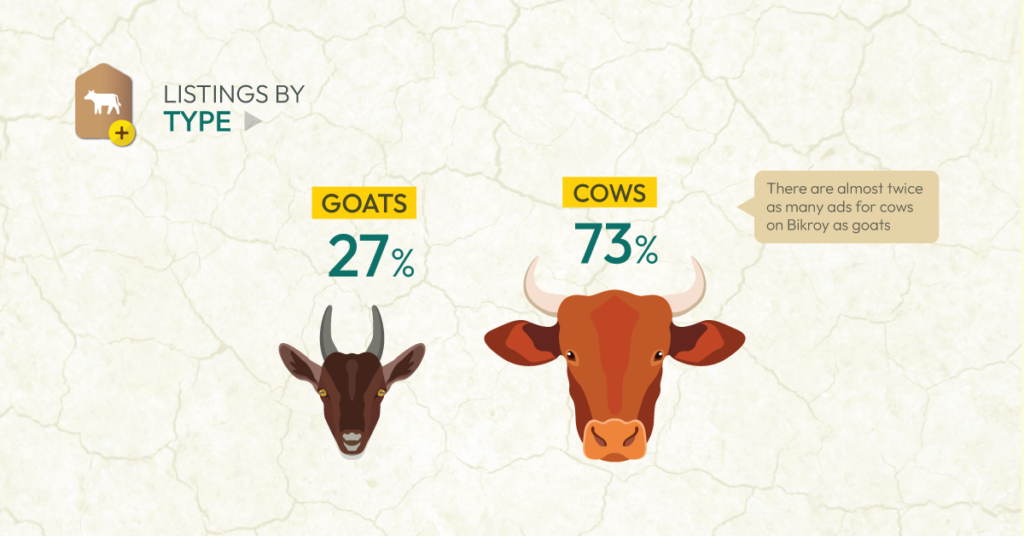 There must be a cow or a goat in every Bangladeshi family during Qurbani Eid. In this situation, there is a huge demand for cows because of their widespread appeal and delicious flavor. In 2023, as per the records of Bikroy, cow listings consist of 73% of the total advertisements, much more than goats. In addition, the number of ads featuring goats has decreased by 4% than last year, to 27%.
Livestock Listings by Membership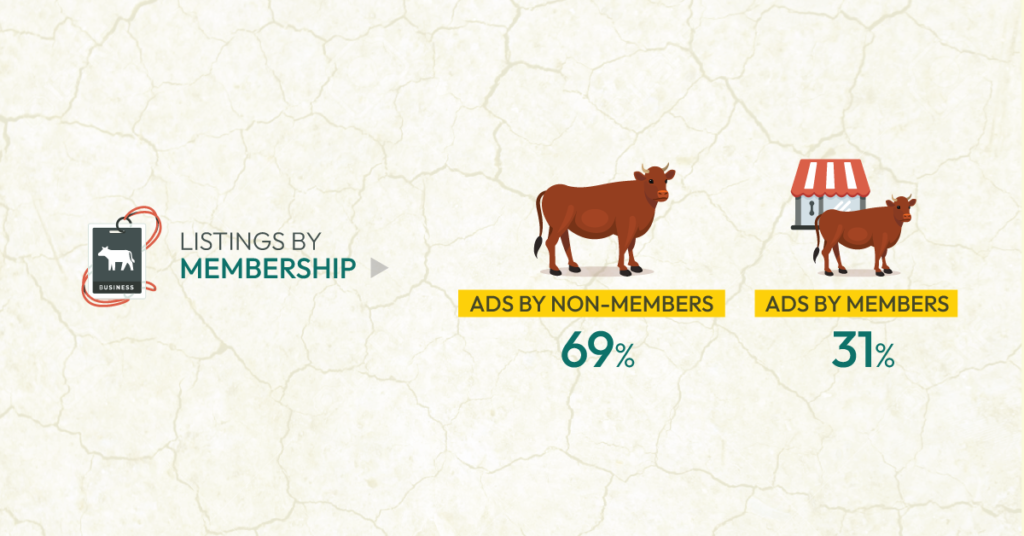 On Bikroy, 31% of the cattle advertisements are published by the members. Additionally, this year, the proportion of cattle advertisements uploaded by non-members is 69%.
The Most Expensive Cow of 2023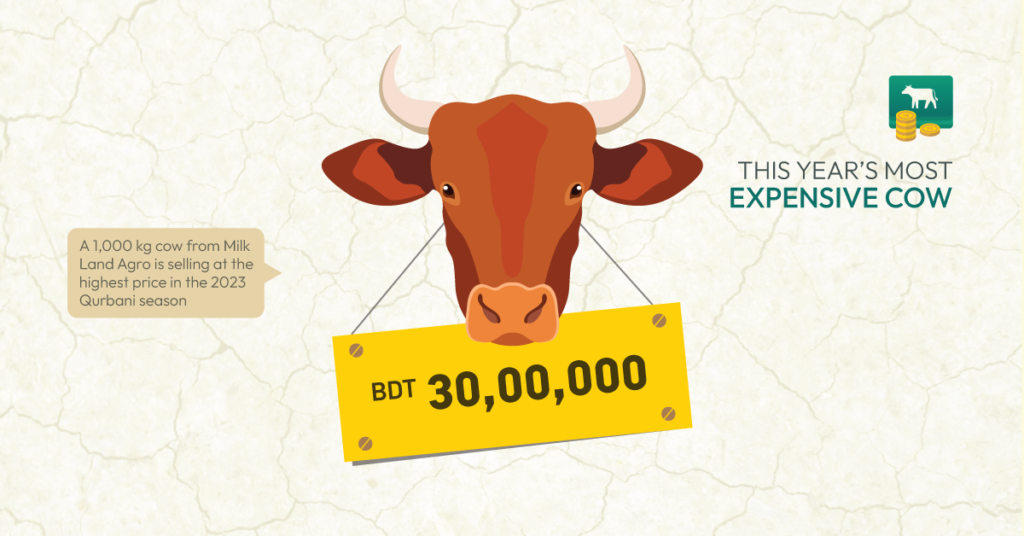 Milk Land Agro, a member of Bikroy has advertised one of the most expensive cows of the year. This one thousand-kg weighted animal is listed for BDT 30 Lakh.
Conclusion
Both the popularity and necessity of online cow markets are increasing in our country. If you are considering purchasing a sacrificial animal from an online haat or physical haat, you should be aware of the methods for purchasing cattle.
We wish you and your family an early Eid-ul-Adha!