Bikroy Updates
A Webinar Held on Bikroy's service offerings for its users during the lockdown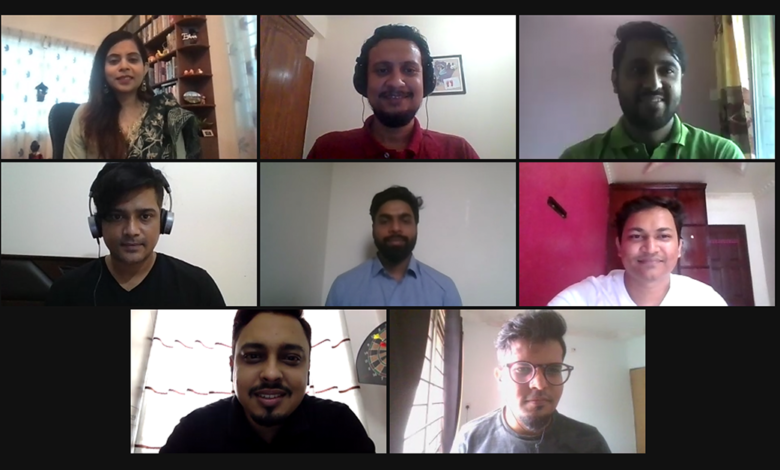 Considering the situation of buyers and sellers amid this lockdown, Bikroy.com, the Largest Marketplace in Bangladesh, organized a webinar on April 15, 2021, entitled 'The Importance of Online Business during Covid-19 Situation and Bikroy.com's Offerings for Users'. The webinar discusses various questions and inquiries from customers about how the lockdown situation will affect different industries.
Bikroy's lockdown offers for the members to expand their businesses include more vouchers and promotional tools, dedicated customer support, EMI facilities, etc. There are also special tips from Bikroy for the members to reach more interested buyers and sell faster.
In this webinar Eshita Sharmin, Managing Director of Bikroy.com; Md. Afzal Hussain Sarkar, Vehicles Lead of Bikroy; Emdadul Hoque Mobin, Property Lead of Bikroy; Md Amzad Hossan, Deputy Manager, Marketplace of Bikroy; Sanjoy Biswas, Corporate Sales Lead of Bikroy; Sadiq Bin Halim, BikroyJOBS Lead; and Shah Md Jakaria, eCommerce Lead of Bikroy were present as the panelists. Md. Redwanullah Reza, Senior Executive, Online Marketing of Bikroy was the moderator of this webinar.
At the outset, Eshita Sharmin, Managing Director of Bikroy.com said, "Over the past eight years, our website has worked as a bridge between thousands of buyers and sellers. Our site has over 3.5 million monthly users, so sellers can find interested buyers for their products within a very short time span. Our responsibility in the ongoing lockdown has increased a lot more. Because of this lockdown, our Honorable Prime Minister has requested everyone to shop online. In the same way, we want to say that Bikroy.com is by your side. By opening an online shop on our site, sellers will be able to stay home and post advertisements ranging from mobiles, electronics to cars, homes, and even jobs. So I would like to urge small and medium business owners to use online as a major tool to expand their business this Ramadan and Eid season without having to reduce any activity during this COVID period. I am hopeful that Bikroy.com will provide you with a variety of tips to help you improve your business."
Upon asking how feasible it is to invest in SME business, Md Amzad Hossan, Deputy Manager, Marketplace of Bikroy said, "In our country, there is a tendency to increase the prices of all commodities during the major occasions, but there is no chance of it happening online. The price difference is not too much here as we suggest the sellers keep a competitive price so that they can sell fast. In this pandemic, we are giving members various special opportunities like to use promotional tools at attractive discounts, especially for laptops and mobile phones as the importance of these two items in digitalization is much greater. It can be seen that in offline shops many shops do not have many customers but on our site interested buyers from all over Bangladesh can see the online shop of the seller. That is why I would say this is a great time for SME traders to do digital business from home."
Commenting on the impact of COVID-19 in the car and motorbike industry and the role of Bikroy in this regard, Md. Afzal Hussain Sarkar, Vehicles Lead of Bikroy said, "There are more than 3 lakh interested buyers for the vehicles sector on our site every month. Motorbike sellers such as private sellers or members on our site get 40+ interested buyers for each ad. Moreover, over 300 car sellers are associated with us. Even if offline shops are closed, sellers are able to stay connected with buyers 24/7 through their online shops on our site. Our site is SEO optimized which is why Google search also generates good traffic for the sellers. In addition, we provide our partners with a badge called 'Verified Seller' so that buyers can buy bikes from them with confidence. Buyers can also buy branded bikes through EMI from our Vehicles' e-commerce site – 'Bikroy CHAKA'. So I would like to say that the vehicles sector is very popular and there are a lot of interested buyers and sellers can get any business help from us."
Upon asking what the price of the property market might be at the moment and if it is the right time to invest in a flat, Emdadul Hoque Mobin, Property Lead of Bikroy said, "At the beginning of last year, sellers have sold at a relatively low-profit margin due to reduced cash flow. Gradually the situation improved and prices did not fall that much. From July to December last year, approx. 3,500 apartments were sold, which is more than what was sold throughout 2019. There is no possibility of lowering property prices this year during the pandemic. Rather, there is a possibility that prices may rise later. So now is the best time to invest in the property sector without waiting. Property is a safe investment at any time. Developers are also offering long-term EMIs, stronger loan facilities, etc. to attract customers. There are more than 1.5 lakh monthly interested buyers for the property sector on our site. Flat renters, flat sellers, land or commercial property sellers, or property brokers can reach customers through our online marketing. There is no other site with as many developers as our platform. Buyers can easily find any type of property based on location, size, price, etc."
To the companies employing Delivery Man during the pandemic, Sadiq Bin Halim, BikroyJOBS Lead said, "Home delivery is an important part of the eCommerce business at this moment. I would say that our site is the number one job portal for entry-level and skilled jobs. Delivery Rider jobs are one of the most popular jobs on our website. At BikroyJOBS, we provide a "Staffing Solutions" service for our members – where after a jobs circular is published, we shortlist, and interview candidates, and then share the potential candidates' list with the members. Besides, the recruiters can receive applications through both phone calls and email."
In response to a question about the future of eCommerce in Bangladesh and eCommerce services of Bikroy, Shah Md Jakaria, eCommerce Lead of Bikroy said, "In Bangladesh, the eCommerce industry is growing at a rate of 72%. Due to its demand and potential, many foreign investors are now interested in investing in this country. Currently, there are about 96 million mobile data users in Bangladesh. In other words, as the internet becomes more accessible, new doors of e-commerce are opening up. In 2016, Bikroy started its eCommerce journey. Right now, through 'Doorstep Delivery', we are delivering various essential products of our members to the doorsteps of the customers. Last year we launched a category called 'Essentials'. Sellers are able to deliver the essential products to the buyers during this pandemic. eCommerce, which was a luxury 10 years ago, has now become a necessity."
Lastly, in response to a question about Bikroy's digital advertising services for brands and corporates, Sanjay Biswas, Corporate Sales Lead of Bikroy.com said, "Most of our website visitors come to see the ads. Our website visitors make around 1 crore times repeated visits each month. We generate about 25 crore impressions every month. Corporate companies target their audiences by category ads. Best Telecom companies, Real Estate developers, Group of Industries, FMCG companies are our clients and we target their customers through various campaigns. In this case, the customer who is looking for a specific category of product at the right time can easily be targeted. For instance, telecom companies book ad space in the mobile phone segment. The difference between Bikroy and other media is that we have three types of campaigns – Brand Awareness, Direct Targeting, and Action Sell. Brands can do keyword targeting on our site as well. For example, those who search by typing a mobile phone brand will be able to see the ad of that company."