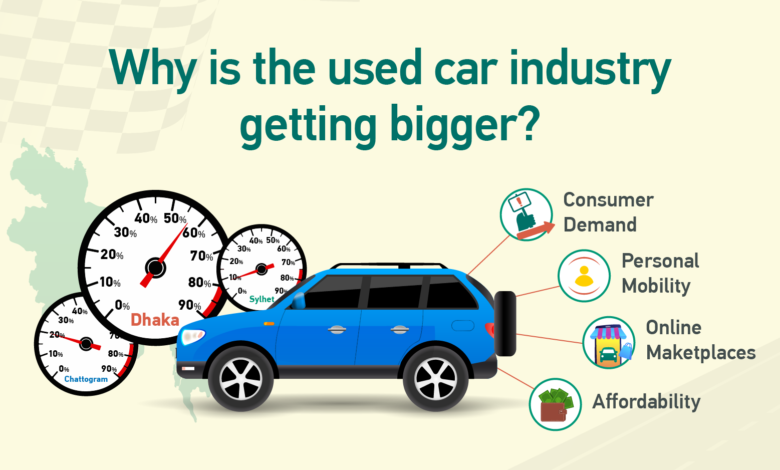 With the growth of the upper-middle-class segment and the rising demands for ride-sharing services, Bangladesh is quickly becoming a profitable market for the automobile industry. At present, the renowned brand Toyota is leading the car market with reasonable car price in Bangladesh for its mid-range models.
The majority of cars bought by middle-income earners are reconditioned, but they are still quite reliable and efficient due to the widespread availability of repair shops and replacement parts – these supporting segments are greatly benefiting from the growing automobile industry as well.
As per capita income rises, so does the demand for cars. It is projected that Bangladesh's GDP will grow by 6.9% by the end of 2022, so it is no surprise that the car market is doing so well in recent years. Here at Bikroy.com – the Largest Marketplace in Bangladesh, we are seeing positive growth in the vehicles section. Let's take a look at some infographics of the Bangladeshi car market so far in 2022.
Which cities have the highest car sale ads in Bangladesh?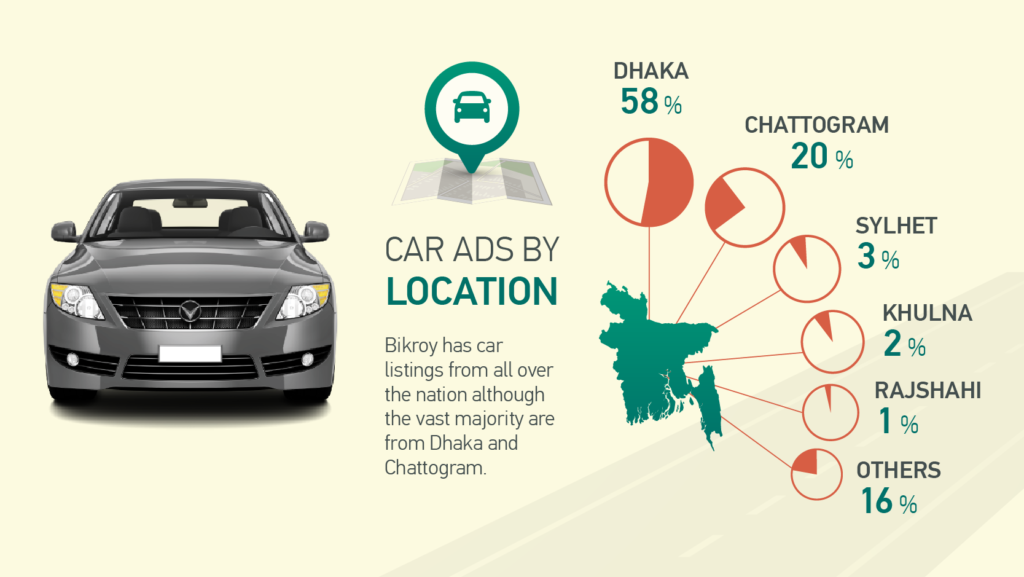 Bikroy has car listings from all over the nation, but the vast majority are from Dhaka and Chattogram. It is no surprise that Dhaka – the capital city of Bangladesh – holds the title for most car ads on Bikroy.
Dhaka city is a massive metropolitan area connected by large roads and highways. To date, the most popular mode of transportation is still 4-wheeler cars, which is why 58% of total car ads on Bikroy are from the capital city. Chattogram – the port city and trade hub of Bangladesh, is a close second and holds 20% of the total car ad share of Bangladesh in 2021-22.
The remaining ads are broken down as follows: 16% of car ads overall from various locations around Bangladesh, 3% car ads from Sylhet, 2% from Khulna, and 1% from Rajshahi.
Which car brands are most popular in Bangladesh?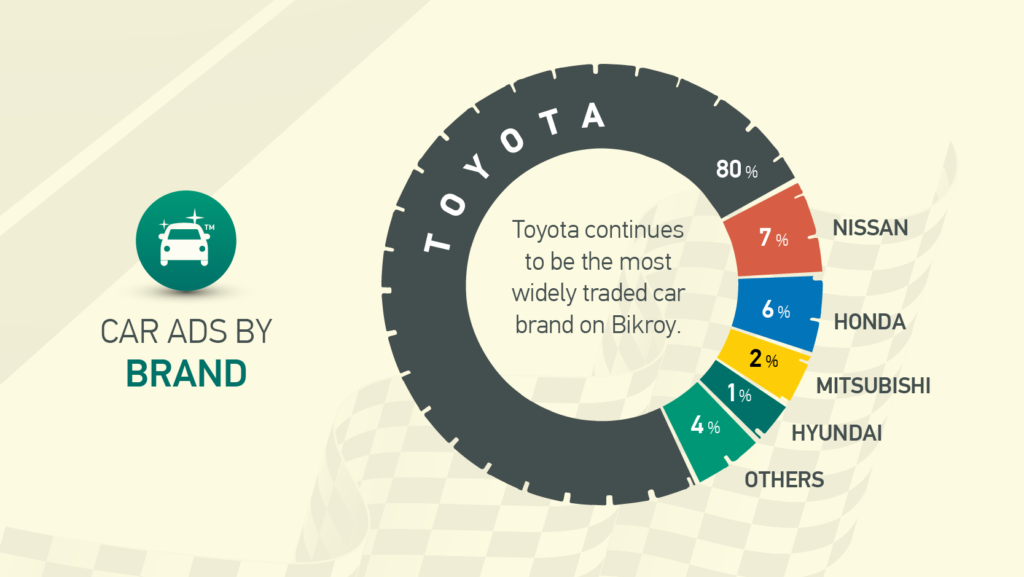 As mentioned earlier, Toyota – the Japanese giant in mid-range cars – is dominating the car market. Our data shows that 80% of the total car ads were for Toyota cars. This is no surprise as we see streets filled with Toyota cars of different types – be it saloon cars or sedans, compact cars, microbuses, or even SUVs. Toyota continues to be the most widely traded car brand on Bikroy with no indication of slowing down!
The remaining 20% of car market ads are made up of 7% Nissan cars – the Nissan Sunny and Nissan X-trail being the most popular, 6% Honda cars – such as the Vezel or CR-V, 4% of other brands, 2% of Mitsubishi, and 1% for Hyundai cars.
What is the average selling price of cars?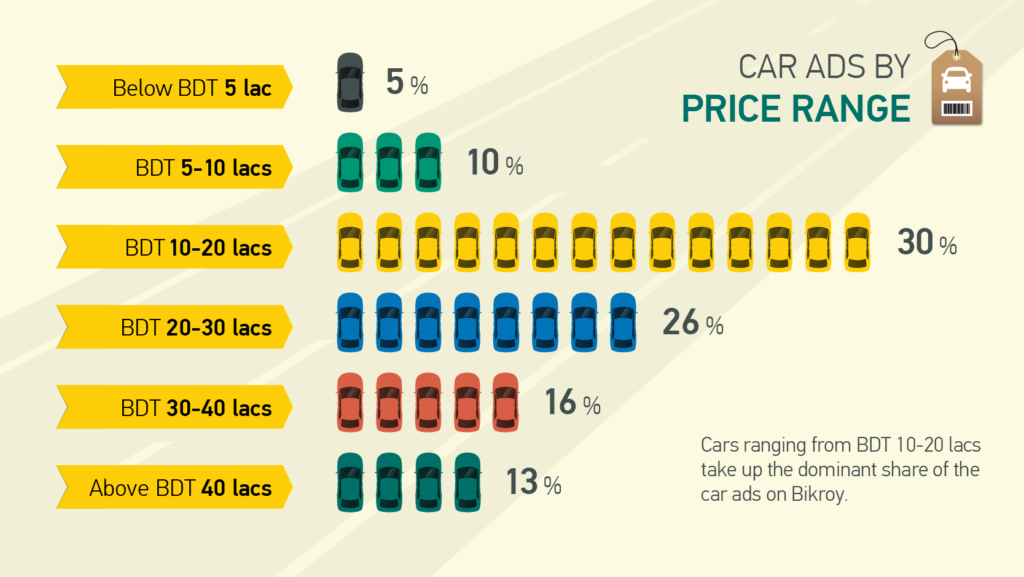 As the car market is largely influenced by the middle class, we can see its effects on car listings as a majority of car ads are between the BDT 10-20 lacs range. This segment makes up a total of 30% of the car ads on Bikroy and consists of both used and new cars that are budget-friendly.
26% of the ads for mid-range and high-range cars fall under the BDT 20-30 lac car range, 16% of ads for BDT 30-40 lac cars, and the premium segment of car ads made up 13% of total ads and their price range goes above BDT 40 lacs.
10% of ads are for cars between the BDT 5-10 lacs range, and the remaining 5% are for cars listed below BDT 5 lacs. These listings are usually for very old cars that were manufactured in the 90s or early 2000s, or for cars that have been used for a long time.
Which cars are popular based on their condition?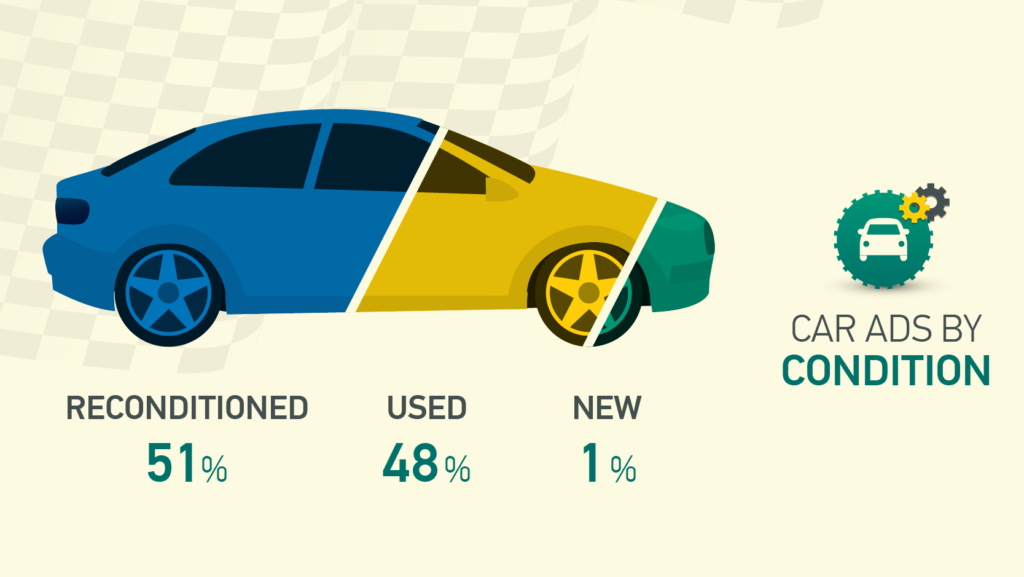 The Bangladesh car market has mostly consisted of reconditioned cars through the years. It is only recently that the demand for brand new cars is slowly increasing, but it is still limited to the upper classes of the market.
Here on Bikroy, we have found that 51% of car ads posted to our site were for reconditioned cars. These cars are often used in other countries for a few years and then fixed up to look brand new again. Reconditioned vehicles are much cheaper than new cars, but in better condition compared to used cars.
A close second is the segment of used car ads which make up 48% of the listings on Bikroy. These cars have been used by previous owners and the price heavily depends on their current condition. In general, used cars are the cheapest among all the listing categories.
New car ads make up only 1% of the total listings on Bikroy and mainly consist of ads from authentic car dealerships.
Which types of cars are being listed on Bikroy?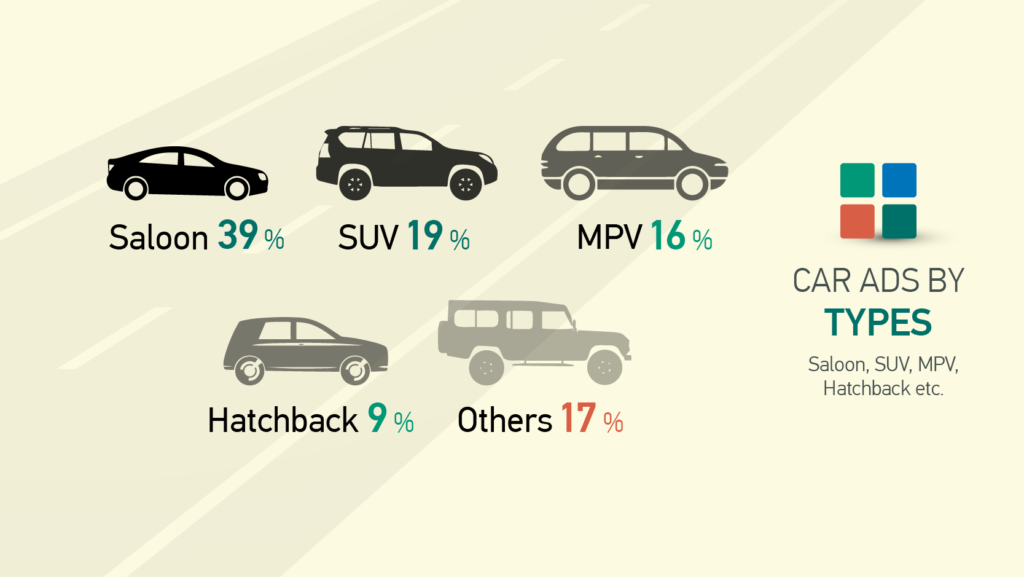 Now let's take a look at the different types of cars that are listed on Bikroy.
39% of all car listings are for saloon cars or sedans. These are typical 4-seater cars most commonly bought by Bangladeshi individuals. These cars are a great choice for small families and offer superior fuel efficiency and mileage.
SUVs and other car types make up 19% and 17% of car ads respectively, followed by 16% of ads for MPVs. These cars are great options for larger families and can be used on different types of terrains – a great choice for family trips! The remaining 9% of the car ads are for hatchback cars.
Final Points
The car market has remained more or less the same, despite the events of COVID-19 in the previous 2 years. As long as there is demand for cars, we can continue to see steady growth in car trades.
A potential change in the Bangladeshi car market may occur in the next few years due to rising fuel prices. However, with the recent growth in the eco-friendly car segment, we can expect to see increased demands for hybrid cars and electric cars quite soon which will change the landscape of the automotive industry of Bangladesh significantly in a positive way.
FAQs:
Where to find good cars for sale in Bangladesh?
Finding a decent car to buy in Bangladesh is no longer a hassle – thanks to e-commerce sites and online classifieds like
Bikroy
! Here you can find thousands of listings for new, used, and reconditioned cars sold by individuals and authentic car dealerships.
Which car brand is the best in Bangladesh?
An overwhelming number of cars operating on Bangladeshi streets are all part of Toyota. This brand has been around for generations and has become one of the most trusted car brands in the world. This is because Toyota cars are incredibly reliable and you can easily find repair services for them, especially here in Bangladesh.
What is the average price of cars in Bangladesh?
The average price of cars in Bangladesh ranges between BDT 10-20 lacs. At this price point, you can get a decent mid-range car that is perfect for your daily commute with your family. At Bikroy, 30% of all car ads fall under this price range, making this the largest segment within the category.