Mobiles
Best Smartphones for Taking Photos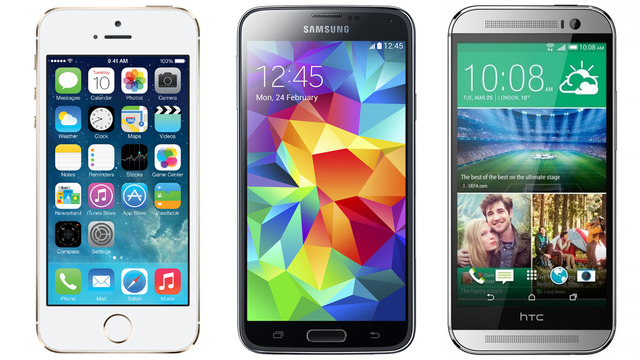 The smartphones in today's tech market are not just devices that make it easy for you to call or text friends. Instead, they are fully functioning devices that allow for you to do many tasks that are required on a daily basis. One feature that people really look for when buying a new device is how well it takes pictures. After all, there are a variety of image-hosting apps out there that are ideal for taking selfies or uploading what you ate for lunch. Here are some of the best smartphones for taking photos, so you can be sure to easily capture your favorite moments in life.
Apple iPhone 5S
The Apple line of iPhones is some of the most popular in the world market. They offer a variety of superior features that make users want to use them for playing games, sending emails, organizing their schedules, and, of course, taking photographs. The iPhone 5S offers the best option in comparison to it's other devices for those that are looking for a great camera. Most noticeably, the Apple iPhone offers a 8-megapixel device on the front, as well as a 2-megapixel front-facing camera as well. Not only does the iPhone take sharp images, but it also has software that will improve your photos. With Apple's native Photo application, users can edit their images to ensure that they look beautiful before uploading them for the world to see. There are also many organization features, including finding photos based on the time that you took them or where you took them at.
Samsung Galaxy S5
Another big player in the market for smartphones is the Samsung Galaxy S5. Running on Android 4.4 KitKat, users can take beautiful photos and view them on a screen that is larger than five inches in size. This Samsung phone comes with 16 megapixels in the front, which takes some of the clearest photos available for any smartphone device. In addition, this Samsung phone also offers image-stabilization technology that will make for better and clearer images. The Samsung Galaxy S5 is already one of the most popular phones on the market, but the fact that it also takes beautiful photos only adds to the desire to purchase this device.
Nokia Lumia 1020
One of the phones that really looked to separate itself from the pack is the Nokia Lumia 1020. While many average phone users like Apple or Samsung, Nokia truly markets to those who want to take beautiful photographs with a device that is unmatched in quality. The Lumia 1020 offers images up to 41 megapixels, which is even better than most devices out there that are specifically dedicated to photography. In addition, the Lumia also lets users shoot in either 4:3 or 16:9, which will alter the pixels in the image. Nokia also put in effort to make it easier for users to store, organize and upload their images, which can be done through the phones operating system. This Nokia phone is ideal for those that want a great device that takes amazing photos.
HTC One M8
If you have been using an HTC phone for quite some time, then you may want to make an upgrade to the One M8. This device is one of the latest models available and it takes truly stunning photographs. It only offers 5 megapixels per shot, but it uses its Ultrapixel technology to make up for the lack of pixels. This Ultrapixel technology will stabilize your photos and use surrounding lighting to ensure that your images come out crystal clear. This HTC phone proves that you don't need a device that has a lot of pixels, especially if it still has the technology to ensure that the images are unforgettable.
Blackberry Torch 9810
Many people enjoy using a Blackberry phone, as they are often considered easier to use with a qwerty keyboard. The best of the devices for photography is certainly the Blackberry Torch 9810. This device takes photos at 5 megapixels, but it also offers an autofocus feature to ensure that your images are stable. In addition, you can also geo-tag your photos and use face detection to easily store all of your content. This Blackberry phone also runs on Blackberry OS 7.0, so users will easily be able to run all of their favorite apps and programs that are available from this line.
Sony Xperia Z2
An upgrade from the Xperia Z1, the Sony Xperia Z2 takes amazing photos. It's one of the newest Sony phone models available, so buyers and sellers should know that this device is going to keep its value for quite some time. The device takes photos up to 20 megapixels and offers a variety of other features, including face detection, HDR, image stabilization, panorama, and more. Whether you are looking to shoot great images of your friends or stellar photos of unforgettable scenery, you'll be able to do it all with this Sony phone. The Z2 also runs on Android operating system, so those that enjoy the way programs run on KitKat, but want to avoid other options available, can rely on this device for their needs.
iPhone 6
We have yet to see its release, but the iPhone 6 may just be the best option out there for phones that take beautiful photos. Rumors speculate that the newest iPhone will take photos between 10 and 13 megapixels. In addition, any consumer knows that Apple products are highly desirable by those on the market. The newest iPhone is expected to be released later this year and it already has people excited by all of its features. In addition to the megapixels, the newest model is expected to have a new light stabilization feature that makes for better images in low-light settings, and it also will have a better option for taking pictures with the front-facing camera as well. If you are waiting for a device that is yet to be released but still takes great images, you may want to consider waiting for the newest iPhone to be released later this year.