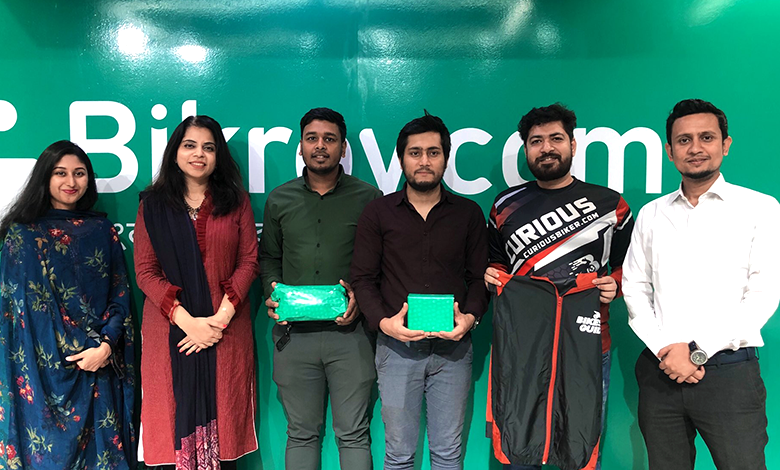 The newly launched online bike portal of Bikroy, BikesGuide Bangladesh has officially awarded the winners of the 'Bike Review Competition'. BikesGuide arranged this competition to encourage bike lovers to gain more knowledge on different bike models and brands.
BikesGuide is an online platform for motorcycle reviews. Through this platform, anyone interested in bikes can gain insight into different bike models, their specifications, and other motorcycle-related consultations. BikesGuide Bangladesh arranged a month-long 'Bike Review Competition' from January to February of 2023. A total of 29 contestants submitted video reviews on different bike models. From these participants, each week one winner was announced. The winners were chosen based on their review video quality, detail of model specifications, and the originality of the content. 
The first prize winner was Md. Naem Sheikh for his review of GPX Demon GR 165RR. He won a high safety certified helmet. The second and third prize winners were S M Rezaone Haque and Jayanta Saha respectively, for their reviews on Suzuki GSX R 150 and Suzuki GSX 125. They won a high-quality communicator and a pair of biker gloves, respectively. Some other notable winners were Md. Touhidul Islam Shishir, S.M. Jobaer, Hasan Al Momen Onagh and Nahidul Rony. All of these participants were awarded BikesGuide windbreakers for their remarkable reviews. 
Eshita Sharmin, CEO of Bikroy said, "We are delighted to award the prize winners of BikesGuide's first-ever Bike Review Competiton. This contest was held to highlight the immense bike-related knowledge of bike lovers. We wanted to portray this enthusiasm and expertise of bike lovers to the general public. I wholeheartedly congratulate all the winners of our review competition." 
Md Arifin Hussain, Head of Marketing of Bikroy said, "Motorcycles are immensely popular in Bangladesh so we wanted to emphasize the proficiency of bike experts and the insight of bike lovers. The 'Bike Review Competition' involved screening different kinds of video review submissions, which was a fun experience for us. I thank all the participants for their amazing reviews and congratulate the winners. Hopefully, we will be able to bring more new competitions for bikers in the future."